News archive
Jens hjälper oss att zappa vidare
Published: 2016-10-20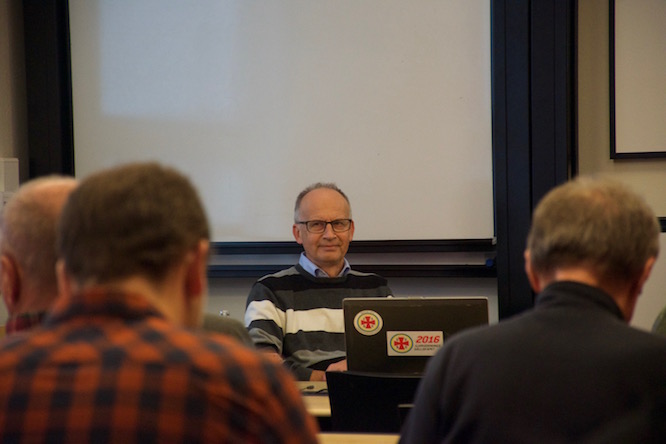 Text och bild: Anders Borgström
Taggad och lugn
Fullsatt sal, blommor på bordet och presentation av avhandling på gång. Det har du upplevt många gånger, men nu var det du som stod på podiet. Hur kändes det?
-Det kändes bra, säger Jens Andersson, EITs nybakade licentiat med distribution av internetbaserad TV som specialområde. Jag var inte speciellt nervös för presentationen men lite bävan för utfrågningen fanns där såklart. Att så många kom och lyssnade är jag verkligen glad för. Det både taggade mig och gav ett lugn.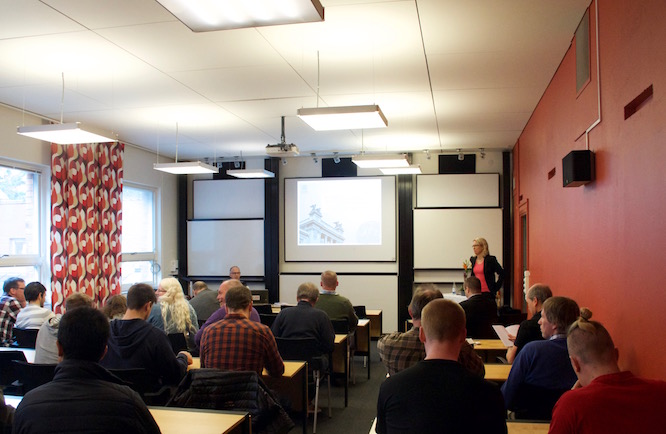 Professor Maria Kihl introducerar Jens licentiatpresentation inför fullsatt auditorium.
Färdigutbildad
Under vår pratstund berättar Jens att han och huvudhandledare Maria Kihl tidigt resonerade om att en lic-examen innan pensionen måste fixas. Så Jens skrevs in som doktorand för drygt 6 år sen och med forskning på halvtid har detta nu resulterat i examen. "Varför sluta lära sig saker bara för att man kommer upp i åren" skriver Jens i sin avhandling. Så sant som det var sagt. Aldrig försent att börja skolan.
Nya tider, nya störningar
Pixlar och frusna bilder med konstiga Kalle-Anka-ljud istället för den analoga världens gryniga bilder med knastriga röster tillhör dagens elektroniska störningsvärld. På frågan till en senior forskare som upplevt båda världarna om vilket som upplevs mest frusterande är Jens tydlig.
-Störningar nuförtiden är värre eftersom den gamla tidens störningar trots allt ofta gick att leva med. Man såg och hörde ändå nödtorftigt vad som skedde i rutan även om det blandades med myrornas krig. Och Radio Luxemburg med fading gick också att uthärda. En modern videostörning kan förvisso ge en perfekt bild men som står stilla, fortsätter Jens. Och då är det inte video.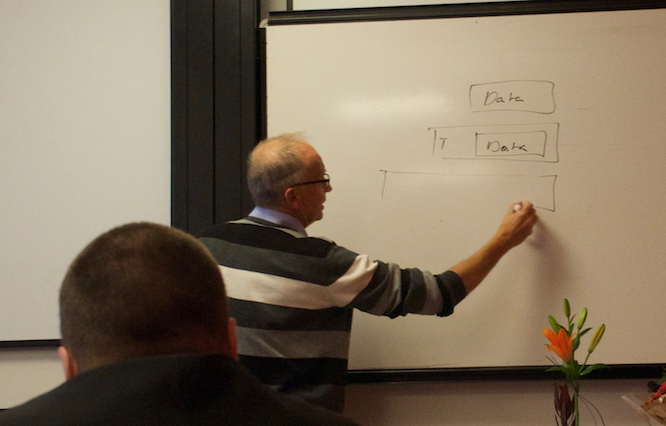 Jens försvarar sig mot opponentens frågor
Koppar biter sig kvar
Koppartrådarna ut till våra bostäder (främst villor) lever kvar trots IT-kommissionens profetior vid millenieskiftet om att fibrer skulle ut till alla. Fiberutrullningen börjar nu 15 år senare komma igång på riktigt men fortfarande finns det mycket koppar därute. Jens och hans forskarkollegor jobbar hårt på att klämma mer och mer bps (bitar per sekund) ur den begränsade bandbredd som en kopparkabel erbjuder.
-DSL (Digital Subscriber Line) med varianterna ADSL (långsammare) och VDSL (snabbare) hör väldigt mycket ihop med koppar, låter Jens oss veta. Det kan röra sig om såväl gamla telefonledningar som nyinstallerade ethernetkablar.
-Koppar kommer leva ett bra tag till, fortsätter Jens. Men det är inte så troligt att nya byggnader ansluts med koppar även om det går bra att titta på HD-TV via vanliga telefonledningar. Något som många av oss vet och som vi har forskare som Jens och hans kollegor att tacka för. Till DSL knyts även den s.k. multiple-carriers-tekniken där man istället för att använda en bärvåg som är uttrymmeskrävande använder flera och smalare bärvågor (typiskt 4 kHz breda). Dessa kan sedan moduleras på olika sätt med ett antal bitar i bitströmmen.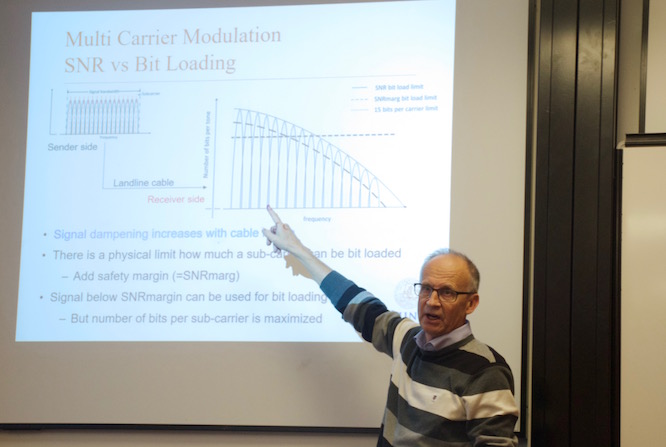 Jens förklarar vad Multi Carrier Modulation är
Kvalitet kan mätas och upplevas
QoS (Quality of Service) resp QoE (Quality of Experience) är två andra begrepp som dyker upp i Jens presentation och den senare är nog den mest intressanta och samtidigt den svåraste att hantera. QoS kan mätas instrumentellt men QoE kräver metoder med mänsklig inblandning där testpersoner måste svara på frågor om hur de upplever sitt TV-tittande. MOS (Mean Opinion Score) är t.ex. ett sätt där ett antal försökspersoner sätts framför samma TV och får svara på frågor om sitt tittande på korta snuttar.
Lära och lära ut
Är du bra pedagog Jens, frågar vi. -Det är roligt att föreläsa och det är roligt att lära ut, svarar Jens ödmjukt. Jag har tagit de enstaka kurserna på LTHs pedagogiska satsning "Genombrottet" och fått en liten grund att stå på som man får försöka använda efter bästa förmåga. Att vara akademiker betyder inte automatiskt att man är pedagog så det är bara att lära sig hur man lär ut.
Mänskligt att zappa.
Att zappa har Jens gjort till forskning på universitet. Hur zappar man, hur klarar digitala TV-tjänster av detta och vad kan göras för att minska negativ inverkan pga detta beteende i TV-soffan? Förr bytte man kanal på den analoga TV-mottagaren och så fort VCO-n svängt in sig så syntes ny bild. Idag händer det mycket i bitströmmarna innan Idol blir Mästerkocken och Aktuellt blir Sportnytt. "Riktig" TV dvs broadcast har bara en nerlänk och där är fördröjningarna vid kanalbyte relativt små eftersom bitströmmarna optimeras i själva operatörsnäten och går ut till alla noder samtidigt.
I Jens fall pratar vi om VoD (Video on Demand) och där är det användaren som bestämmer vilken bitström som ska generas just nu med Netflix, SVT-Play och YouTube som välkända exempel. Buffringsteknik, cachning m.m. ska tillsammans ge användaren ett så jämt flöde som möjligt trots störningar som kan uppstå pga av paketförluster, fördröjningar m.m. När du byter kanal så börjar du alltså buffra och slänger något som du redan laddat ner vilket sammantaget tar tid i kanalväxlingen.
Ska man designa nya TV-system för "ryckigt" TV-tittande? -Ja, säger Jens utan någon större tvekan. Vi är såna, vi människor. Jag kollar i bokhyllan utan att läsa, jag läser tidningen på rubriknivå utan att fördjupa mig i allt, jag surfar på nätet och hoppar till höger och vänster. Zappandet är i grunden samma beteende. Då kan man optimera tekniken så detta stöds. Jens resultat visar att det finns mönster i vårt zappande och hur detta kan ligga till grund för vidareutveckling av distributionstekniken för VoD. Ofta tittar man inte mer än 1 min på ett program! Paketförluster och fördröjningar i IP-trafiken är de största bovarna i kampen för att få till en bra och störningsfri TV-upplevelse när man använder sig av VoD med flitigt zappande.
Varför så många fjärrkontroller?
Till slut då, Jens, du som är TV-forskare. Tung titel f.ö.. Varför sitter många med 3-4 fjärrkontroller i TV-soffan med sammanlagt 232 knappar när de bara vill titta lite grand på TV?
-Standardiseringsproblem är antagligen den bästa förklaringen, säger Jens spontant. Företagen vill nischa sig och sälja något unikt. Många försöker sig på att skaffa så kallade multi-fjärrar men dessa har också en tröskel som man ska ta sig över med konfigurering och programmering. Ett tangentbord eller en fjärrkontroll med knappar som kan ha olika funktion kan vara ett steg på vägen. Men det är inte lätt...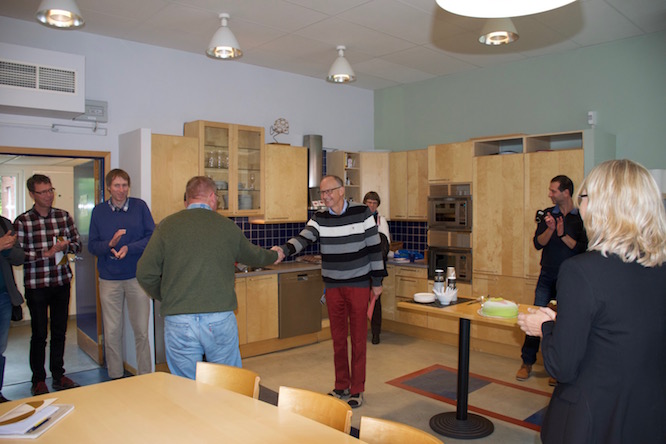 Examensbevis, applåder och tårta!
Gamla kyrkor blir som nya
Fritid? Segling, körsång och orgelspel, svarar vår nye licentiat snabbt. Teknikinnehållet i dessa grenar varierar från noll i körsången, lite lagom för seglingen med GPS, VHF m.m. till hobbyrelaterat i orgelspelandet. -Min orgel, eller VPO (Virtual Pipe Organ), innebär att jag använder samplade ljudsnuttar av olika orglars pipor i en av mig hemmabyggd elektronisk orgel. Ett program förstår tangentnedtryckningar på en klaviatur mha MIDI-kommandon, in i datorn som spelar upp ljudsnutten lika länge som jag håller nere tangenten. Hauptwerk och Grand Org är de två freewareprogram som vi orgelentusiaster använder för att simulera verkliga orglar eller sammansatta stämmor som inte finns i verkligheten. Riktigt orgelljud!
Piper vår nybakade TV-licentiat!
Grattis önskar EIT!
---
Lecturing-baton passed from Mats to Vincent.
Published: 2016-09-15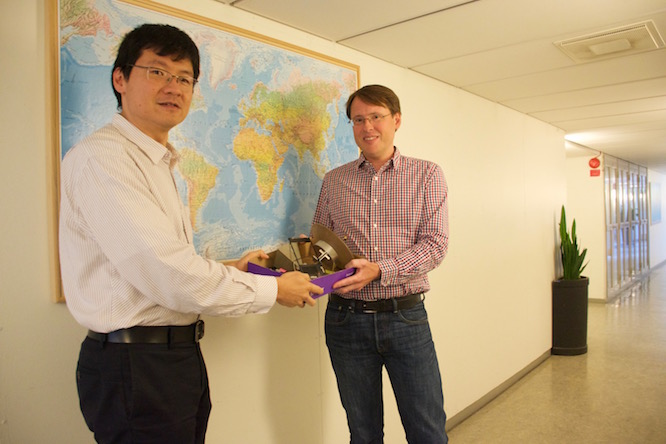 Text and photo: Anders Borgström
Professor Buon Kiong Lau (Vincent) from EIT has been appointed as a Distinguished Lecturer (DL) of IEEE Antennas and Propagation Society (AP-S) for the three-year term 2017-2019. Every year, a number of people who are eminent in the Society's field of interest, are selected to be DLs. This year, Vincent was selected together with two other experts: Prof Karu Esselle and Prof Carey M. Rappaport. DLs are financially supported to visit active so called AP-S Chapters around the world and give talks on topics of interest and importance to the AP community.
EITs other professor within this field, Mats Gustafsson, has been a DL between 2013-2015, and Vincents appointment can be seen as a continuation of our department's involvement in this respected scientific role. Vince is passing on the baton to Mats.
A short discussion with Mats gives the following picture of what IEEE distinguished lecturing is all about.
-I did my last lectures about a year ago, says Mats. Every IEEE has its own chapters and sections where AP (Antenna & Propagation) and MTT (Microwave Theory & Techniques) are now chaired by Mats and in that role, he can invite DLs for talks at swedish universities. There is a quote system for how many DLs can be invited where IEEE pay for the expenses (T&L etc).
-EIT hosted a few lecturers last spring talking about radar and compressed sensing and also some workshops where arranged, Mats continues. -Each organisation or chapter appoints DLs where we can get in touch and ask for DLs visiting us. Our contribution is to decide a day, host them at our premises, inviting listeners and being nice to them. No cost or arrangement otherwise.
When Mats was a DL himself, he was invited to Brisbane University in Australia because his research is well-known there and in otehr places down-under. They passed the message and got in touch with other sections in Australia who also booked him up.
-I went on a 10-day lecturing tour including visits to Brisbane, Sydney, Melbourne, Adelaide and also Singapore on the way back home. -Very intense! Other "touchdowns" during his DL-period has been, among other countries, US and India and even though it's highly scientific fields the audience can vary a lot both in terms of knowledge base and numbers.
-It can be a "standard" seminar like our own internal EIT ones with 30 highly skilled listeners up to a small India university where all undergraduate students also attend counting to an overalla audience of 200 persons. -It's dynamic, says Mats. -You also need to be able to quickly adapt the abstraction level of your talks. -It's good fun and you build networks but also learn a lot about other university cultures and how they run both research and education.
The baton is passed from Mats to Vincent and we wish him successful lectures coming up and new insights in the global university world.
More information about the Distinguished Lecturer Program is found here
---
Multiple awards to spectrum world champions
Published: 2016-08-09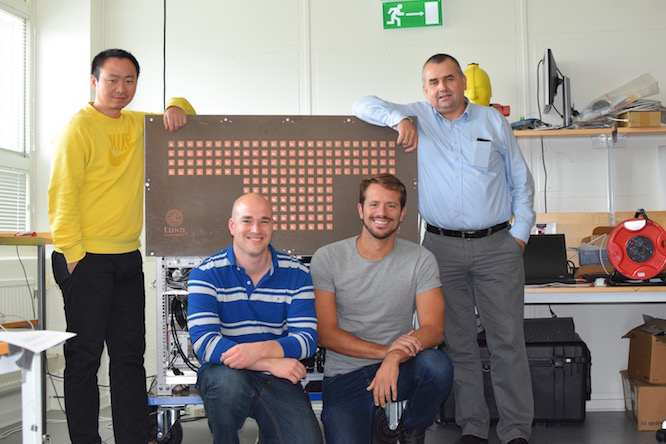 Core EIT-team behind the Massive MIMO LuMaMi-testbed: Senior researcher Liang Liu, PhD-student Steffen Malkowsky, PhD-student Joao Vieira, Professor Ove Edfors. Missing in picture: Professor Fredrik Tufvesson.
Text and photo: Anders Borgström.
EITs 5G Massive MIMO researchers are best in class for sure! Doctoral student Steffen Malkowsky together with his research colleague Paul Harris from University of Bristol grabbed a real grand-slam at the 2016 NI Engineering Impact Awards ceremony in Austin, Texas, in the beginning of August. This event attracted more than 3,200 innovators, with thousands more watching the keynote events around the world over live streaming.
Five awards
Steffen Malkowsky and Paul Harris won first prize in five separate categories in fierce competition with more than 100 other contributions. An absolutely incredible achievement! Steffen together with his Lund team-mates PhD-student Joao Vieira and senior researcher Liang Liu have all worked extremely hard during a long time to develop a Massive MIMO testbed. This hard work is now being so gracefully rewarded for the world record performance in spectral efficiency obtained using the University of Bristol instance of the testbed. Main supervisors of the Lund part of the project are professors Ove Edfors and Fredrik Tufvesson.
The five categories scooped by Steffen and his Bristol colleague Paul were the following:
-NI's Wireless and Mobile Communications category
-NI's Engineering Grand Challenges Award
-Hewlett Packard Enterprise (HPE) Edgeline Big Analog Data Award
-Powered by Xilinx Award
-2016 Customer Application of the Year Award
Fortunately they didn't need any extra baggage allowance on the flight home, since NI gracefully offered to ship the five heavy trophies to Lund after the event. Check the happy team yourself in this award ceremony video.
Spectral efficiency, what's that all about?
What is spectral efficiency? Well it's about what data rate that can be achieved over a given bandwidth in a specific communication channel. Or how efficiently a limited frequency spectrum is used in terms of transmitting data. To put it simple: -How much data can be packed in an existing radio signal.
Spectral efficiency measurement unit is bits/sec/Hz and the competition is about showing the highest values. Steffen and his colleagues have boosted massive MIMO to an incredible world record of 145.6 bit/sec/Hz. Using a 20 MHz channel this means a throughput of 3 Gbit/sec, beating by far both 4G and LTE current performances. The 145 bits/sec/Hz-world record is illustrated in this video brought forward by the team at Bristol University who also issued this pressrelease on the subject.
Ove Edfors in keynote
At the day 2 keynote presentations EIT professor Ove Edfors and Professor Andrew Nix at University of Bristol entered the large NI Week-stage and gave the big audience a brief presentation of the uniqueness of the Massive MIMO system principles and how it's now been showed to perform so well together with key hardware and software components from National Instruments. Among other things, the key-note video informs about Massive MIMO systems usage of not only time and frequency domains but also the spatial domain in order to share spectral resources between different users. The work on designing the massive MIMO testbed has allowed Lund University researchers to publish the first papers on real time Massive MIMO over the air. Real results with real hardware, software and prototypes.
Ove has also earlier made a 2 min excellent video animating and describing the fundamental principles of Massive MIMO using one basestation and three terminals.
Paving the way for 5G
Steffen, Paul, and the rest of Lund-Bristols Massive MIMO research teams are among the most important players in bringing future 5G technologies in place. Next step is to study how the system works when the connected units are mobile. Test will be performed in collaboration with the Bristol-team later on this fall in Lund.
Congratulations to Steffen, Liang, Joao and others involved at EIT!
---
Erik Larsson på Kunskapskalas
Published: 2016-08-08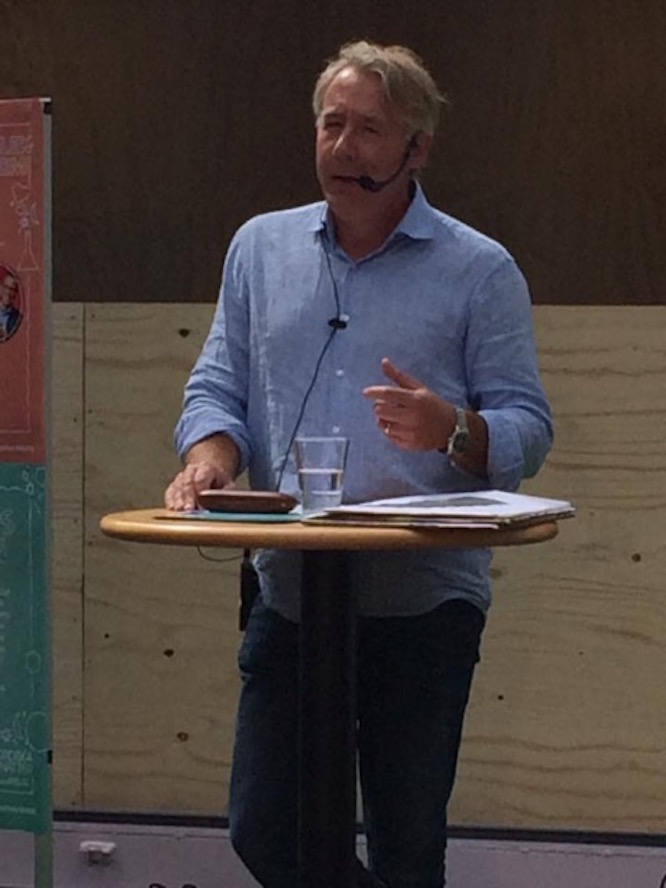 Erik Larsson, docent på EIT, deltog som föreläsare på Folkuniversitets arrangemang Kunskapskalaset under Helsingbogsfestivalen HX16 som gick av stapeln 4-6 augusti. Erik levererade kunskap till kalasande besökare om IT-beroende och dess risker i vårt samhälle. Nuförtiden finns det elektronik inte bara i mobiltelefoner och datorer utan i stort sett i varenda pryl. Självklart vill vi att elektroniken ska fungera så länge vi använder den, men det är inte så enkelt när en enda integrerad krets kan bestå av 10 miljarder transistorer där ledningarna är bara cirka 20 nanometer. Mycket kan gå fel.
Läs mer om HX16
---
A new take on asleep and awake
Published: 2016-06-22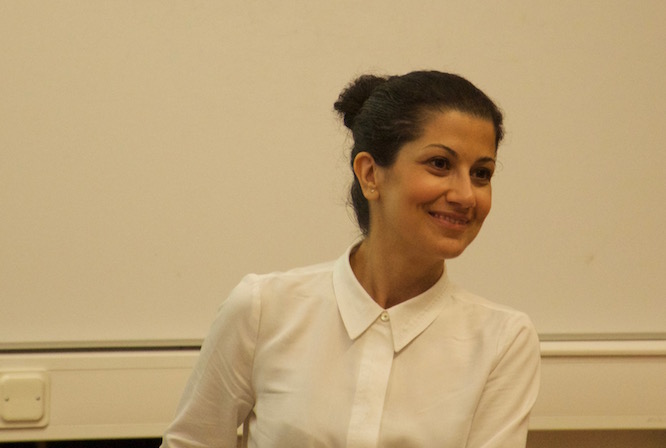 -Congrats Nafiseh! You are a doctor! Tell us, did you have a nice party after the duties during the big day? -We had a dinner but no big party. Maybe later... Now it's relax and vacation time. It's been a tough spring.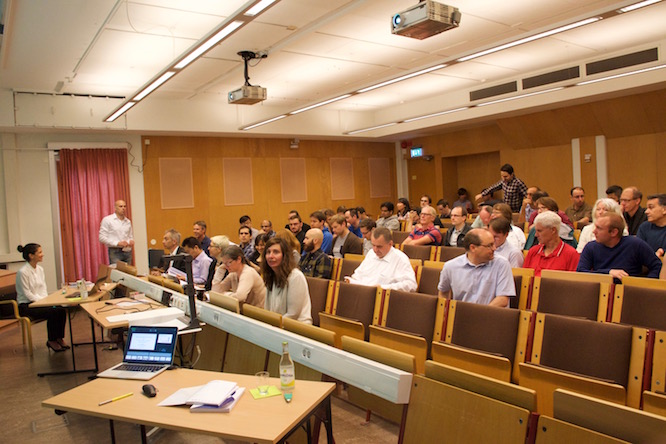 Preparing for thesis presentation
The field
Assistant Professor Sofie Pollin, KU Leuven, Belgien opened the event and the well attended E:1407 learned that modern wireless sensor devices are often constrained by batteries that determines the size of the device. Even though the nodes in a networked sensing system are mostly asleep and doing nothing, they have to wake up now and then. Waking up and checking activity consumes power which also goes for the processing and sending of data. Finding clever approaches on scalable, powertight wake-up schemes for wireless sensing systems is what our latest doctor Nafiseh Seyed Mazloum has been occupied with in her PhD-research.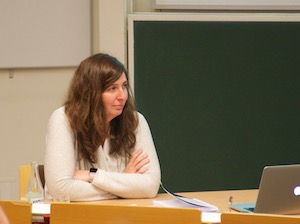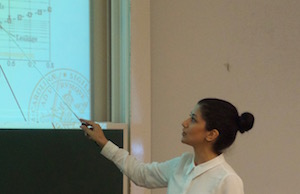 Opponent Sofie Pollin (left) and Nafiseh Seyed Mazloum (right).
Nafiseh presented her thesis "Duty-cycled Wake-up Schemes for Ultra-low Power Wireless Communications" and talked about network topology, data traffic, cross-layer communication protocol solutions and more, all targetting extremely powertight wireless sensing networks.
Dinner talk
Nafisehs approach to describe her research in a popular way is the following:
-Whenever you have a very small resource of anything, you want to use it efficiently. -My research addresses very small devices like pacemakers, hearing aids etc. Things that need to communicate without having a lot of battery. That's what I work on. This way of putting it usually works at a dinner conversation. -It's a bit like telling someone that you should switch off your mobile phone screen to make the batteries last longer. If the listener wants to know a little bit more, I continue with "standby-mode" and explain that entering this is done autonomously and not by a press of a button.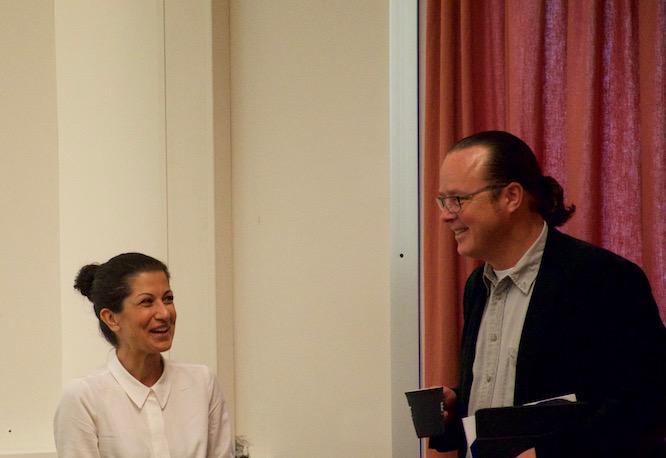 Nafiseh and LTH Dean Viktor Öwall
Tech talk
-DCW, or spelled out as "Duty-Cycled-Wakeup" means that you send your receiver to standby-mode in duty-cycles where it's on for a period and off for another, says Nafiseh. -Waking it up needs to be done autonomously since noone human is there to do so. Energy consumption also relate to communication delay so when sleep-time is long, the communication is delayed. -And duty-cycle settings depend on application and use cases, she tells us.
On the opponents question why a 65 nm process is used to verify the functionality of the circuits and not something more state-of-the art, Nafisehs opinion was clear.
-Well, whether to use older or newer technologies can always be discussed but I used the technology that was easily available at the time of testing. The focus of my particular research was not on state-of-the-art CMOS-technology, rater on proof-of-concept of the wake-up functionality.
From engineering in Teheran to research in Lund
Nafiseh worked as a hardware engineer in Teheran and then moved to Sweden 11 years ago where she did her master studies and PhD. The master thesis however, was performed at Philips research in the Netherlands. It all ended up with a PhD-position at LTH. The background in low-power electronics was a good match for this and Ove Edfors has been her supervisor (a very good one) ever since.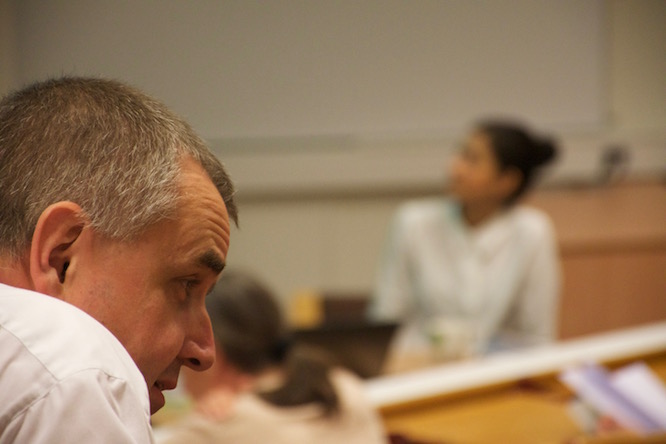 Supervisor Ove Edfors and Nafiseh Seyed Mazloum
Swedish integration going on
Nafiseh is now looking for new opportunities, probably in a research institute or similar. Engineering in industry is over and done with for the time being. -Sweden is nice, I'd like to stay here, she says. -And living in Lund represents a cosy lifstyle. -My swedish will improve now when I've more time, she promises.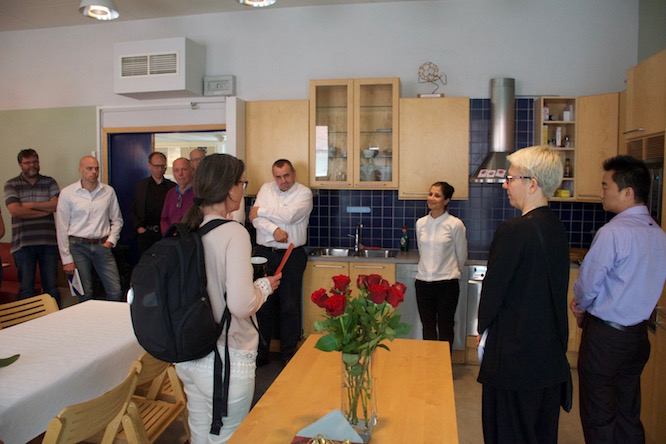 Congratulations Nafiseh.
Art and sport during leisure hours
Any life outside work? -Yes! Painting in watercolour and also consuming any type of art. Visiting Louisiana Museum of Modern Art in Denmark is a must at least once a year. And I do like exercising in any kind of sport even though on an amateur level. But trying to keep in shape is important for me.
Gender balance potential
An encouraging fact with your disputation is that we saw a female opponent, two women in the committee and last but not least you defending your thesis. Pretty good marks on gender balance in this case compared to most disputations in our area! Gender balance is addressed more and more in the society on all levels and we know that there is a lot of talk but not always much walk-the-talk. How would you say LTH/EIT perform? -I've enjoyed my time and colleagues at EIT a lot but we are not champions in this particular sport. Nafiseh ends the conversation by diplomatically mentioning that there is potential to build a good culture here. As long as there is will.
Congratulations from EIT and good luck in the future!
Text and Picture: Anders Borgström
---
LuMaMi on SVT
Published: 2015-05-06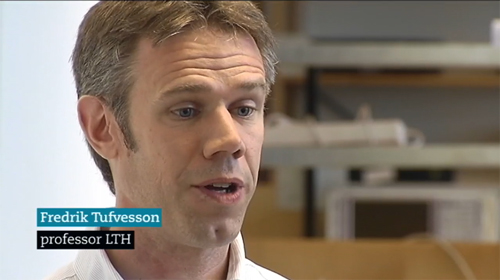 Fredrik Tufvesson interviewed by SVT (Swedish Television) regarding the next generation of (wireless) Internet.
See the interview here (in Swedish):
http://www.svt.se/nyheter/regionalt/skane/enorm-okning-av-datormangden-i-framtiden
Text: Johan Cedervall

---