News archive
Career talk with EITs new professor
Published: 2016-04-12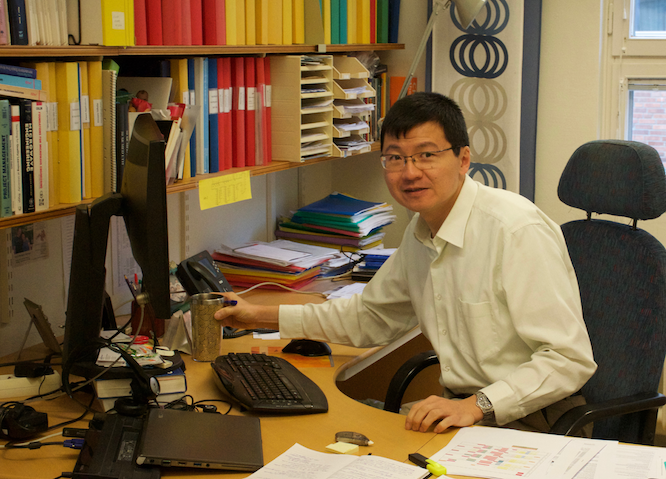 Professor is a useful title
-And a career step which I'm glad to take even though my daily work will not change dramatically. Our new professor Buon Kiong Lau, or Vincent as most of us know him, says he is happy to be promoted as he grabs the coffee-mug and prepares for a chat on academic careers. The importance of reaching the professors level shall not be underestimated. -It is a good statement of qualifications and you don't need to explain all your merits to everyone, he says.
Vincent realized that he was approaching the professors title around 2012 – 2013 -Enough qualifications and merits in place so I decided to go for it. Guidelines and checkpoints have progressively become stricter and it's the Deans decision to allow the application by writing a letter of support. After improving a little on lower-level education 2013 the gap was filled.
Why Vincent?
The name Vincent does not appear in either his publications or his passport so why Vincent? -The reason I have this nickname is because my uncle suggested it being born around St Vincent's day. As simple as that.
Research and education is of equal importance…
He emphasizes the importance of both research and education but admits that research is a little bit more fun. For Vincent, both sides have of course been mastered throughout the years as well as fund chasing, PhD-supervisions, IEEE-editorial tasks, directorship of postgraduate studies and other important duties being expected in higher level work.
…as well as science outreach (tredje uppgiften)
"Science outreach" i.e. how to "deliver" back to society is on the checklist for reaching professors level. Is that close to your heart? -I like to do research that is potentially fulfilling corporate and societal needs and challenges, says Vincent. But if I need to be go into more fundamental research in order to solve a problem, I'll do it. Fundamental insights are necessary to be able to do more applied research.
Advice to a graduate
-A masters student that really enjoys the master thesis work will most likely be a suitable candidate for an academic career, Vincent let us know. You need passion for writing or at least consider it to be a natural part of the job if the academic world should be enjoyable. A potential PhD-students need to have a good attitude to research and if you can't handle a 5 month project (Master Thesis) then you will not survive a 5 year research project.
All career steps count
In hindsight, which step in your academic career would you value the most? –Hard to say since every stage has its value, Vincent says. But my new role will hopefully mean more scientific leadership. My current research field is neglected by funding agencies.
Learn from Spain and Italy
What about gender balance among electrical engineering? –Well, I do my best in encouraging female students, says Vincent. -My first PhD-student was female and so many of the visiting students I have supervised. So I think my track record is pretty ok in that respect. –But even though equal opportunities, it takes time to change cultures, traditions and attitudes. Ending up with 80% male student buddies by selecting an engineering track may prevent many from choosing it. And role models matter. If mums, aunties and friends are not engineers, perhaps a young woman hesitate. –We could learn from Spain and Italy, Vincent suggests. They have a lot of female electrical engineers for some reasons.
Performance and design must walk hand-in-hand.
Also consumers needs to be enlightened in Vincents opinion. -We choose phones based on look and feel rather than on performance, he says. 2 Mb/s instead of 20 Mb/s seems to be ok for many as long as the phone is shiny with cool apps. As a professor I'd like to engage more in this and promote in a more balanced way. Design yes! But also perfomance, yes!
A bad antenna destroys a system
Antenna systems including interaction between antennas and the channel and focus on system performance has been Vincents silver thread in his research. His background in signal processing enables another important building block in achieving better data rates and throughput. Failing terminal antennas may destroy a 5G-performance. –We are benchmarking very well, claims Vincent. Close collaboration with propagation channel research projects and good experimental facilities makes EIT an excellent research environment within the field.
From Malaysia to Lund via Australia and Blekinge
Born in Malaysia and studying in Australia for 10 years took Vincent to Blekinge and then eventually as a postdoc. -Sweden is a good place to have a family and good career opportunities, says Vincent. The sometimes bad weather is nothing fixable so we just have to accept it.
Vincents spare time is mostly spent on his family with 9, 6 and 3 year old kids. Boy, girl, boy. Will some of them become engineers? –My oldest son is interested in technical things. There's hope…
How to save the world with 10 dB
Asking Vincent finally about long term visions for the world we get an engineers answer: 10 dB improvement can be easier to achieve with an excellent antenna design than 1 dB with signal processing. Wise words from our new antenna professor.
Congratulations from EIT!
Text and photo: Anders Borgström
---
New world record in 5G technology
Published: 2016-03-24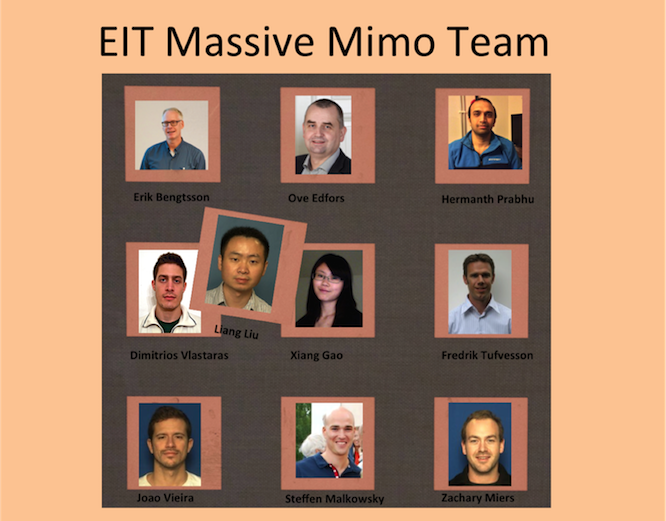 New research conducted at Lund University in Sweden and the University of Bristol in the UK has demonstrated 5G technology twelve times as efficient as the current 4G technology, paving the way for the mobile systems of tomorrow.
Researchers in Lund and Bristol have made enormous progress with their work on Massive MIMO (multiple-input multiple-output) – a technology which, in simple terms, consists of equipping every base station with hundreds of antennae instead of the few they currently have.
"What we have developed is an extremely efficient 5G technology. We have actually found the most efficient technology ever in terms of capacity to handle many users simultaneously. What is really new here is that it has been demonstrated in practice that this fantastic spectrum efficiency can be achieved.", says Ove Edfors, Professor of Radio Systems at Lund University's Faculty of Engineering.
The research findings on more efficient mobile systems are the result of a collaboration, explains Edfors' colleague Fredrik Tufvesson:
"This progress is based on work conducted over several years at Lund University, with our doctoral students and together with partners such as the University of Bristol, Linköping University, and within the MAMMOET EU project."
The next generation of mobile technology, 5G, is under development and the research on Massive MIMO is an important contribution to this.
"Lund and Bristol are now breaking world records in efficient 5G networks, or in spectrum efficiency to be precise", says Professor Fredrik Tufvesson.
More on LTH homepage
---
Xiang brings massive MIMO into real life
Published: 2016-03-22
EITs latest doctor is Xiang Gao and the title of her thesis is "Massive MIMO in real propagation environments". In her research she has contributed to the extension of the MIMO technology where cellular basestations or WiFi hotspots can be equipped with tens to hundreds of antennas. The advantages are much higher data rates, better coverage and less radiated power, as compared to any of today's communication systems. It is believed by many people as one of the most important technologies for future communications.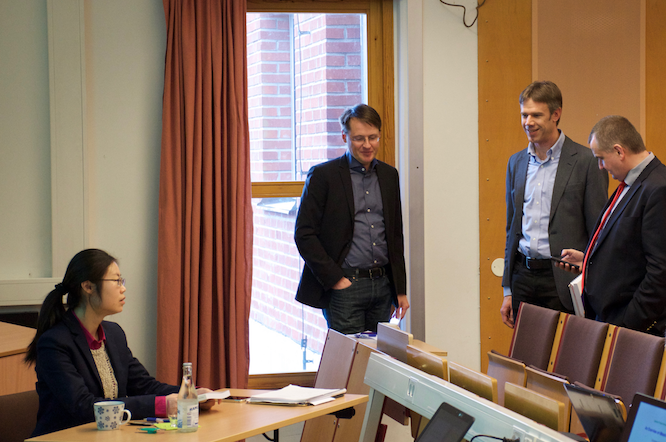 Xiang Gao final tuning with chairman Mats Gustafsson and supervisors Fredrik Tufvesson and Ove Edfors
Xiang has stepped out from the theory-domains of massive MIMO and into reality where channel measurements in the 2,6 GHz band have been performed. She has seen that the technology works efficiently in real propagation environments, something that looks very promising for the future.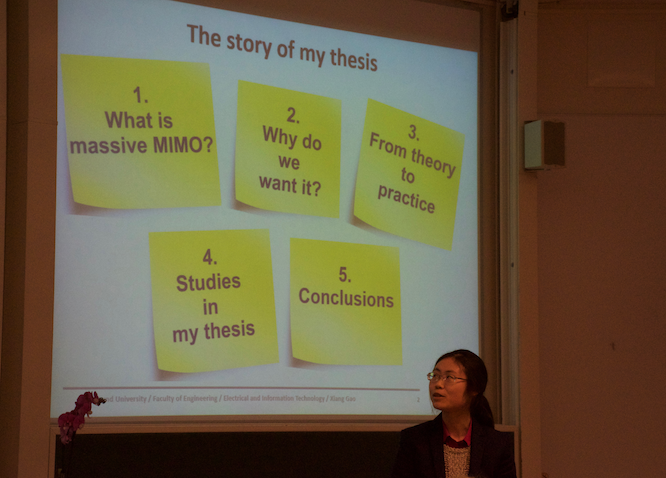 Xiang Gao lines up her PhD-thesis presentation
The PhD-studies were chosen because Xiang desired to stay in the university environment instead of going to the industry. -More freedom to do interesting things here, says Xiang. -I like to exploit many hidden possibilities offered by such freedom, rather than being restricted to dig deep into only one point.
Xiang was born and raised up in Chengdu City, the capital of Sichuan Province in southwest China.
-Because of the beautiful landscape in Western China, I love outdoor activities such as hiking, mountain climbing, photographing, and painting, says Xiang. After moving to Sweden, she became more inclined to indoor activities such as reading, classical music concert, and opera, simply due to the long and cold winter.
Xiang came to LTH, because the master program admission only required IELTS test scores, no TOEFL, no GRE, as in the U.S., so she could spend time doing other interesting things instead of preparing for hard exams. -Other factors that attracted me to study in Sweden include its strength in the ICT industry, indie music, and art design, she says. -My childhood memory with the story book "Nils Holgersson's wonderful journey across Sweden" also added to my curiosity to see this country.
-The best thing during my PhD time is that I have met some very excellent people, here in Sweden and also elsewhere in the world, says Xiang.
Future? –Well, I do not really have specific plans for the future. If there is a "plan", I would say, doing things that are 1) interesting to myself, 2) valuable to other people, and 3) influential to our world.
-Anything fits at least one of the three can potentially be my future plans, no matter where I am and how old I become.
Xiang values broad knowledge and visions as a very important aspect in her life, so restriction to the area of communication technology is not a must.
-As I always say to my family and friends, the earth is just a small planet in the universe, but our world is very big and has unlimited dimensions. -However, sometimes I feel a bit sad about the future because as human beings we are always time limited: only 24 hours per day, and at most living for 100 years.
All the best and good luck in the future from EIT!
Text/Pictures: Anders Borgström
---
New PhD course in MIMO Channel Modeling
Published: 2016-03-09
New PhD course in MIMO Channel Modeling
The course will cover the first few chapters of the following book:
Title: MIMO Wireless Networks (Second Edition), Channels, Techniques and Standards for Multi-Antenna, Multi-User and Multi-Cell Systems.
Author(s): Bruno Clerckx and Claude Oestges
Prerequisite: Basic understanding about wireless channels on the level of the "ETIN10 Channel Modelling for Wireless Communication" course is required.
Course format:
- One lecture per week (throughout April and May)
- Matlab assignments
- 7.5 hp.
A tentative starting date for the course is Tuesday, April 5th. The time and place will be decided later.
If you plan to take this course (on a Credit or No Credit basis), please email Ghassan Dahman.
---
EU project INSIGHT kicked off
Published: 2016-03-01
EIT at the helm of EU-funded III-V project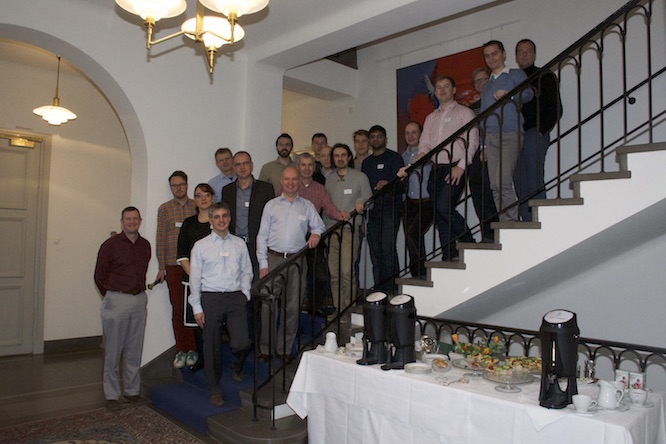 The core team of EU-project INSIGHT at the Kickoff-meeting in Biskopshuset, Lund. The project is coordinated by EIT and professor Lars-Erik Wernersson. Photo: Anders Borgström
2016-03-02, By Anders Borgström
-We form a dream-team for future semiconductor technology, says Lars-Erik Wernersson, professor at EIT in Lund. The six partner project INSIGHT, coordinated by Lars-Erik, will address integration of III-V semiconductors on silicon aiming to boost future logic and RF-circuitry performances at low cost and low power consumption. The research team was recently granted a 3-year funding from the EU Horizon-2020 program.
In the beautiful tradition-laden environment Biskopshuset in Lund, an important first step was taken towards new more advanced building blocks for future electronics. The researchers in INSIGHT had their kickoff-meeting and will from now on study how to improve performance using so called III-V nanowires integrated on traditonal silicon platforms. Combining the two worlds of silicon and III-V substrates is believed to have a huge potential in terms of high performance, low power consumption and low cost.
Pressrelease today
A website is newly launched by administrative project coordinator Anna Ntinidou and the official press-release for the project can be read there. And a nice logo will also come in place soon.
In todays press release, the six partners are presented being Lund University in Sweden, University of Glasgow in Scotland, Tyndall National Institute on Ireland, Fraunhofer Institute in Germany and LETI Institute in France. Also IBM in Switzerland are contributing with their technology.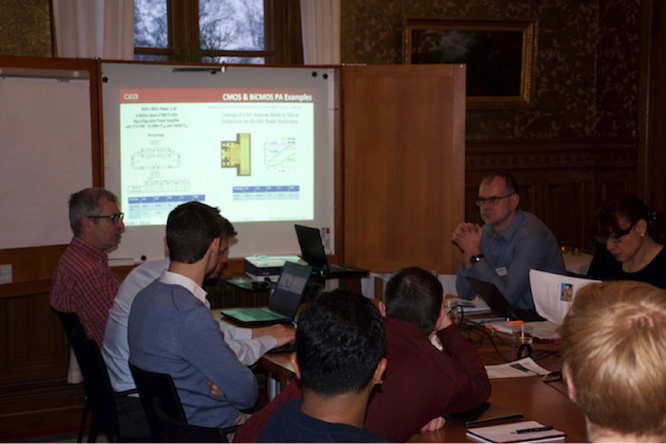 INSIGHT-partners discussing startup strategies. Photo: Anders Borgström
Internet of Things and Big-Data will benefit
Getting e.g. leakage currents down is a possibilty with III-IV technology which in turn could have a huge impact on global energy conservation when the implementation scales up and enter into devices and infrastructure of the future. As we all know, a massive growth is expected within the electronics industry when billions of things (IoT) will be connected and huge amount of data (big-data) will be transferred, stored and processed. Environmental and climate workers will cheer the groups results, for sure.
Discussing INSIGHT-preconditions at coffee break in Biskopshuset. Photo: Anders Borgström
Kick-off meeting at Biskopshuset
The first outlining of this large EU-financed project was made at the Lund kickoff meeting back in January. The industrial and academic partner's scientific backgrounds were all shared within the core group and a firm starting point for the project was defined. Work packages, coordination, critical issues, action points and more were discussed as well as how to communicate coming research findings. A first promotional video on YouTube is already in place desribing the technology aims for a wider audience.
Coordination with other EU-consortia like III-V MOS, COMPOSE, E2SWITCH is another important activity where future ties will be developed. Also plans on IPR (Intellectual Property Rights) and how to exploit the research results will get early attention and involve all partners. All this to secure a research direction with large potential to meet future business- and societal needs and challenges.
An industry workshop will be formatted to be executed from year two and early planning for that is also needed in order to sort out content, targets, invitations, conference-links and more.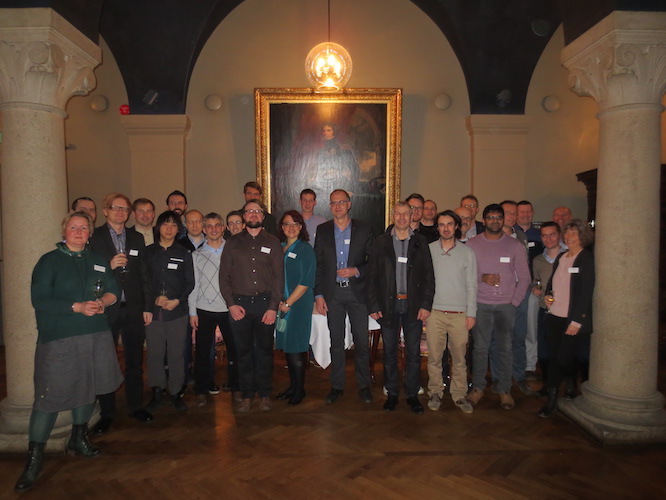 Kick-off dinner for the INSIGHT-project at Pelarsalen.
A lot of work is coming up for the newly formed team and a get-to-know-each-other-better dinner was arranged day one of the kickoff in order to create good preconditions for future collaboration.
EIT says good luck to the INSIGHT project.
---
Nice 5G-reading with the morning coffee
Published: 2016-02-22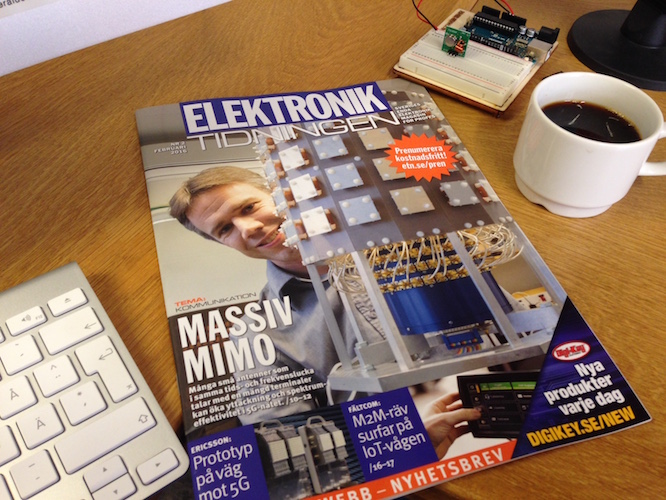 The swedish magazine "Elektroniktidningen" had EITs Massive MIMO-project represented on its cover and a deeper article inside in their latest February-issue with a theme of communication.
Fredrik Tufvesson, professor in radio systems at EIT/LTH together with professor Erik G Larsson, professor and head of the department of Communication systems at Linköpings University, give the story of their contribution to the Massive MIMO technology and coming 5G-systems.
The collaboration is a big success and the teams complete each other well where Linköping mainly do capacity analysis, protocol design, signal processing whilst the Lund-teams focus is on algorithm design and experimentals. The article describe how EITs nowadays well known testbed LuMaMi is brought forward together with National Instruments and Bell Labs. The testbed is today involved in lab-demos of videostreaming but will during the emerging spring enter into a more basestationlike installation at a rooftop.
Elektroniktidningen is the main news source for professionals in the Swedish electronics industry.
Text/Photo: Anders Borgström
---
Messaging texts for LU 350-year anniversary
Published: 2016-02-02
Lund University Communications Unit has developed message texts for the upcoming 350 - year anniversary and the texts are meant to support when it comes to communication around the anniversary.
The texts are available for download here. LU encourage the use and dissemination of them -on websites, in catalogs, in printed material and anywhere where they may seem to fit.
The document contains a short and a longer general text of Lund University's 350-th anniversary and the overall message. These are meant to be used as support when the jubilee shouldbe described and can be used as is or customized to specific target groups.
For questions, please contact Magdalena Stadler , Communications , LU350 - Jubilee Offices ,Tel : 0706-41 35 51st
---
And the winner is...
Published: 2016-02-01
...Acconeer and research from EIT!
Left: The management team of Acconeer, CEO Lars Lindell with co-founders Mats Ärlelid and Mikael Egard. Right: Lars-Erik Wernerssons team is behind the Acconeer-technology
Last week, the EIT-related startup company Acconeer got the reward "Guldmobilen" in the cathegory "Innovation of the year 2015" at the Swedish Mobile Awards Event "Mobilgalan" in Stockholm. The Acconeer innovation has been presented earlier at the EIT-website and originates from research performed at the department. It's a perfect and attractive inspirational example for those students and researchers who are interested in finding future business potential from ongoing research.
Acconeer have developed a microradar that opens up a new world for human interaction and future applications are envisaged in e.g. home robots, drones, surveillance or other areas where there are requirements to measure distance or detect proximity. Other fields interested in adopting Acconeer technology are monitoring vital life signs such as breathing rate and pulse rate. The sensor's radiowave will penetrate light material such as clothing but not skin and be able to measure breathing rate or pulse therefore it can be used for a multitude of health care and sports applications. And much more. The sky is the limit!
Mobilgalan - The Swedish Mobile Awards - turned 15 this year and have rewarded mobile innovations, products, services and companies every year since 2001. Some memorable earlier winners are King, Swish, Skype, Spotify, Minecraft, all swedish startups who have left a great footprint in global business.
EIT Congratulates Acconeer and wish all the best in future ventures!
Text: Anders Borgström
---
EIT researchers standing up for Massive MIMO technology
Published: 2016-01-13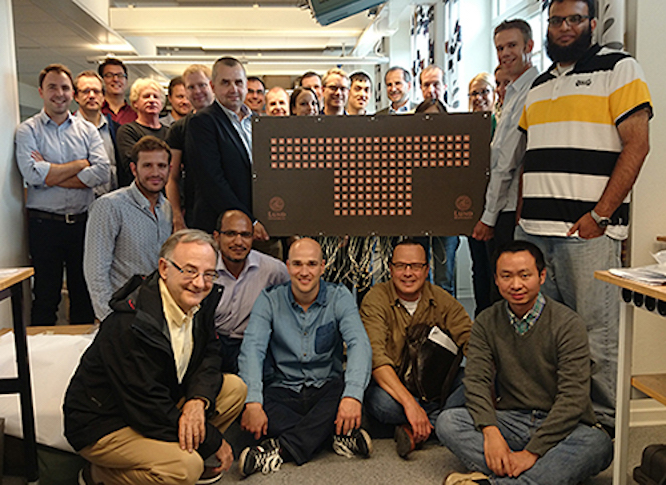 In response to a series on "death of 5G", in IEEE ComSoc Technology News, the MAMMOET project team decided to contribute to its resurrection. Their response was well received and the Editor wrote: "After our doom laden 'death of 5G' series we did get some letters. In particular, the good people of the MAMMOET project in Europe managed to hit several points at once." Read the full story here.
---
LuMaMi on SVT
Published: 2015-05-06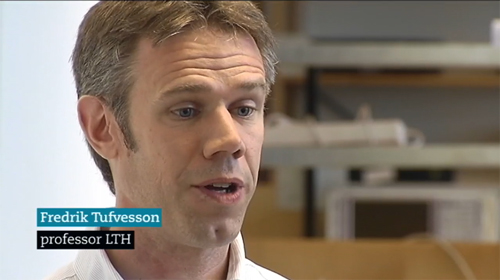 Fredrik Tufvesson interviewed by SVT (Swedish Television) regarding the next generation of (wireless) Internet.
See the interview here (in Swedish):
http://www.svt.se/nyheter/regionalt/skane/enorm-okning-av-datormangden-i-framtiden
Text: Johan Cedervall

---