News archive
Anders scraps the coils in his RF-receivers
Published: 2015-11-27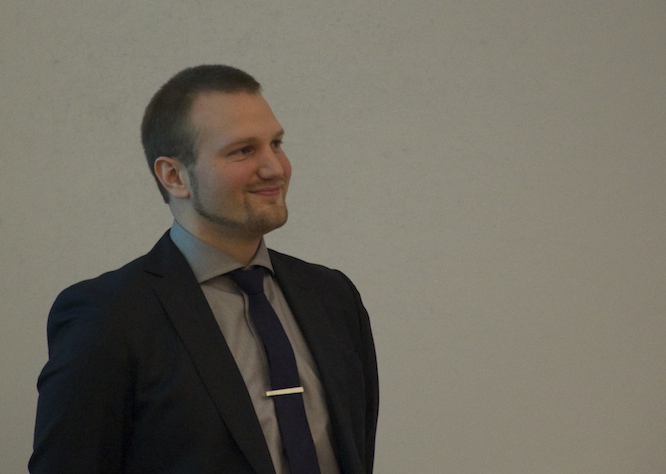 Fresh PhD Anders Nejdel.
Streaming video to cell phones is natural to all of us today as a normal phone call was before. It is however not that easy to provide the technology solving it for small mobiles RF-paths. Furthermore, everything that aim to be implemented in consumer products must be cost effective, energy efficient and flexible.
Challenges exist, yes.
-There are lots of challenges, says Anders. To push it all and to not fall into trade-off traps is the hardest. Noise, linearity, power consumption, etc must all be treated in and efficient way. There will also always be new requirements that must be taken into account and flexibility of the systems is necessary in order to let it deal with new scenarios. Moreover, as I have learned now towards the end, it's hard to get everything to work when you have lots of different parts of the receiver on the same chip. The last chip I did also had an analog-to-digital converter which posed certain problems. This was something we first discovered during tests, and a phenomenon that we could not reproduce in the simulator.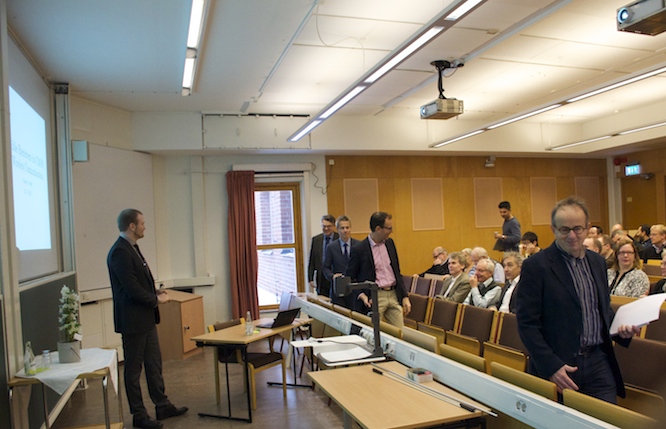 Opponent, committee and audience coming in
Theory and practice in good harmony
In his doctoral thesis, Anders Nejdel presents new approaches and ideas for future receiver frontends. As so often in EITs research is not just a question of calculations, theory and circuit-design. Anders solid work also produces actual CMOS circuits and verification of the results with measurements.
In his very educational presentation, EITs recent doctor explains the methodology where components become circuits followed by fabrication into chips ending up at the lab where evaluation begins, a process which in total takes about half a year. In terms of components, we would prefer not to handle coils since they require space, something that Anders consistently stresses through his research. When asked what is so difficult with coils in microelectronics, Anders tells us:
-Size. Modern circuits optimized for digital applications are always driving transistor size downwards in order to reduce the area and power consumption. This is unfortunately bad for "analog components". Coils do not diminish in size and can take a lot of space. Because the price / area is constantly increasing, this means that price / coil is also constantly increasing.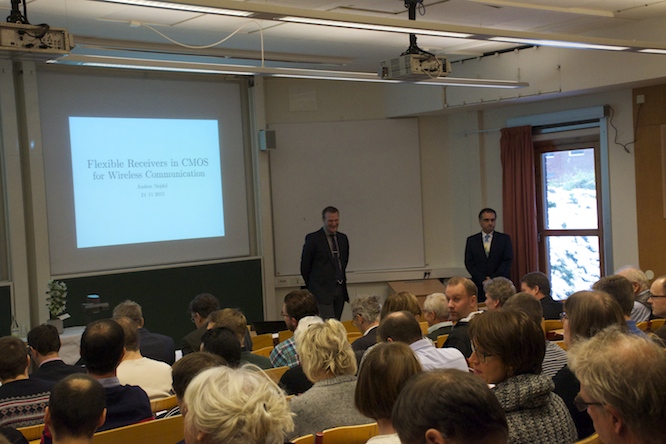 Pietro Andreani introduces Anders Nejdel and his thesis
Dynamic world
During the presentation we also hear of a straight-on energy comparison in order to understand how much difference there can be between a phone's sent and received signal-power. Power from nuclear power plants is compared with the same thing from a LED lamp. Showing the dynamics of the situation! And in engineering-lingo, what does it mean?
-Around 100 dB, Anders tells us. If you think that a nuclear power plant (size Ringhals) can deliver about 3 GW, and an LED lamp draws about 10W, 100 dB would be the difference between a LED light and the 100 nuclear power plants!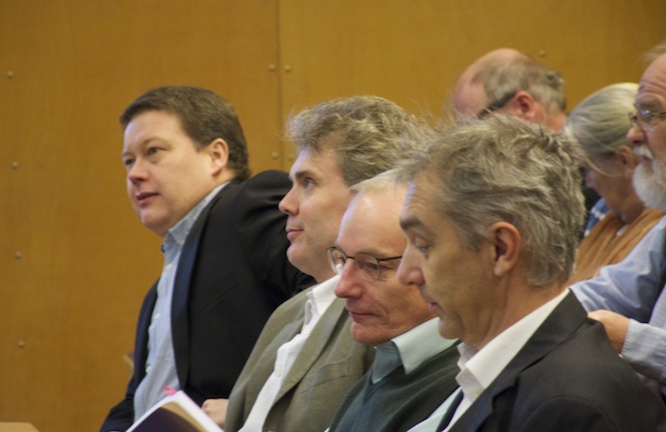 Important researchers for inspiration: Markus Törmänen, Henrik Sjöland, Sven Mattisson, Bo Bernhardsson
Prestigious invitations
The thesis contains five scientific articles, all based on the results of measurements on 65 nm CMOS circuits and Anders has studied different solutions for flexible receivers. One of the articles shows how to implement a full receiver path from the RF input to digital output.
In the introduction of the disputation, Pietro Andreani mentioned that some of the dissertation articles have been invited to prestigious journals and we are naturally curious about this.
-I have received three invitations, Anders tells us with joy and proudness! Springer Analog Integrated Circuits and Signal Processing. What I am really proud of are the two invitations to the IEEE Journal of Solid-State Circuits (top magazine within integrated circuits). The second article to JSSC was submitted the day before the defense.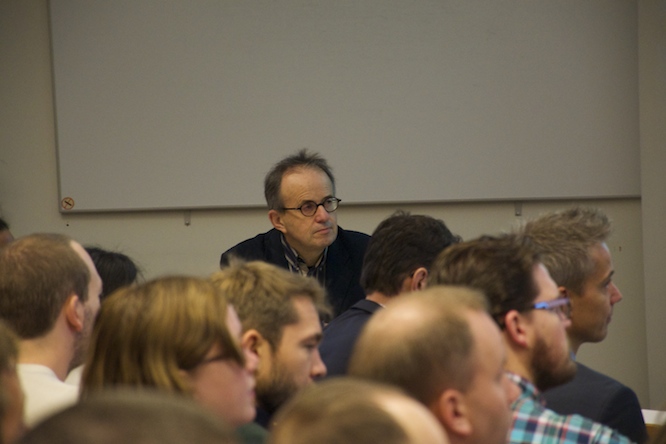 Opponent Eric Klumperink and...
Perhaps postdoc…
Asking about "what's next", Anders let us know that it will most likely be a post-doc and "some other stuff", leaving us unaware of details. -And who knows, perhaps industry work in the future, we'll see, Anders says.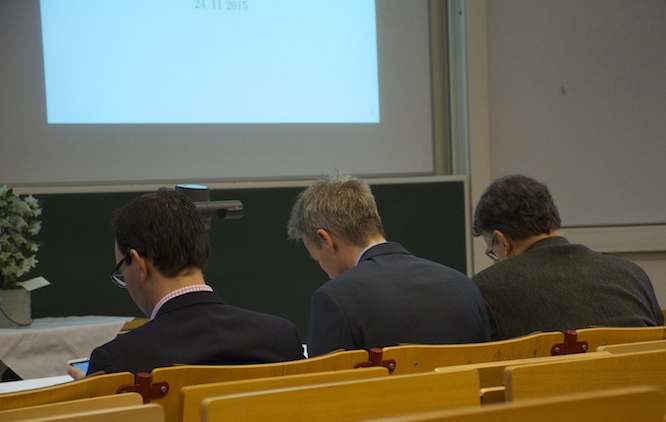 ...the committee prepare for questioning
Work is not all
There is also a life outside. In that, our fresh PhD is mostly ocuupied with family business. They all live in Kävlinge and his partner Jennie and their daughter Livia get his most attention. Together, they will probably all join in future countryside- and travelexperiences , something Anders like. Travelling has already been a nice part of his research work.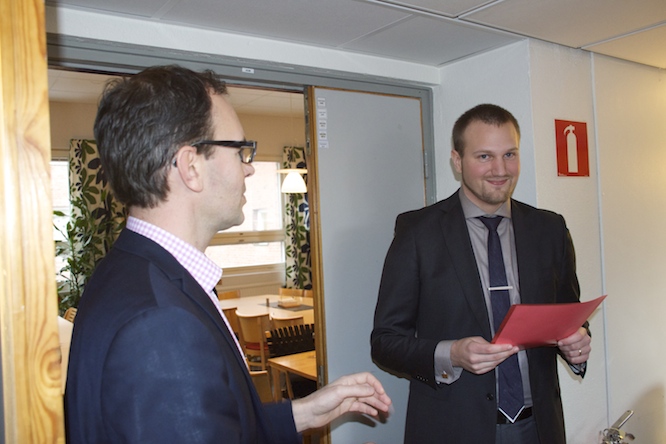 Certificate
Prefer electronics to biology and chemistry.
-I grew up in Svenljunga, a small village outside Borås, Anders says. After moving to Skåne for high-school, I stayed here. Military service was done in Revinge and followed by technical nanoscience in Lund. It was too much biology and chemistry for me however. I longed for applied sciences and moved to electronics. I was determined to move to industry after my masters but when an opportunity for PhD-studies appeared, I found it exciting. Another four years at LTH! During my research studies I also took part i an exchange program at Marvell, Pavia in Italy for 4 months last year. Lot's of fun and I learned a much.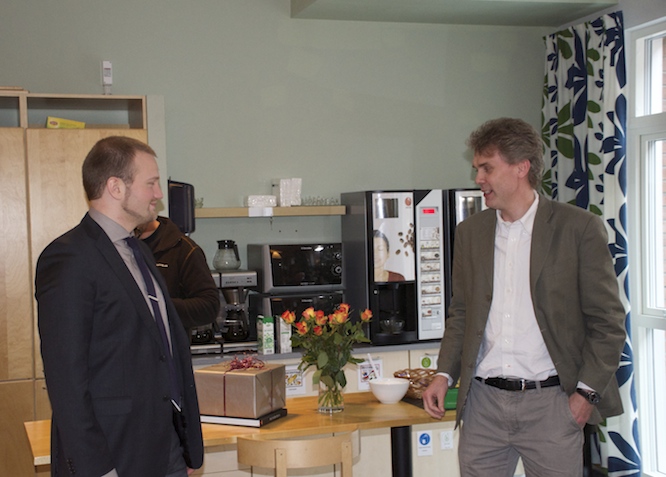 Congrats from supervisor Henrik Sjöland
EIT congratulates to PhD-exam and wish good luck in coming careers!
Text and photo: Anders Borgström
---
2015-11-19 Viktors trappa invigd.
Published: 2015-11-19
Officiell invigning av dörren och trappan från EITs fikarum till innergården genomfördes medelst bandklippning av prefekt Daniel Sjöberg under torsdagens informationsmöte. Nu är det fritt fram att äta, fika och lösa världsproblemen i friska luften.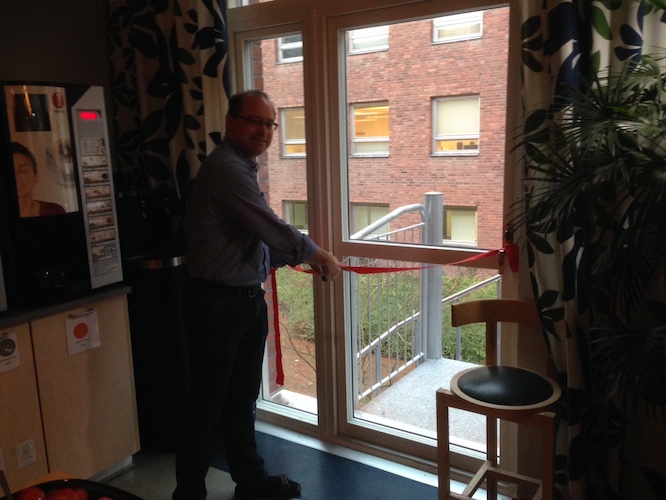 ---
Open Campus i Helsingborg
Published: 2015-11-16
Nyligen hölls det fjärde Open Campus i Helsingborg. Campus dörrar öppnas för alla som är intresserade och nyfikna på dagsaktuell och samhällsrelevant forskning.
Fler än 4200 studenter och över 200 medarbetare bedriver dagligen utbildning och forskning i nära samverkan med region, myndigheter och näringsliv. Dessutom finns det fler än 120 studenter från 30 länder på plats och forskare och lärare från många olika länder. Här utbildas framtidens modevetare, kommunikationsstrateger, socionomer, ämneslärare, högskoleingenjörer och ledare inom servicesektorn.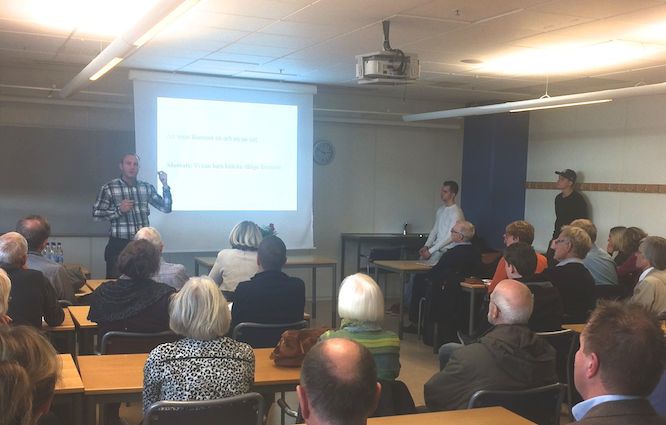 Martin Hell, EIT, föreläser om lösenord. Bild: Erik Larsson
Tre EIT-presentatörer var på plats. Nedelko Grbic pratade om hur man kan förbättra vår hörsel med hjälp av mikro-datorer, Martin Hell beskrev hur ett lösenord knäcks och hur man skyddar sig och Erik Larsson undrade om man kan lita på elektronik. Stort intresse med mycket folk på plats.
Förutom EITs presentationer bjöds föreläsningar om allt från servicekultur, begriplig pensionsinformation, ungas politiska deltagande i sociala medier, handel och trender i en global värld, kunskap i skolan och mycket mer.
Text: Anders Borgström.
---
2015-11-09 VR Grants announced. Three to EIT!
Published: 2015-11-09
VR have published this years grants and among them are three EIT-ones.

Erik Lind: "Endimensionella högpresterande III-V nanotrådstransistorer." 3 MSEK
Thomas Johansson: "Framtida kryptografiska primitiver från LWE och relaterade problem." 3,4 MSEK
Fredrik Tufvesson: "Fasbaserad positionering med hög noggrannhet." 3,6 MSEK
Full list here.
Congratulations!
---
Aiming for bright collaboration with MAX IV
Published: 2015-11-02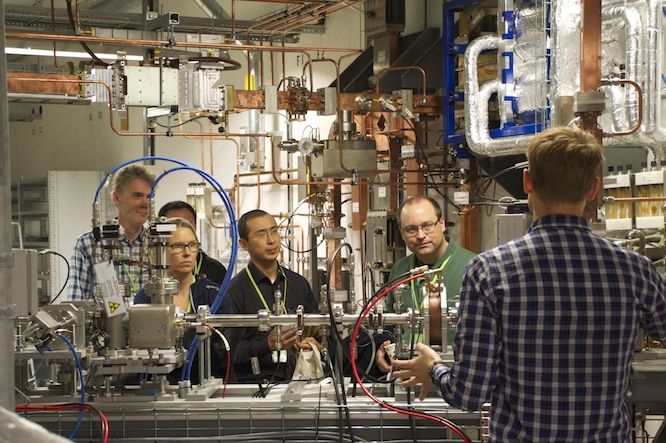 Earlier this year LTH's management queried our researchers on how to involve in coming-up ESS- and MAX IV-activities. A number of entries arrived describing areas and possible partnerships that could have a potential in fruitful research collaborations. This goes for both accelerator technology and experiments that will be performed in the MAX IV beamlines during the coming years.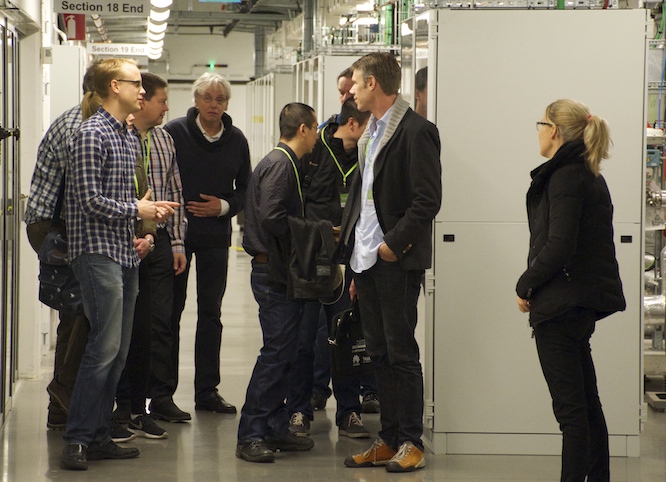 A variety of proposals were posted, among others they dealt with characterization, accelerator design, IoT, signal processing, big data, cloud, assembly technology, FPGA and more. There is no lack of ideas and creativity in thought.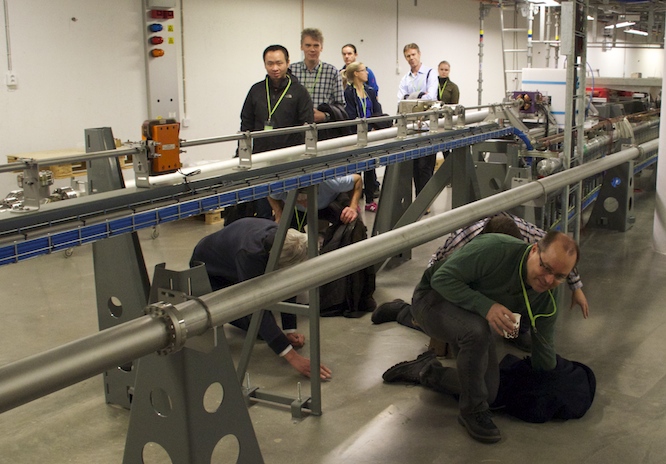 In order to boost dialogue, we arranged a trip to MAX IV. The site is in good progress towards initial operation and the research groupleaders together with those who had shown collaboration potential all took the local bus (nr20!) to the brand new site.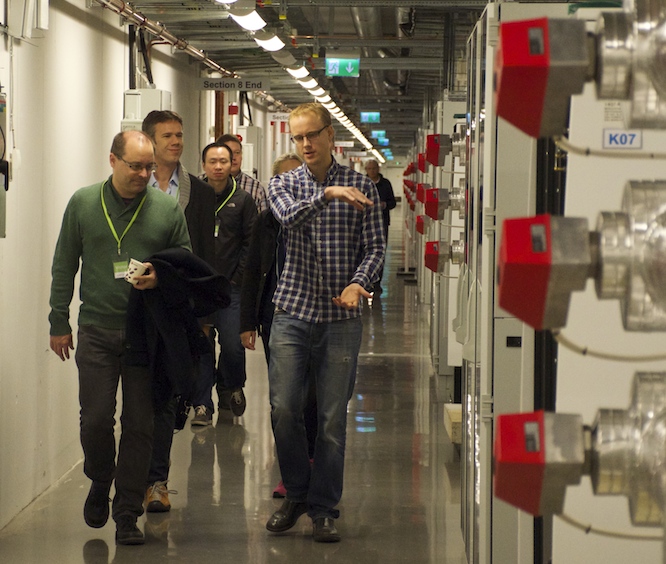 Up there, a short specialized lecture and a guided tour took place, focusing on electronics, RF and electromagnetic fields. In the MAX IV- and ESS-accelerators, it's much about pulling and kicking charged particles with help from electromagnetic fields, an area EIT is pretty well familiar with. Another interesting area for us is how to handle the huge amount of data being produced through the experiments in the beamlines. Big data concerns with regards to storage, processing, transport, presentation and more are things that also tune in to many of EITs research areas.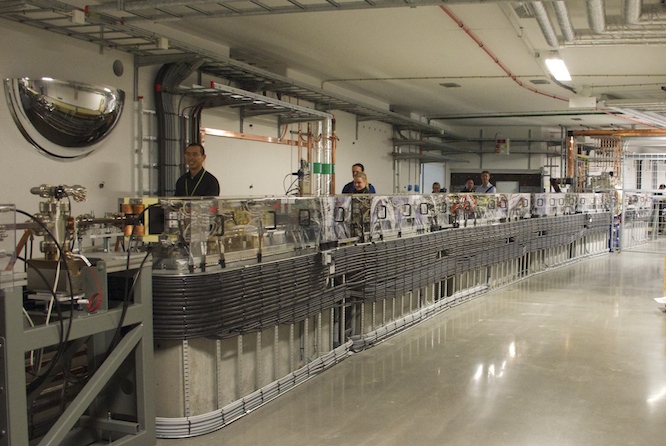 The MAX IV lab consists of 2 storage rings with electron energies and circumferences of 1,5 GeV/96 m resp 3 GeV/528 m. The produced electrons are accelerated firstly in a so called LINAC (Linear accelerator) and the being injected in the storage ring. The presentations gave a very good overview of how it all works.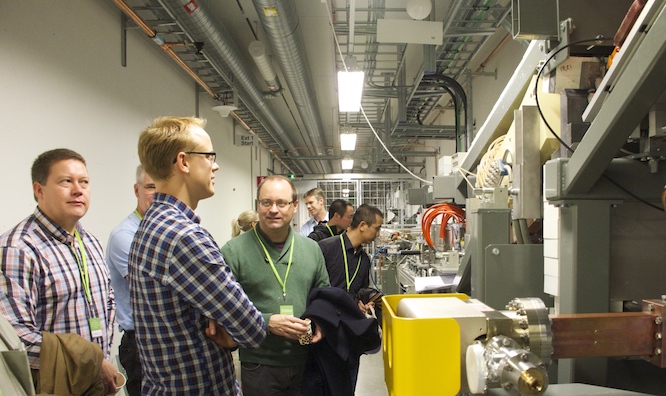 The MAX IV technology evolves from MAX II an MAX III and the synchrotron light is created when the electrons are accelerated in the circular movement in the rings. The Max IV light will be much more energetic than in earlier labs which will provide a full set of new opportunities in coming experiments. We will simply see more and the "lightbulb" is benchmarking very well on the global arena of accelerators.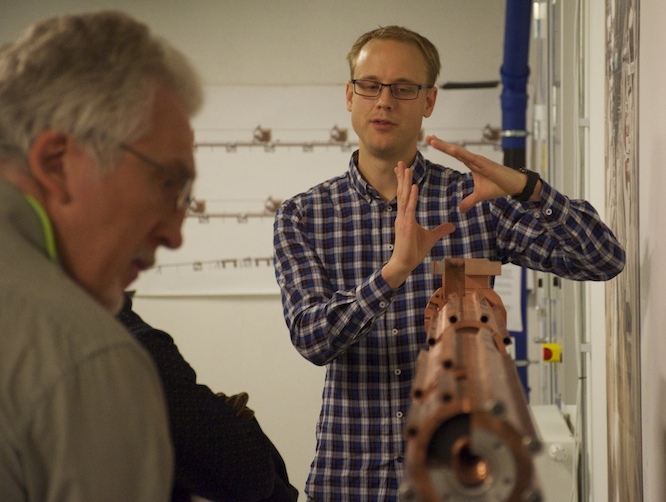 The meeting, the presentations and the guided tour were initial steps to create preconditions for a fruitful dialogue between our research teams on both sides. The later ESS-collaborations will probably be even more interesting (some are already running) but a field trip to that site would today more focus on excavators and construction technology. Perhaps something for LTH V-section?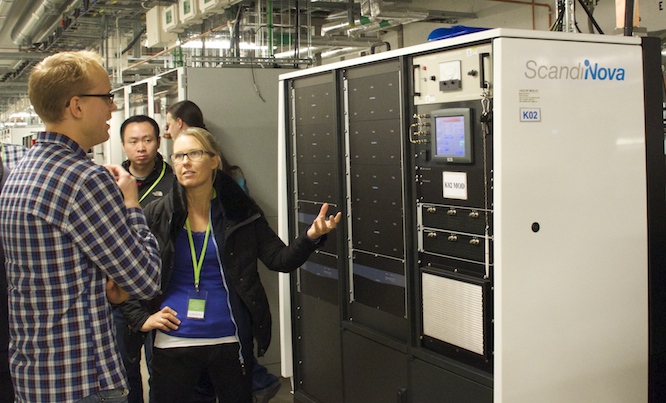 A warm thanks for a very nice and high technology guidance goes from EIT to Sverker Werin, David Olsson and Lars Malmgren. And thanks also to Sara Thorin who organized it all but unfortunately not attended because of sick child at home.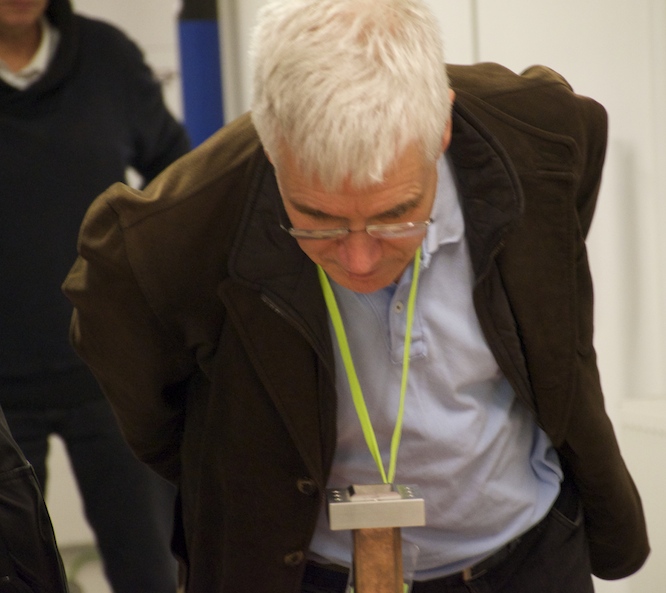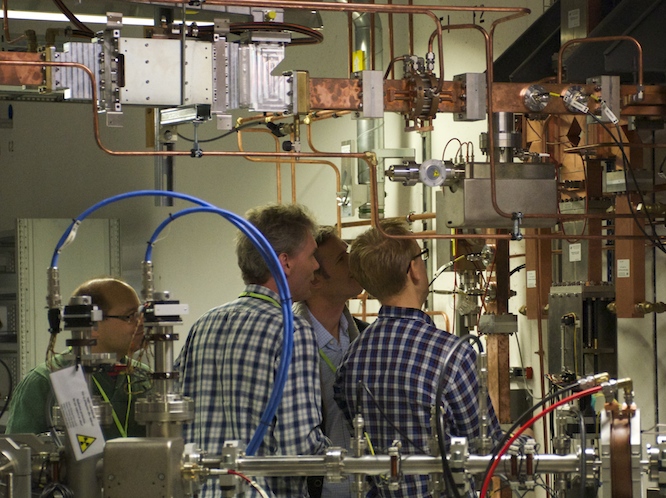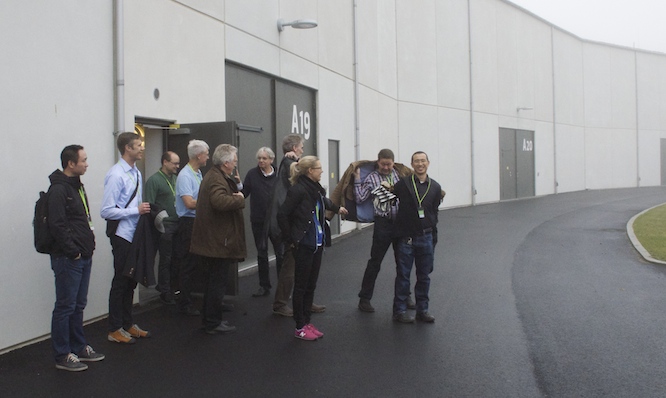 Text och bild: Anders Borgström
---
InfoCOM 2015 med rymdtwitter och virtuella pengar
Published: 2015-10-20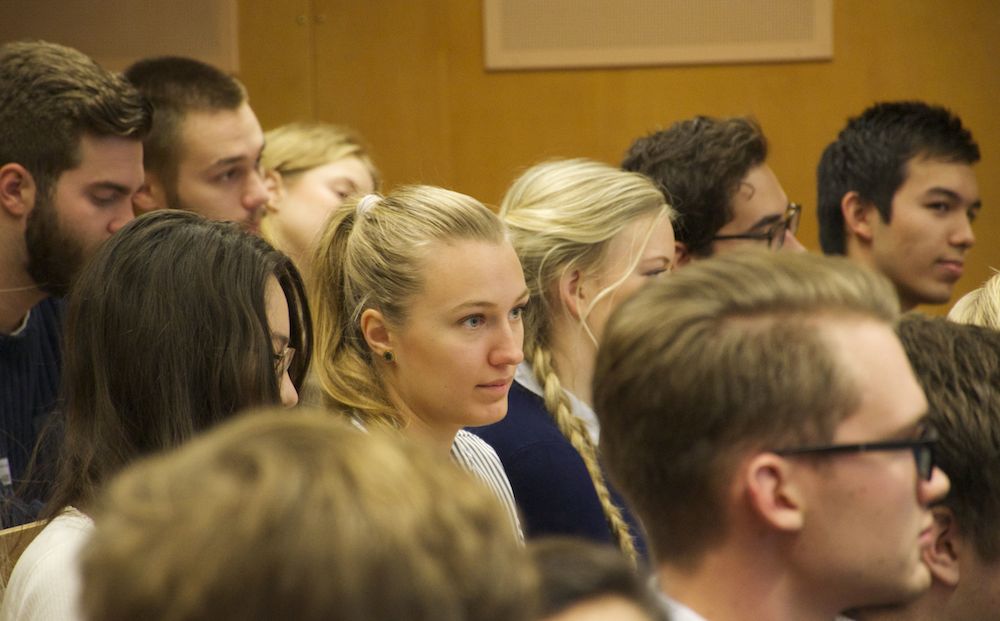 Koncentrerade åhörare på InfoCOM 2015. Bild Anders Borgström.
Kursen Kommunikationssystem avslutades häromdagen med elevkonferensen InfoCOM 2015 där studenterna presenterade resultatet av sina fördjupningsstudier. Förutom examen och presentationer efter 6 v arbete så är det en "konferensträning" för deltagarna där man också granskar varandras rapporter, ställer frågor, minglar i fikapauser och annat som hör till större vetenskapliga events.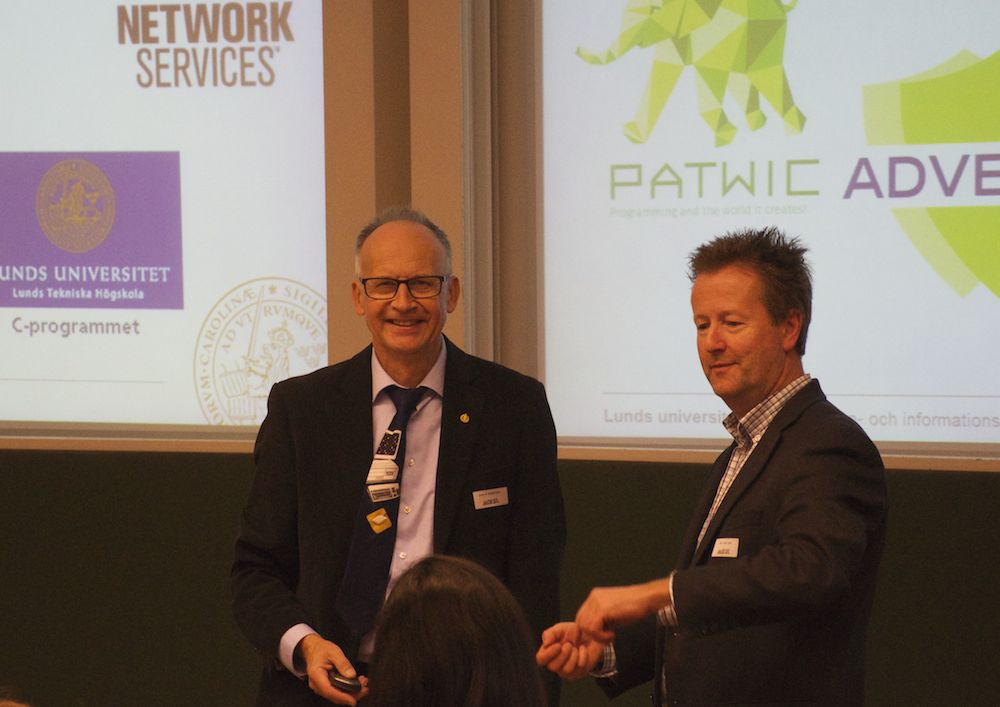 Konferensordförande Jens A Andersson och Key-note speaker Carl-Axel Alm. Bild Anders Borgström
Universitetsadjunkt Jens A Andersson inleder konferensen med att prata om kommunikationssystem och vad studenterna kan förväntas ha för kommande arbeten och uppdrag i framtiden. Detta är som sagt examen och skriftliga rapporter är inlämnade och ligger nu i proceedings på USB-minnen.
Som på varje viktig konferens kommer det sedan en öppningstalare eller s.k. key-note speaker, en roll som detta år besätts av Carl-Axel Alm från Axis Communications. Dessutom får alla veta vem som betaler kaffe, kakor och mackor m.m. I år ser vi Sony, Anritsu, Network Services, Patwic, Advencia och sist men inte minst Lunds Universitet på sponsorsliden.
Carl-Axel Alm eller "Cacke" inleder med att säga grattis till studenternas val av LTH vilket i hans fall ledde till bra jobb och roligt liv. 1985 då han skrevs in stajlade man med VAX-terminaler, Macintosh Plus och alla möjliga fonter i sina rapporter. Efter 22 år på Axis har han varit med om en spännande resa som tagit företaget från leverantör av 6809-baserad diabildsväxlare och IBM printservrar till att bli marknadsledande på nätverkskameror med mångmiljardomsättning i bokslutet. Förutom kameror och mjukvaror så utvecklar företaget även sina egna ASICar vilket sysselsätter 20 utvecklare. Japanska Canon håller successivt på att ta över ägandet vilket ger stabilitet i en stor värld samtidigt som kreativiteten tillåts fortsätta. Man har totalt 800 utvecklare i Lund och en uppskattad rekryteringsväg in till företaget går via exjobb där ca 60 examensmogna studenter varje år får en inblick i företaget och inte sällan också ett kul jobb efteråt. Man anade viss lockelse i publiken.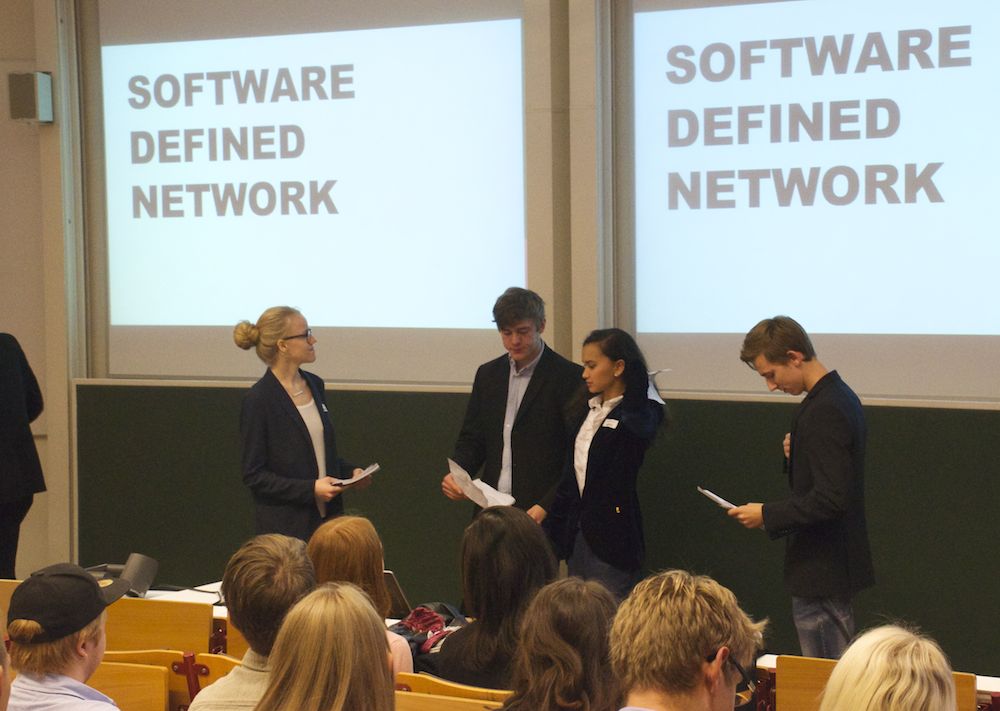 Presentation av framtidens nätverk. Bild: Anders Borgström
Efter keynoten var det dags för studenternas presentationer. Snyggt uppradade, välklädda och med trevlig norsk brytning inleds den "riktiga" konferensen med ämnet SDN eller Software Defined Network, ett område som handlar om abstraktion för dataplaner, arkitektur för nätverk, kontrollplan, dataplan, API er däremellan m.m.. Vi får höra att det är en flexibel och utvecklingsbar plattform där nätverk kanske kan bli som elektriciteten hemma i framtiden. Man betaler efter förbrukning helt enkelt. Om jag behöver lite mer bandbredd till filmen eller lägre fördröjning till spelet ikväll så cashar jag in några tior till. Så kör vi som vanligt i morgon igen.
Nästa gäng ställde på skoj frågan om det gick att twittra i rymden eller kanske lite mer specifikt hur vi ersätter det gamla hederliga TCP/IP-protokollet när de fysiska avstånden mellan nätverksnoderna blir väldigt långa. Lösningen kan då vara s.k. Delay Tolerant Networks (DTN), ett nätverk som syftar till att lösa problem som uppstår i extrema miljöer. Som rymden. DTNs arkitektur följer OSI-modellen och man samlar upp data i stora "bundles" istället för att skicka många meddelanden.
Efter dessa presentationer fick auditoriet veta mer om optiska nätverk, NFC-transaktioner, LTE, kognitiv radio, Bitcoin och andra spännande områden som ingenjörer med kunskaper i kommunikationsteknik kan tänkas arbeta med i framtiden. Summerat: En lyckad kurs, en lyckad konferens och studenter med nya kunskaper och konferenserfarenhet i bagaget.
Text: Anders Borgström
---
Water taps and quantum mechanic tunneling in Martins world of nano.
Published: 2015-10-05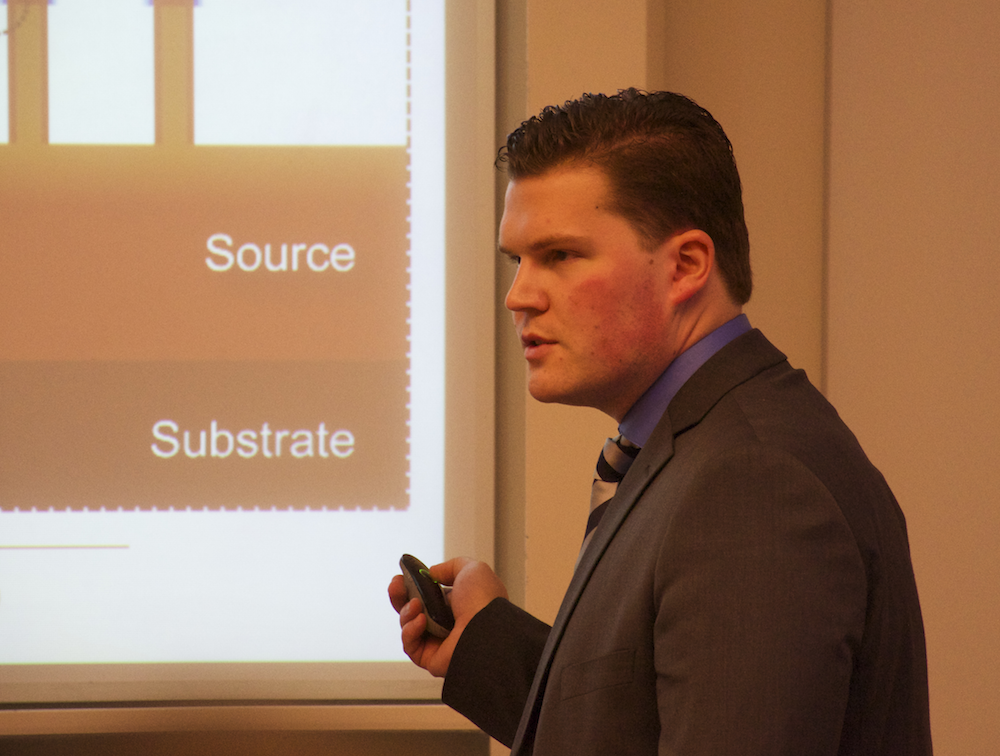 How does one explain a transistor to someone, if not with a water tap? The gate is the handle, the water work is source and the sink symbolises drain. That's the thesis in a nutshell! Martin Bergh does however tell us a little more about his research. Like for example how few atoms between source and drain can lead to quantum mechanical tunnelling effects. Maybe slightly harder to comprehend than the drain example.
Faster and more energy efficient with nanowires
In his research, Martin has studied the usage of nanowires in electronic components and circuits. Nanowires are cylindrical objects with dimensions of only a couple of dozen nano meters. By designing these wires out of semiconductor material and building transistors out of them, you can potentially achieve faster and more energy efficient electronics than through conventional methods.
Has produced circuits
"We were a couple of people working on these nanowire transistors, but I was mainly focused on the issue of how to build them and how to come, in practice, as close as possible to the theoretical performance that had been calculated. During the course of my work on it, I have developed new methods of transistor production, new ways of finding elements in the transistors that reduce the performance and, in addition, designed electrical circuits that use the nanowire transistors", Martin says.
Exciting topic
Martin was previously studying for his masters degree on the technical nano science program and when an opportunity arose for Martin and Kristofer to do their master theses with the EIT nano electronics group, it eventually led to a role as a research assistant, and after that, a PhD.
"The mix of electronics, physics, maths, measurement technology and chemistry is both fun and challenging", Martin tells me. "Ever since school, I've enjoyed maths and the natural sciences and I haven't found it that hard, so continuing with it at university seemed like the right choice."
From Västergötland to Skåne
He's 29 years old and originally from Lidköping, in the North of Västergötland, but has after all these years moved down to Lund and Skåne. After some initial trouble understanding the local accents of the lecturers, he's now able to handle it a bit better. And Lund is nice.
Larger contacts and better performance
So what advantages do nanowires have, compared to planar technology? "Maybe it can enable you to make larger contacts for your transistors and thereby making the contact resistances smaller. If you can freely exploit the extra dimension in vertical direction, then you get an advantage in performance. Same thing could happen if you use lateral transistors with nanowires stacked on top of each other", Martin continues.
Thin and short is the target
The nanowires that the team currently have in their lab are about 30 nm thick and with a height of 6 to 700 nm, they can get sticky and vibrate. "We want them shorter, but lower than 400 nm, which is probably not possible in today's lab. Stacking 5 to 6 transistors in every wire could also be possible, which is tricky to get right but could be done if there's some progress in production methods", Martin cautiously adds.
When asked why the semi conductor InAs is better than silicon, Martil tells me that it has to do with the mobility of the electrons and the so called injection velocity. Both parameters measure how fast the electrons can flow through the material and faster transistors are always a good thing.
And now things are getting small
The smallest transistors today are around the size of ten atoms. "Quantum mechanic tunneling" can occur and can cause a short circuit between source and drain, resulting in transistor failure.
"Gate lengths of around 3nm (equivalent to 20 to 30 atoms) is a realistic expectation according to the opponent's comments on the thesis", Martin explains to me.
No paper with Kristofer?
"No and that's a bit of shame since we've worked together for so long, but at the moment we've been working in different fields, with me in the lab and Krille doing simulations.
What do you want to be when you grow up?
"It's a bit of an open book at the moment, with possible routes being industry, academia or starting up my own business. The important thing for me is to be able to work with research, development, experiments or theory. It feels important to learn more, gain more knowledge and help humanity develop, Martin says. "And I'd like to not have to deal with economics. But sadly you need money for research too", he sighs.
"A fun fact is that I've contacted Arbetsförmedligen and spoken with their expert on nanowires. ;-) I'll have to see what he finds."
EIT congratulates him on his PhD and wishes him all the best in the future.
Text/Photo: Anders Borgström
---
Kristofer Juggles nano research and games programming
Published: 2015-10-05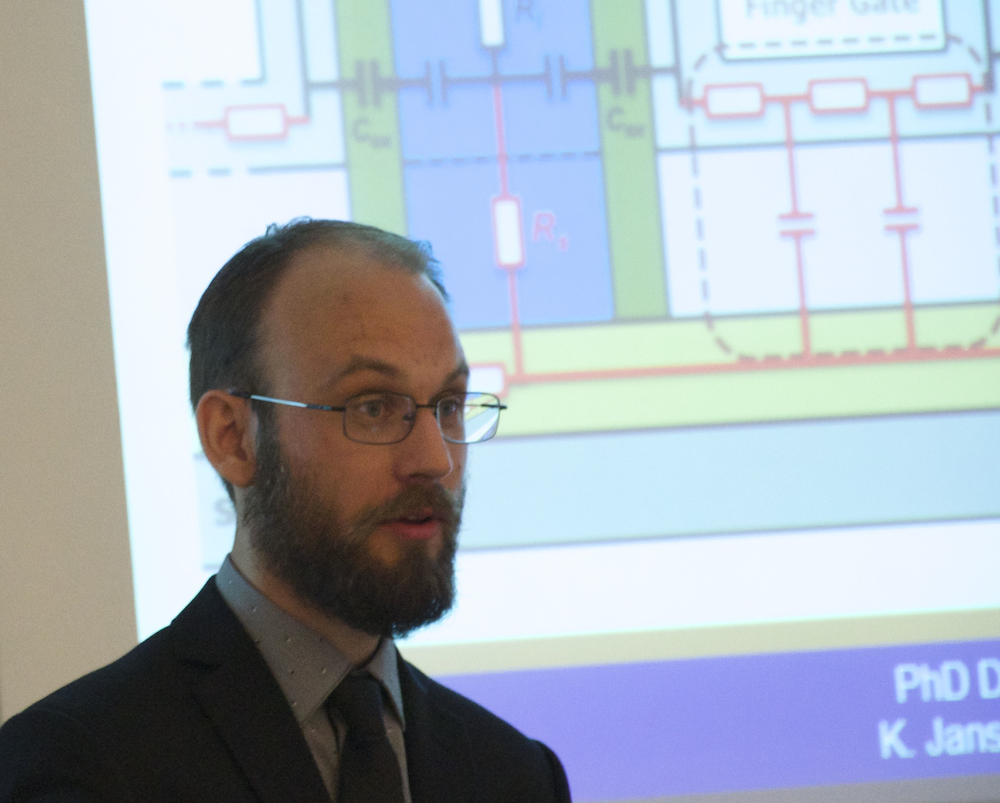 Explaining your line of work to someone isn't always easy and especially so if it happens to be something as advanced as nano threads for 3D transistor builds. One of EIT's newest PhD's however, can both build them and talk about them.
"If the party was fun? Yeah, it was nice to see all my family, relatives, friends and collegues", Kristofer Jansson, one of EIT's newest PhDs, says. His thesis is entitled "InAs Nanowire Devices and Circuits" and despite the heavy topic, Kristofer thinks most people were able to keep up when it was presented. "I spent quite a lot of time trying to find the right level to do my presentation at. And the page on popular science in the thesis was probably the hardest one to write", he jokes with a hint of seriousness.
Video disputation
The opponent's grilling was conducted via video link from India, a new move which will probably be used again by us many times in the future. Even if the risk of insufficient communications quality can cause certain anxiety on the part of the doctorate, it's doubtlessly a technology which will save both time and aviation fuel.
Fast, efficient and small
The research group that Kristoffer is part of has specialised in the area of "Vertical In-As Transistors in Nano Threads" which is probably the shortest way possible of describing the topic. When it comes to this bransch of micro electronics, the key words are fast, efficient and small and we're talking unity-gain upp i THz-area. Despite this, the circuit components that are being processed are simple, fundamental ones and the more complex circuits of the future that employ this technology may 'only' use a couple of hundred GHz.
Vertical III-V instead of planar silicon
"Can you make hybrids with both nano threads and planar transistors in silicon?", I ask. Dr Jansson informs me that other people in the group have shown that nano threads can indeed grow on silicon substrates. Researchers in Lund, however, are mainly looking at pure III-V technology and the team has Indium Arsenide as their niche, which is the semi conductor that the nano threads are built in. One of the reasons they want to use this semiconductor material is the high electron mobility it provides. "And we build vertical nano threads, as opposed to many other research groups in the world who lay them down instead", Kristofer tells me.
Basic research that will be useful ten years from now
Asked when these results will hit the market, the answer is that it will be quite a long while. "Probably closer to ten than five years", is Kristofer's qualified guess. "We're definitely dealing with the fundamental parts of the research here, even if we are still trying to demonstrate simple, working circuits. It's about simple inverters or amplifiers built from one to two transistors," he tells me. "The yield is insufficient to attempt more complex circuits and a lot more process development remains before we can start applying the technology more broadly."
From Nano to Games
Kristofer likes films (especially Star Trek), science, technology, games etc and is in fact active within the commercial games industry with MasterSpace, a game set in space that was released a couple of years back. "I've done a lot of programming through the years and in my game you fly around in space and build space ships. It can be purchased on the distribution platform Steam," he adds with a hint of commercial savvy. He developed the whole game by himself and it took a couple of years, using C++ and a mix of various open source libraries.
With expertise in both nano threads and games development, EIT has certainly found a scientist with great technological range. Who knows, maybe the games of the future will be run on nano threads-based platforms!
From Lidköping to Lund and happy to stay
Kristofer points to Lidköping on the map and we end up just south of Vänern. Martin Bergh, who is about to complete his PhD on the same topic, is a friend of Kristofer's since high school and they now share an office here at the institute.
And what does the future hold for Kristofer? "Well... we'll see, really." Lately, there has not been that much time and energy to spare for anything but completing the thesis.
"But industry, academia, entrepreneurship, everything's a possibility and it's all down to what opportunities that arise, of course. Lund is both exciting and pleasant to live in", says the previous Lidköping resident who has spent the last 10 years of his life here. And after such a long time, he's happy to continue his work in the local area.
EIT congratulates him and wishes him all the best in the future!
Text/Picture: Anders Borgström
---
New director at the helm of this years INDEC-SoS Workshop
Published: 2015-09-24
| | | |
| --- | --- | --- |
| Director Pietro Andreani (Piero) opened up this years Lund Circuit Design Workshop at Grand Hotel in Lund. Many interesting talks and spontaneous meetings took place at the workshop which is hosted by the VINNOVA Industrial Excellence Center in System Design on Silicon (SoS) and by the SSF-projects DISTRANT and DARE. EITs own researchers delivered new findings in different research fields and we also heard inspiring talks by distinguished invited speakers from Ericsson, Intel, Bell Labs, Sony and Twente University. | .. | |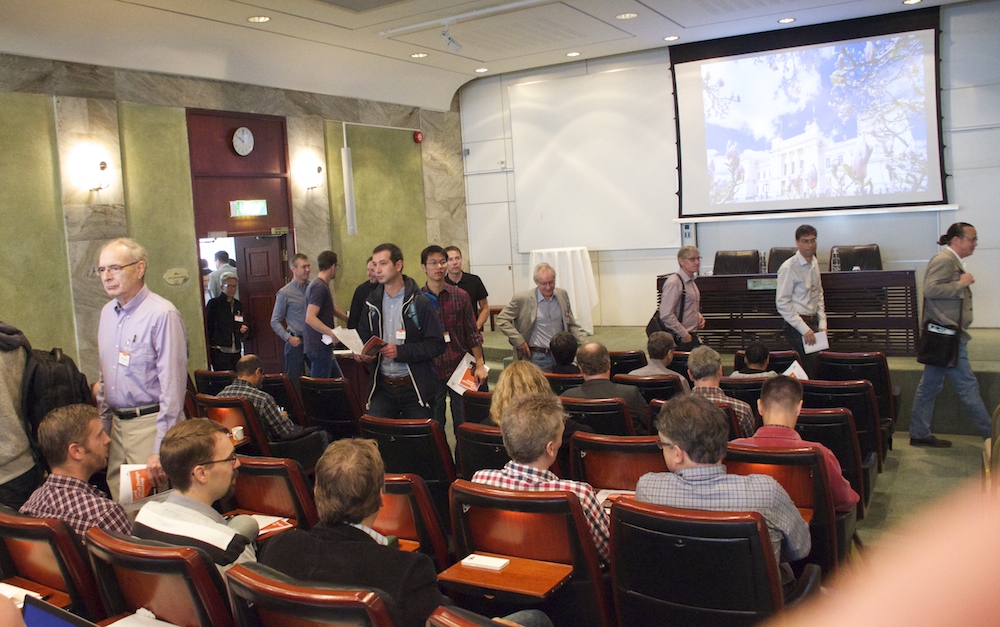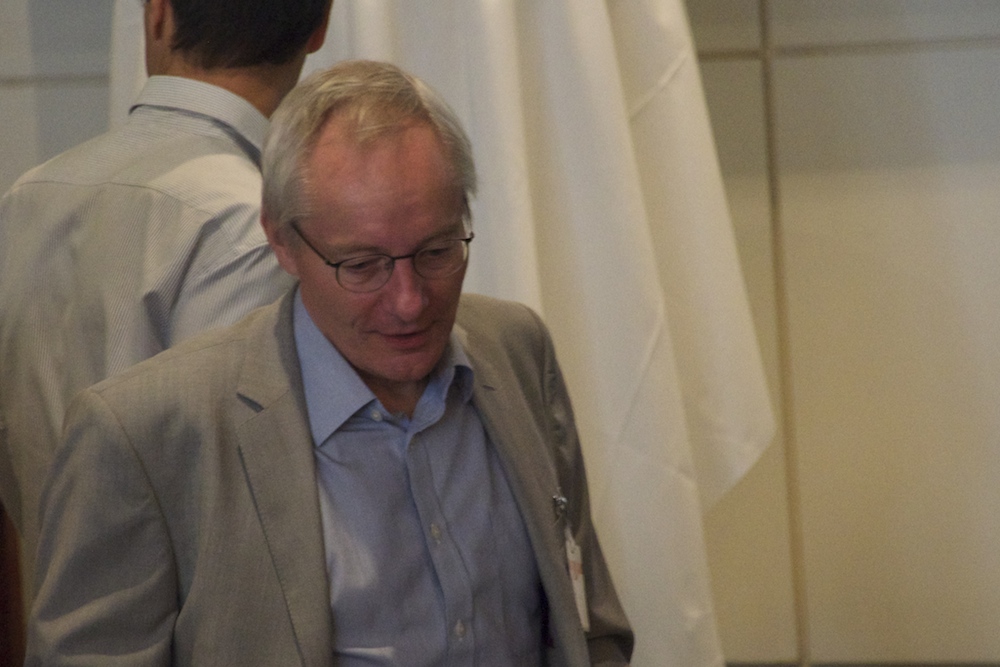 By Pieros side we saw chairman Sven Mattisson, previous center director Viktor Öwall (now LTH Dean), professor Jan Rabaey from Berkeley and other prominent attendees from near and far. This years workshop gathered around 150 people altogether.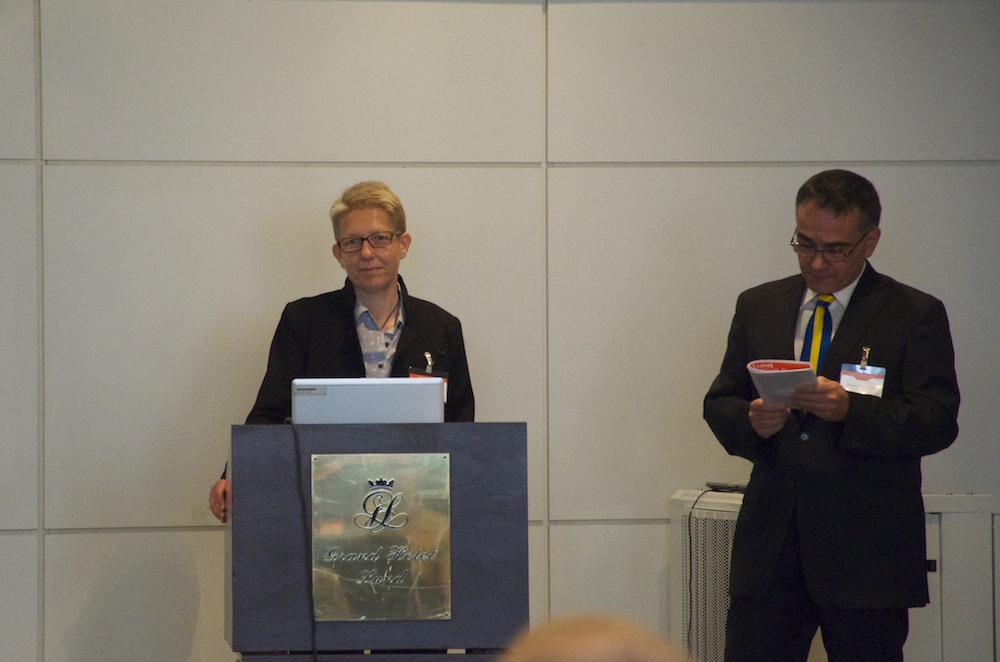 First speaker out was Dr. Ylva Jading from Ericsson and the title of her talk was "Network Energy Performance of 5G Systems".
Ylva talked about some essential drivers for the future networks, namely Economy, Ecology and Engineering. She meant that we will face new significant grid technology leaps of the size similar to what we have seen in the transition from laptops to tablets. -What is actually 5G she asked us all and herself. Well, probably a mix of an LTE-evolution and a completely new radio access technology, acronymed NX in the Ericssonworld. -When do we see 5G in operation, she continued? Well, Japanese operator DoCoMo e.g. will definitely require 5G deployed in time for Toky Olympic Games 2020. So let's go for that was her advice!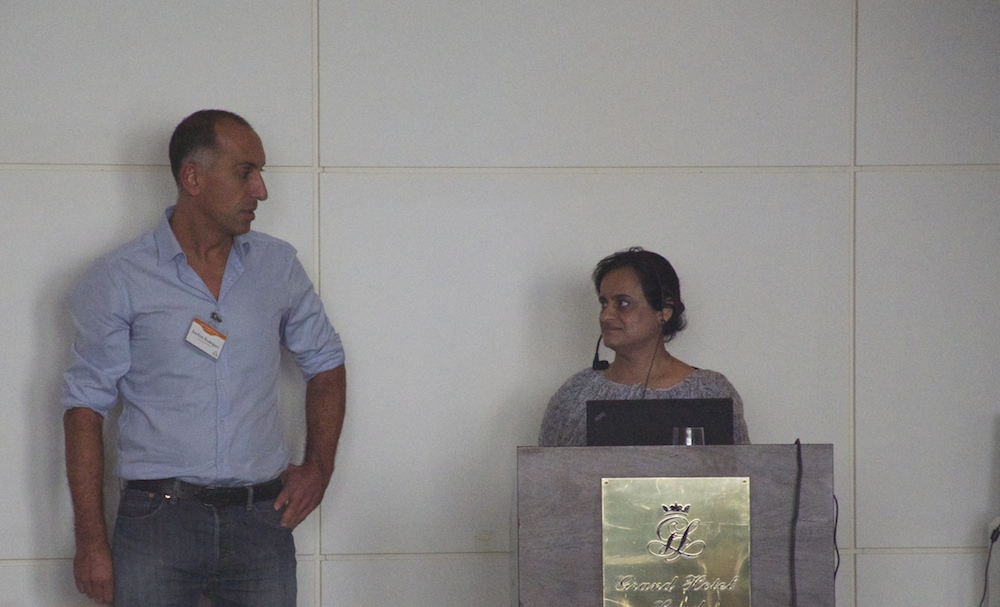 Dr. Farhana Sheik from Intel Portland, Oregon US was introduced by Joachim Rodrigues and she presented, among other things, findings around FIR-filter configurations and power-performance optimizations.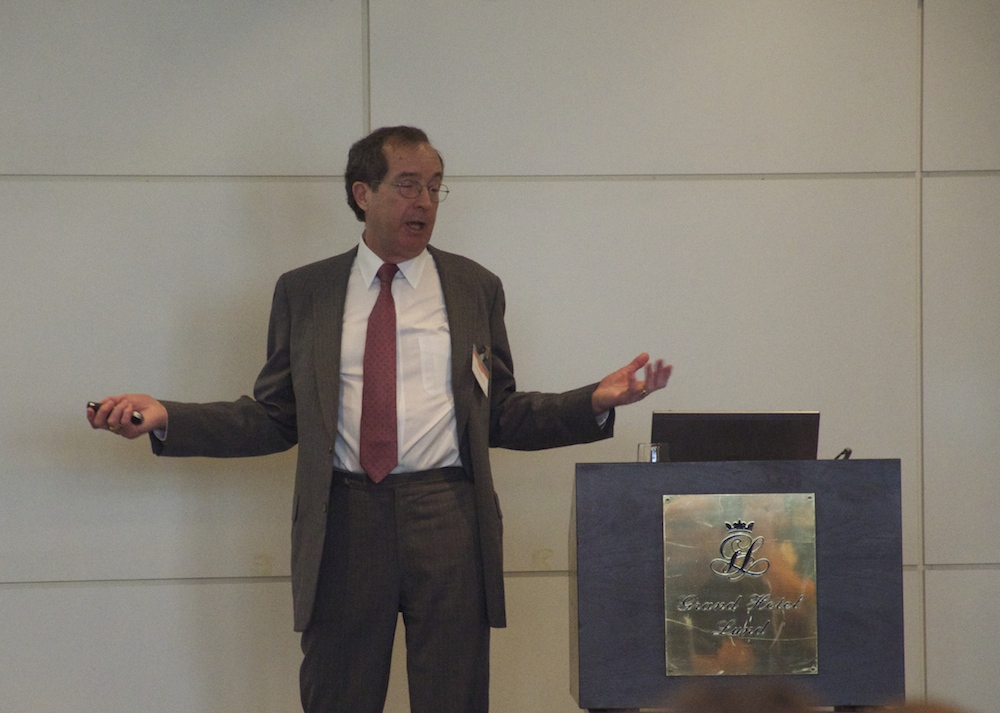 Dr Tom Marzetta from Bell Labs talked about fundamentals and system issues around the Massive MIMO technology, an area that has taken off significantly with many research projects addressing the topic from different aspects.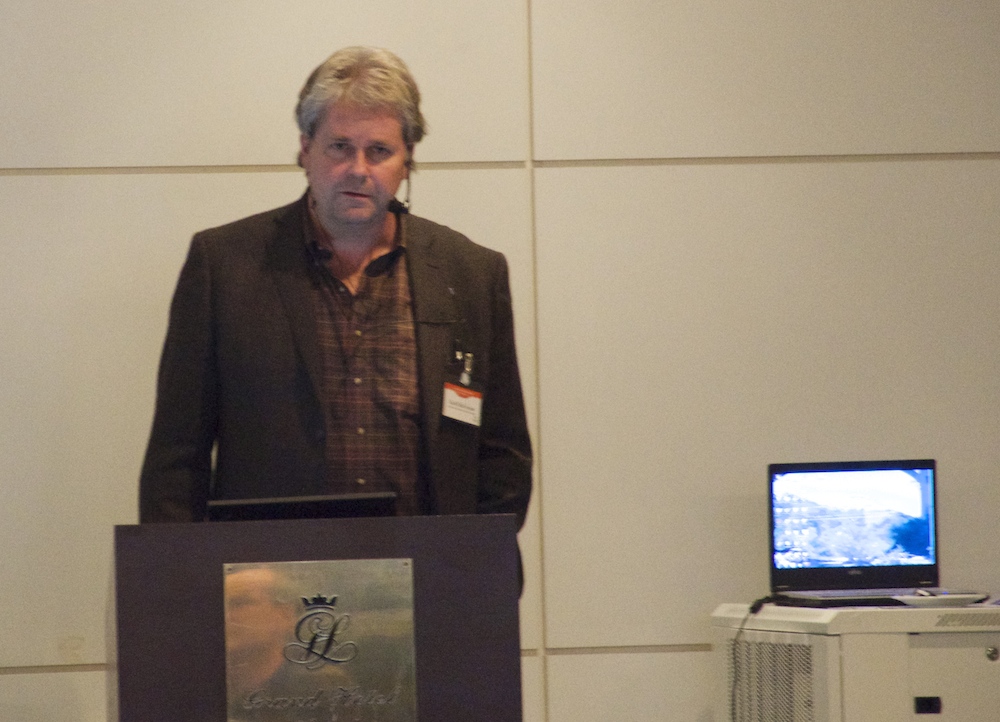 Professor Karl-Erik Årzen from the department of Automatic Control at our own university, enlightened the audience with a new large research program called WASP. This initiates from the private sphere of Wallenberg and will during 10 years focus on autonomous systems and software. The programs total budget is 1.8 BSEK.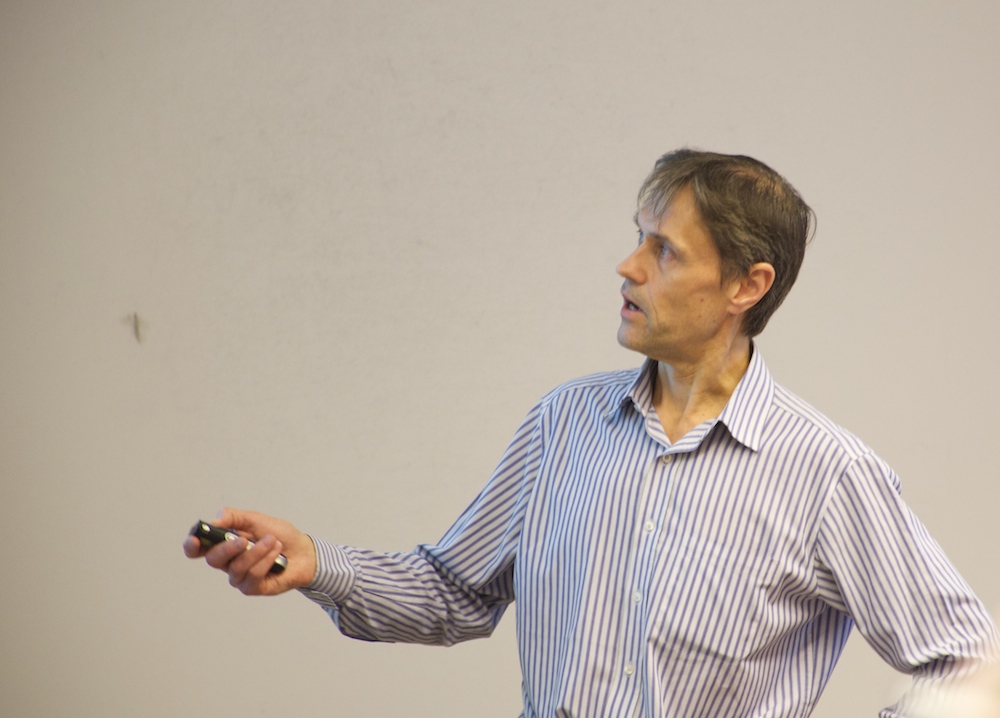 The next invited speaker in day 2 of the workshop was Chris Clifton, CTO at Sony, Basingstoke, UK. His presentation covered the challenges facing RF engineers in providing multi-mode and multi-band architectures.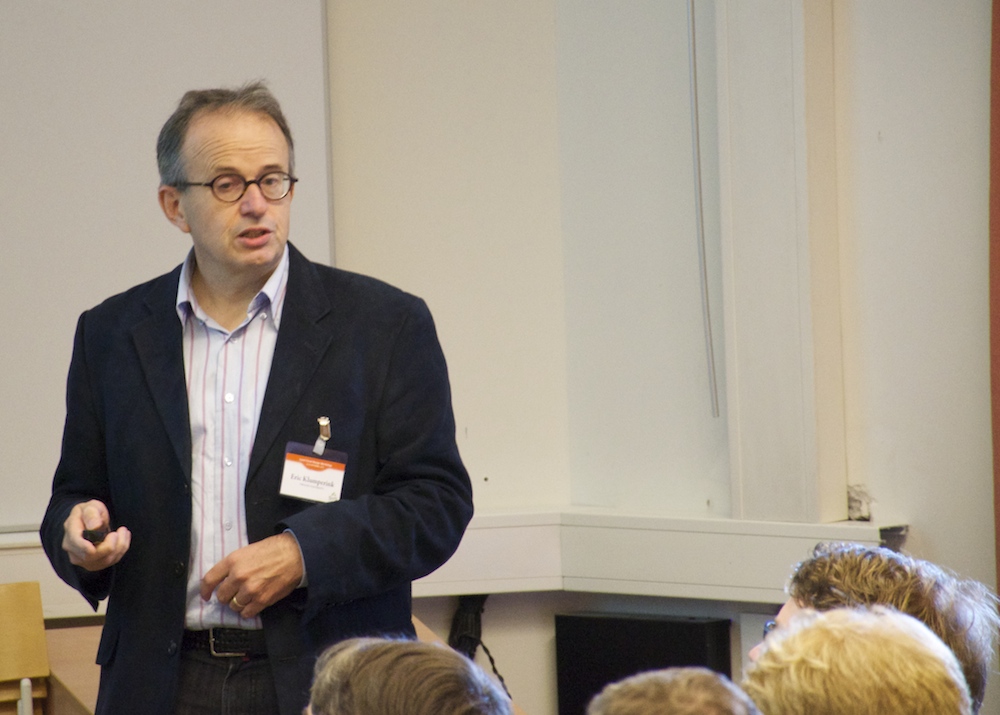 The last external speaker was Associate Professor Eric Klumperink from Twente University in Enschede, The Netherlands. He talked about challenges on interference in CMOS receiver front-ends and also described some recently proposed switched-R-C circuits that will aim to reject or cancel such interference.
The following talks were performed by EIT-speakers: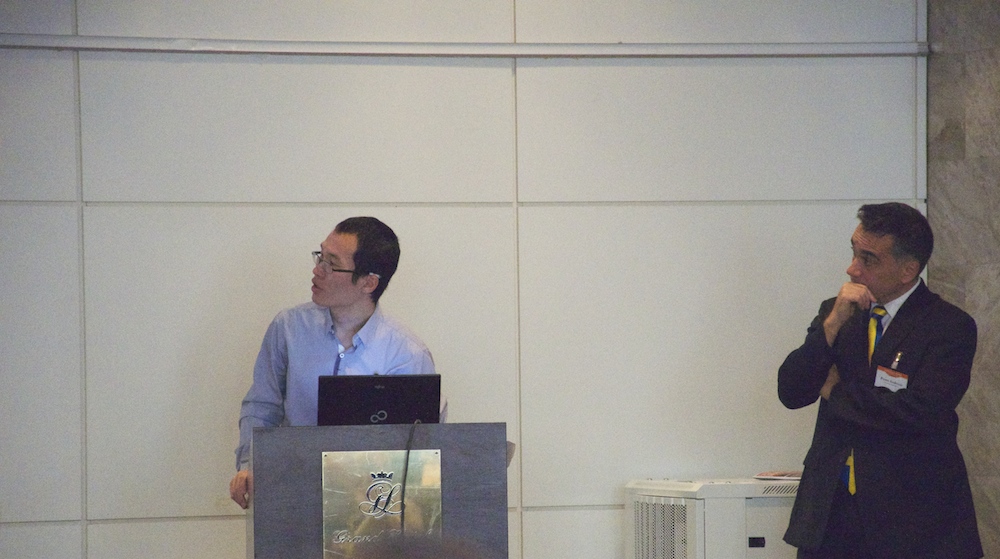 Xiaodong Liu talked about " Power-Efficient Wideband Radio Receiver"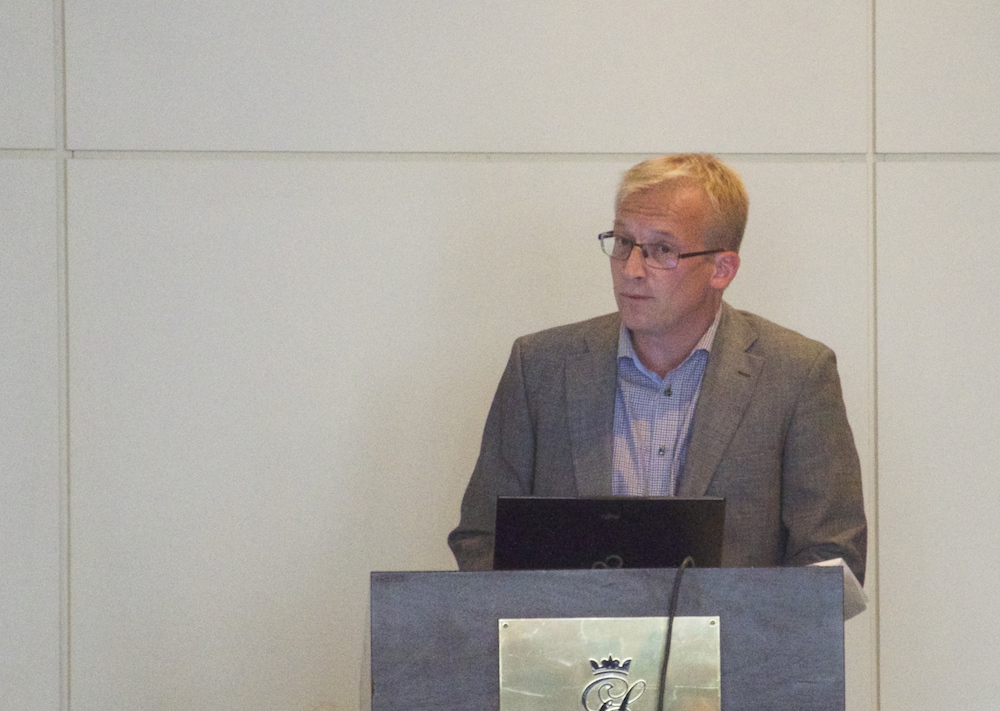 Tobias Tired talked about "SiGe PLL design at 28 GHz.
Babak Mohammadi talked about "Assist circuitry for low-power digital"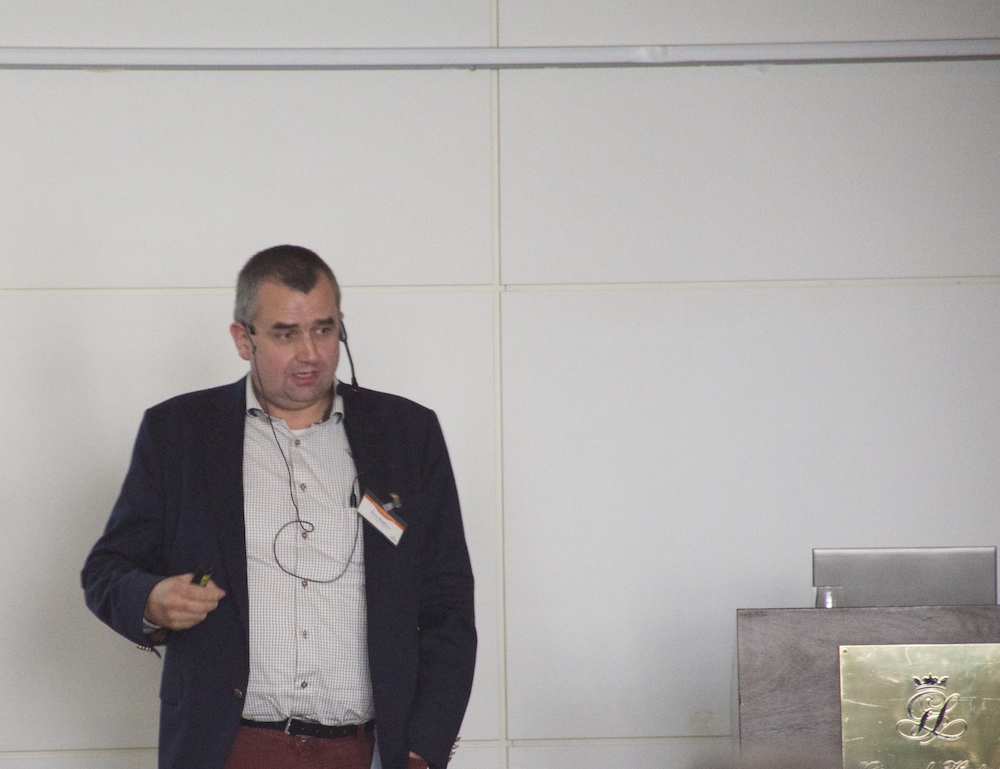 Ove Edfors talked about "Metrics for optimal front-end design"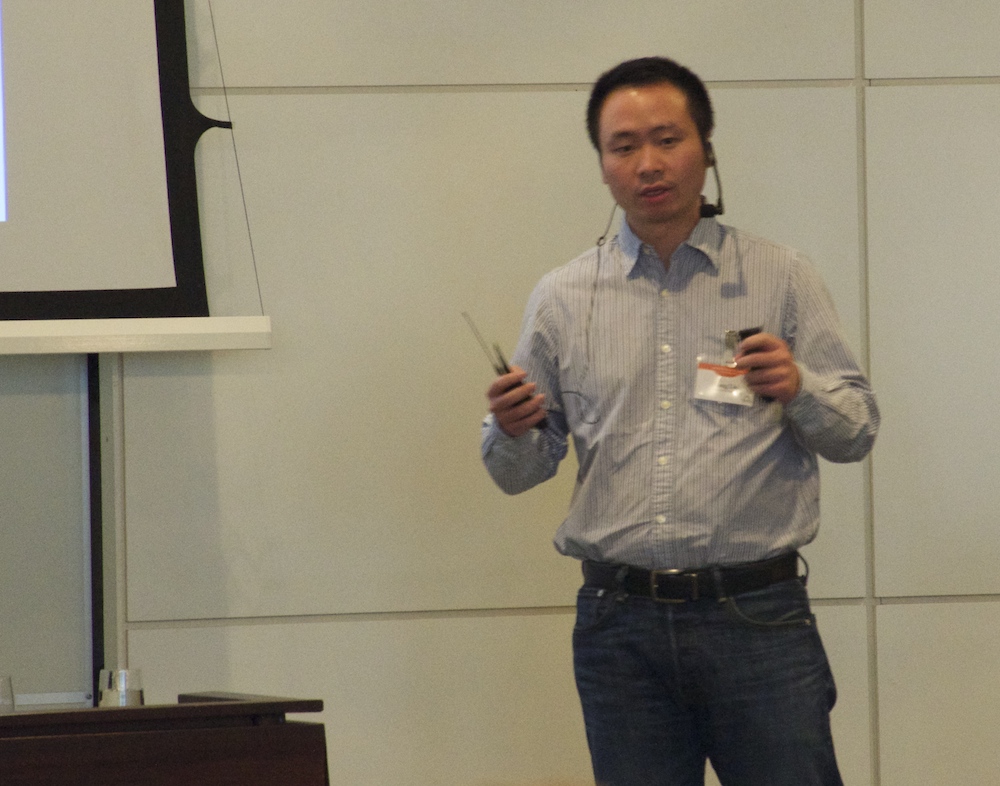 Liang Liu talked about "Massive MIMO at Lund University – LuMaMi"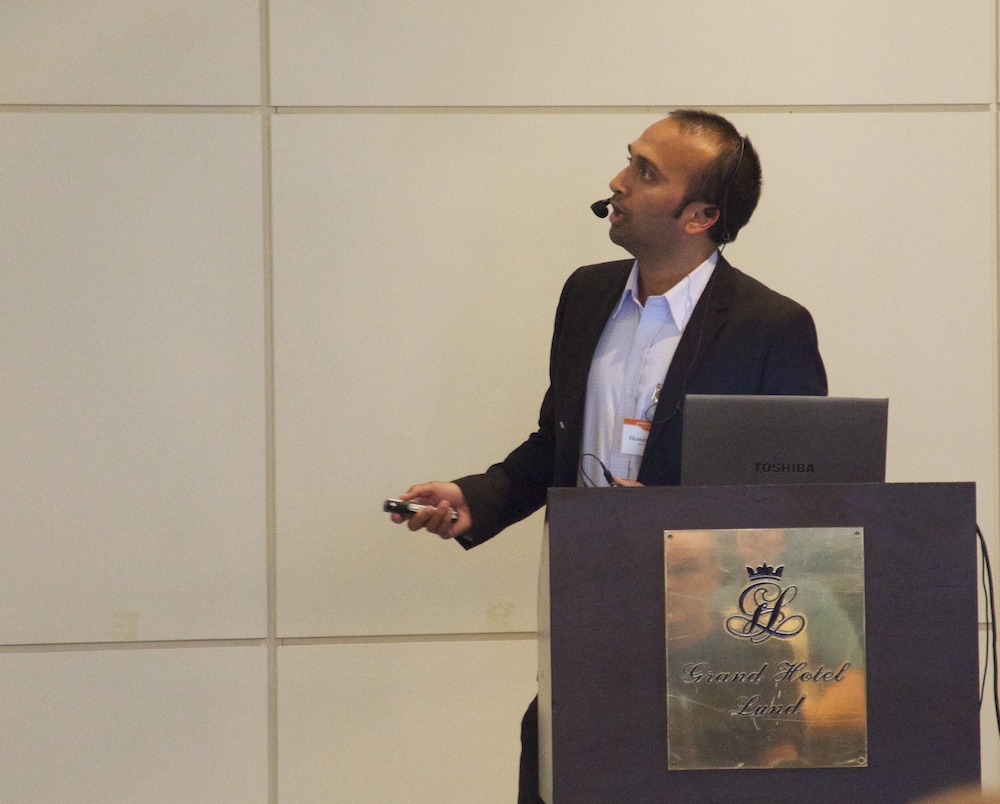 Hemanth Prabhu talked about "Efficient Baseband Processing for Massive MIMO"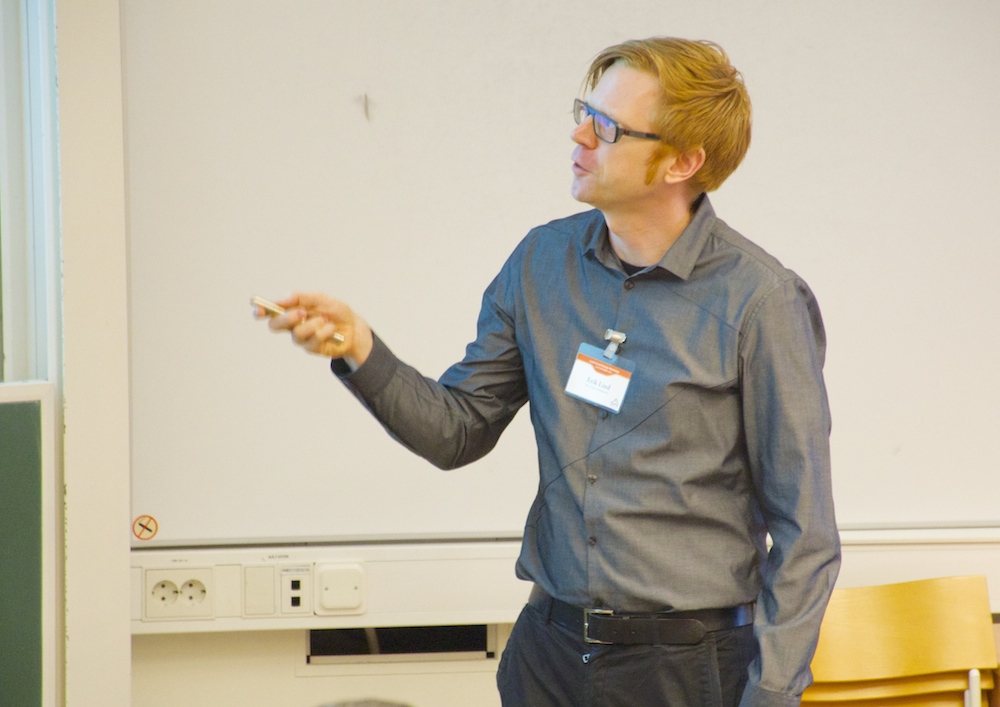 Erik Lind talked about "mm-Wave Characterization of III-V Nanowire MOSFETs"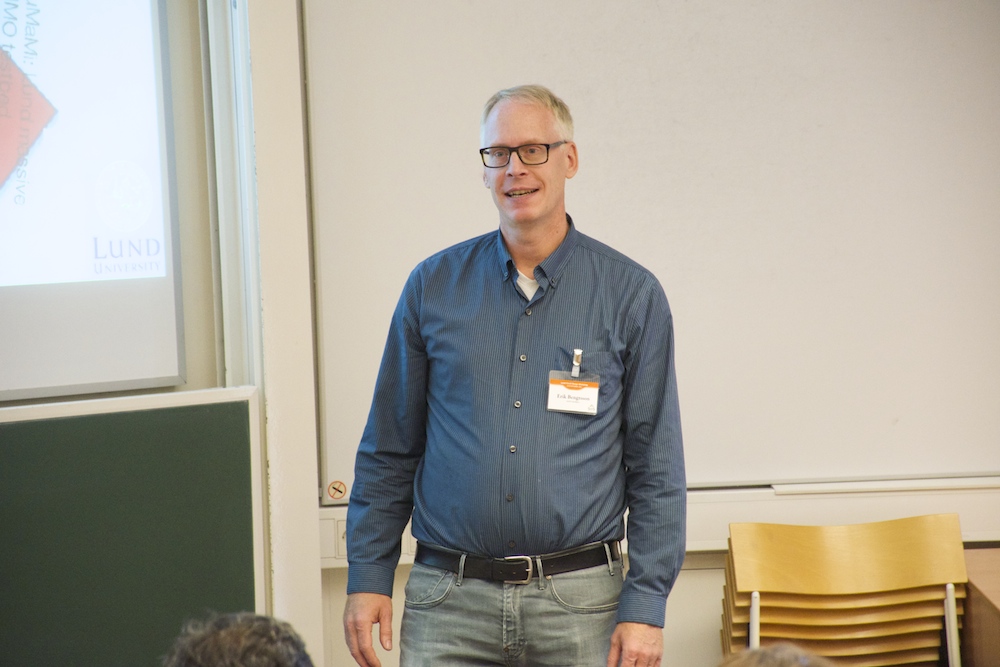 Erik Bengtsson talked about "Handset antennas for Massive MIMO"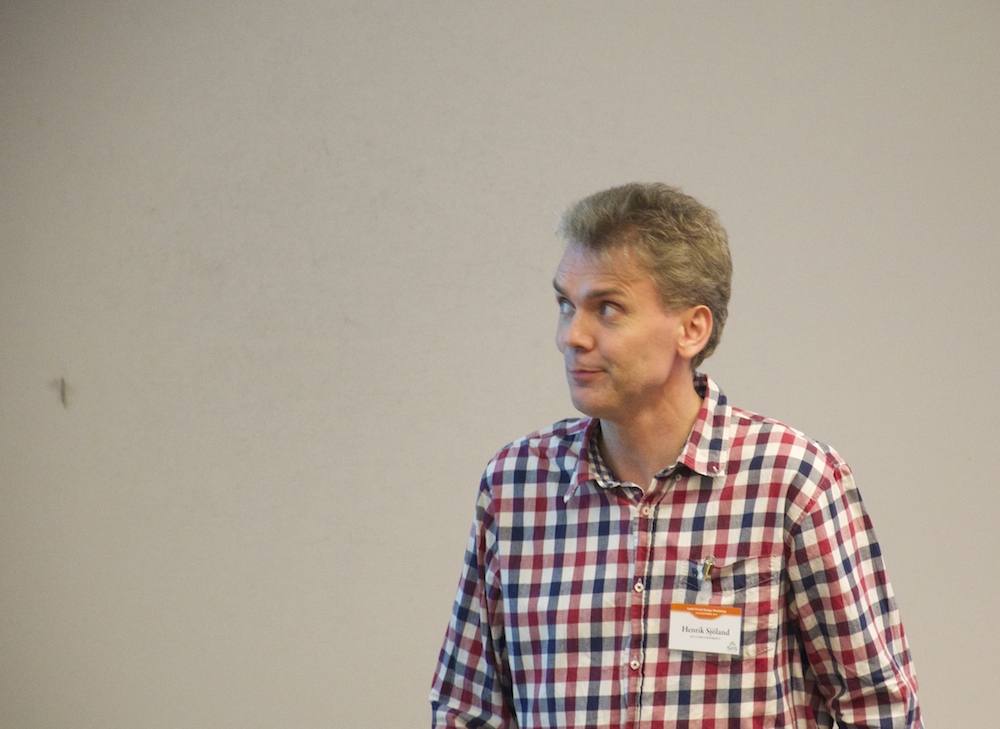 Henrik Sjöland talked about "Progress in RF circuit design"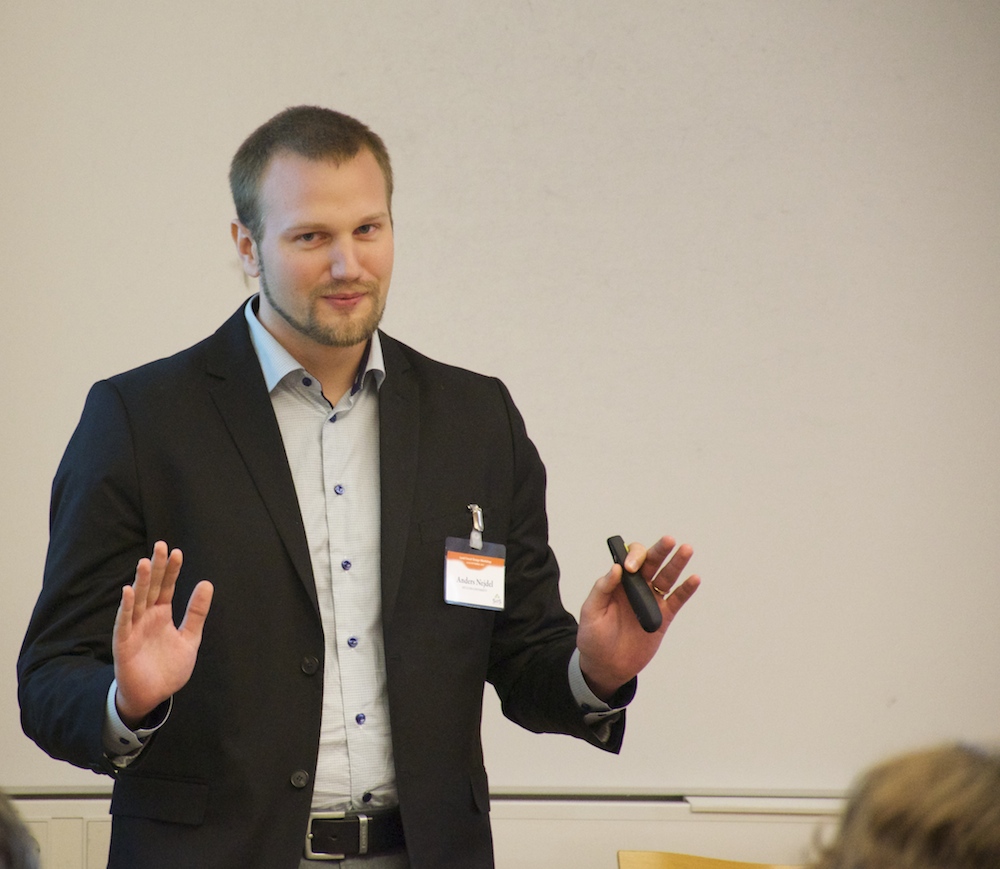 Anders Nejdel talked on "Feedback-based RF front-ends"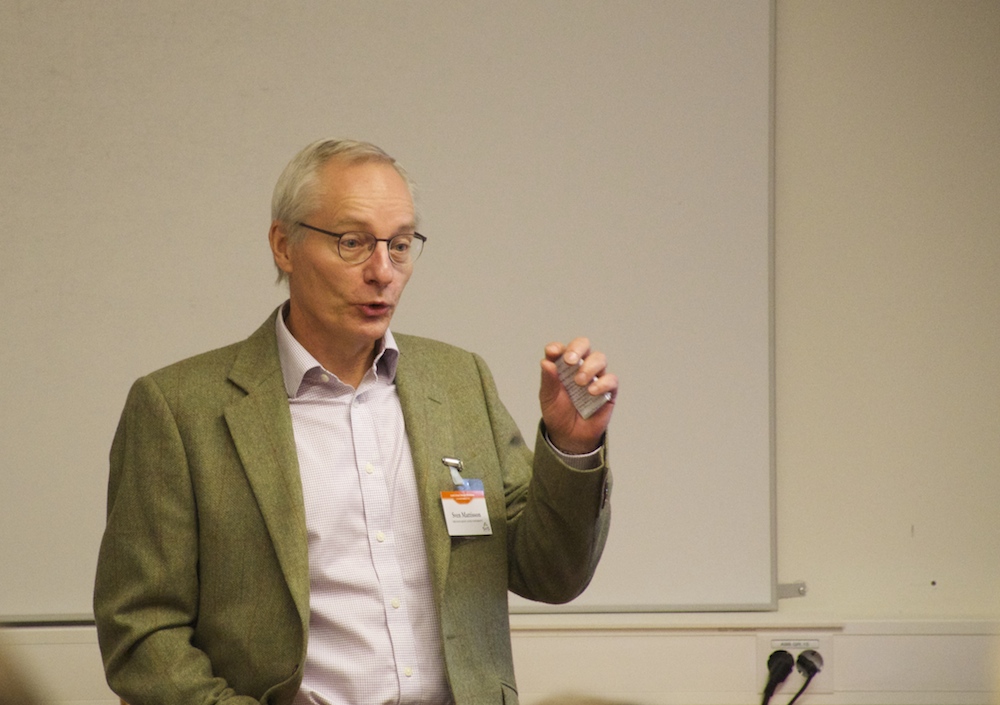 Finally the centers chairman Sven Mattisson thanked the presenters, the audience and the organizers for an event, very well performed and welcomed us back next year. As always, big results and small circuits. A special thank to Pia Bruhn who masterminded all the logistics.
A few more pictures from the event below.
Text and Photos: Anders Borgström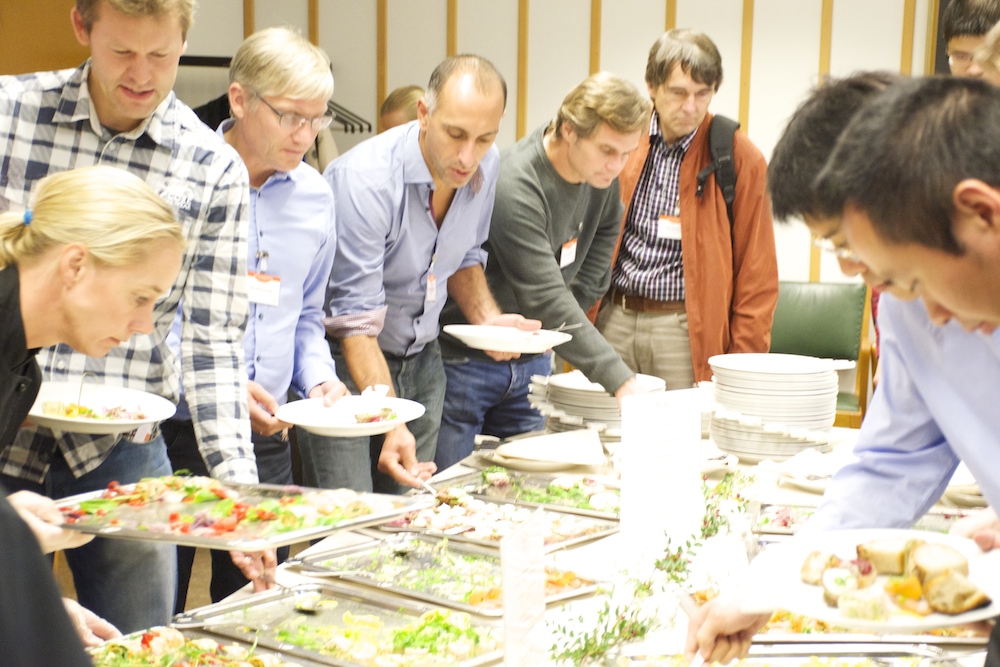 Hungry not only for knowledge…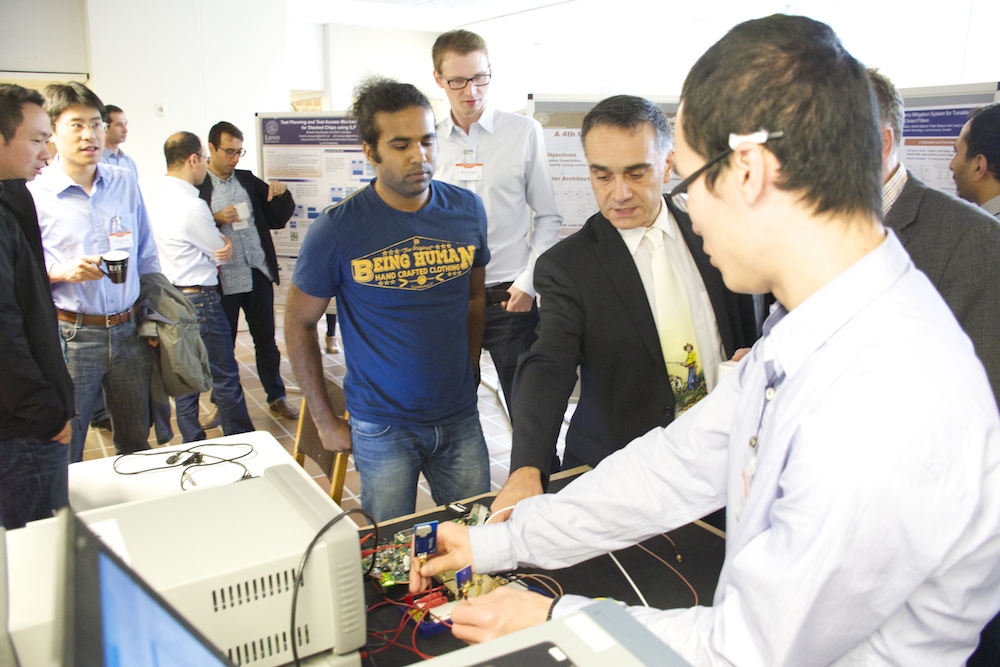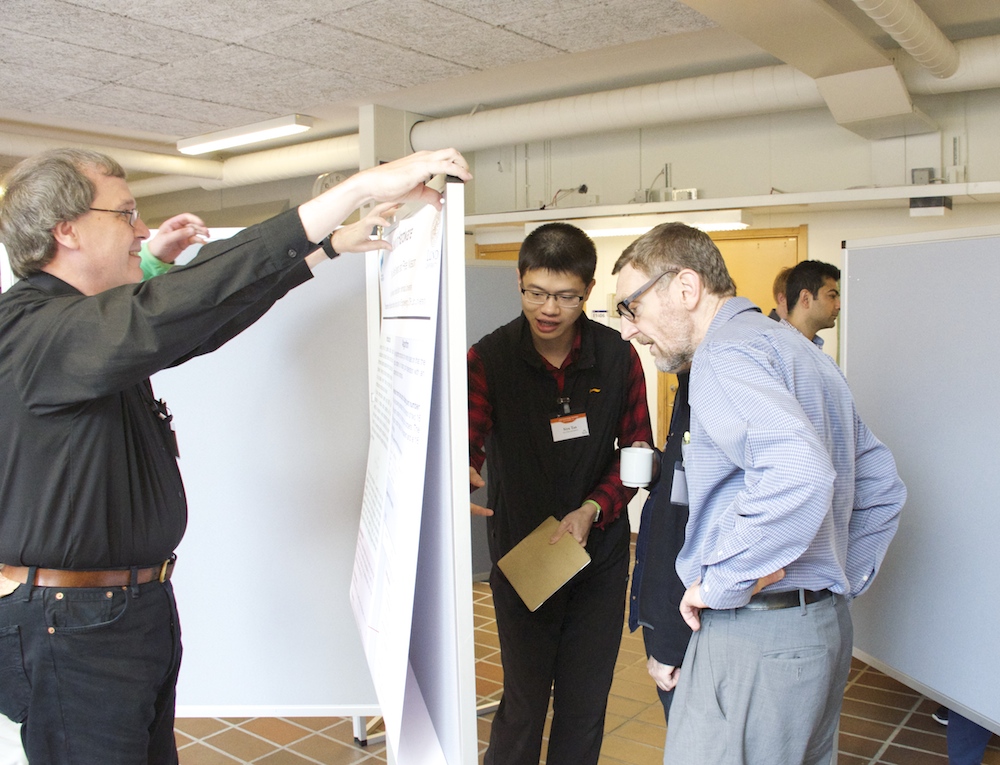 Demo and posters
---
Coming up! Lund Circuit Design Workshop!
Published: 2015-09-14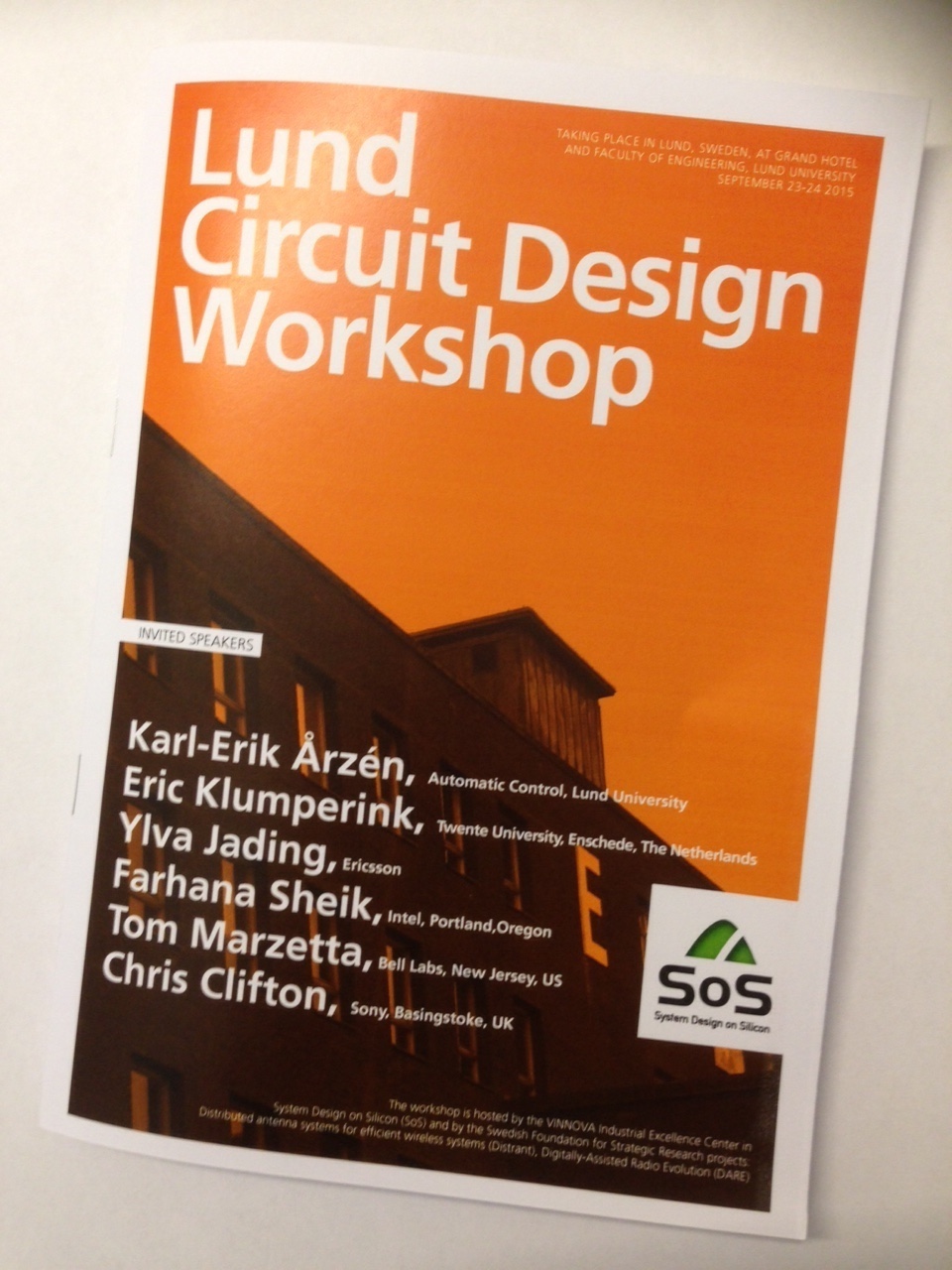 Around 150 researchers and outstanding experts from academia and industry will gather in Lund Sept 23-24 for 2015 Lund Circuit Design Workshop.
The "Lund Circuit Design Workshop" will take place at Grand Hotel and LTH September 23-24 and this years event will host expert guest speakers talking about 5G energy performance, Massive MIMO, autonomous systems and much more.
In addition to that, the main program will present world class research results on the circuit design fields such as power efficiency, PLL design, baseband processing, RF front-end, mm-wave, handset antennas and much more. Six expert speakers from academia and industry together with some ten from EIT will together deliver the latest findings to more than 150 researchers summoned in Lund. The workshop is hosted by the VINNOVA Industrial Excellence Center in System Design on Silicon (SoS), and by the Swedish Foundation for Strategic Research projects: Distributed antenna systems for efficient wireless systems (Distrant) and Digitally-Assisted Radio Evolution (DARE).
See detailed program here
See SoS Homepage here
Text: Anders Borgström
---
EIT-research within LTE heading towards IoT-markets
Published: 2015-09-09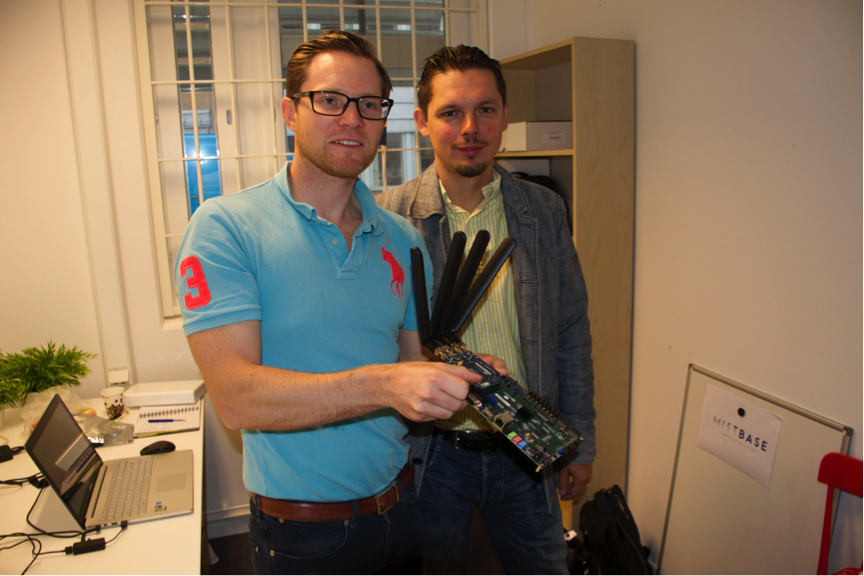 Magnus Midholt, "handyman" and Michal Stala CEO in Mistbases headquarter at Ideon Innovation.
Photo: Anders Borgström.
Michal Stala, PhD student at EIT together with Magnus Midholt with many years at Sony Ericsson/Sony Mobile are both working hard to take their proprietary solution to market. The aim is to address the world of IoT (Internet of Things) using 4G or LTE. -We will have a working demo at MWC in Barcelona next year, they say hopefully.
With office and lab hosted in a small room at the business incubator Ideon Innovation they also have nearby access to business coaches who interrogate with questions. Questions on business potential, customer benefits, marketing and other issues needed to make innovations hit the market. Technology development is one thing and business is another. -And we would like to do both. We have stepped up on the bridge between research and innovation, the guys tell us.
Magnus and Michal have been considering a joint startup since they did their Masters studies together at LTH and many ideas have since been tossed around frequently throughout the years. At the time, WAP and color displays were hot, now other things make headlines.
After employment at Ericsson, Michal began his PhD studies at EIT where he addressed the fields of LTE and 5G. -A course on LU Innovation in entrepreneurship for scientists got the business ideas to mature and our company Mistbase was born, says Michal.
Magnus is currently on leave from Sony Mobile and works full time and eagerly with his new company. He has been at Sony Mobile/Sony Ericsson since 2003 and during hard restructuring times he has been thinking a lot about the possible commercialization potential of research findings.
Trade magazine Elektroniktidningen, Newspaper Sydsvenskan and other mainstream media have written about Mistbase which has generated good buzz around their venture and some major industry players have already contacted them.
Mistbases unique solution includes circuitry and control software for the hardware plus some signal processing algorithms. Everything is compatible with the new so-called LTE MTC standard which will be launched by the standardisation body 3GPP shortly. MTC means Machine Type Communications and is an acronym that we all should start to get used to from now on.
Magnus tells us that the "real" LTE can deliver bit rates of hundreds of Mbps. -We are however aiming at bit rates below 1 Mbps and this will radically save cost and reduce power consumption, he adds.
One critical thing concerns how long the terminal is allowed to sleep before it "pings" and says "hey here I am" to the base station. Today, the maximum time is around 2.5 seconds, but with the MTC it can be held significantly longer. A cornfield that need to be watered e.g. does not have to ask for that every other second. With longer ping-times and highly optimized "sleep" they believe an IoT-unit will theoretically survive 10 years on 2 AA batteries.
The 2016 spring demo becomes a type-test case which will transmit signals between the base station and the terminal according to the LTE standard. -We validate and demonstrate that the next step to product is not long. -And we will show this with help from a sharp demo through the air, says Michal.
Coming up is recruitment of developers and testers for hardware or software and finances is of course a concern, as in all businesses. Today LUIS has entered the scene with basic investment and a minor partner- and ownership. VINNOVA has also supported and a few more calls and applications in neartime will hopefully help to get things to take off on a larger scale.
Collaboration ideas also spins in the guys heads, taking into account both scientific and industrial potential partners. They run many meetings now and approach both large and small businesses as well as other institutions within the university. It does not need not be just pure technical cooperation which is of interest. Also solution to problems and definition of needs and use cases are hot areas. We learn a lot about the future use-cases and business cases and how that can benefit players in the field. -We can help with both specs and solutions, the newborn entrepreneurs tell us.
Good luck from EIT!
Text: Anders Borgström.
---
EIT-antennas on world-map. Vancouver IEEE-report v2,0
Published: 2015-08-27
Prize money, getting published, and the honour of winning for Georg Wolgast, Hampus Månefjord, Edvard Johansson, Alexander Israelsson and Casimir Ehrenborg, alongside supervisors Anders Sunesson and Jakob Helander.
As mentioned here previously, student team 'Gerhards Grabbar' reached the finals in Vancouver on the 21st of July with their low-power BAN-antenna system and, at the awards ceremony of the IEEE Antennas and Propagation Society, the team was happy to discover that they had won first prize.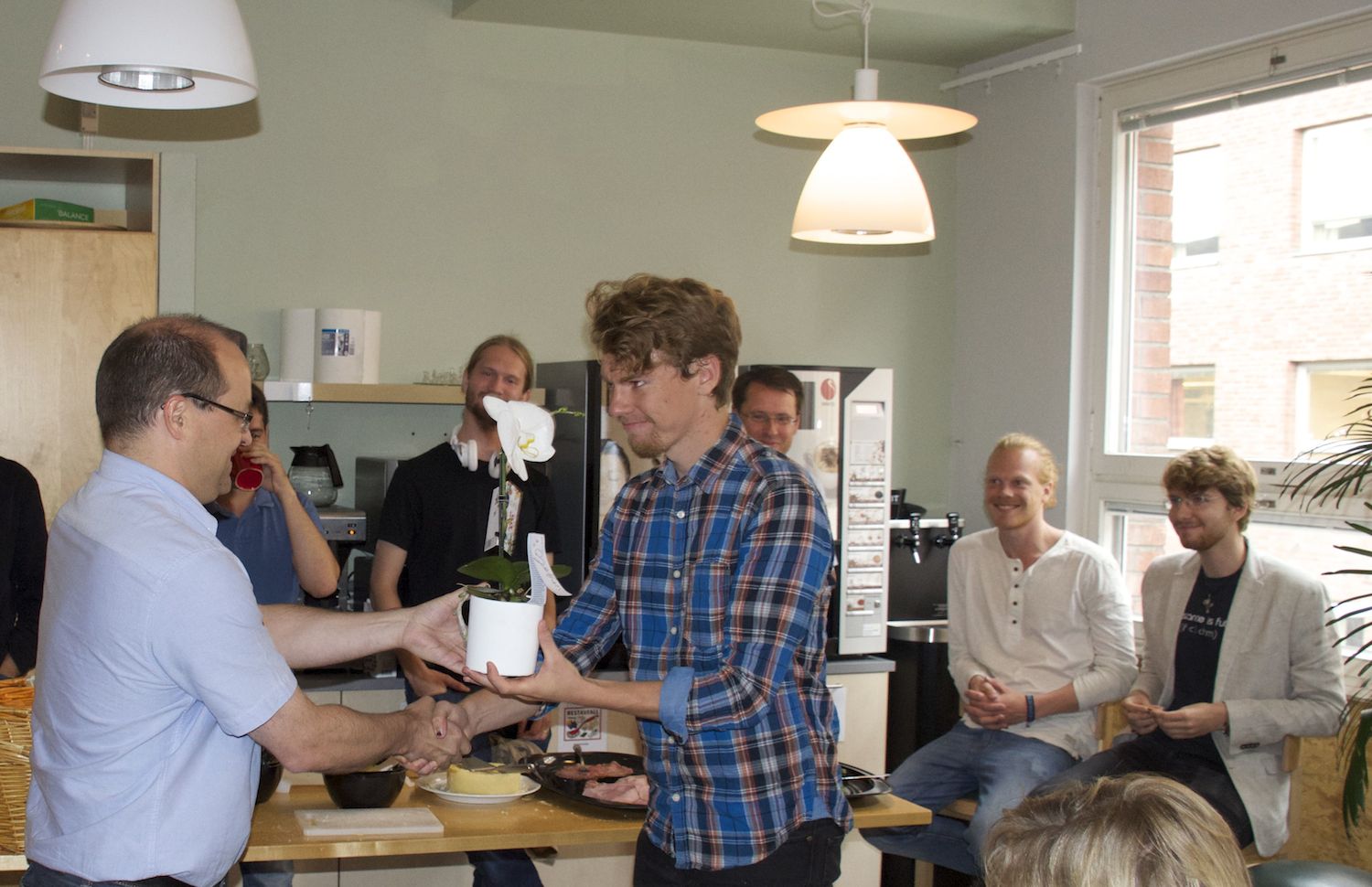 EITs Head Daniel Sjöberg congratulates Edvard Johansson to first prize in IEEE antenna competition.
Picture Anders Borgström
Details can be found in a previous EIT news article (search for "Gerhards Grabbar" in the news archive).
When asked if everything had gone according to plan, Edvard Johansson and Georg Wolgast exclaim "Not at all! We'd reached the finals and thought that had been enough!" "After having seen the other teams we definitely didn't think we'd win as they were all so impressive".
The conference is the biggest in the area of antennas and wave propagation, with over a thousand participants, leading us to be curious about how things are done over there. "Everyone had done measurements on their antenna and presented it in the report, and then during our first day there we did a joint measurement on all antennas using the same measuring equipment", Edvard tells me. "The antennas turned out to all be more or less the same strength, but with various individual strengths and weaknesses".
The next day it was time for the conference, with an exhibition stall, a poster, presentations and four different judges who came up to look and ask questions. "We had a poster and the whole system up and running where we showed everything off, obviously to the judges' satisfaction", Georg remarks, pleased.
And then at the end of the day there was a ceremony with various prices to be handed out. Did the group see or hear anything interesting that could take the technology even further? "There's was actually a great deal of discussion around potential collaborations for projects and applications within medicine technology. We've talked to a couple of different people who have since been in contact with us", they say.
They didn't know any of the other teams ahead of the competition but after these couple of days spent together the team have gained some new friends and acquaintances. "We got started pretty immediately with going on trips, eating lunches together and doing lots activities in order to get to know each other better."
When asked where they see themselves in five years, they seem not quite sure. "Maybe not medical technology", one replies. "Potentially something to do with antennas", another says. "The great thing is that at the moment we're just picking courses and we're really starting to choose our specialisations. But BAN-technology, wearables, smart clothes etc are growing areas of interest so there's probably plenty of opportunities." "Instead of EKG electrodes stuck to the body, they might be integrated into a shirt with conductive fabric", one of the supervisors speculates.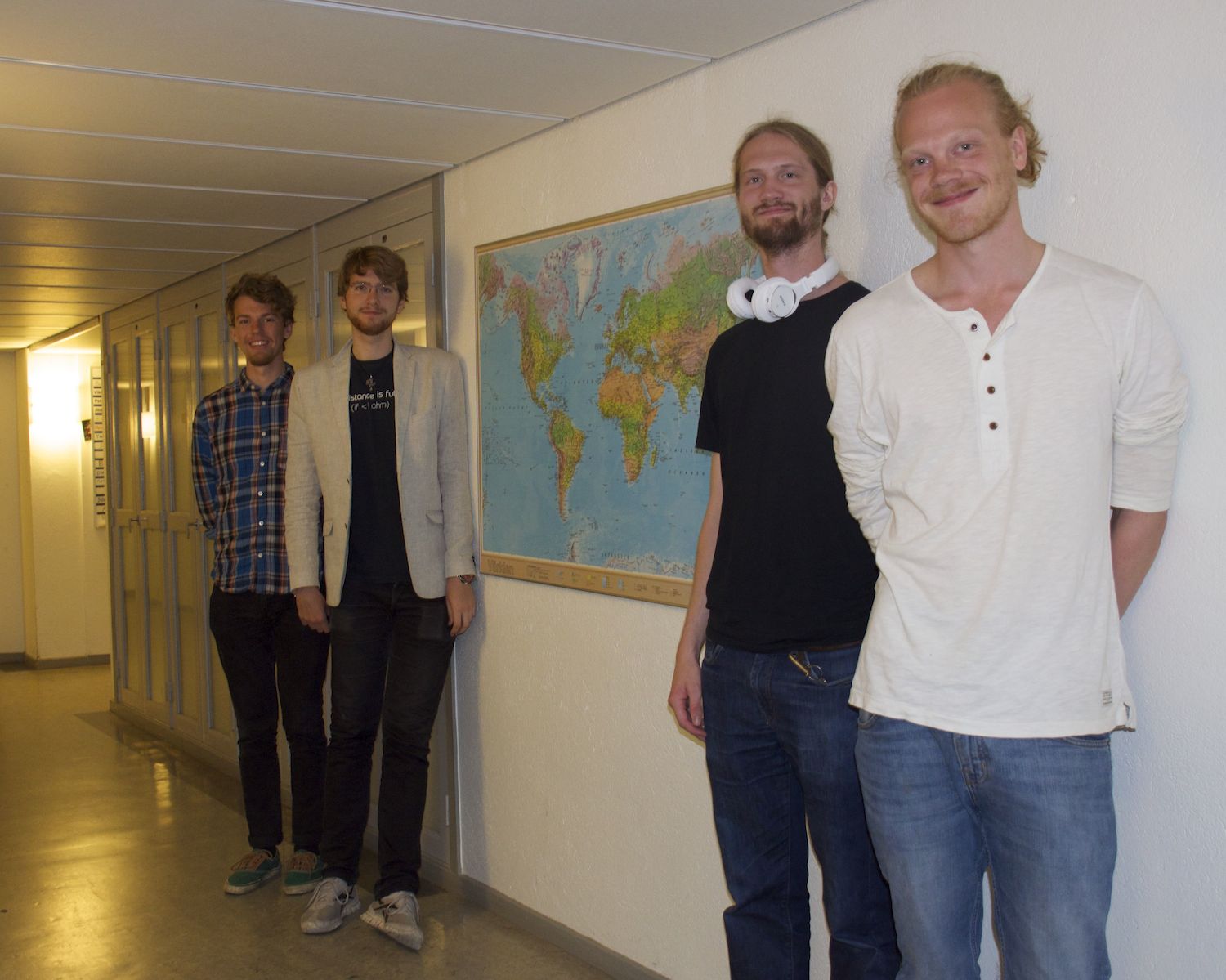 Edvard Johansson and Georg Wolgast together with supervisors Casimir Ehrenborg and Jakob Helander.
Picture: Anders Borgström
From there, our conversation drifts into "Energy-Harvesting" and supervisor Jakob Helander and Casimir Ehrenborg mention that it may very well be an option for next year's student project. They seem keen to continue taking on fresh challenges that put the students of LTH on the global map. Money? Yes! The 1500 dollar prize money and publication in IEEE Antennas Propagation Magazines student column were an additional bonus that came with the adventure. Travel costs were, by the way, supported by a couple of scholarships and helped along further by the American currency exchange rate.
EIT says congratulations and GOOD LUCK with your continued studies!
Text: Anders Borgström
---
Summerschool in accelerator technology
Published: 2015-08-10
The world will learn accelerator technology at EITs summer school
Students from Europe, Australia and USA will during August 17-23 participate in a summer school hosted by EIT and directed by the Nordic Particle Accelerator School (NPAS).

NPAS is a joint European project between Lund University, ESS, MAX IV Laboratory, Uppsala University, Aarhus University, University of Oslo, Jyväskylää University and the course will be held by experts from the NPAS-members respectively.

Earlier this year EIT, ESS and MAX IV were granted a contribution of 3 MSEK in order to run a summerschool, to develop a MOOC (Massive Open Online Course) and to create a network for education within accelerator technology.

From EITs side our experts Anders Karlsson and Anders J Johansson will participate and more on the summerschool can be found on EITs courseplan Fundamentals on Accelerator Physics

MAX IV
The course gives an introduction to particle accelerators and gives the students 3 ECTS. During the week, students will have lectures, run a small project and have visits to ESS and MAX IV. Topics addressed are synchrotron light sources, spallation sources, accelerator physics, optics, tools, computer simulations, beam diagnostics, RF sources and components, magnet technology, medical applications, proton cyclotrons, hadron therapy and much more.
Participants will also be introduced to how research frontiers are continuously pushed with help from higher beam energy, better beam brilliance, new theories, better technologies and other significant parameters.
EIT and the accelerator school managment says a warm welcome to everyone participating in this event that will contribute actively in the build-up of the regions emerging high-technology accelerator environment.
Text: Anders Borgström
---
EIT and Huawei initiate collaboration
Published: 2015-08-13
| | |
| --- | --- |
| The Department of Electrical and Information Technology (EIT) at LTH initiates a collaboration with the Huawei development unit based in Lund. The joint project is focused on the area of Non-Orthogonal Multiple Access (NOMA), which is one of the techniques being investigated for the fifth generation mobile systems (5G). The collaboration advantage is two-fold. Firstly it opens up a new area of ​​research for EIT and secondly it contributes to Mobile Heights efforts in strengthening regional partnerships, setting south-swedish mobile industry even more clearly on the map. | Fredrik explains NOMA. Photo: Anders Borgström |
From EIT, the work is headed by Associate Professor Fredrik Rusek, who explains about an ongoing recruitment for a postdoctoral researcher, who will receive full funding from Huawei during 2 years. In total, Huawei will contribute with 2.8 MSEK. Huaweis development unit in Lund is responsible for the groups terminal-based 5G platform and those operations are led by Tord Wingren.
NOMA is a recently proposed, unconventional method i order to service multiple mobile phone users simultaneously. Mobile terminals are traditionally separated from each other by dividing either time or frequencies in transmitting through the radio spectrum. In NOMA, multiple users are served simultaneously on the same frequency. The system will provide service to more users but will also result in users disturbing each other. It's a non-orthogonal system. The research approach is focused on eliminating the disturbances in order to fully exploit the NOMA efficiency.
- During most of my time as a PhD-student I worked with non-orthogonal transmission methods. Although NOMA is significantly different, it will be great fun to once again work with these slightly unconventional systems, says Fredrik Rusek.
- It is gratifying that we can start a partnership with a major player like Huawei. It shows that the mobile cluster in Lund continues to be regionally active with new research approaches for the benefit of the mobile industry, says EITs head of department Daniel Sjöberg.
- It is important for Huawei to collaborate with leading universities in mobile communications and we are very happy about this. We hope for more collaboration with Lund University in the near future, says Tord Wingren and Peter Almers, responsible for coordination of the project on Huaweis side.
Text: Anders Borgström
---
LuMaMi on SVT
Published: 2015-05-06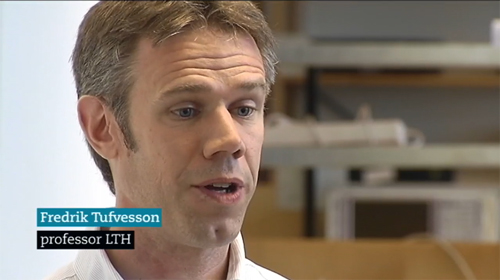 Fredrik Tufvesson interviewed by SVT (Swedish Television) regarding the next generation of (wireless) Internet.
See the interview here (in Swedish):
http://www.svt.se/nyheter/regionalt/skane/enorm-okning-av-datormangden-i-framtiden
Text: Johan Cedervall

---