News archive
Lars makes small big things
Published: 2015-06-11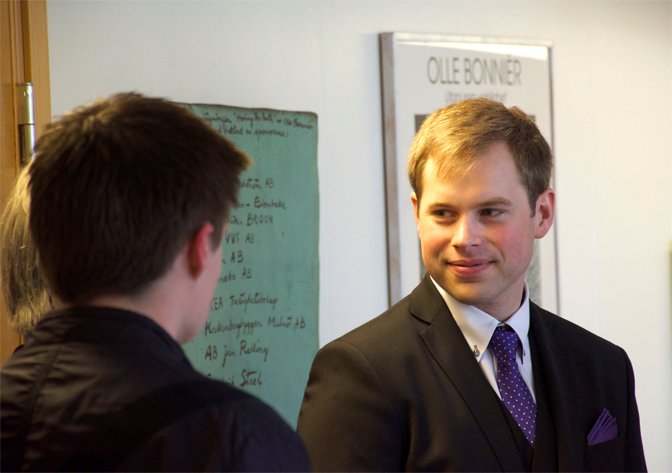 On June 5th, Lars Ohlsson became PhD in Nanoelectronics after having presented how he and his colleagues had been able to demonstrate that a radio transmitter, including antenna, can be accommodated within a cubic millimeter.

Super-computer in the pocket
Lars grew up on a small island in the Småland archipelago but moved to Lund when it was time for university studies, to learn more about ... everything!
 – And in particular the physics and electronics that allow us to walk around with what was recently considered a super-computer in your pocket. There is a lovely mix of advanced theory and sophisticated manufacturing technology.
 – I go back home now and then to enjoy the tranquility and to hunt waterfowl, elk and wild boar, says Lars who also appreciates hikes in Swedish mountains as well as Danish hills.
A natural choice
After finishing his nano engineering studies, Lars took the chance to study for a PhD in the specialist field. "A natural choice taking Lund's position in the area in consideration", he expresses his choice. The result was successful and is described in the PhD thesis "Compact and Efficient Millimetre-Wave Circuits for Wideband Applications".
 – We have examined what can be achieved just outside the limits of what today is considered as the conventional technology in radio electronics. Electrical components based on nanostructures of III-V materials have been used to create wideband signals at high frequencies, with good efficiency. Furthermore, we have shown that such a radio transmitter, together with its antenna, doesn't need to occupy more space than a cubic millimeter, says Lars and is a little mysterious about his plans for the future:
 – The plan is to make small big things ...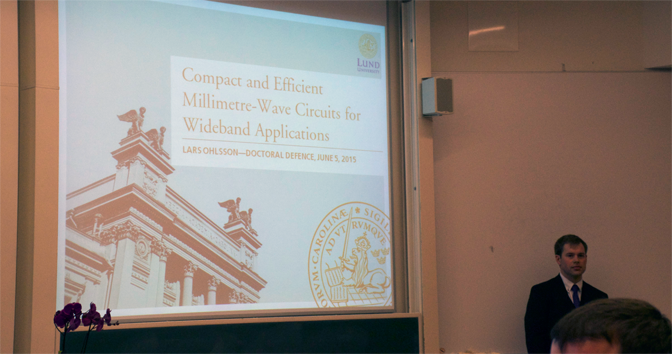 Text: Johan Cedervall
Photo: Anders Borgström

---
Hatten på för Liesbet
Published: 2015-06-05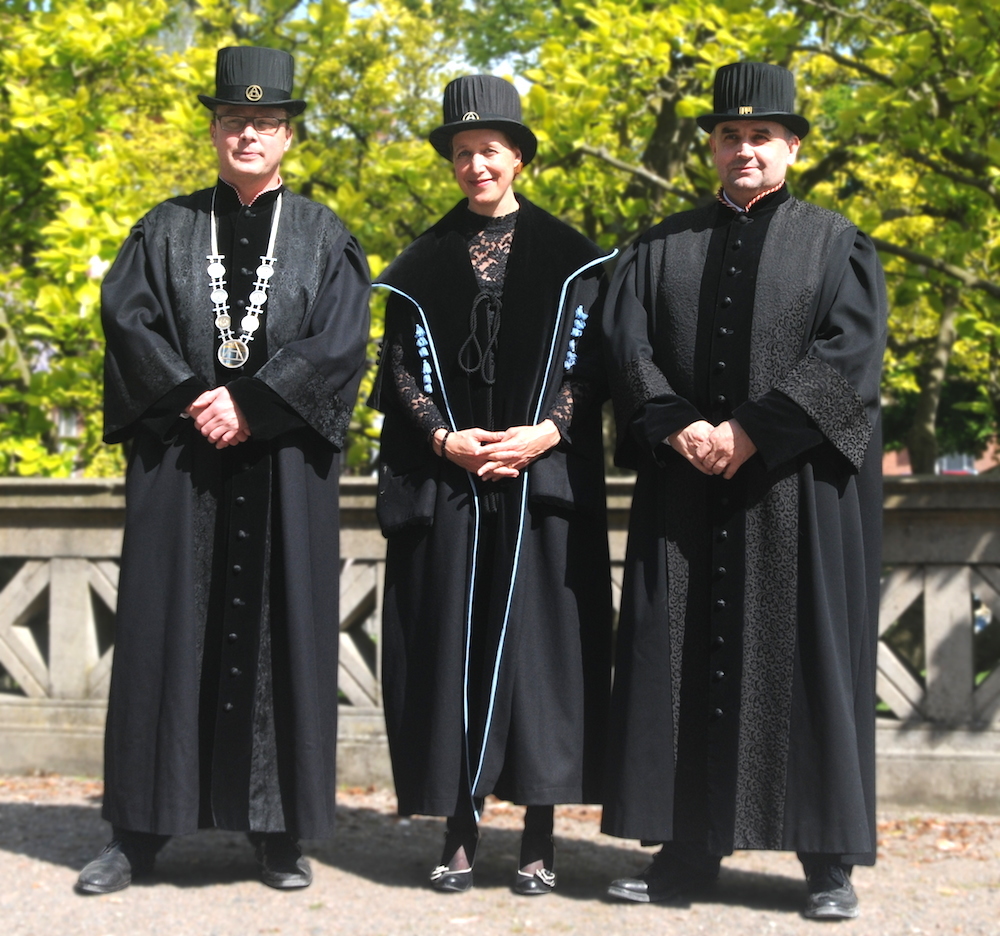 Viktor Öwall, Liesbet Van der Perre och Ove Edfors i Lundagård. Bild: Ove Edfors
Flankerad av LTHs rektor Viktor Öwall och professor Ove Edfors skiner LTHs och EITs färskaste hedersdoktor professor Liesbet Van der Perre ikapp med solen i Lundagård. Fredagen den 29:e Maj var det dags igen för årets stora akademiska högtid, doktorspromotionen, där nybakade doktorer, hedersdoktorer och jubeldoktorer hyllas. Liesbet har som högt förtjänt forskare och viktig samarbetspartner i LTHs forskning utsetts till hedersdoktor vid Lunds Universitet. Ring, hatt och diplom plus en massa visdom och lyckönskningar på latin östes över vår akademiska elit och Liesbet fick sin beskärda del.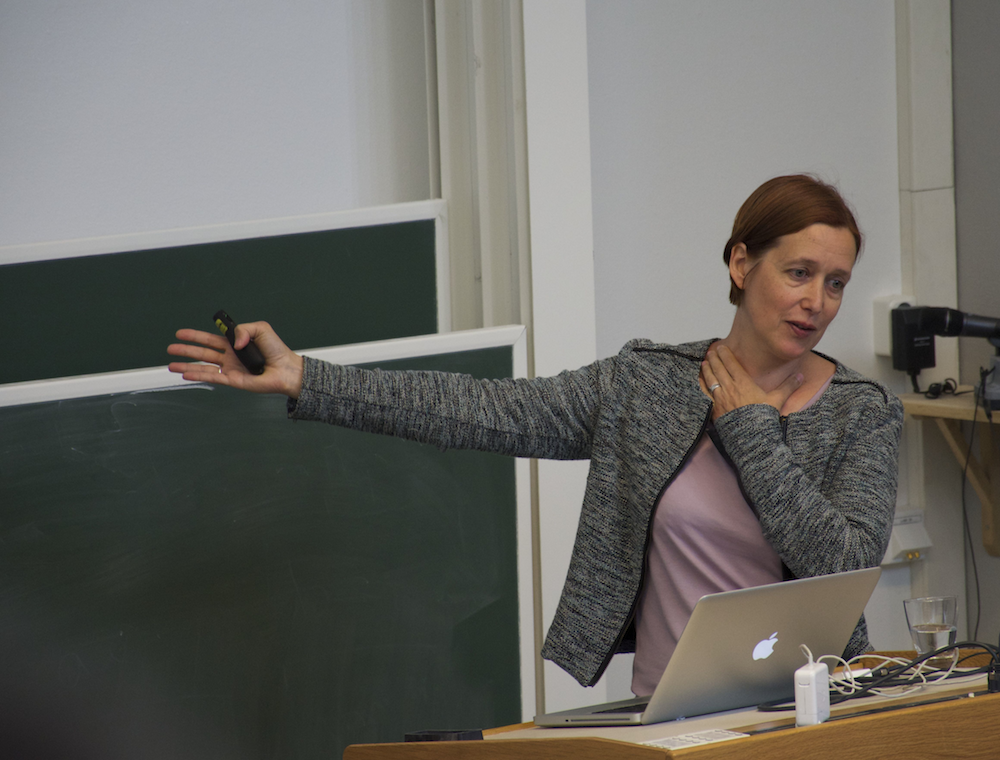 Liesbet Van der Perre föreläser vid EIT. Bild: Anders Borgström
Dagen innan fick vi lite mer handfast ta del av Liesbets visdom i en mycket välbesökt föreläsning med titeln "Precious bits, sharing the spectrum, on elegant energy". Vi fick bl.a veta att man inte kan lura fysikens lagar och det är ett obestridligt faktum att det finns gränser både vad gäller radiovågornas utbredning och hur mycket man kan skala upp den trådlösa kapaciteten. Det ska enligt Liesbet inte hindra forskarna att ta nya tag och stångas mot framtiden.
Liesbet Van der Perre tackas av Ove Edfors. Bild: Anders Borgström
Liesbet tackades efter föreläsningen av Ove. Inte bara Liesbets forskning håller världsklass, så också de svenska tårtorna som tillsammans med kaffet avrundade dagens tillställning.
Text: Anders Borgström
---
MAPCI hosting new positioning lab.
Published: 2015-06-02
The new Lund Positioning Lab will aggregate research in Lund University around positioning technology. Regional industry will also be provided modern facilities for experiments and give opportunities to build valuable academic contacts. Key persons and early actors in this environment are Björn Landfeldt (MAPCI), Kalle Åström (Mathematics), Fredrik Tufvesson (EIT), Bo Bernhardsson (Automatic Control).
---
Erasmus+ grants funding for summer school, MOOC and more
Published: 2015-05-30
The new european 16 BEuro framework program, Erasmus + (built on the well-known Erasmus exchange student program) has granted an EIT-coordinated application with 327.000 Euro through 3 years.
Anders Karlsson is the coordinator for the project. It is entitled "Nordic Particle Accelerator Program" and will run an annual summerschool, create a MOOC (Massive Open Online Course) and arrange seminars and webinars for partners tied to the project.
Partners in the application are Lund University (EIT and MAX IV), ESS, Uppsala University, Århus University, University of Oslo and Jyväskylää University.
The first summerschool in accelerator technology and accelerator physics will be held at EIT, August 17-23 this year.
---
Wallenberg commits to 1,8 BSEK in basic research
Published: 2015-05-29
Wallenberg Foundation commits to spend 1,8 BSEK during ten years in Sweden on basic research for autonomous systems. 20-25 MSEK/year is expected to find its way to EIT.
---
Butting against the future with his pico-pulses
Published: 2015-05-28
The startup company Acconeer has recently received a large investment for further commercialisation of the technology of integrated microwavecircuits. Acconeer was founded in 2011 and uses solutions that have come about as a result of the research being done at EIT by Lars-Erik Wernersson's research group. We sat down to have a chat with him about the research behind the successful enterprise.

The group's most important breakthroughs had to do with the very low power consumption and the possibility of generating extremely short, coherent pulses. "Today we're down to 60 ps and we're doing it in 60 GHz areas where we, thanks to the high frequency, achieve very high accuracy", Lars-Erik says. Coherence is important in this context as it provides access to useful phase information when the pulses propagate and interfere.

Lars-Erik Wernersson with wavelet-generator integrated at 1mm2 antenna and prepared to be measured. Picture: LTH-News
Communication turned into radar
When the research first started it was seen as having the potential for communication technology applications. With time, however, the technology became more and more interesting for use with radar, material characterisations and spectroscopy. If communication is ruled mainly by standardisation, radar technology is a more flexible area of research, guided instead by applications and how we use them. Follow the frequency regulations but otherwise use it freely!
"Despite this, we presented and published an article in IEEE Access last autumn which described an experimental communication application with a wireless 15 Gbps link", Professor Wernersson tells us proudly. "We're increasingly investigating and challenging the limitations of ultra fast wireless technology. Even if Acconeer in this case is a very clear application, we also conduct a great deal of basic research where we will gain new knowledge that can benefit new emerging and innovative ventures to grow in the region." he adds, with emphasis, "That's why we will continue carrying out this research".
New tool for analysis
"Another interesting application is, as I mentioned, material characterisation", Lars-Erik remarks and goes on to describe what it can entail. Characteristics of a material can be studied with the help of pulses that have either passed through or been reflected, as the pulse afterwards changes concerning time, phase, envelope and frequency. "We believe that the technology can be suited to the analysis of gases and liquids considering the rotation transitions at these frequencies", Lars-Erik says. "In other words, chemists will appreciate this in the future and our short pulses can, for example, give an extremely good time resolution".
Visions, skills and money give results
Lars-Erik explains the success as being down to a combination of "able doctorate students, visionary ideas and research financiers that place their trust in us in the long-term". He continues, saying that the combination of hard work and LTH infrastructure are also important ingredients. In addition it's important that doctorates are active educators, ensuring that new good doctorate students are found and recruited.
SSF and VR have been two important financial backers of the research so far and the basic research approach with clear potential for applications has attracted them to stay for the long run. At the start, finance was agreed to on the assumption that the research would have communication applications and a doctorate student from the High-Speed Wireless Centre HSWC was at times assisting with the research. This work was led by John B Anderson.
mm-wave collaboration remains
Lars-Erik is careful to pinpoint internal EIT collaborations as extremely important for the success of their research, but also highlights the importance of their cooperation with the Physics institution's nano lab. There is a so called mm-wave group within EIT that spans several research groups and much of the success is due to this forum where various modes of research can meet and thrive. In addition, Lars-Erik is keen to highlight the role of John B Anderson, who has succeeded in bringing about many vital and prestigious collaborations. The HSWC project was, during 2005 to 2010, led by Anderson and managed to get two years additional financing in the shape of a 60 GHz project. The group that was set up then still exists in the shape of the mm-wave group.
Small and close is niche
Lars-Erik believes that many will benefit from the physical smallness in upcoming implementations of their technology. The pulse generators can be integrated on the surface on top of very small antennas and the entire solution needs less than a square millimetre of space. The range is dependent partly on the output power and partly on whether the work is being done in a closed volume or in free air. The niche is going to be applications with short range needs and Lars-Erik points to car radar as an example, where today there is an issue of "dead" space very near the car. In that space the short 60GHz pulses could act as complimentary technology.
Robot vacuum cleaners are just one more of countless other potential usages. With imagination and creativity, one can quickly think of more. Wireless communication between units on chip and fast data-dump from phone to hard-drive are another couple of potential applications within communications.
Commercial interest from the beginning
It becomes clear that this research is both called-for and important when one considers that the first paper that was published on the technology resulted in direct commercial offers from several large radar manufacturers. The fact that multinational consumer industry in addition has chosen to invest in Acconeer shows that the technology has already picked commercial interests and could have a big economic importance in the future.
Are there health side-effects?
"It's a relevant question", Lars tells us. The mention of "radar" results in important considerations around radiation etc, but at the same time it is a question of very low effects at around 10dBm (10mW). In comparison, a mobile phone can give off a couple of Watts in continuous effect if it is far away from a base station.
Vacuum cleaners, car radars and communication between chip-buses are just some of the potential future applications of the knowledge that this Lund team is now continuing to develop and refine.
Text: Anders Borgström, Picture :LTH-News
---
Babak gets first prize with IoT low power design entry.
Published: 2015-05-25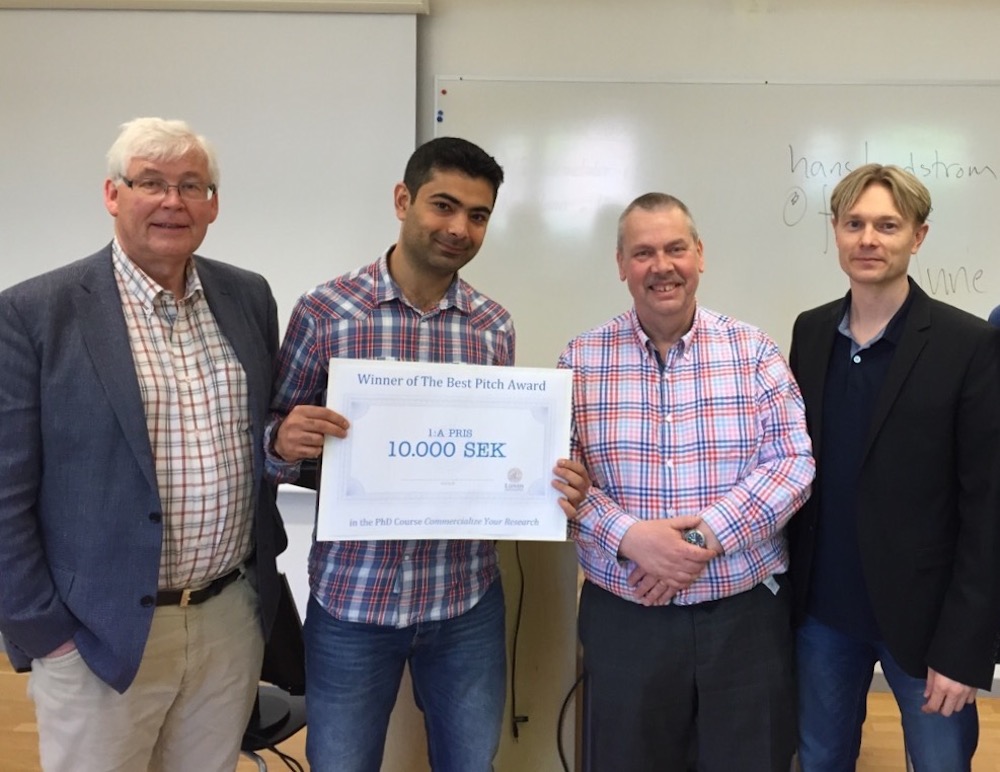 Babak Mohammadi was, after doing the best pitch, awarded with 10000 SEK as the first prize in the "Commercialize your research" course, offered to PhD students at Lund University. There were 21 different projects from all the participants and there was a tight, but exciting competition between groups.
The course itself was about entrepreneurship, innovation and commercialization of research outcomes. It was a very informative and fruitful course conducted by many workshops on customers, investors, entrepreneur's views; presentations, drafting a business etc. This helped to see yourself and others' works with different glasses, which was very constructive. The course also introduces different methods and tools to support the researchers with commercializing their ideas.
The business plan was based on research outcome, leading to a pitch competition in the last session. Attendees were real entrepreneurs and investors which made it very exciting. Babak presented the idea of a start-up company based on research results in low power design techniques, targeting the future Internet-of-Things (IoT) market.
Babak Mohamamdi came as a SoC student to Lund university and is a PhD student since 2012.
EIT congratulates Babak!
---
Security Day at LTH
Published: 2015-05-21
EIT together with SICS (Swedish ICT) and Ericsson arranged a "Security Day" at LTH last tuesday. Industry, academy and students listened to seminars on "Trust and The Network", "How to Buy a Cloud", "Securing the Internet of Things", "Lightweight Cryptography" and more by presenters from HP, AEGIS, Nokia, ARM, Ericsson and others. Host from EIT was Martin Hell.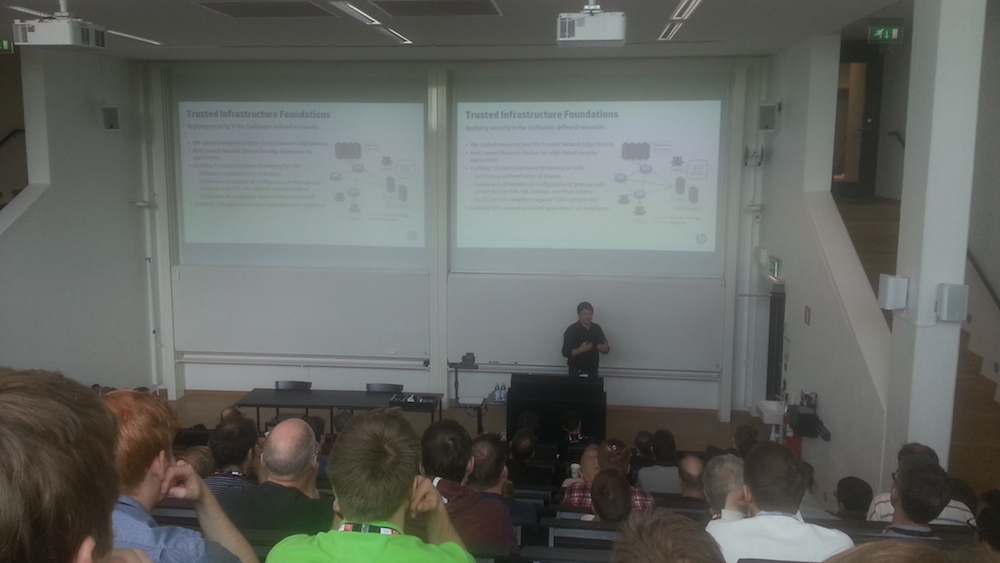 Text: Anders Borgström, Photo: Martin Hell
---
Från discokula till mångmiljardomsättning på nätverksvideo.
Published: 2015-05-21
På vårens sista tårtseminarium fick vi ta del av Axis-grundaren Martin Grens resa från att vara tonårsentreprenör till att idag som en av de största ägarna fortfarande vara i högsta grad aktiv och klurig inom både teknik- och affärsutveckling inom bolaget. Den 10 februari 2015 lade Canon ett bud på Axis för 340 kronor per aktie vilket värderade bolaget till över 20 miljarder kronor. På frågan om vad Martin gör om 5 år svarade han att det fortfarande är bolagets väl han brinner för, oavsett vad som står på skylten.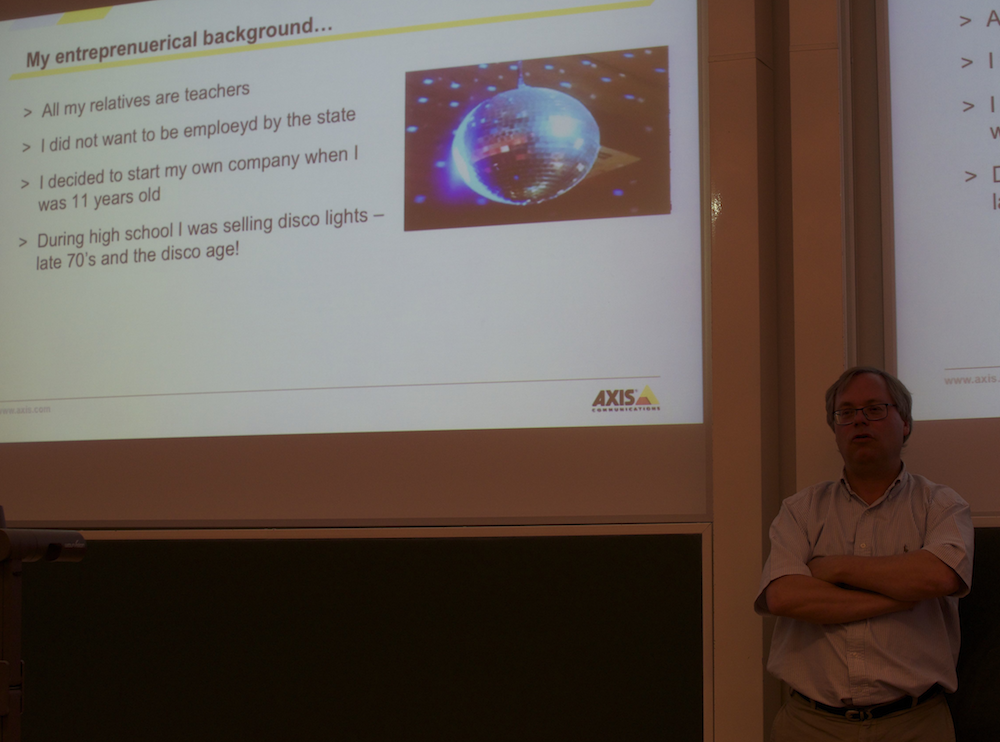 Text, Bild: Anders Borgström
---
EIT levererar modul för exakta energikickar till ESS-protoner.
Published: 2015-05-19
Protonerna som ska få fart i ESS s.k. LINAC (Linjäraccelerator) kommer via RF-fält stegvis få exakt dimensionerade energikickar när dom löper genom ett stort antal kaviteter. EIT-teamet har nyligen levererat den första enheten för kontroll- och övervakning av dessa kickar och deras utrustning ska testas i ett större sammanhang i Uppsala.
I nyhetsflödet har vi nyss sett att EIT gjort en lyckad leverans av en första s.k. LLRF-modul. Förkortningen står för Low Level Radio Frequency och modulen utgör en vital komponent i ESS-anläggningens kommande protonaccelerator. Eller rättare sagt 155 vitala komponenter. Så många ska nämligen levereras från andra partnerländer i skarpt läge där Lundagängets insatser i sammanhanget estår av utvecklings- och designjobbet. -Vi utvecklar, testar och dokumenterar och andra står för produktion och leverans, säger ledaren för forskningsteamet, Anders J Johansson.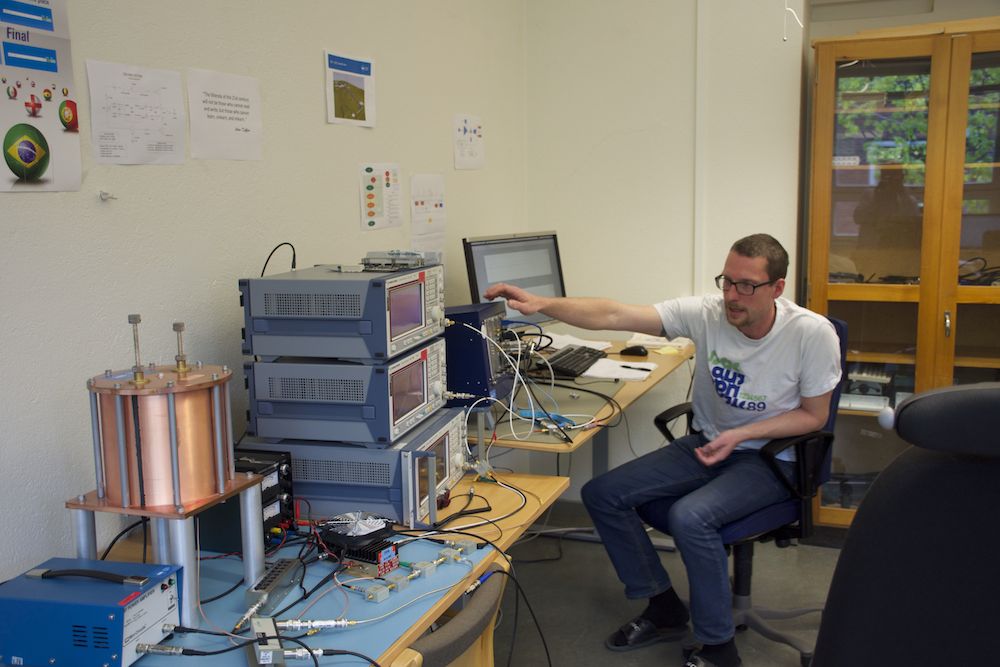 Fredrik Kristensen i LLRF-labbet. Bild: Anders Borgström
Fredrik Kristensen är en av dem som jobbar med utvecklingsarbete i projektet som bl.a. består av avancerad FPGA-programmering. På hans labbänk visar han uppställningar på det som nyligen levererats till ESS-testlabbet i Uppsala. Det står en liten låda där som innehåller kontrollenhet, tidsgenerator, FPGAer m.m. och kaviteten som ska kontrolleras och övervakas är inte den riktiga utan en labbversion. -Hade det varit den riktiga, som finns i Uppsala, hade vi frusit, skrattar Fredrik. -Den ska nämligen kylas ner till 2 Kelvin i skarpt läge. Likaså är förstärkarna i uppställningen moderata i uteffekt jämfört med de som kommer att användas i Uppsala (100-tals kW) och slutlligen på ESS (MW-klass). Annars är elektronikuppställnigen exakt som i Uppsala.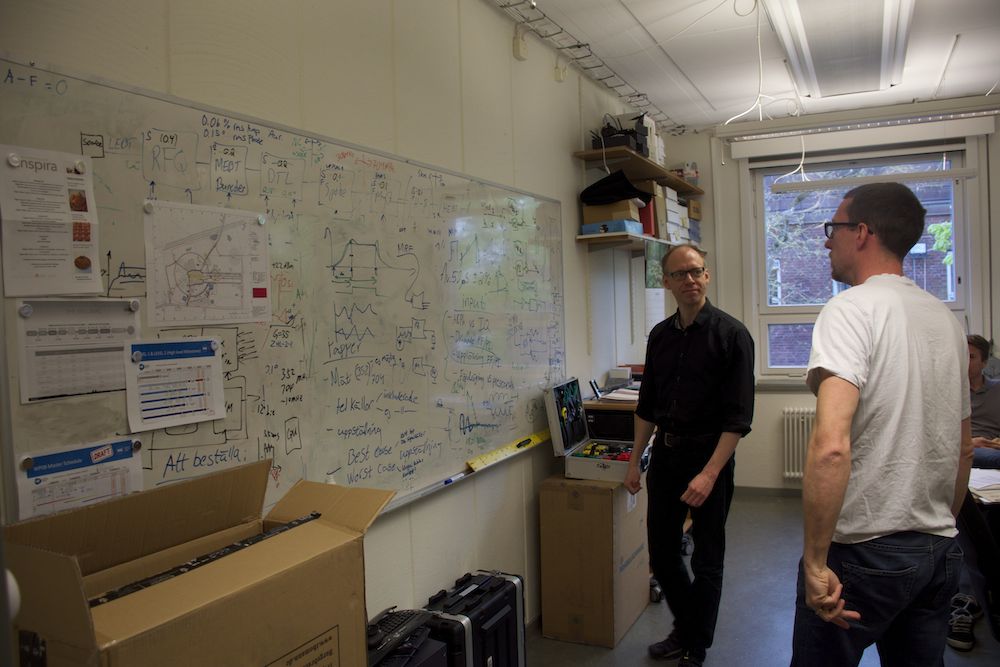 Anders J Johansson och Fredrik Kristensen. Bild: Anders Borgström
Mha den innehållsrika whiteboarden förklarar Anders och Fredrik hur deras insatser inordnas in i ett större ESS-sammanhang och Anders fortsätter sen med att introducera lite mer specifikt vad det handlar om.
Det hela rör sig om ett antal kaviteter som matas med effekt, vilket i sin tur ger fältstyrka och så mäter man att det är rätt fält. Fältet sparkar iväg protonstrålen vid exakt rätt tid vilket alltså fixas av LLRF-enheten från forskarteamets labb. I hela accelatorkedjan, eller LINAC-en på ESS-jargong, finns moduler med olika namn som LEBT, RFQ, MEBT, DTL m.fl. men gemensamt för alla är att de behöver LLRF-moduler som därmed kommer att bli en ganska välrepresenterad nyckelkomponent i anläggningen. 155 stycken i 6 olika varianter ska slutligen komma på plats i det driftsatta systemet och LTH designar som sagt enheterna medan team från andra EU-länder producerar dem. Uppsala testar grejerna i en anläggning där en öppningsbar kryostat (jättetermos) kan kyla ner kaviteter till 2 Kelvin för test. Elektroniken (LLRF) från Lund som ska styra och övervaka kaviteterna ligger utanför termosen eftersom miljön är tuff därinne med vaccuum. Vaccuum krävs vid 2 Kelvin eftersom det annars blir för mycket värmeledning. Oj, mycket att tänka på.
HNOSS Kryostat (Jättetermos). Bild: UU
De färdiga kryomodulerna för ESS-anläggningen tillverkas i Frankrike och ska tillsammans med kaviteter också testas i Uppsalas anläggning FREJA. Testerna ska visa att nedkylning, samt generering och mätning av fältstyrkor funkar dock utan inblandning av protonstrålar. Riktigt skarpt läge blir det först när allt är transporterat till Lund igen och installerat i ESS-tunneln.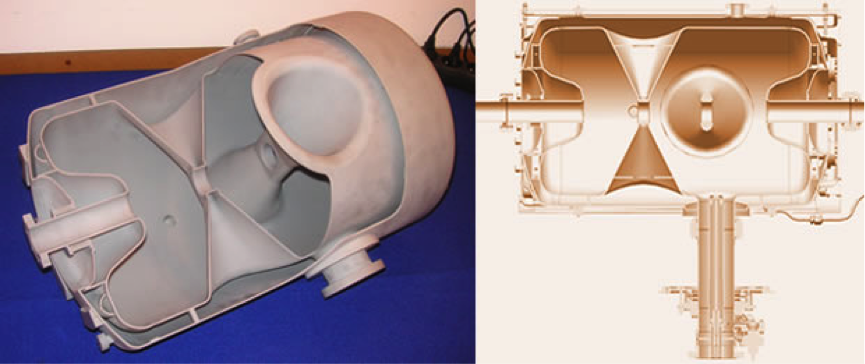 Kryomodul med innesluten kavitet.
Mer om LLRF-leveransen och Uppsalaanläggningen finns att läsa i EITs nyhetsflöde, på ESS hemsida och på EITs temasida
-Dom höga fältstyrkorna gör att elektroner kommer slitas loss och slå in i metaller, bromsas och generera röntgenstrålningar och det är en jobbig miljö med mycket bunkerbygge för att skydda både material och människor, säger Anders J Johansson och vi fortsätter med några snabba frågor till honom...
Vad har ni levererat egentligen? Vad är LLRF?
Partiklarna i en accelerator accelereras av elektriska fält. LLRF är ett styr- och reglersystem som reglerar styrkan och fasen på fältet. Den består av radiomottagare, ett digitalt styr- och reglersystem och en radiosändare. Till sändaren kopplas i slutinstallationen en effektförstärkare så vi får upp effekten till MW-nivåer. Vi ser mha LLRF till att protonerna i acceleratorn får rätt hastighet. Finns inte LLRF så funkar inte acceleratorn.
Varför gör Lunds Universitet LLRF?
Vi kvalar in eftersom vi kan radiosändare, radiomottagare, energisparteknologi och dessutom har vi inom LTH världsledande forskning inom styr- och reglerteknik.
Vad är viktigast och intressantast med leveransen?
Att vi hållit tiden och gjort rätt saker är självklart men framförallt har vi tillsammans med Uppsala-teamet gjort något som funkar bra för både Lund och Uppsala i ESS-processen. LLRF är också fullt integrerat i hela kontrollsystemet vilket är en väldigt viktig punkt. Detta är en aktivitet som är ett utmärkt exempel på samarbete i ESS-anda med kaviteter från Frankrike, testhus i Uppsala, LLRF från LTH och integration till EPICS-kontrollsystem av ESS.
Vilka är de omedelbara konsekvenserna av leveransen?
Vi har visat att vi har ett system som fungerar och att vi har kunnat integrera det även på ett annat labb. En klassisk projekt-milestone helt enkelt.
Hur gjorde ni?
Vi organiserade ett team inom LTH-EIT och LTH-Reglerteknik som tillsammans med ESS och EPICS-integratörer helt enkelt började dra i trådar. Ingångsdata definierades genom besök på motsvarande labb i USA (SNS, SLAC), Tyskland (DESI), Schweiz (CERN), Japan (J-Park) och Kina för att samla erfarenheter och kunskap vilka fått ligga till grund för det nya systemets design.
Finansiering?
Lunds Universitet och ESS finansierar till t.o.m. 2016 då pärmen med upphandlingsunderlag levereras till ESS. Förhandlingar om fortsättning pågår.
Vilka har ni samarbetat med?
Kaviteter utvecklas i Italien, Spanien och Frankrike.
Elektroniken utvecklas tillsammans med Tyskland och Polen och denna består mest av standardkomponenter. Det viktigaste kunnandet ligger i systembygge, regleralgoritmer och specialkunnande inom FPGA-teknik.
Hur sätter vi forskningen i ett större sammanhang?
En metafor kan vara att se ESS som en stor lampa där neutroner lyser istället för fotoner. "Neutron-ljuset" kan användas i mikroskop, i materialstudier, för genomlysning m.m. Ett exempel kan vara hur man samtidigt kan titta på en motors metalldelar med röntgen och dess olja med neutroner.
Varför är forskningen viktig?
Materialstudier brukar lyftas fram som främsta tillämpningen och eftersom ESS kommer att bli upp till 30 gånger kraftfullare än befintliga anläggningar förväntas många genombrott.
Hur påverkas människa och samhälle?
Som all forskning är även detta en kunskapsfabrik om än ganska tillämpad sådan. Man kan jämföra frågan som kom när de första mikroskopen byggdes. Vad skulle de vara bra för undrade man då? Idag är vi glada att de kom fram och började användas. Behoven kommer allteftersom och i ESS-fallet har vi ju här i Skåne regional nytta av hela projektet. Det är ytterligare en fjäder i hatten för universitetet att vara nära knuten till en så stor
Europeisk forskningsanläggning. Beträffande vad "mikroskopet" ska användas till så kan man studera olika material – plaster, läkemedel, metaller och skräddarsydda material – på molekylär nivå med hjälp av neutroner. ESS kommer också att vara lämpad för forskning om komplexa biologiska material och inom ingenjörsteknik, såsom hållfasthet, katalysatorer, flygplansvingar, bilmotorer och kraftverk. Inom miljöteknik kan forskningen med neutroner ge oss miljövänliga förpackningar, kunskap om vattenrening och renare industriella processer. Forskningen kommer också att omfatta vår vardagskemi, exempelvis tvättmedel, målarfärg, rengöringsmedel och smörjmedel. Forskningen kan göra dem mer effektiva och samtidigt mer miljövänliga.
Under tiden framtida ESS-forskare planerar sina kommande experiment jobbar Anders J Johansson och hans team frenetiskt vidare med sina LLRF-moduler som en av många avgörande komponenter för full funktion på anläggningen.
Text: Anders Borgström
---
Fredrik Tufvesson intervjuas i regionalpressen
Published: 2015-05-18
Fredrik Tufvesson intervjuas på Sydsvenskans/Helsingborgs Dagblads nyhetssajt 8till5 angående kraven på framtidens mobilssystem och hur LTH-s forskning strävar efter att hitta de vassaste lösningarna. Massive-MIMO är återigen i fokus för diskussionen vilket bekräftar att våra forskare ligger i absolut framkant när det gäller att hitta snabb, robust, strömsnål, billig och bandbreddseffektiv teknik för kommande trådlösa och mobila system. Hela artikeln läser du här.
Text: Anders Borgström
---
Anders Nejdels analogpresentation bäst på SSoCC
Published: 2015-05-17
Den 4-5 maj 2015 hölls "Swedish System on Chip Conference" SSoCC i Göreborg. Det delades ut pris för bästa studentpresentation inom det analoga samt det digitala området. Anders Nejdel, doktorand i Analog-RF-gruppen vann priset för bästa analogpresentation.
Om SSoCC:
"The annual SSoCC has three main goals: to inspire and educate graduate students presenting and discussing their latest results, to give the participants an overview of SoC-related research and development work in Sweden, and to stimulate to cooperation between different research groups."
Text: Anders Borgström
---
Acconeer press-coverage after swedish-korean investment
Published: 2015-05-12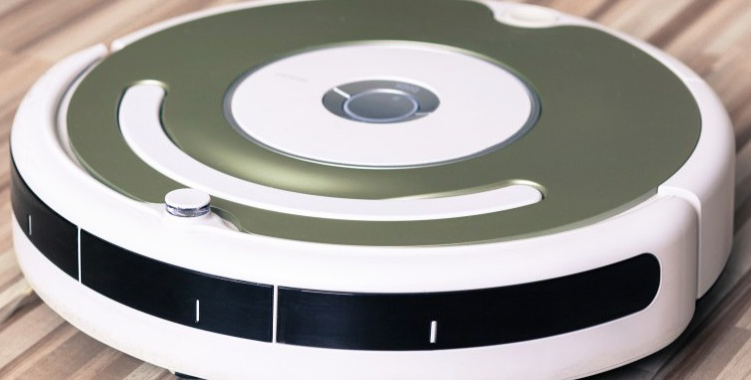 Rapidus News Agency and the magazine Elektroniktidningen report about a new significant investment in Acconeer . The money will be used to hire staff in product development and market introduction of robot vacuum cleaners, an area in which the customer have pilot series plans within the coming year. The technology is based on short ( < 600ps ) , coherent radar pulses generated with InGaAs circuits. The circuits originate from research of Lars-Erik Wernersson and Michael Egard and they have a range of about 50 m.
See full article in Elektroniktidningen
Text: Anders Borgström
---
Stage is Set for ESS Linac Test in Uppsala
Published: 2015-05-08
The first fully functional Low-Level Radio Frequency control system for the ESS Accelerator has been installed and integrated into the EPICS control system at the FREIA Laboratory at Uppsala University north of Stockholm. This is a delivery from the EIT-labs in Lund.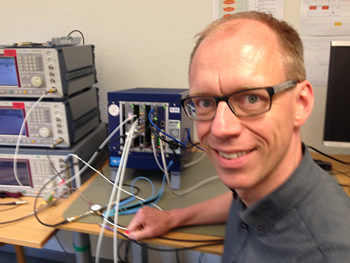 "This is not only an important step in the development and test of the RF systems of the ESS accelerator," remarked Assoc. Prof. Anders Johansson of Lund University, who is the LLRF work unit leader on the WP8 team, "it is also an example of a successful cooperation between different institutes around Europe and between divisions inside ESS."
---
Humans and Antennas Working in Harmony
Published: 2015-05-08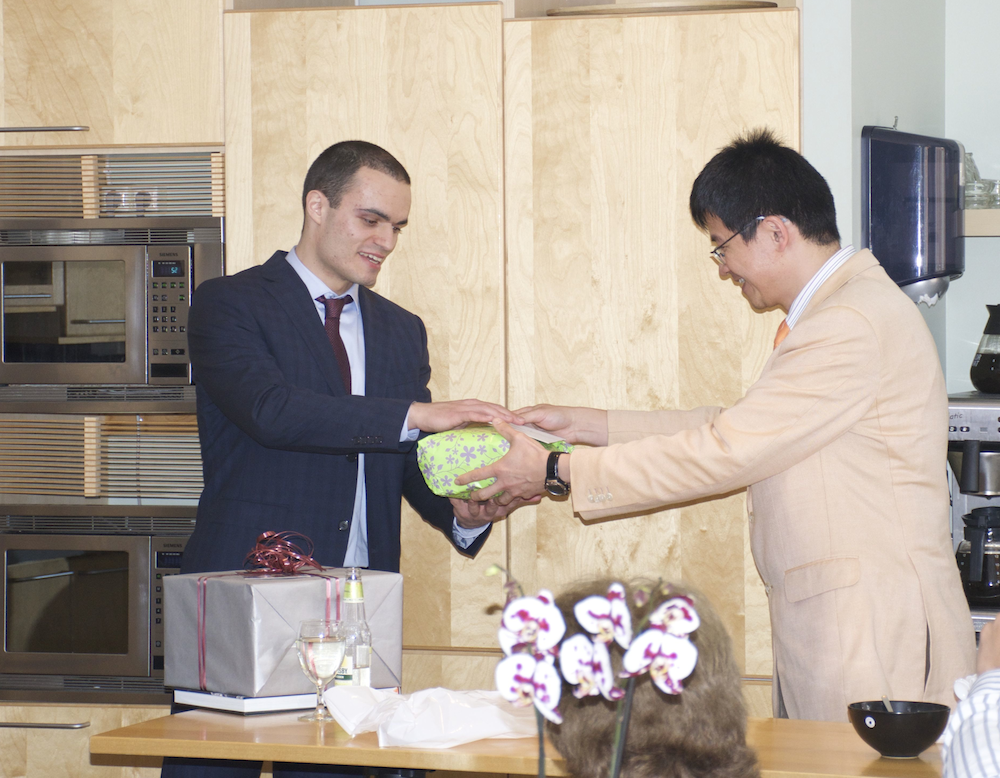 Vincent congratulates Ivaylo
Skilled at hiding his nervousness

"What on earth is ultra-reliable communication?", "Why did you use a filter with the PA?", "How big is the isolation between the antennas?", "Tell me about the q values of the antennas.", "Why do you use phantoms instead of hands?", "How does the signal level affect voice/data-quality?"
| | |
| --- | --- |
| Opponent Pedersen. | Defender Vasilev |
Ivaylo Vasilev is being bombarded with questions and prompts from the faculty opponent, Professor Gert Frølund Pedersen, most of which he confidently manages to give an answer to. Ivaylo doesn't seem overly nervous. "Not true", the recent doctorate replies when I ask him about it later. "I was nervous alright, but I'm pleased that it didn't show too much". He adds happily that "the room was completely full, and obviously people find the subject interesting".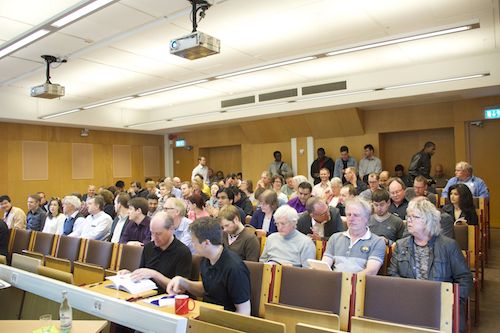 Full room
Motivated by lost signal bars

It is possible for a mobile phone that has functioned perfectly while on a flat surface to drastically drop in communication performance when you pick it up with your hand. Even Apple had to admit to an expensive mistake in an early iPhone launch when the signal bars would often and suddenly disappear. This was one of several factors that helped motivate the research Ivaylo has been conducting and he tells me that they looked at five to ten different antenna constructions, and what the results were of affecting the terminal with various objects.


MIMO and wearables present challenges for antennas

Ivaylo has spent the last 4-5 years of his life conducting research and working to understand how to optimise the antennas of mobile terminals in future MIMO systems and where terminals are used in varying ways. Antenna performance in a smart phone varies a lot depending on whether it is held against an ear or in a hand, and even depending on whether it is held using one or two hands. The future will bring even more potential scenarios, with the rise in popularity of so called wearables. New terminals, like for example watches, wristbands and glasses, will be wirelessly connected and thus total performance will be critically dependant on the antenna that is used. An ill-functioning antenna and/or a less than ideal environment could result in lower data speeds, lost connections and shorter battery lives. Antennas, wave propagation and user scenarios are the main focus of Ivaylos theoretical studies, calculations, simulations and experiments.


AIM helps users and antennas to harmonise

One concept that kept popping up in Ivaylo's discussion was that of Adaptive Impedance Matching (AIM). What is the significance of this acronym? "AIM improves terminal performance by optimising the interaction between the antenna and the propagation environment...", I start tentatively while looking to Ivaylo for a better explanation, preferrably with a bit less jargon. "Performance optimisation in the presence of users", Ivaylo says hesitantly. It must be tricky to explain these things in a simple way when normally there is a wealth of formulas and diagrams to help him along. One of the illustrations/images in his thesis shows how "differently" a smart phone can be affected in the presence of a users hands.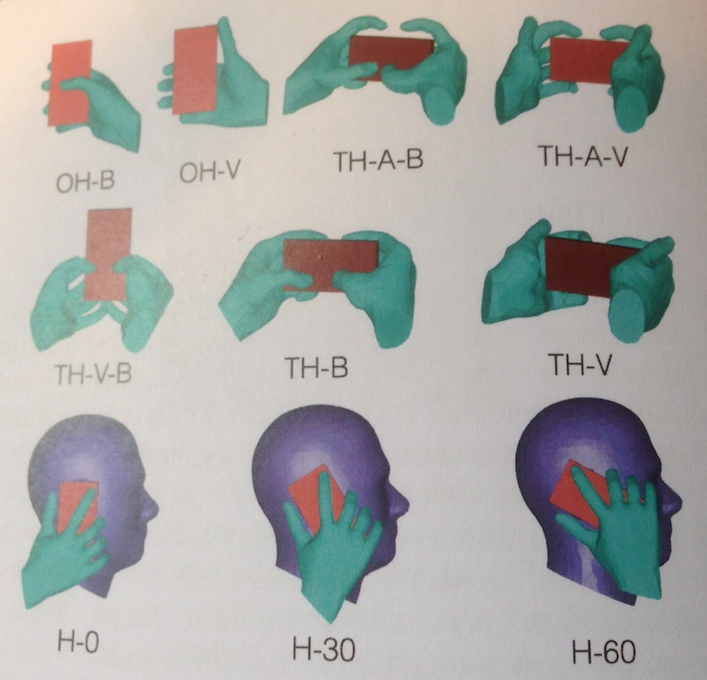 Hands on handset
For anyone who is interested in further information about Ivaylo's research, the following YouTube link has some extra treats for you.
From Bulgaria via Germany

Ivaylo moved to Germany after having finished high school in his home country of Bulgaria and more specifically in the city of Sophia. After that he spent five years in Germany, completing a Master of Science degree. After graduating, a professor recommended him to Buon Kiong Lau (Vincent) who was looking for a PhD student at the time. He moved to Sweden in the spring of 2010 and now, five years later, he finishes off his studies by gaining the coveted doctorate title. "Was it difficult adjusting to Sweden?", I ask him. "No, it was pretty similar to Germany in many respects, even if it's a bit easier to connect with people here", Ivaylo says. "And I've liked my colleagues, friends and living arrangements very much. And the food is OK. Even the meatballs." "I go back to Bulgaria 3-4 times a year to meet my family and many of my friends who still live there", Ivaylo continues.


Industry beckons

In the near future, Ivaylo is aiming to look for jobs in the industry, probably in Sweden or Germany. His girlfriend lives and works in London and Ivaylo is going to visit her shortly. First time in London!
We wish him the very best of luck in the future and hope to see EIT and Ivaylo's antenna research materialise in wireless, wearable products all over the world.


Congrats from committee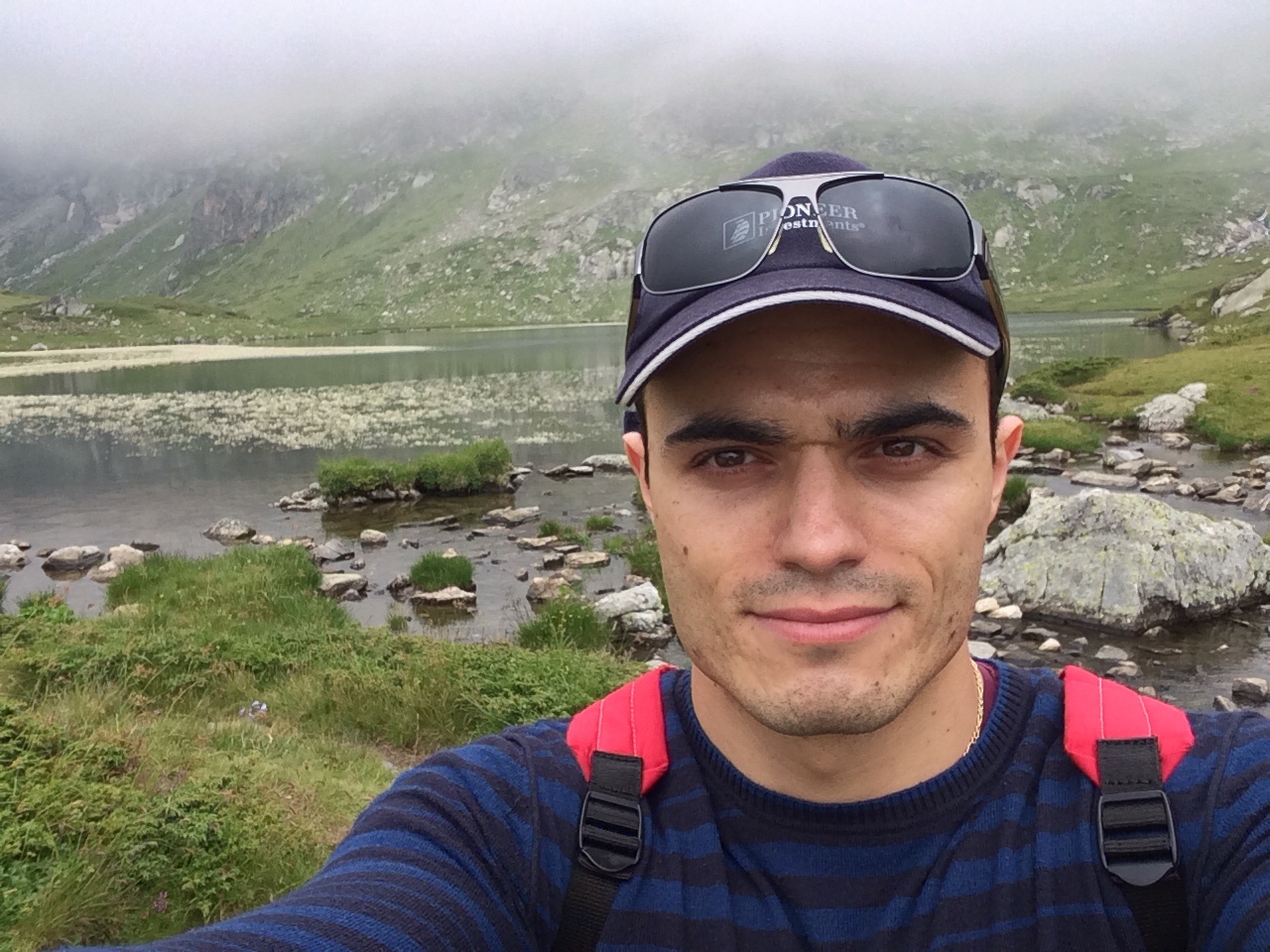 Ivaylo-selfie
Text & photo: Anders Borgström

---
LuMaMi on SVT
Published: 2015-05-06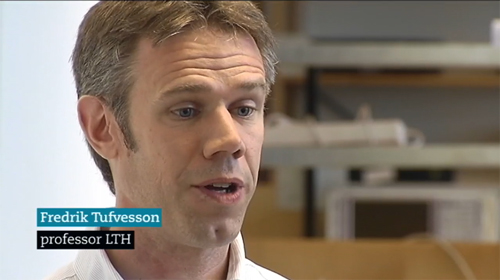 Fredrik Tufvesson interviewed by SVT (Swedish Television) regarding the next generation of (wireless) Internet.
See the interview here (in Swedish):
http://www.svt.se/nyheter/regionalt/skane/enorm-okning-av-datormangden-i-framtiden
Text: Johan Cedervall

---
Gerhards Grabbar med ny BAN-Antenn
Published: 2015-04-24
Gerhards Grabbar till final med kroppsantenn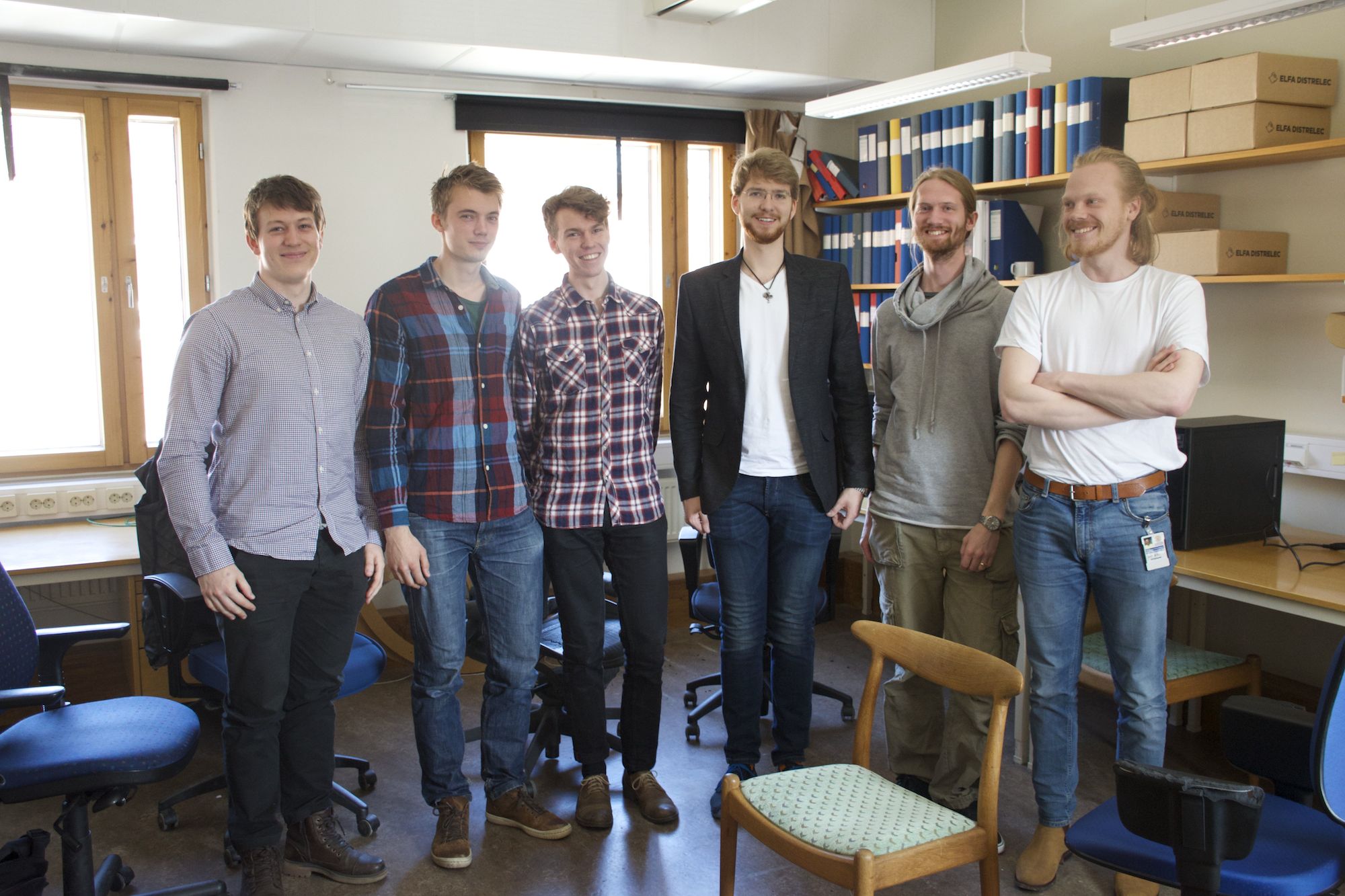 Teamet bakom BAN-antennsystemet: Fr.v. Alexander Israelsson, Hampus Månefjord, Edvard Johansson, Georg Wolgast, Casimir Ehrenborg. Längst till höger: Handledare Jakob Helander.
Bild: Anders Borgström.
Projektkurs ledde till IEEE-finalplats
Ära och pengar står på spel när tredjeårsstudenterna Georg Wolgast, Hampus Månefjord, Edvard Johansson, Alexander Israelsson och Casimir Ehrenborg styr kosan mot Vancouver den 21 Juli i år för att försöka knipa förstaplatsen i IEEE Antennas and Propagation Societys (AP-S) designtävling. Tävlingen går ut på att studenter ska utforma ett batteridrivet lågförbrukande BAN(Body Area Network)-antennsystem och lag från hela världen har kvalat in. Gerhards Grabbar, som teamet kallar sig, har knipit en av tre åtråvärda finalplatser och projektet har drivits inom ramen för EITs projektkurs Elektro- och Informationsteknik. Handledare har varit Anders Sunesson, adjungerad professor från ESS och Jakob Helander, EIT-doktorand på Teoretisk Elektroteknik.
Antennen den bärande delen i helt system
Grabbarna har byggt en antenn som är optimerad för s.k. BANs (Body Area Networks) eller kroppsnätverk där de med en bärbar apparat mäter och övervakar en persons hjärtrytm (EKG) samt skickar mätdata via BAN-et till personens mobiltelefon där informationen sen kan lagras och vidarebearbetas. Mätapparaturen består av elektroder, EKG-sensor, en Arduino microcontroller, bluetooth transciever, en Android-Smartphone med egenutvecklad app och sist och viktigast en egendesignad plan inverterad F-antenn. Bluetooth-LE standarden har valts för sin låga strömförbrukning och för att minimera kroppens utsättande för strålning. Antennen, som är huvudinsatsen i projektet, är designad för att i samspel med kroppen effektivt kunna överföra RF-signalen. Simuleringar, beräkningar, konstruktion och mätningar har resulterat i en för ändamålet väl fungerande ytvågsantenn tillverkad i billig teknik med koppar, glasfiberlaminat och lödtenn som huvudingredienser. Mobiltelefonen plockar vackert upp BT-signalen och presenterar EKG:t på telefonens display. Algoritmer och mjukvara kan sen processa signalen vidare för olika analysändamål och även skicka data vidare. Antennen ger bra signal med god dBm-marginal var den än placeras på kroppen vilket syns tydligt i appens RSSI-indikator. Tar någon konceptet vidare för kommersiell tillämpning kan den även göras både liten, tålig och billig.
Räddar liv hos personer med hjärtfel
Vad ska man ha detta till och vad är det egentligen Gerhards Grabbar mäter och analyserar? Jo, visionen är att rädda liv hos människor med hjärtfel och man mäter helt enkelt EKG som sedan analyseras och i god tid varnar för kommande akuta situationer. Tidig upptäckt räddar liv! Appen kan utvecklas vidare för att skicka informationen vidare till läkare, ambulans eller annan hjälp.
Dags att visa upp sig på bredare front
Sen laddar tredjeårsstudenterna om och innan Vancouver-scenen intas måste antennen lödas om och appen snyggas till. Dom kommande mötena kommer också handla om finputsning av rapport och om att förbereda sig på eventuella kniviga antennfrågor från AP-S panelen. Allihopa är faktiskt F-studenter och teoretisk elektroteknik kanske hittills inte varit huvudintresset i utbildningen så långt. Man anar en liten nervositet där.
De två andra finalisterna är hemliga änsålänge men det står klart att de är bland de andra fem som kvalade in i förra omgången. -Vi har sett deras videor och finnarna verkar vassa, säger killarna ödmjukt.
EIT-teamets video har tagit sin lilla tid också då det inte är helt lätt att vara skådespelare, regissör, filmare, klippare och ljudtekniker på en gång men med Windows Moviemaker har det blivit en mycket sevärd och instruktiv 5-minutersproduktion som säkert hjälpte till ordentligt att ordna finalplatsen. Kolla här.
Gerhards Grabbar presenterar sig och sitt projekt även på institutonen nu på måndag den 27 April kl 16. Kom och lyssna i E:3139 kl 16.15.
Studier först, sen karriär.
-Vi blir ju publicerade snart så det lär ju öppna upp världen för oss, säger killarna med ett skratt. Lite allvar bakom skrattet dock, det finns faktiskt goda möjligheter att få in arbetet som en artikel med tanke på att dom gått så här långt i tävlingen. -Att kunna åka till konferensen är en spännande grej för framtiden bara det, inte minst för alla möten och diskussioner med liknande intressen som det medför säger handledaren Jakob Helander. E-fält, antenner, kanalmodulation, kommunikation och annat diskuteras i minglet och har man tur kommer man i slang med en professor som fiskar efter lovande potentiella doktorander. Att trycka upp gamla hederliga visitkort är ett billigt och gott råd.
Att genomföra grundutbildningen enligt plan är väl annars mål nummer 1 innan akademi- eller industrikarriär väntar. Det finns mycket roligt att välja mellan så inget är hugget i sten men EIT har i alla fall fått ett gyllene tillfälle att rekrytera över F-are till E-världen. Singapore, Zürich och andra exotiska platser som Lund och Finspång blir kommande mål för studier och arbete under bl.a. sommaruppehållet i utbildningen. Semester i USA och Kanada, visum m.m. är nu grejer som också rör sig i huvet på killarna.
EIT gratulerar Gerhards Grabbar och önskar lycka till i Vancouver-finalen!
---
Framtidens examination prövas på EIT
Published: 2015-04-14
Professor Per Ödling har å LTHs vägnar examinerat MOOCs (Massive Open Online Course) i samarbete med Akademi Norr, ett 13-kommuners förbund i norra Sverige där 5 unga människkor från 5 olika länder examinerades av Lund på plats i Arvidsjaur. Per flög upp, satt en halv dag, examinerade och flög ner. Arvidsjaur kommun betalade och det blev stort genomslag i lokalmedia.

Detta är en naturlig del av framtidens metodik för högre utbildning och LTH hjälper genom dessa konkreta insatser till att visa vägen. "Affärsmodellen" bygger på att kommunerna agerar campus och studiestöd men "outsourcar" examinationen till i detta fall LU. Våra examinatorer agerar "återförsäljare" åt alla möjliga MOOCs leverantörer och slutlevererar "produkten" genom examination.

Akademi Norr vill nu skala upp och köra ett EU-projekt och EIT, LTH eller LU kan haka på och söka EU-pengar för metodutveckling och fortsatt MOOCs-examination.

Text: Anders Borgström
---
Massive MIMO workshop @ IEEE GLOBECOM 2015 (San Diego, CA)
Published: 2015-04-17
EIT researchers in Massive MIMO arranging a workshop (December 6-10) at IEEE GLOBECOM 2015 in San Diego, CA.
"Massive MIMO: From theory to practice"
Read more: mamiws.eit.lth.se.
---