News archive
EIT-PhD student behind latest ARM acquisition
Published: 2017-02-21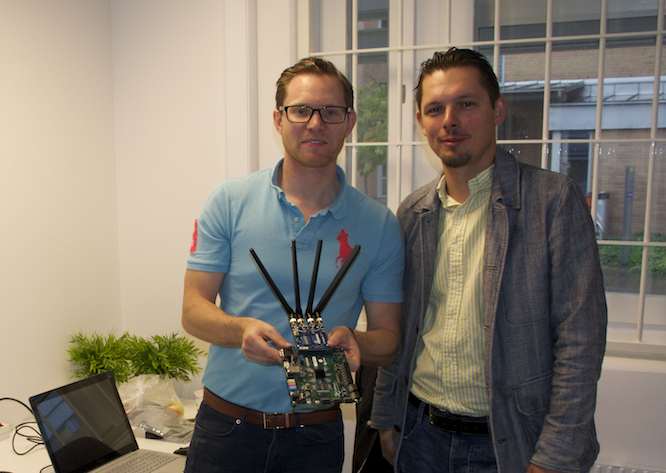 Text and photo: Anders Borgström
British ARM pays more than 100 MSEK in the acqisition of the Lund based company Mistbase and plan for a new development department for IoT (Internet of Things) in Lund. Reports on this can be found in several news media, e.g. Rapidus , Dagens Industri och Sydsvenskan .
ARM get hold of the technology and staff from Mistbase and the current number of employees of 15 will grow. The technology provides connected devices to communicate with downscaled and cheap hardware which will need small amounts of data traffic to work.
The company was founded 2015 by the PhD-student Michal Stala and Magnus Midholt who were interviewed at our homepage back in September 2015.
Congratulations to Michal and partners in Mistbase!
---
Säkrare saker i Martins projekt
Published: 2017-02-15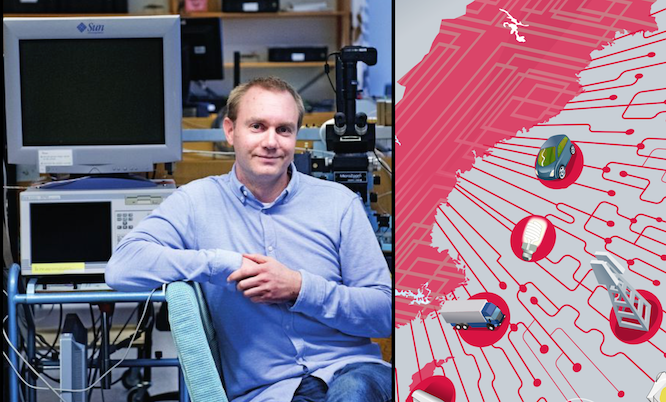 Bild: Ny Teknik
Det VINNOVA-finansierade forskningsprojektet Seconds som ska ge ett säkrare internet-of-things drivs av EITs Martin Hell och det uppmärksammas i det senaste numret av Ny Teknik (nät + papper). Läs artikel
---
INSIGHT incoming call! New video release!
Published: 2017-02-15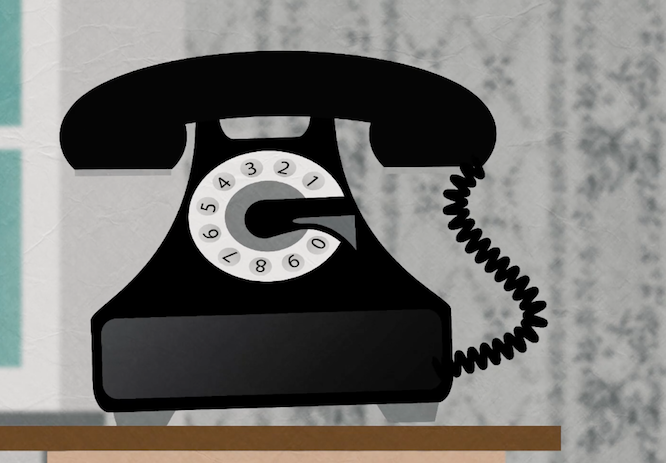 Text: Anders Borgström. Picture: Insight Consortium
The INSIGHT consortium has released a nice video telling about their project and goals in a popular and narrative way.
The consortium research is about integration of III-V nanowire semiconductors on to silicon platforms. The consortium consists of 6 very experienced international partners with Professor Lars-Erik Wernersson as project coordinator and Dr Mattias Borg as operational manager. Both are from EITs nanoelectronics group in Lund. Except for Sweden, partners contribute from Germany, UK, France, Switzerland and Ireland.
In the video we learn about how the last 45 years dramatic increase in capacity of storage, communication and computation also has resulted in dramatic rises in power consumption.
A single transistor consumes very little but in the total global perspective, it becomes extremely significant. High mobility of the free charge carriers in the III-V materials contribute together with lower voltages to much less switching power losses per transistor which is a major target of the project.
The video also depicts how the III-V technology can be introduced in different applications e.g. radars for self-driving cars, 3D-imaging for mobile phones and airport security systems.
---
Martin Hell berättar om darknet och anonymitet på nätet i SR
Published: 2017-02-13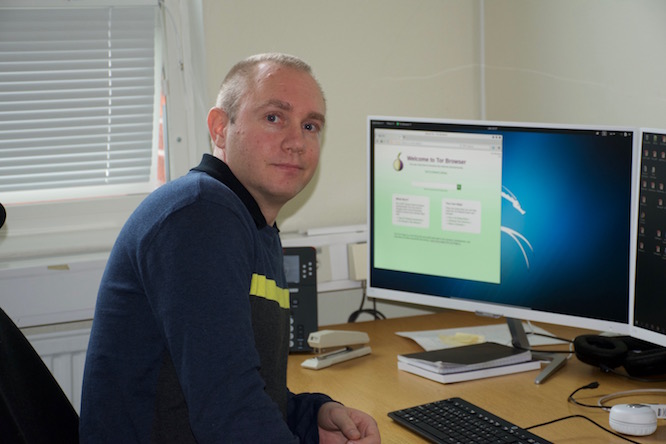 Text och bild: Anders Borgström
I Sveriges Radios Vetandets värld den 6 Feb kunde vi höra om darknet eller internets mörka bakgata som man beskriver det. EITs krypterings- och datasäkerhetsexpert, Martin Hell, berättar för svenska folket om tekniken bakom det hela.
På darknet kan man köpa droger, vapen, barnpornografi, utrotningshotade djur men även i anonyma forum crowdfunda t.ex. beställningsmord och annat som ligger långt utanför lagens gränser. Man kan göra det i skydd av nästintill total anonymitet och varken du som besökare eller den besökta hemsidan kan bli spårad.
Internet har tre delar. Det öppna nätet, deepweb och darknet. Det öppna nätet som de flesta känner till består av hemsidor, musik, film, sociala medier m.m. men under ytan finns det s.k. deepweb med sidor som inte indexeras av sökmotorer och därför inte dyker upp när man söker via t.ex. Google. Ännu längre ner finns då darknet som bara nås med speciella programvaror och där man kan vara helt anonym. Förutom den kriminella delen finns det nyttiga saker med deepweb och darknet eftersom anonymiteten kan användas av journalister, forskare och regimkritiker för att kunna få ut sina budskap utan att riskera upptäckt och bestraffning.
Tekniken bakom darknet heter Tor (The onion root) och är sprunget ur militär forskning på 1990-talet. Säkerhetsutveckling byggs ofta av att många använder ett system så programmet släpptes fritt i början av 2000-talet och snart fanns de första sidorna på internet.
Martin Hell, berättar i inslaget bl.a. att det behövs speciella webbläsare för att komma åt informationen på darknet. Istället för webadresser som slutar med .com eller .se så är det alltid .onion som syns när en darknet-sida besöks. Anonymiteten kan som sagt också användas på ett legitimt sätt, bl.a. i yttandefrihetens tjänst och Martin beskriver hur tekniken fungerar. -Man kopplar upp sig till en webbplats genom att hoppa via ett antal andra datorer (noder) där den sista datorn i hoppkedjan är den enda som den besökta webbplatsen kan känna till.
Alla besökare och webbsidor på det mörka nätet måste vara anonyma. På darknet växer en kriminell verksamhet fram som också kan använda sig av den digitala valutan bitcoin, också den svår att spåra. I inslaget får vi även höra polisens spaningsledare berätta om hur darknet bevakas av dem för att succesivt säkerställa identitet på brottslingar och därmed nysta upp brottsfall. Trots anonymiteten kan små detaljer på darknet sammanfogas av polisen och ge dem en helhetsbild som bidrar till att lösa brottet.
---
Attack and defense is his focus areas
Published: 2017-02-07
Christopher Jämthagen defended his thesis "On Offensive and Defensive Methods in Software Security" back in November 15 and reached his PhD-degree. A few questions to Christopher:
Can you describe your research in a popular science way?
-My research focused on attacks and defenses in software security. We tried to find flaws in protocols and systems and exploit them. We also looked at existing attacks and tried to think of new and better ways to defend against them.
What made you want to pursue a PhD and what is the most fascinating/interesting with your subject?
-Probably the chance to get into an adversarial mindset and try to break stuff was the most fun aspect of it. Getting personal with security issues and really do a deep-dive into interesting protocols to see where they may be flawed.
Who are you? Where do you come from? What are your interests?
-I am a 30 year old (three days after my defense), living in Dalby with my family. Outside of the IT sector I enjoy watching movies, bouldering and playing pretty much any racket sport there is.
Do you have any particular interesting or funny occasion during your PhD time you want to share?
-One fun assignment I received early on was when our group were asked to do forensics on a server another Swedish university had seized and the police weren't able to retrieve anything from it. Except for some meta-data we didn't manage to extract any information either since it was fully encrypted, but it was a lot of fun giving it a shot.
Vad har du för planer för framtiden/what are your plans for the future?
-My plans revolve around working on the cryptocurrency Bitcoin in some manner.
Congratulations to Christopher and good luck in the future from EIT.
---
Zach attacks mobile M-MIMO with TCM
Published: 2017-01-16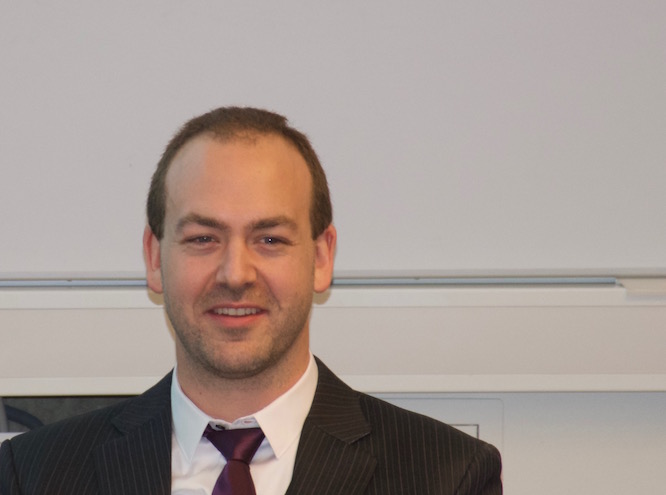 Text and Photos: Anders Borgström
In control
-It was wonderful! One of the best experiences that I had. Zachary Miers did his PhD graduation November 29 and he's not hesitating when asked about how it all felt. Well prepared with published papers and an almost error-free thesis in place he had control over the situation. Zachary, or Zach as he is called, smiles when admitting there was a diagram label that needed correction.
Good opponent
-The opponents questions were good, not easy but I felt I had answers to everything so there were no embarrassing long silent moments, says Zach. She had obviously read the thesis thoroughly and she did an excellent job in our discussion. Zach tells us further that the opponent is highly ranked in IEEE and has worked a lot in this field. -Never met her before though, he adds.
Party the swedish way
An excellent party took place after the disputation with ten (!) family members flown in from Colorado US and many others from his swedish friend community. -I have a great family and they got a good insight in how things are done over here! Zachs swedish friends supported him in setting up the party the swedish way with food, drinks, songs and other important stuff.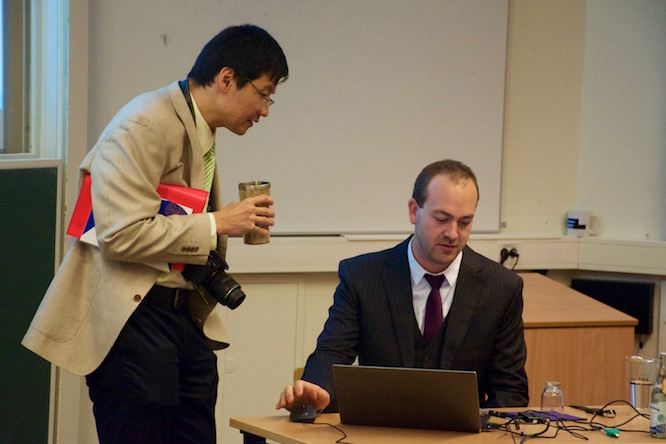 Last preparation with Vincent and Zach
TCM is like playing guitar
TCM, or Theory of Characteristic Modes, is what Zach has used in order to design antennas. Maxwells equations has a role but there are other things taking part.
-I'd like to describe it by an analogy of using a guitar string, doctor Miers says putting his pedagogic hat on his head. -Snapping a loose string will result in a tone that could be analyzed and if I change the boundary conditions by using a finger on the fretboard, there will be another tone. In electromagnetics, a piece of dielectric or metal can be used as an antenna and it delivers radiowaves when fed in special ways and by moving parts around.
TCM was published for the first time in 1965 and it woke up again around 2004-2005. It's been used a lot for cellphone antenna systems and it also allows you to create MIMO antennas. The first commercial software came out in 2015 and it has finally gained traction.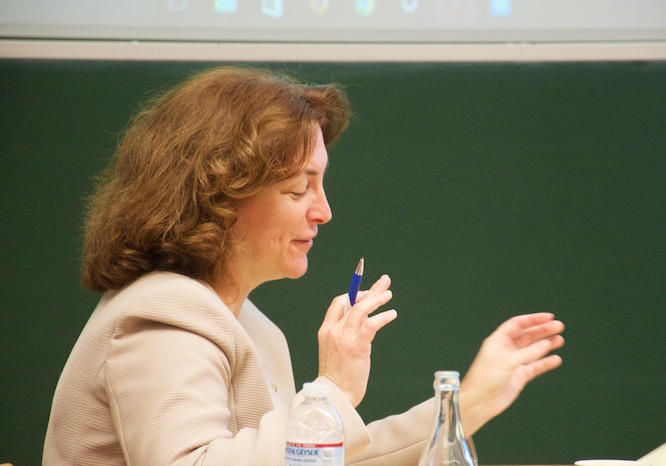 Opponent in discussion
Antennas for the real world
Antenna design evolution has been slow since the eighties, compared to most other technology parts within a handset. Zach came up with theories on how to allow inclusion of dielectrics, real materials, human hands and more. Previously it was mainly about perfect conditions which did not fully reflect the real world of antennas. -We also got some patents on special antenna designs, Zach continues.
-You can take a set of currents and see how that turns into radiated power and than use that pattern in order to solve how to outline the antenna, he says. The main target is to design cellphone antennas radiating within the range of a cellular system but it could also be used for other radio communication systems, satellite links, Hi-Q IoT-antennas and more.
From research to development
-I have a job coming up at Ball Aerospace, Broomfield, Colorado, within development of commercial 5G communication systems, Zach tells us. It's mostly about phased arrays for space qualified applications such as satellites and it will be a change, for sure! Ball Aerospace made satellites like Digital Globe and Quickbird which are the ones taking pictures for Google Earth. So we are all familiar with them, in a way.
Why Sweden and EIT?
Why Zach chose Sweden was really by chance. -I wanted to see new ways of doing things compared to my home university, says Zach. Looking around for a European Top-100 University ended up in Vincent (Prof Buon Kiong Lau) asking me to apply for an open position in Lund. I came here in September 2012 and I now love Sweden even though it took some time to find really good friends.
What I like here is that I can, by looking around, find new opportunities close by. My antenna design field can be used in other fields, e.g. M-MIMO or circuit design.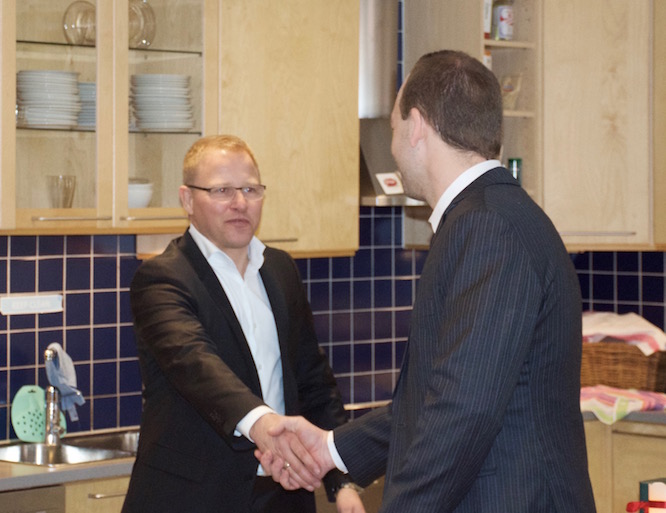 It's a YES!
Electric bike
There's been time also for non-theory things and a long range electric bike is the result of that. Spec: 1,5 hours charging time, large LiI-battery, wheel+motor from China, controller, high-efficiency and programmable. 40-50 km without pedaling. Zach smiles when asked if driving an electric bike without pedaling is legal.
Family life emerging
A child is on its way (27 weeks so far) and moving back to US is on the short term agenda. -It's quite a hard decision to move away from Sweden and our friends, says Zach. My wife also works as a special needs teacher in Malmö and loves it. -But family support and getting closer to home now also mean a lot for us. Finding a place to live, moving and a lot of other practical things will occupy my mind and body the coming days. My job starts Feb 27 so leaving Sweden is coming closer and I will now start logging in to Blocket in order to get rid of things before that.
Congratulations and good luck from EIT!
---
Her nanomodels complies with nanoreality
Published: 2016-12-27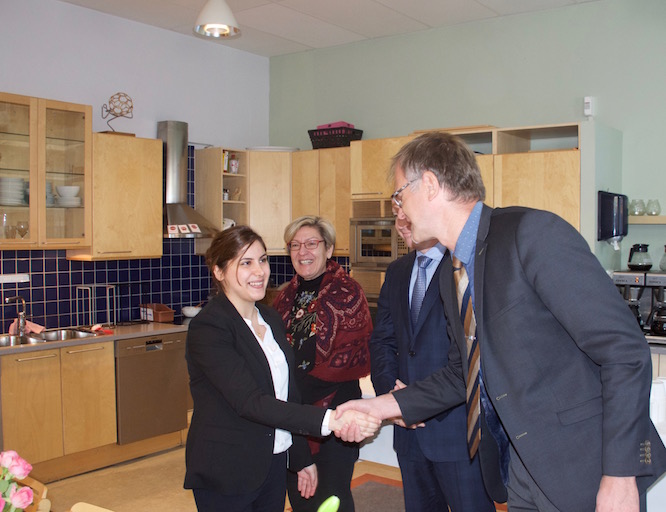 Aein S, Babadi with main supervisor Lars-Erik Wernersson
Modeling and measuring on nanostructures
-I wasn't sure if you meant quarter past or 2 sharp, says Aein Shiri Babadi after a gentle knock on the door. We have agreed on a short chat about her recent disputation and Lund academy time behaviour manners (akademisk kvart) is still not easy to get a grip on. As for many.
Aein did her PhD-research within the field of modeling, building and measuring III-V nanostructures and her PhD graduation took place Nov 11, 2016. The thesis title was "Electrical Characterization of III-IV Nanostructures".
InAs and GaSb instead of good old Silicon
-My research is related to fabrication of transistors, she says. I'm doing material characterization for MOSFETs where my work is related to the material synthesis, electrical characterization and also modeling of these tiny devices. A general focus in the group, headed by Lars-Erik Wernersson, is on III-V nanostructures and the first part of my work was on Indium Arsenide (InAs) and integration of high dielectric constant oxides on InAs. The second part was to do electrical characterization of electrical properties of nanowires from InAs and Gallium Antimonide (GaSb).
Nervous before it complied
Are you a theoretical or an experimental researcher? - I have been lucky and had opportunities to get experiences in both areas, says Aein. I have also applied the models I made on devices that I fabricated with different growth conditions with the thin oxide layers. Theory, models, fabrication, experiments and comparison. -We did the whole lot, she says enthusiastically! And it compared well. -Some anxiety on how it would compare has been around during my work, Aein admits. First years with modeling took a lot of my time and I really felt pressured to get it ready. Eventually the model compared quite well to the experiments and we presented and also got it awarded at a conference in Ireland! Good feeling!
Size, mobility and power is what counts
-My findings can be applied to improve the gate performance of the transistors, Aein responds to the question as "what is this good for?". - For high-performance scaled MOSFETs, the gate oxide has to be appropriately scaled with an equivalent oxide thickness, EOT, below 1 nm to achieve strong gate control over the electrostatic potential inside the semiconductor. Achieving a high-quality gate requires a high dielectric constant oxide layer free of defects, which is scaled in thickness with few interfacial imperfections at its interface with the semiconductor material. This is important to lower power consumption that is a never-ending strive.
From Persian Gulf city to nanolab in Lund
-I'm from a city at the southwest of Iran, Ahvaz, an industrial million-city close to the Persian Gulf. I grew up there where I also did my university bachelor education. After that I lived in Tehran for a year. -My parents have always encouraged me to take studies seriously so I went further and looked for research study opportunities, she continues. I did my masters in physics at the faculty of Natural Sciences in Lund where I chose the direction of nanoelectronics after attending a course by Lars-Erik Wernersson. -Lars-Erik is to blame for attracting me into this area, says Aein with a smile. After masters graduation I got an opportunity to join the group, a thing that I don't regret.
Hopefully post-doc
-I'd like to do a post-doc program so I could widen my research experience into new directions. I have made some applications for funds and I keep my fingers crossed. I will probaly end up in in another university and perhaps in another country if all goes according to plans.
Inspiring research environment at EIT
Sweden and Lund has been enjoyable. Also EIT has been a nice working environment and people around me have been very good in all respects. The departments other research areas like communications and circuit design have also been inspiring while thinking about where my research could be applied.
Gender balance, could be better but not too bad
Gender perspective is an important area in general and discussed a lot nowadays. Is the male-dominated world at EIT something you think about? -I got used to it after a while, but of course, I must admit that it is always good to have some female colleagues as well, says Aein. To be honest, for most part of my PhD study I have not been alone as a women here. In the mid part of my studies we were 4 women (PhD and postdocs) in Lars-Eriks group. That was good for all of us, men and women.
Other good things in life?
I do painting if there is a spare minute. Water colours with sceneries, flowers, leaves and more. But no faces. Too difficult!
And last, how was the christmas food at Ringsjö Värdshus? Did you eat everything?
-Yes! I like swedish food. And I cook myself also but neither Iranian or Swedish type rather my own culture. I make up the dishes myself, Aein says with a smile. It's time thats precious, fast forward is key.
And now, fast forward to some days off and relaxing.
Congratulations from EIT!
Text and Photo: Anders Borgström
---
A new in-house IEEE Fellow. Congratulations Fredrik!
Published: 2016-12-12
Professor Fredrik Tufvesson, IEEE Fellow
A mail, yes!
You get an email, EITs Professor Fredrik Tufvesson says with a smile when asked about how he got to know about his appointment as an IEEE Fellow. It's not more solemn than that, although it is a rather exclusive group now Fredrik joins. Less than 0.1% of the voting members are elected annually to elevate to this level. LTH and EITs newest Fellow membership takes effect on 1 January 2017. The motivation reads "... for contributions to measurement and modeling of wireless propagation channels ...". The department's research findings in the channel propagation really propagate, for sure.
Good rating for EIT research
When asked about the process towards fellowship, Fredrik tells us he was nominated and then six other IEEE Fellows thought it was a good idea. And they then made it all clear by writing letters of support. -But I was not involved myself in the process, even though I knew about the nomination, says Fredrik. After support letters follows the evaluation and appointment. The IEEE Fellowship is significant not only for the person but also for his research, colleagues and LTH / EIT.
-Good score for all of this I would say, continues Fredrik. It is a confirmation that we are doing the right things and we do them well. We contribute in important ways to the scientific community with relevant research.
Fredrik, John B and a few others
How many fellow-fellows do you have at LTH?
-Not many but we have been a few. Rolf Johannesson is one. Last year our ELLIIT-colleague and Linköping professor Erik G Larsson got appointed and this year LTHs Leif Sörnmo joined the group.
And we have of course John B. Anderson, emphasizes Fredrik. He has recently changed its academic status to professor emeritus, which means that he will not have formal duties anymore. He will therefore perhaps allocate more of his time to United States. But he likes to work in general and for us in particular. John B, as he is called in the corridors, have been here throughout my entire time and been a great source of inspiration, says Fredrik. We hope it stays that way for a while.
The fellowship program only exist within the activitiy areas of IEEE and to be elevated it requires a strong seniorship and significant contributions to the actual field of research. In Fredriks case we are tallking about wireless communication.
So, do you expect new duties and hard work now?
-Nope. But again, it's very inspiring for myself and good for the organisation with confirmation on what we achieve here. Hopefully we will bring forward more IEEE Fellows in the future.
Congratulations!
Text and photo: Anders Borgström
---
More spectral efficiency awards to the MIMO-team
Published: 2016-12-08
| | | |
| --- | --- | --- |
| Adding to the earlier award portofolio, Steffen Malkowsky and his colleagues in the M-MIMO team also took first prize at NI Engineering Impact Awards for Northern Europe 2016 in London. University of Bristol and Lund University have together set a world record in wireless spectral efficiency using Massive MIMO technology. Congratulations! | .. | |
---
Tobias steps up in frequencies
Published: 2016-12-08
Tobias Tired graduated and achieved his doctoral title Nov 9, 2016 after defending his thesis named "Integrated Transceivers for Millimeter Wave and Cellular Communication".

What's your research about Tobias?

-I have designed integrated circuits for wireless communication. Receivers for mobile phones have to date used frequencies up to 2,7 GHz and homodyne technology has fully replaced the older superheterodyne technology which means filterless and cheaper solutions.

-Much higher frequencies (mm-wave, 71-95 GHz) can be used for wireless communication between basestations as a fiber replacer in future systems where we will see much smaller cells and much higher number of basestations. These high bands secure bitrates of several Gbps.

-Higher attenuation requires more directional antennas and my work presents designed circuits to control this electronically. I have also investigated new architectures for power amplifiers which often dominates the power consumption of an entire transmitter solution.
-In total, I have designed 5 circuits containing oscillators, PAs and PLLs. 4 of them have been tested and verified through experiments. My research has been financed through the VINNOVA-center System Design on Silicon (SoS).
Who are you?
-I grew up in Lund and have lived here all my life except for a three year stay in Stockholm when I was working at Ericsson Components. I worked almost 20 years with Ericsson before I started as a PhD-student at EIT. Between 2011 and 2012 I was an industrial PhD supervised by Pietro Andreani.
Why PhD and why this field?
-I have always been curious to try on the academic world. During my career at Ericsson, there was always a close cooperation with the academic research that made me curious. In the end, I took a shot that appeared in order to finalize my PhD.
-It has been an exciting time more freewheeling than product development projects at Ericsson. I have had good opportunities to do research on new chip architectures. The most exciting part of my area is probably what opportunities around mm-wave technology that will be offered in the future. Not only in Telecom but also in areas such as medical technology and radar technology.
-How about your future?
-I have an upcoming exciting job at an IDEON startup company. It's not about mm-waves but close to it.
Congratulations from EIT!
---
EIT research highlight on phase noise.
Published: 2016-12-08
Another research highlight for EIT is delivered in IEEE Transactions on Circuits and Systems I with the paper "A General Theory of Phase Noise in Transconductor-Based Harmonic Oscillators".

In the paper Federico Pepe and Pietro Andreani prove that, when the active core of an oscillator works as transconductor, its phase noise contribution is always proportional to that induced by the tank. As assumption is made on the specific nature of the transconductor and the tank, the result is valid in the very general case.
Congrats to brilliant EIT research!
---
Miljonregn och uppmärksamhet till nanoelektronikgruppen
Published: 2016-12-08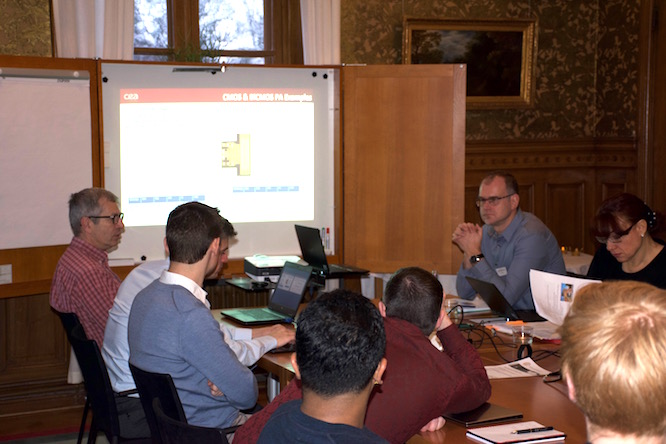 EITs Nanoelektronikgrupp vid Insightmöte.
Text och bild: Anders Borgström
EITs Nanogrupp beviljas VR anslag (konsolidator grant) på 10 MSEK med universitetslektor Erik Lind i spetsen för ansökan. Nanogruppen har via Lunds Universitet dessutom sänt ut en internationell pressrelease relaterad till deras presentation på International Electron Devices Meeting i San Francisco, http://ieee-iedm.org . Gruppens data väcker mycket stor respekt från Intel, IBM, University of Tokyo, MIT m.fl. Fantastisk PR för Lunds Universitet och EIT.
Gruppens arbete handlar om energieffektivare smarta transistorer. Professor Lars-Erik Wernersson och hans forskarteam vid nanoelektronikgruppen har utvecklat en transistorteknologi som kan användas i extremt lågförbrukande tillämpningar som t.ex. sensorer för "Internet of Things". Uppskalat har tekniken förutsättningar att spara enorma mängder energi och därmed bidra till att möta utmaningarna med att lösa framtidens energiförsörjning.
---
LuMaMi on SVT
Published: 2015-05-06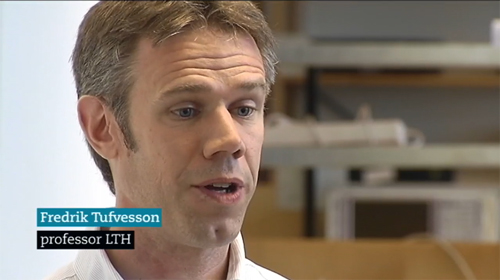 Fredrik Tufvesson interviewed by SVT (Swedish Television) regarding the next generation of (wireless) Internet.
See the interview here (in Swedish):
http://www.svt.se/nyheter/regionalt/skane/enorm-okning-av-datormangden-i-framtiden
Text: Johan Cedervall

---