News archive
Multiple awards to spectrum world champions
Published: 2016-08-09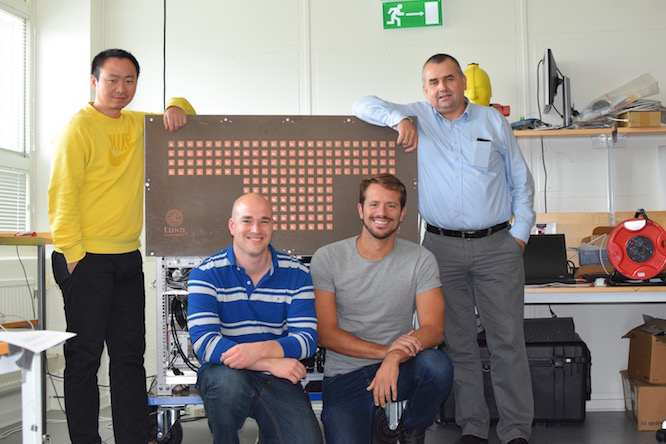 Core EIT-team behind the Massive MIMO LuMaMi-testbed: Senior researcher Liang Liu, PhD-student Steffen Malkowsky, PhD-student Joao Vieira, Professor Ove Edfors. Missing in picture: Professor Fredrik Tufvesson.
Text and photo: Anders Borgström.
EITs 5G Massive MIMO researchers are best in class for sure! Doctoral student Steffen Malkowsky together with his research colleague Paul Harris from University of Bristol grabbed a real grand-slam at the 2016 NI Engineering Impact Awards ceremony in Austin, Texas, in the beginning of August. This event attracted more than 3,200 innovators, with thousands more watching the keynote events around the world over live streaming.
Five awards
Steffen Malkowsky and Paul Harris won first prize in five separate categories in fierce competition with more than 100 other contributions. An absolutely incredible achievement! Steffen together with his Lund team-mates PhD-student Joao Vieira and senior researcher Liang Liu have all worked extremely hard during a long time to develop a Massive MIMO testbed. This hard work is now being so gracefully rewarded for the world record performance in spectral efficiency obtained using the University of Bristol instance of the testbed. Main supervisors of the Lund part of the project are professors Ove Edfors and Fredrik Tufvesson.
The five categories scooped by Steffen and his Bristol colleague Paul were the following:
-NI's Wireless and Mobile Communications category
-NI's Engineering Grand Challenges Award
-Hewlett Packard Enterprise (HPE) Edgeline Big Analog Data Award
-Powered by Xilinx Award
-2016 Customer Application of the Year Award
Fortunately they didn't need any extra baggage allowance on the flight home, since NI gracefully offered to ship the five heavy trophies to Lund after the event. Check the happy team yourself in this award ceremony video.
Spectral efficiency, what's that all about?
What is spectral efficiency? Well it's about what data rate that can be achieved over a given bandwidth in a specific communication channel. Or how efficiently a limited frequency spectrum is used in terms of transmitting data. To put it simple: -How much data can be packed in an existing radio signal.
Spectral efficiency measurement unit is bits/sec/Hz and the competition is about showing the highest values. Steffen and his colleagues have boosted massive MIMO to an incredible world record of 145.6 bit/sec/Hz. Using a 20 MHz channel this means a throughput of 3 Gbit/sec, beating by far both 4G and LTE current performances. The 145 bits/sec/Hz-world record is illustrated in this video brought forward by the team at Bristol University who also issued this pressrelease on the subject.
Ove Edfors in keynote
At the day 2 keynote presentations EIT professor Ove Edfors and Professor Andrew Nix at University of Bristol entered the large NI Week-stage and gave the big audience a brief presentation of the uniqueness of the Massive MIMO system principles and how it's now been showed to perform so well together with key hardware and software components from National Instruments. Among other things, the key-note video informs about Massive MIMO systems usage of not only time and frequency domains but also the spatial domain in order to share spectral resources between different users. The work on designing the massive MIMO testbed has allowed Lund University researchers to publish the first papers on real time Massive MIMO over the air. Real results with real hardware, software and prototypes.
Ove has also earlier made a 2 min excellent video animating and describing the fundamental principles of Massive MIMO using one basestation and three terminals.
Paving the way for 5G
Steffen, Paul, and the rest of Lund-Bristols Massive MIMO research teams are among the most important players in bringing future 5G technologies in place. Next step is to study how the system works when the connected units are mobile. Test will be performed in collaboration with the Bristol-team later on this fall in Lund.
Congratulations to Steffen, Liang, Joao and others involved at EIT!
---
Erik Larsson på Kunskapskalas
Published: 2016-08-08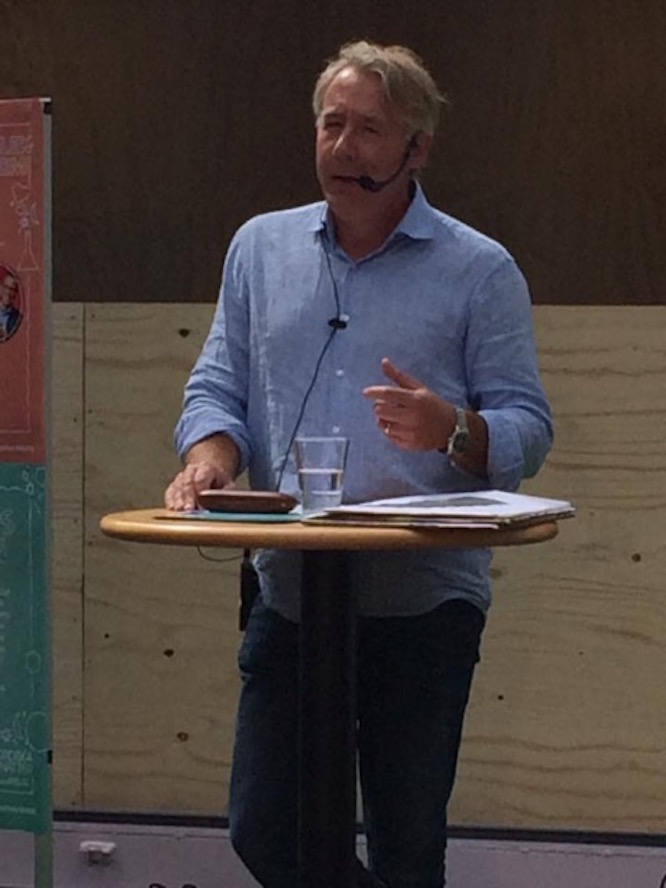 Erik Larsson, docent på EIT, deltog som föreläsare på Folkuniversitets arrangemang Kunskapskalaset under Helsingbogsfestivalen HX16 som gick av stapeln 4-6 augusti. Erik levererade kunskap till kalasande besökare om IT-beroende och dess risker i vårt samhälle. Nuförtiden finns det elektronik inte bara i mobiltelefoner och datorer utan i stort sett i varenda pryl. Självklart vill vi att elektroniken ska fungera så länge vi använder den, men det är inte så enkelt när en enda integrerad krets kan bestå av 10 miljarder transistorer där ledningarna är bara cirka 20 nanometer. Mycket kan gå fel.
Läs mer om HX16
---
Lund University breaks the world record for transistor performance
Published: 2016-06-23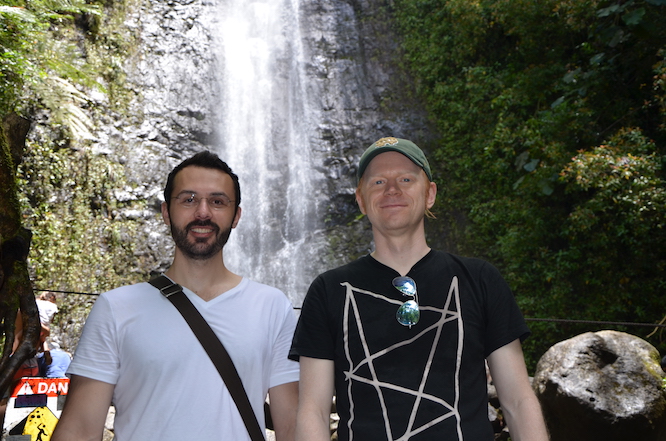 A team from Lund University has developed transistors with a new world record of performance. The improved performance can be translated to a reduction of power consumption in computer and mobile devices, allowing for new features, more memory and longer battery life time.
The transistor is the smallest constituent of computer processors (CPUs) and memories (RAMs), and the continued development of it, since its invention in 1959, has ushered in the digital era.
"The primary transistor performance metric is the amount of current that is able to pass through the transistor under a certain voltage. This, in turn, depends on many factors, such as material properties and device design", says Cezar Zota, who presented the work together with Erik Lind, at the 2016 Symposia on VLSI Technology and Circuits in Honolulu, Hawaii.
With improved transistor currents, the voltage powering them can be lowered, so that the current falls down to the minimally required level. The net gain is a reduction of the power consumption of the circuit which implements the transistors.
"In our research, we use so-called III-V compound semiconductors, rather than the silicon-based alloys used in industry. III-V materials have the potential of improving transistor performance, but also present new challenges to be solved", says Cezar Zota.
With these results, Lund University now holds the world record in transistor performance, beating stiff competition from both academy and industry.
Links
Text and Picture: Erik Lind
---
A new take on asleep and awake
Published: 2016-06-22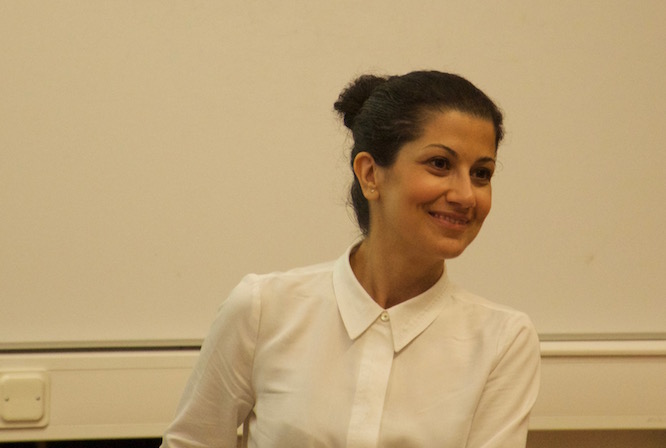 -Congrats Nafiseh! You are a doctor! Tell us, did you have a nice party after the duties during the big day? -We had a dinner but no big party. Maybe later... Now it's relax and vacation time. It's been a tough spring.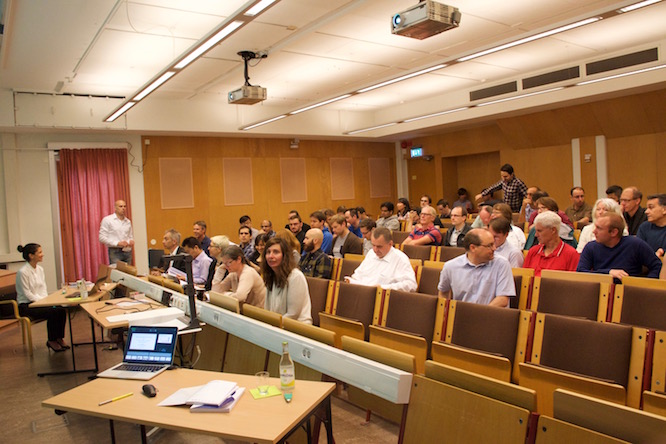 Preparing for thesis presentation
The field
Assistant Professor Sofie Pollin, KU Leuven, Belgien opened the event and the well attended E:1407 learned that modern wireless sensor devices are often constrained by batteries that determines the size of the device. Even though the nodes in a networked sensing system are mostly asleep and doing nothing, they have to wake up now and then. Waking up and checking activity consumes power which also goes for the processing and sending of data. Finding clever approaches on scalable, powertight wake-up schemes for wireless sensing systems is what our latest doctor Nafiseh Seyed Mazloum has been occupied with in her PhD-research.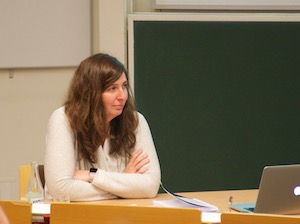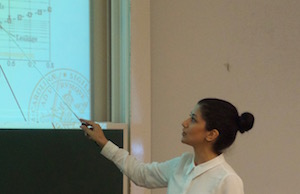 Opponent Sofie Pollin (left) and Nafiseh Seyed Mazloum (right).
Nafiseh presented her thesis "Duty-cycled Wake-up Schemes for Ultra-low Power Wireless Communications" and talked about network topology, data traffic, cross-layer communication protocol solutions and more, all targetting extremely powertight wireless sensing networks.
Dinner talk
Nafisehs approach to describe her research in a popular way is the following:
-Whenever you have a very small resource of anything, you want to use it efficiently. -My research addresses very small devices like pacemakers, hearing aids etc. Things that need to communicate without having a lot of battery. That's what I work on. This way of putting it usually works at a dinner conversation. -It's a bit like telling someone that you should switch off your mobile phone screen to make the batteries last longer. If the listener wants to know a little bit more, I continue with "standby-mode" and explain that entering this is done autonomously and not by a press of a button.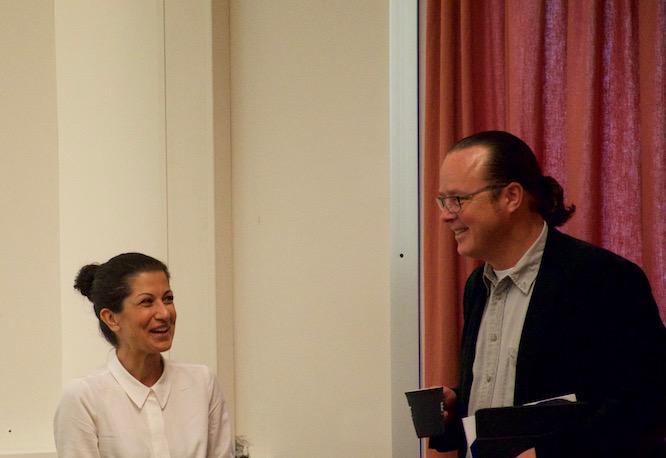 Nafiseh and LTH Dean Viktor Öwall
Tech talk
-DCW, or spelled out as "Duty-Cycled-Wakeup" means that you send your receiver to standby-mode in duty-cycles where it's on for a period and off for another, says Nafiseh. -Waking it up needs to be done autonomously since noone human is there to do so. Energy consumption also relate to communication delay so when sleep-time is long, the communication is delayed. -And duty-cycle settings depend on application and use cases, she tells us.
On the opponents question why a 65 nm process is used to verify the functionality of the circuits and not something more state-of-the art, Nafisehs opinion was clear.
-Well, whether to use older or newer technologies can always be discussed but I used the technology that was easily available at the time of testing. The focus of my particular research was not on state-of-the-art CMOS-technology, rater on proof-of-concept of the wake-up functionality.
From engineering in Teheran to research in Lund
Nafiseh worked as a hardware engineer in Teheran and then moved to Sweden 11 years ago where she did her master studies and PhD. The master thesis however, was performed at Philips research in the Netherlands. It all ended up with a PhD-position at LTH. The background in low-power electronics was a good match for this and Ove Edfors has been her supervisor (a very good one) ever since.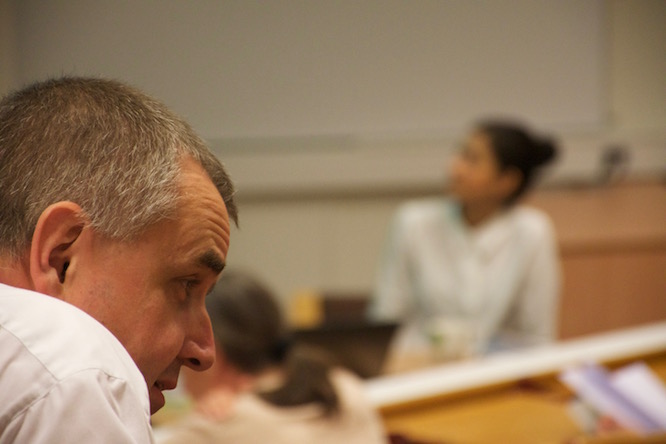 Supervisor Ove Edfors and Nafiseh Seyed Mazloum
Swedish integration going on
Nafiseh is now looking for new opportunities, probably in a research institute or similar. Engineering in industry is over and done with for the time being. -Sweden is nice, I'd like to stay here, she says. -And living in Lund represents a cosy lifstyle. -My swedish will improve now when I've more time, she promises.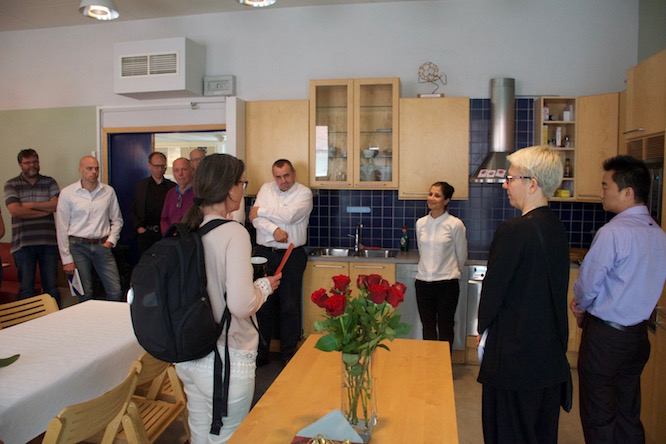 Congratulations Nafiseh.
Art and sport during leisure hours
Any life outside work? -Yes! Painting in watercolour and also consuming any type of art. Visiting Louisiana Museum of Modern Art in Denmark is a must at least once a year. And I do like exercising in any kind of sport even though on an amateur level. But trying to keep in shape is important for me.
Gender balance potential
An encouraging fact with your disputation is that we saw a female opponent, two women in the committee and last but not least you defending your thesis. Pretty good marks on gender balance in this case compared to most disputations in our area! Gender balance is addressed more and more in the society on all levels and we know that there is a lot of talk but not always much walk-the-talk. How would you say LTH/EIT perform? -I've enjoyed my time and colleagues at EIT a lot but we are not champions in this particular sport. Nafiseh ends the conversation by diplomatically mentioning that there is potential to build a good culture here. As long as there is will.
Congratulations from EIT and good luck in the future!
Text and Picture: Anders Borgström
---
2016-06-17 Master Thesis presentatio by Sebastian Andersson and William Tidelund
Published: 2016-06-15
Date: June 17, 2016
Time: 10.15
Place: E:2349
Title: Adaptive Beamforming for Next Generation Cellular System
The work has been performed at Ericsson AB in Lund.
Abstract
In this work a Matlab model of a simplified LTE system has been implemented. The PUSCH and PDSCH signal chains has been used for reception and transmission of data and DM-RS symbols are used as pilots. Moreover does the model support communication and interference between multiple users and base station antennas. The wireless channels are modeled as multi-path Rayleigh fading and are continuous in time such that multiple frames can be transmitted on a correlated channel. Three standardized multi-path delay profiles have been used for modeling users in pedestrian, vehicular and urban environments. Three beamforming algorithms have been implemented, maximum ratio transmission, zero-forcing and regularized zero forcing. This model is an extension to the current standard of LTE in the sense that the parameters of the model are scalable beyond what is currently in the standard. The different algorithms are compared in many different scenarios, including different modulation levels, delay profiles, number of user sharing the same resources, number of base station antennas, multi-layer transmissions and complexity. Maximum ratio transmission is shown to be computationally much faster , while the zero-forcing algorithms is better at removing inter-user interference, especially as the users sharing the same resources grows for a constant number of base station antennas. Regularized zero-forcing is shown to outperform the other algorithms when looking at the entire SNR range.
---
Anders Karlsson tar guld i institutionsgolfen
Published: 2016-06-14
Anders Karlsson tar guld i institutionsgolfen
Årets institutionsmästerskap i golf avgjordes torsdagen den 9 juni i strålande sol på fantastiskt fina Erikstorpsbanan, Landskrona GK. Efter en hård batalj kunde fyra medaljörer koras efter förnämliga insatser. De fyra är:
Guld och institutionsmästare: Anders Karlsson
Stora silver: Ulf Körner
Lilla silver: Richard Lundin
Brons: Bengt Mandersson
Några highlights:
Hål 3: Richard sätter en lång putt och får fyra poäng på hålet. Det är dagens högsta poäng. Grattis till denna prestation Richard!
Hål 10: Skyltarna för väganvisningar är inte de bästa och det gör att förvirring ibland uppstår i ledarbollen. I bollen efter ledarbollen går en grupp av fyra damer som från och med hål 10 ser som sin uppgift att hjälpa ledarkvartetten med orienteringen. Så fort tvekan uppstår kommer därigenom en dam resolut rusande över fairway och ger instruktioner. Mycket praktiskt.
Hål 13: Anders slår ut först och får till en lång men mycket slicad drive och hamnar i ett svårt läge, på tok för långt till höger om fairway. Ulf slår ut som andreman och även han slicar grovt och hamnar långt till höger om fairway. De båda herrarnas lägen förbättras dock väsentligt när Bengt förklarar att de slagit ut mot fel fairway. Det slutar med ett par för Anders och en bogey för Ulf.
Hål 14: Birdie från damtee av Ulf Körner! Ulf slår i vattnet på detta svåra par tre hål. Han droppar på damtee, med ett slags plikt, slår upp bollen på green och sätter en 10 metersputt.
Hål 15: Richard hålar ut efter 12 slag. Dagens högsta siffra. Heder åt Richard för att han minsann inte ger upp i första taget!
Efter avslutad tävling avnjöt de fyra pristagarna en fantastisk lunch på Erikstorps Kungsgård med Kokt rimmad kalvbringa med kräm på örter, vårprimörer i dillsmör och potatispuré. Erikstorps Kungsgård ligger i direkt anslutning till golfbanan. Även icke-golfare kan rekommenderas denna pärla.
---
EIT projektleder open-sourcebaserad innovationsupphandling
Published: 2016-06-03
EIT har tillsammans med LU Open, LU Byggnad, Inköp- Upphandling, MAPCI och Datordriftgruppen deltagit i en för LU unik Vinnovastöd innovationsupphandling. På sikt syftar upphandlingen till att åstadkomma ett open-sourcebaserat system med stor potential att samordna, förändra , förenkla och förbilliga administration och användning av olika organisationers lås- och passagesystem. Två slutkandidater för leverans av skarp prototyp har valts ut, Sensative AB från Lund (Årets skånska startup) och Osser Brosoft AB från Stockholm. Teknisk projektledare från EIT är Anders Borgström.
---
Mohammed fights low-voltage linearity issues
Published: 2016-06-02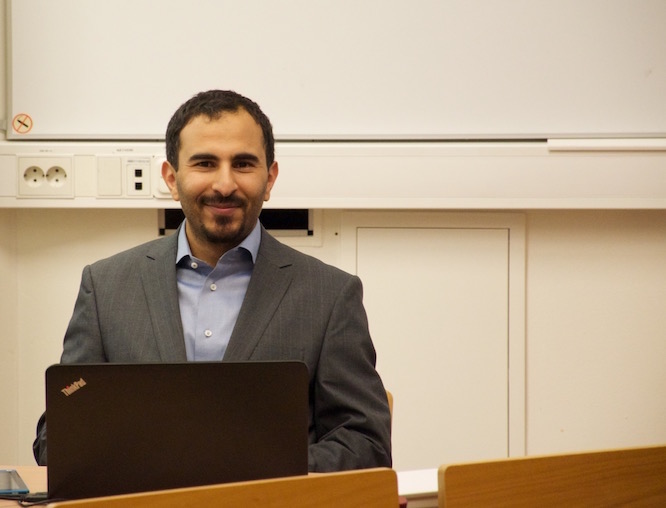 Mohammed Abdulaziz ready for his PhD-thesis presentation
What is it all about?
Mohammed Abdulaziz recently presented his PhD-thesis in an almost full E:1406. The title of his thesis is "Linearity Enhancements of Receiver Front-End Circuits for Wireless Communication" and for those who want to dive deeper into the knowledge he gained during his research-time, a quick glance at the abstract give a hint of what's to be found in the full thesis. The thesis is based on 5 papers covering topics like positive feedback of operational amplifiers, LTE-channel select filters, feed-forward linearization, low noise amplifiers, spectrum sensing and other appetizing stuff.
OK, and what does that mean?
For us "normal" people, not prepared to try to follow all details in the thesis we ask Mohammed about a high-level and more popular description of his area of research and we get the following story:
Demands on high-end wireless handsets (e.g. smart phones) are ever increasing. Fast data transfer, power efficiency and "always-connected" are properties that are regular subjects of improvement and also not to be traded away.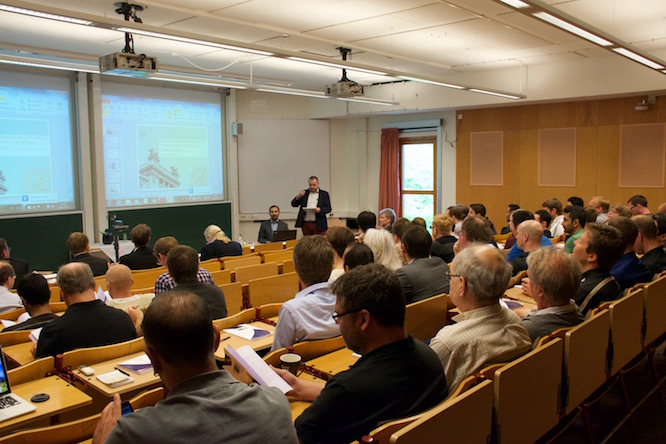 Well attended in E1406
Carrier aggregation is hard
Band fragmentation, where cellular frequencies are divided between different operators, requires sometimes special measures where several narrow channels are combined, called carrier aggregation. This is a complex thing to handle by the hardware.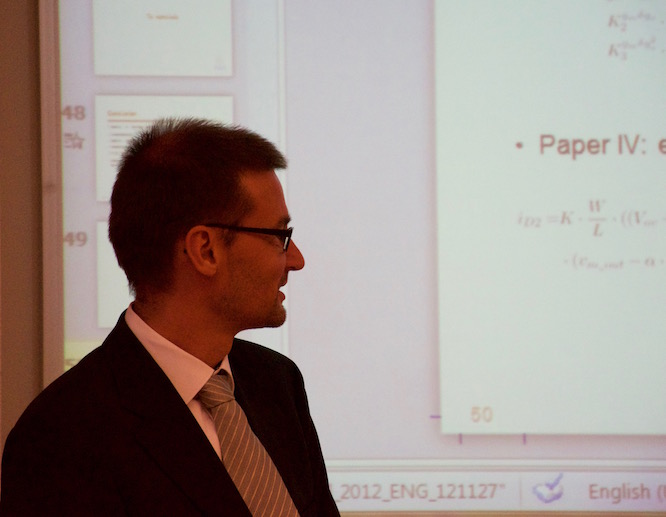 Opponent checking paper four
Linearity issues
To squeeze in more transistors on a given chip-area will mean smaller transistors, lower power consumption, improved speed but also reduced supply voltage. The latter has a negative impact on signal quality because of worse linearity of the transistor in this regions. Higher distortion is inevitable.
Stronger signals taking over
Stronger signals can also saturate the receiver preventing reception of the wanted signal. This problem is similar to trying to listen to one talking while a foghorn is sounding at the same time.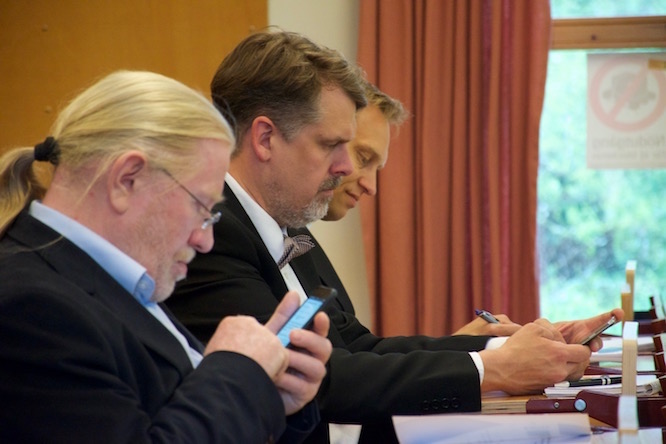 Committee at work
Verify with measurements on chips
Mohammed has addressed the problem of receiving weak signals in the presence of strong interference and three channel select filters are designed and implemented with improved linearity. A full receiver front-end for carrier aggregation with spectrum sensing is also implemented. These solutions are analyzed and simulated, and chips are fabricated and measured to verify the performance and compare to the analysis.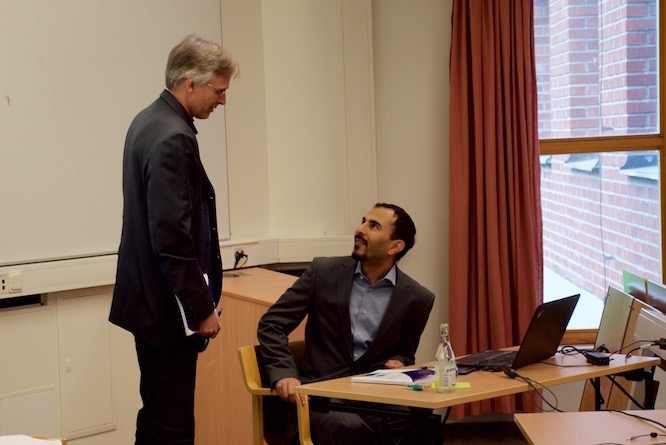 Last minute check
Briefcase guided me to the PhD-track
Since I was a child I have always wanted to finish my postgraduate education, I think my mother was the one who motivated me the most. She promised to give me the leather briefcase when I asked her for it, but "after you finish you PhD" she added.
From Yemen to Lund via Erasmus program
I come originally from Yemen, did my bachelor degree in Jordan. After finishing my bachelor degree I worked for the university in my home town (Dhamar) as a teacher assistant. The Erasmus mundus program started and I was interested in doing my PhD. I saw that Lund University was a partner. I was very interested in LTH because I knew at that time that Bluetooth technology was born in the same department. I applied for my first and second wishes to be LTH and the third one for French university. I think if there was a third option in LTH I would have applied for it as well.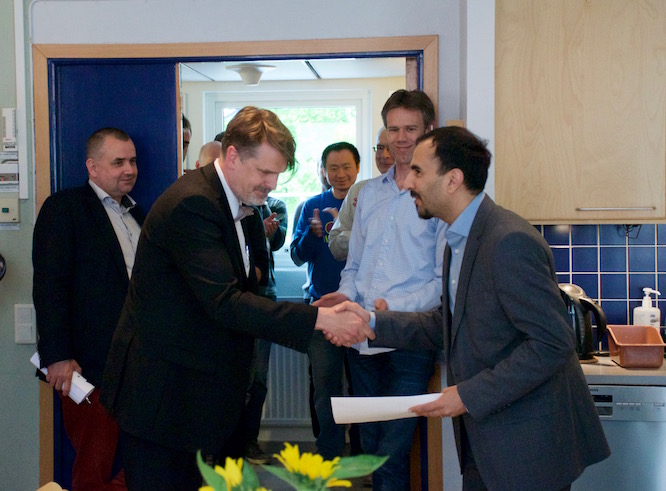 You passed
Future is like good unwritten book.
Currently I am engaged in a project in the department, you will notice I am still around in the lunch room and the research lab. After that future is not so clear but promising.
EIT says congratulations and good luck in the future!
Text and Photo: Anders Borgström
---
Exjobbare från EIT vinner SER- Prize.
Published: 2016-05-17
| | | |
| --- | --- | --- |
| | ... | |
| Max Andersson | | Gabriel Jönsson |
Sveriges Elektro- och Dataingenjörers Riksförening, SER.se, har i år tilldelat sitt SER junior Prize, för årets bästa exjobb, till Gabriel Jönsson och Max Andersson för sitt examensarbete runt en FPGA baserad PCI Express controller med motiveringen: Att kunna styra snabba processer i realtid kommer alltid att behövas inom processindustrin. Handledare var Fredrik Kristensen
Grattis från EIT!
---
EIT records in spectrum efficiency.
Published: 2016-05-16

The Lund-Bristol team (left-to right): Benny Chitambira (Bristol), Paul Harris (Bristol), Wael Boukley Hasan (Bristol), Liang Liu (Lund), Joao Vieira (Lund), Steffen Malkowsky (Lund), Siming Zhang (Bristol), Mark Beach (Bristol)
Lund University (EIT) and Bristol University together break new grounds in the field of spectrum efficiency with a 128-antenna array in a prototyping platform from National Industries.
Compared to existing 4G-platforms, the team shows around 22 times better capacity using 256-QAM modulation, a shared 20 MHz radio channel at 3,51 GHz and a 128-antenna M-MIMO-array. Eight researchers and postdocs from Bristol and Lund demonstrated this and from Lund Liang Liu, Steffen Malkowsky and Joao Vieira participated.
The team beats their own earlier record and another one from Facebook with 24 users and a 96-antenna array. A 1000 fold increase in netwowrk capacity compared to 4G is claimed needed to meet future 5G-needs. Massive MIMO, mmWave and beamforming are technologies that will contribute and our Lund researchers are key persons.
---
Jun Wu, a proud nanoelectronic researcher.
Published: 2016-05-10

Jun Wu, preparing for his thesis presentation. Photo: Anders Borgström
MOSFET-evolution going nano
-I am quite proud of my research, says Jun Wu who is EITs most recent PhD-graduate. -And my research covered a quite broad area.
In his thesis, titled "Vertical III-V/High-k Nanowire MOS Capacitors and Transistors", you can read that the transistor gate geometry has evolved from planar technology through doublegate-, tri-gate up to what Jun is now studying, namely GAA-technology. GAA stands for Gate-All-Around and using that means a rethink around the most fundamental buildingblock of electronics, the MOSFET.
-In general, we would like to realize a new type of MOSFET using standing III-V compound semiconductor wires called "nanowire" (below 50nm) and try to further develop circuit implementation using the new type MOSFETs, says doctor Wu. -To do so is beneficial since one can further increase chip packing density and performance, he continues.
Many fields addressed
His research has been involved in several fields as...
...the field of growing nanowire crystals where he has developed recipes to grow defect-free nanowire crystals.
...the field of optimizing the MOS-gate electrode where he realized the detailed characterization and improvement for MOS-gate electrode for the first time.
...the field of fabricating and improving the MOSFET where he cooperated with his colleague to develop new type of nanowire MOSFETs with improved performance
...the field of developing circuit implementation where he realized 3-D cricuit integration along nanowires.
Again, a quite broad area has been addressed.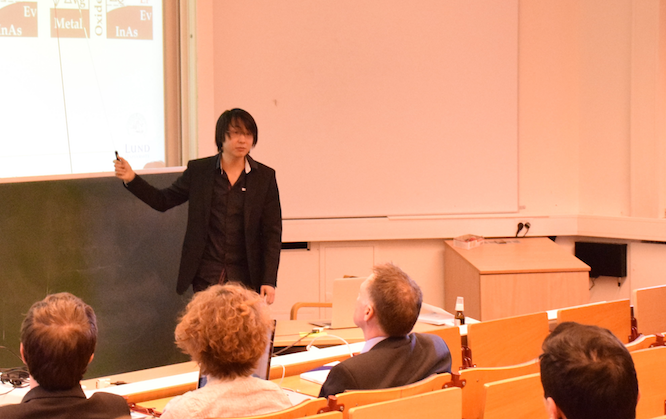 Jun Wu and committee. Photo: Anders Borgström
Research fun but applications also important
-Doing research may be the most interesting job in the world, since you get a chance to work in the frontier of mankind's knowledge, and try every now and then to make breakthrough out of it, Jun says.
The subject of nanoelectronics is attractive to Jun because it is a branch of the emerging promising nanotechnology topic, and also beause it's closely related to industry implementations rather than pure scientific research. -The practical motivation is a need for me, says Jun.
From China to US via Sweden
Mr Wu, who comes from Beijing in China is interested in reading and traveling and his reasons for choosing LTH is Lund Universitys excellent research reputation within the field of Nano science and technology. -A field I'm interested in, he underlines again.
The future plans includes visa-applications to U.S.A. in order to pursue a post-doc offer by UCSB (University of California, Santa Barbara). Further to that, no longer term plans are in sight.
EIT congratulates and wishes all success in the future.
Text: Anders Borgström
---
LuMaMi on SVT
Published: 2015-05-06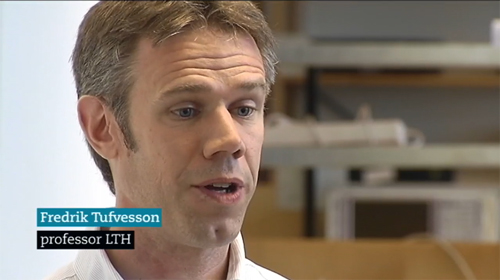 Fredrik Tufvesson interviewed by SVT (Swedish Television) regarding the next generation of (wireless) Internet.
See the interview here (in Swedish):
http://www.svt.se/nyheter/regionalt/skane/enorm-okning-av-datormangden-i-framtiden
Text: Johan Cedervall

---