News archive
Wrong went right for Dimitar

Dimitar Nikolov is EIT's latest doctor and the title of his thesis is "Fault Tolerance for Real-Time Systems: Analysis and Optimization of Roll-Back Recovery with Checkpointing". An appropriately long and comprehensive title, but what does it really mean?

Advanced technology doesn't always work

Technology has invaded our lives and we are surrounded by increasingly high-performing electronics. The ever more miniaturised semiconductor technology is vulnerable to faults and so despite the high performance, there is a risk that the electronics will stop working. At times this could have catastrophic consequences.

Dimitar Nikolov at work
This field of research is known as fault tolerance and the challenge is to make stuff work properly even when something goes wrong in the technological functions.
Fault tolerance deals with technology and methods that detect and correct faults. This often results in a time overhead which can cause problems for real time systems as these systems are dependent both on correct calculations and on things happening at the right time. "My research is about how to handle fault tolerance in real time systems", Dimitar says.
Fault tolerance is an increasingly important field as electronics are introduced into the vital parts of more and more products, industries and activities. Faulty electronics could lead to everything from cars crashing to mobile phones failing and even heart surgery going wrong. And that's obviously something we would want to prevent from happening.
Academic route the right choice for Dimitar
Dimitar knew he wanted to take the academic route early on and for that reason doctorate studies felt like the natural choice. When he first started his research, this particular field of studies was unknown to him which proved a welcome challenge. "Throughout the years my field of vision has widened significantly and I have more and more realised how important this field of research is", a pleased Dimitar remarks.
Dimitar's Master's degree is from the University of Ss. Cyril and Methodius, in Skopje, Macedonia. While there he also worked as a laboratory assistant and this was what made him realise he wanted to continue within academia and research. After this he applied for a position as a PhD student in Sweden which lead to him beginning his doctoral studies in Linköping. "After a while I moved, along with my supervisor, to Lund and LTH where I've really enjoyed both my studies and my spare time" says Dimitar.
"And I will continue my career in academia and research. Preferably in Sweden but money and finance will be the main deciding factor", he adds.
Despite his doctoral thesis having been approved, Dimitar has a couple of points he needs to take in research and tutoring before he finally gets to graduate as a Doctor. That means he will keep his laboratory and office in E-huset until at least June.
From Macedonia to Lund
Dimitar lives at Norra Fäladen in Lund but visits family in his home country of Macedonia whenever he gets the chance. With a Macedonian mother tongue and English spoken with his colleagues, Dimitar has never gotten around to learning very much Swedish.
But Dimitar at least knows the Swedish word "soffpotatis" (couch potato) and describes himself as a little bit of one when I ask him if he practices any sports. "I did a little bit of Squash but never that much. But I've become interested in photography!" As a present for completing his thesis, Dimitar got a new Nikon camera and with four different lenses in his camera bag there will be no shortage of things to photograph. This also results in a sizeable portion of the interview being spent talking about shutter speeds, image sensors and other camera geekery.
EIT hopes that the electronics in Dimitar's camera is fault tolerant with nice pictures as a result and congratulate this new Doctor on his completed thesis. And wishes him good luck with any future research!
Text/Photo: Anders Borgström
2015-01-27


Gerhard Kristensson kallad till hedersledamot i SNRV
Den sedan december pensionerade professorn blev under torsdagen hyllad av kollegor från olika håll och strax före lunch blev han varse sitt innehav av hederstiteln från Svenska Nationalkomittén för radiovetenskap (SNRV), vilken han efter nio år som ordförande också pensioneras ifrån.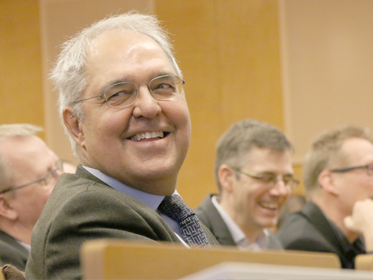 Munter stämning under Gerharddagen.
Torsdagen den 15 januari 2015 går till historien som "Gerharddagen", i varje fall i EIT:s historiebok. Det var dagen då Gerhards kollegor – både nyare och betydligt äldre – fick tillfälle att samlas och framföra hyllningar och prata om gamla minnen.
Stämningen var mycket munter. Som när dagens värd, Anders Karlsson, berättade om reseminnen. Eller som när en annan föredetta kollega berättade om ett experiment som aldrig resulterade i någon skriven artikel men som handlade om hur man lämpligast blir av med duvor från balkongen. Eller som när en annan kollega berättade om hur man kan göra för att få in en kanot i en lägenhet på tredje våningen - utan att väcka uppståndelse. Och utan att använda trapphuset (eftersom kanoten inte får plats i trapphuset).
Carl-Henrik Walde, överingenjör och sekreterare i SNRV, höll ett uppskattat föredrag med fokus på radiohistoria. Ett synnerligen tilltalande ämne. Det började med whiskey och avslutades med musik. Strax dessförinnan hade Carl-Henrik förmedlat beslutet att kalla Gerhard till hedersledamot i SNRV. Motiveringen löd som följer:
"Gerhard Kristensson har varit kedamot i SNRV i 24 år, varit ordförande i dess sektion B i 12 år och senast varit synnerligen uppskattad ordförande i SNRV i nio år. Gerhard har varit aktiv inom URSI och har där och inom KVA setts med stor respekt vilket även gäller SNRV som helhet. Han har under 25 års tid vidareutvecklat en institution på LTH till mycket hög klass.

SNRV har beslutat kalla Gerhard till hedersledamot."
Text & foto: Johan Cedervall

---
2015-01-15


Electromagnetic Theory workshop is on
The SSF-project "Complex analysis and convex optimization" is having a workshop in E:3139 during the whole day.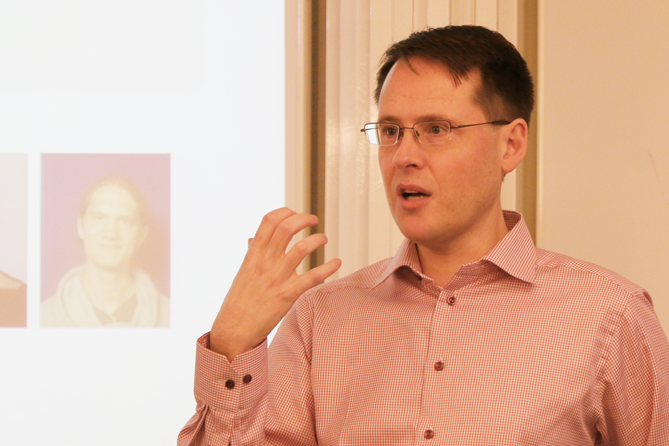 Mats Gustafsson is the project leader and started the lecture-dense Wednesday.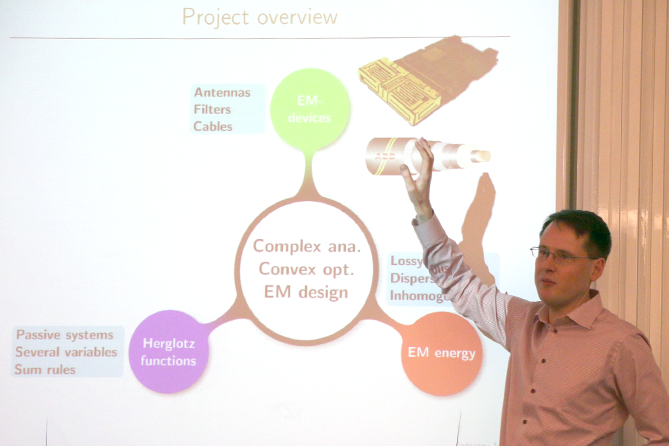 Mats is giving a lecture at 15:30 ("EM energy and antennas"), but started with speaking about the project in whole.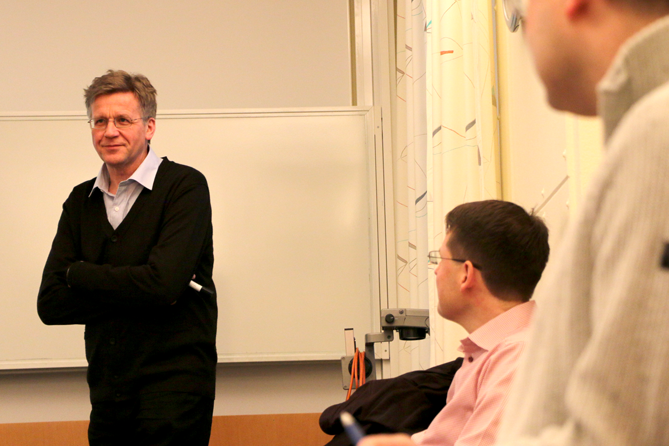 Ragnar Sigurdsson from University of Iceland was the first speaker. The topic was "Complex analysis in several variables".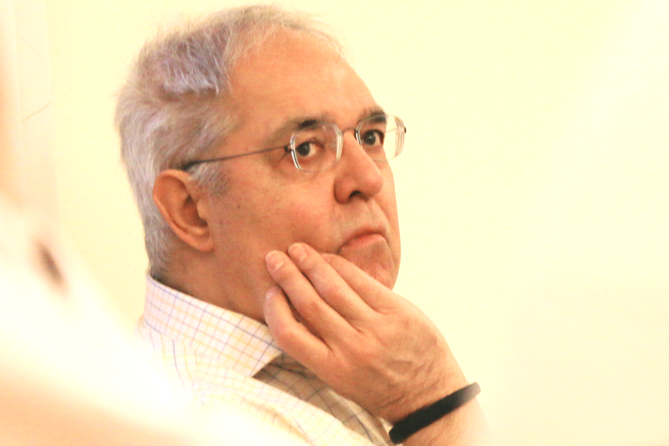 Gerhard Kristensson is in the audience. Tomorrow he will be the focus of everyone's attention - the whole day (15/1-15) is going to be used to tribute him for his efforts during his working years (start 10.00, E:1406).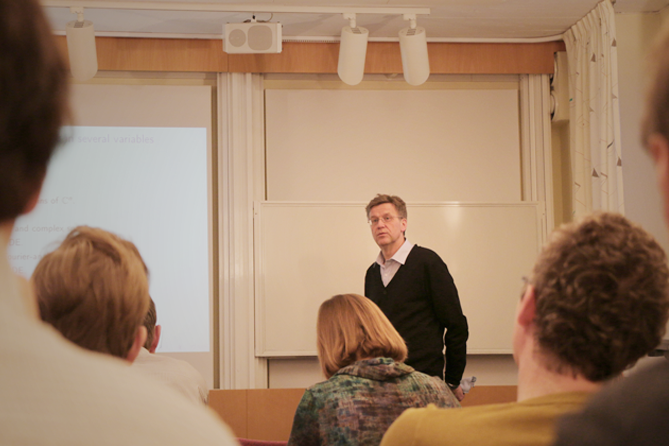 Ragnar Sigurdsson and audience.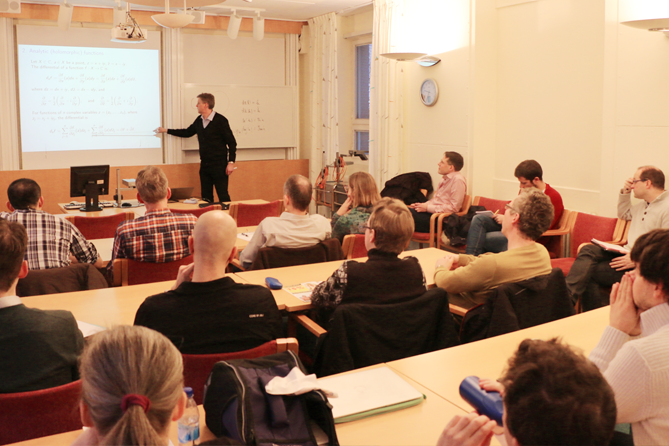 Well-attended E:3139
Today's program is found here: http://www.eit.lth.se/index.php?news=2&L=1#1914
Read more about the project here: http://www.eit.lth.se/index.php?puid=175&L=1
Text & foto: Johan Cedervall

---
2015-01-14


Världspremiär för 5G-teknik i Lund
Ett hett alternativ till nästa generations mobilteknik har nyligen testats för första gången i skarpt läge vid Lunds Tekniska Högskola. Det handlar om Massiv Mimo (multiple input multiple output) som förenklat går ut på att förse varje basstation med hundratals antenner istället för att som idag bara ett fåtal.

Digitaliseringen frestar på näten. Och värre lär det bli: Enligt Ericsson mobility report 2014 kommer den mobila datatrafiken i världen att öka från dagens tre exabytes per månad till 20 exabytes per månad år 2020. Mimo-tekniken är en metod att minska trängseln bland radiovågorna.

– Våra resultat visar både att tekniken fungerar och att den mångdubbling av kapaciteten som utlovats i teorin kan uppfyllas. Det blir sammantaget en extremt energieffektiv kommunikation, berättar Fredrik Tufvesson.

Fredrik Tufvesson och Ove Edfors
Han och kollegan Ove Edfors presenterade rönen offentligt nyligen på den stora forskningskonferensen IEEE Global Communications Conference i Austin, USA.
Hela idén är att göra telefonerna enklare och låta basstationerna ta en större del av jobbet genom att de utrustas med betydligt fler antenner än idag.
– I framtiden kanske vi även kommer att se ett par hundra antenner. Tanken är att de ska vara så små och billiga att de kan bytas ut som en glödlampa. Går en sönder märks det inte så mycket och det är bara att skruva i en ny, säger han.
För att introducera Massiv Mimo i nätverken krävs avancerade algoritmer som styr signalen från basstationernas antenner till de platser där mobilerna för tillfället befinner sig. Detta blir möjligt eftersom 5G och kommande WIFI-nät kommer att vara annorlunda byggda än dagens 3G- eller 4G-nät.
– Dessutom vet vi mycket mer om hur radiovågor beter sig idag jämfört med för några år sedan. Det innebär att vi kan packa frekvensutrymmet med många fler dataströmmar utan att de stör varandra, säger han.
Om fem till tio år gissar Fredrik Tufvesson att tekniken kan finnas på marknaden, beroende på hur standardiseringsprocesserna fortskrider och hur snabbt man kan få fram billig och effektiv elektronik.
För mer information, kontakta Fredrik Tufvesson, professor radiosystem 046-222 46 29,fredrik.tufvesson@eit.lth.se (mellan 29 dec – 5 jan tillgänglig på mail) eller professor Ove Edfors 046-222 90 26 ove.edfors@eit.lth.se. För högupplösta, fria bilder på forskarna, se Lunds universitets bildbank, https://bildweb.srv.lu.se/ skriv namnet i sökfältet.
FAKTA:
MIMO, Multiple Input Multiple Output, innebär att både sändare (t ex basstation) och mottagare (t ex mobil) har mer än en antenn vardera. Tekniken kan implementeras i det kommande 5G-nätet och idag finns en grundversion i LTE, det vill säga i dagens 4G-mobiler med två till fyra antenner på basstation och terminaler. Tillägget massiv syftar på att basstationerna har många antenner och inte bara ett fåtal.
Forskning på den nya massiva MIMO-tekniken bedrivs främst vid Bell Laboratories, Rice University i USA, LTH och Linköpings universitet. Utöver testsystemet i Lund finns det en något enklare variant vid Rice University.
Idégivare: För några år sedan applicerade man MIMO-idén genom att själva telefonen fick fler MIMO-antenner. År 2010 föreslog en amerikansk forskare vid Bell Labs, Tom Marzetta, att istället utrusta basstationerna med väldigt många antenner – därav tillägget "massiv".
Basstationer kan liknas vid en kommunikationscentral. Den vet alltid var du är och slussar vidare dina samtal. Mobiltelefonen letar hela tiden efter den basstation som för tillfället är bäst att använda och meddelar då basstationen om sin närvaro så att nya samtal eller datauppkopplingar kan ske via denna.
Samarbetspartners: Linköpings universitet, Alcatel-Lucent/Bell Labs, National Instruments och Sony Mobile.
2014-12-30


Carl Gustafson, fresh EIT-doctor.
Attenuated waves

An artificial water-filled plastic man ( a phantom ) without arms and legs is one of the Carl Gustafson uses in his research in order to "destroy" the propagation of the waves with wavelengths around millimeters. Many hope these waves will satisfy a large part of the future wireless bandwidth demands. The phantom simulates a human who stands in the way and suppresses the amplitude of the waves, an attenuation which is considerably larger for so-called mm - waves than for the "regular" wifi signals with wavelengths around 10 cm.




New acronyms coming up
Much like we are accustomed to using the 2.4 GHz and 5.8 GHz for today's WiFi connections we will in the future use 60 GHz jargon. Scientists like Carl , technology developers and the world's standard bodies ( FCC, ITU and others) are working hard to refine this new frequency raw material for future bandwidth needs. These bands are license-free with the poetic name IEEE 802.11 ad .
All connected!
The increasing wireless traffic demands more and more on bandwidth and available spectrum . 50 billion or 500 billion connected gadgets is not the key issue. What matters is that it will be crowded in the ether. For high-speed communication at a distance shorter than 10 meters there is spare capacity around the globe around 60 GHz. In Europe e.g. there is a band between 57-66 GHz where theoretically bit rates of 7 Gbps can be squeezed in. That's pretty fast, at least compared to the typical maximum of 600 Mbps in today's 2.4 / 5GHz wifi systems.
Carl paves the way for new channels
How the 60 GHz-channel between the transmitter and receiver "looks" needs to be further investigated and this is where Carl's research comes in. A wave that is around 12 cm long ( 2.4 GHz ) behaves differently than those with lengths of around 5 mm (60 GHz). Multipath propagation , shadowing , attenuation and other malicious natural phenomena must be dealt with and before you can do that, you have to identify the problems carefully. Carl's research helps us to better understand how the mm-wave propagation channels behave so that future solutions for these virgin frequency band can be optimized. Carl has modeled, characterized and evaluated the radio stations. Just as it says in the title of the thesis.
Arrived via a master thesis
Fredrik Tufvesson, examiner when Carl did his master thesis on antenna design for breast scanning, lured him over to EIT and into the current research. Fredrik, with his solid scientific background in wireless communications and radio channels, have also been his supervisor during the mm-wave research. So far, the knowledge chase has been focusing around wave propagation indoors but Carls coming post-doc research within EIT will most likely bring him and his waves also outdoors. -Maybe even cars will talk to each other via mm-waves in the future, he says.
Home is Malmö and Värmland
Where does a Lund-researcher live? Is it Malmö? Is it Lund? -Lund has been very nice so far but I decided to exchange the small-city life for something bigger. And metropolis Malmö was well at hand, says Carl. -Thus, a move to the third city took place and accommodation in the area around Folkets Park and Möllan became a nice stay.
... says Carl and takes off for Christmas celebrations at home in Värmland.
EIT congratulates and wishes Merry Christmas! And we look forward to lovely new, yummy bandwidth during 2015th.
Text/Photo: Anders Borgström
2014-12-19


IMEC-professor honorary doctor at LTH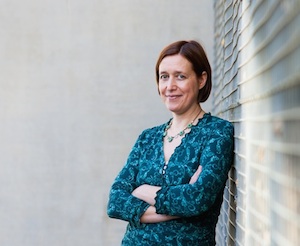 Liesbet van der Perre new honorary doctor
Professor Liesbet van der Perre is appointed honorary doctor at the Faculty of Engineering LTH, Lund University, in 2015. Liesbet van der Perre's main employment is at IMEC in Belgium, one of Europe's leading research institutes in semiconductors, electronics, and electronic systems. In addition, Professor van der Perre is teaching and supervising doctoral students at Katholieke Universiteit Leuven. She is a highly regarded researcher both in academia and industry and has published over 250 scientific papers. She is a scientific leader at IMEC in the area of wireless communications and currently their Director of Green Radio programs, aiming at reducing energy consumption in mobile communication systems. It is in this role she has cooperated with researchers at Lund University and contributed to research activities both in circuit design and wireless communications, not least as a partner in EU projects and advisor to larger research centers. Proposed by Ove Edfors, Viktor Öwall, John B. Anderson, Fredrik Tufvesson, Thomas Johansson och Karl-Erik Årzén.
2014-12-16


Forskningsteman på EITs hemsida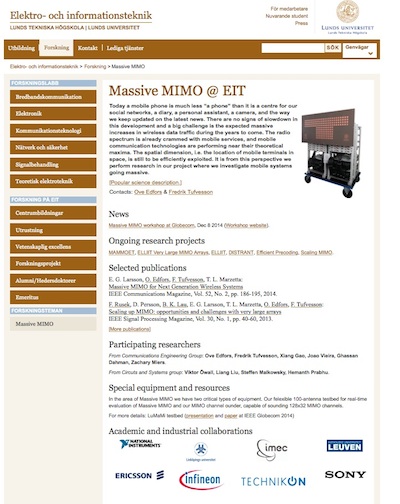 Forskningsteman på hemsidan
Forskningsteman på EITs hemsida! Under fliken "Forskning" och rubriken "Forskningsteman" börjar EIT nu presentera olika teman för de forskningsfält där vi är verksamma. Ett forskningstema arbetas fram och underhålls av de olika forskargruppledarna som också samråder om vilka teman som ska gälla för att synliggöra institutionens verksamhet. Delaktighet från många av institutionens verksamheter ska genomsyra temabygget som går över grupp-, labb- och projektgränser. Viktigt är att alla institutionens forskare på sikt får tillhörighet inom något av EITs kommande forskningsteman. Även om dessa har en varaktighet på minst några år ska de kunna modifieras, avslutas och ersätas av nya teman och de får alltså inte växa fast som en bestående del av hemsidan. Teman ska inte heller vara knutet till någon speciell finansiering. Först ut och därmed också pilottestare är temat "Massive-MIMO@EIT" som också visar hur vi initialt väljer att rubricera detta nya sätt att synliggöra EITs forskning. "ESS@EIT", Nano@EIT", "Cloud@EIT", "System-on-Chip@EIT", "mm-Wave@EIT", "Security@EIT" m.fl är utkast på forskningsteman som successivt kommer bli synliga på EITs websida. Kolla första temat på Massive-MIMO@EIT
2014-12-10


Lars Hedenstjerna avtackad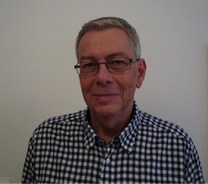 Lars Hedenstjerna avtackad som pensionär
Lars Hedenstjerna började som mekaniker på Fysikum 1963 och kom till Tillämpad Elektronik några år senare som instrumentmakare. Till Lars kunde man gå med sina mekaniska problem och gå därifrån utan. Det räckte att man berättade, att man behövde en låda med plats för så många kretskort och med måtten lagom lång, lagom hög och lagom djup. Två dagar senare stod just en sådan på skrivbordet! Lars har en fenomenal hand med olika material och kan få dem att forma sig efter hans vilja, med eller utan hjälp av svarv, fräs eller svetsaggregat. Lars har också en stor känsla för design och formgivning och många är vi som fått hjälp av Lars otroliga förmåga, såväl professionellt som privat. När Vattenhallen Science Center började byggas, blev Lars engagerad i arbetet med att fylla denna med experiment. Under detta arbete kunde man alltid höra musik i verkstaden – ibland beledsagad av hans musikaliska vissling. Hans starka känsla för olika material och deras bearbetning, tillsammans med hans kreativitet och konstnärlighet fick nu åter blomma. Det ståtliga vattenkraftverket, ESS- och MAX-IV-demonstratorerna och det unika medicinska undret, den kombinerade CT-, skiktröntgen- och MR-kameran, är några exempel på sådana blommor. Blommar gör det också ymnigt i den trädgård han byggt tillsammans med sin Anette på Stora Råby, vilken sträcker sig ända från Medelhavet till Japan. Även om vi nu hoppas Lars får njuta mer av detta önskar vi samtidigt att vi även framgent får utnyttja hans förmågor vid behov.
2014-12-01


Gerhard Kristensson avtackad
Gerhard Kristensson avtackad som pensionär
För ett par år sedan kunde man i programmet Naturmorgon höra en entusiastisk Gerhard berätta om floran och fågellivet i Dalby Söderskog. Elektromagnetiska vågor förmedlade hans pedagogiska beskrivningar ut över landet och in i morgonpigga lyssnares radioapparater. Botanik och ornitologi må vara Gerhards stora fritidsintressen, men i arbetslivet är det just de elektromagnetiska vågorna som är hans passion. Han tilltalas av deras matematik och fysik. Under sina 25 år som professor i Lund har han delat med sig av sina gedigna kunskaper inom elektromagnetisk fältteori till studenter, doktorander och forskare. Det har lett till pedagogiska priser och ett mycket stort nationellt och internationellt anseende. När nu denne elektromagnetismens bamsefar går i pension, konstaterar han nöjt att hans forskargrupp vuxit sig stark och står stabilt på egna ben. Med gott samvete kan han under en ek studera sina älskade mossor eller på altanen smutta på något olöst elektromagnetiskt problem.
2014-12-01


Three papers on IEEE top 100
As many as three EIT-papers were among the top 100 most downloaded during October 2014.
The papers positioned 5th, 54th and 63rd. The highest placed paper "Massive MIMO for next generation wireless systems" is authored by Erik Larsson, Ove Edfors, Fredrik Tufvesson (EIT) and Thomas L Marzetta (Bell Labs).
You'll find the whole list here: http://ieeexplore.ieee.org/xpl/browsePopular.jsp?reload=true
Text: Johan Cedervall

---
2014-11-28


Exjobb fick hedersomnämnande
Vanja Tufvesson och Nicklas Erman har tilldelats ett hedersomnämnande för deras examensarbete "Navigating Information Overload Caused by Automated Testing" i ämnena Elektroteknik- och informationsteknik och Datavetenskap. Vanja och Nicklas erhåller ett diplom för detta under examenshögtiden den 28/11. Handledare har varit Anders Ardö, EIT och Markus Borg, CS. Examinator var prefekt Per Runesson från CS. EIT gratulerar! Exjobbet använder moderna metoder för klusteranalys, från forsknngsområdet informationssökning,för att klustra information från automatiska mjukvarutester. Detta gör det möjligt att effektivisera analysen av utfallet från dessa tester högst väsentligt. Metoderna har implementerats i ett program som används dagligen vid företaget och ett manuskript till en vetenskaplig artikel skickas i dagarna in till IEEE International conference on Software Testing, Verification and Validation. Examensarbetet är ett föredöme i gränsöverskridande och integrerande arbete: två civilingenjörsprogram, två institutioner, två forskningsområden och naturligtvis industri-akademi-samverkan. Studenterna - Vanja från Teknisk matematik och Nicklas från Datateknik - har med handledare och examinatorer från både EIT och Datavetenskap, åstadkommit en tydlig förbättring på företaget Qlik, som samtidigt ligger i tillämpningsforskningens framkant inom software engineering.
2014-11-18


"We need more female role models"
Maria Kihl is promoted to professor of Internet systems and is the first female professor at EIT, number two overall in Electrical Engineering and Computer Science at LTH.
 – It feels great, it was a long awaited decision! What feels less enjoyable is the fact that it's just me and Görel Hedin who have became professor here over the past 50 years, says Maria Kihl.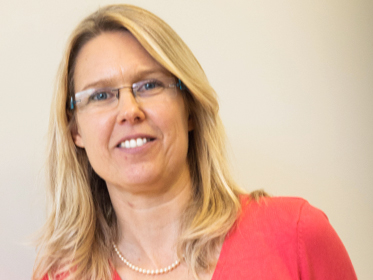 Professor Kihl
Wants to see more role models On average, only about one-fourth, or 23%, of the professors in Sweden are women (SCB, Statistics Sweden, 2013). Amongst the technical faculties, they're only about one out of nine. Maria thinks, like many others, that this is a problem that needs to get solved.
 – First, we need to have a broader recruiting base than the 10-12% of students with us who are women. Then, you have to actively work to get the well-performing girls to stay here. We can also recruit women from outside, says Maria who seeks more role models to get the ball in the proper rolling.
 – We need more female role models. And not only women but for all minorities – we need to create an environment that clearly shows that it is possible to succeed in this field even if you are not part of the majority.
No matter of course
For Maria, it was never a matter of course to build an academic coureer.
 – Definitely not! I never felt that technology was something for me ... But I liked math and I liked programming, so I ended up at LTH anyways, studying computer science. And it was fun! After that, my plan was to get a job in the industry, Ulf Körner persuaded me to study for a PhD in Telecommunications and I'd finished it he persuaded me again, so I stayed here and I haven't regretted it since! I really enjoy it, certifies Maria.
Likes to cooperate
She enjoys the mix of research and teaching, the free way of work, traveling and the fact that no two days are exactly the same. Her research is largely about optimizing traffic on the Internet, creating preconditions for both faster and better services – eg video streaming and cloud services – but without increasing cost too much or creating a higher load on the systems. Maria's involved in various projects in which she collaborates with various individuals and organizations. In one of the projects she works a lot with Automatic Control at LTH and Computer Science at Umeå University, in another one the lead partner's Acreo Swedish ICT AB in Kista.
 – For me, this kind of cross-border collaborations are both natural and important – I like to collaborate. I also like to travel, but well, lately I've mostly been to Stockholm and that's not so cool I suppose, she says with a laugh – being a native of Skåne (Scania).
Swedish, English, math – and programming
Maria likes to cooperate – and she loves programming.
 – I feel that programming, in many places, is more or less expected to be learned at home. And that it should be taught in a wider extent at school. I think programming's a very important tool that you can start learning early, and I would say it's the most important thing to learn along with Swedish, English and math. It's applicable in so many areas, says Maria Kihl and adds in conclusion:  – Above all, it's great fun to program!
Text & photo: Johan Cedervall

---
2014-11-12


One hundred percent Sweden for Antenna Researcher Marius.


Swedish, Sweden, Stockholm and Ericsson. Marius leaves Lund and prepares to work with telecommunication systems in the capital.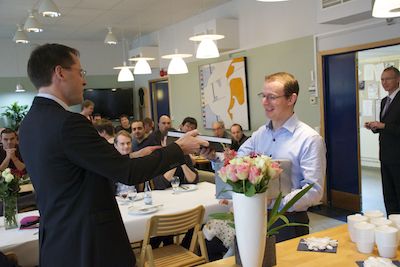 Marius Cismasu and supervisor Mats Gustafsson
-Would it be OK conducting the interview in Swedish?, I ask Marius Cismau, EIT's latest doctorate. He tells me it should be fine. And it's true, Marius has, after having lived in Sweden for several years, got a pretty good hang of our, not too easy, language. We talk on the phone as him and his family, consisting of his wife and their 2-year old daughter, have already moved to Stockholm. More precisely Jakobsberg, where they've found a place to stay. Marius will now join the crowd of commuters in Stockholm as he makes his way to Ericsson in Kista every morning. Train, bus, scooter or maybe cycling? -We'll see, Marius says. -One thing at a time. The new doctorate will help Ericsson with system design and hardware development for their base stations. A job that will suit Marius perfectly, as system design is something he's been wanting to do for several years.
Glad to have done research on electromagnetism and happy to have worked at LTH.
I ask about LTH and EIT, how has he found it? Good or bad? He's quick to reply: -Good, of course! -A good time, good co-workers and good equipment. -And very educational. -And good supervisors of course! -I chose to do a doctorate because of my fascination with nature and its scientific description, says Marius. -I've always, as a hobby, researched a bit with the means available to me. Thanks to his enthusiastic supervisors Mats Gustafsson and Gerhard Kristensson, this lead to "real" research and a nice scientific journey. Marius has found the subject especially fascinating due to the almost magical qualities of electromagnetic waves. They're like mechanic waves in a way, but not quite.
Helping antenna engineers to install antennas everywhere
Marius' research has more specifically been about antennas. All kinds of things in everyday life have antennas today. Not just mobile phones, computers and tablets, but also cameras, printers, watches etc need to be able to connect wirelessly to the internet to make use of its various tools and services. Therefore, developing electronics today often involves antenna design, which is an advanced and resource-demanding part of the process. Not least because appearance, size and design vary greatly between products. How good can an antenna be? How do you optimise antennas? Where in the product is the best place for the antenna? These are some of the questions needing an answer and parts of the results of Marius' research describe methods that can be used to improve the design process of antennas. His thesis also shows a way of cutting the amount of time needed to design antennas and supplies methods and tools for antenna engineers.
From physics to electronics and from electronics to telecommunication
Dr Cismau comes from a small town in Romania named Calarasi and located 120 km southwest from Bukarest, towards the Black Sea and he has been interested in the natural sciences ever since his first Physics lessons in school. His interest in science was further strengthened as a teenager by reading books containing exciting practical experiments. Ever since then he has wanted to be a scientist. A dream that has now come true.
After completing his masters in Bukarest he turned his sights from Physics to Electronics and especially wireless electronics. Marius' reasoning was that telecommunications provided more opportunities for work and career progression. And indeed, it resulted in a job at Ericsson! Before then, he has been employed as an designer and a test engineer within various fields of electronics, for example digital technology, embedded, microwave links etc.
In 2009, the economic recession hit Romania. -I was forced to return to test engineer jobs and therefore promoted myself by applying for doctorate studies and chose the reputable LTH as my place of study.
As mentioned, Marius has now moved to Stockholm and has secured a job at Ericsson. What happens next remains to be seen. -It's exciting not to know everything that's going to happen, says Marius Cismau. Everyone here at EIT congratulate him on his graduation, wish him good luck in the future and we hangup for now.
Text/Photo: Anders Borgström
2014-11-04


Lars Hedenstjerna i pension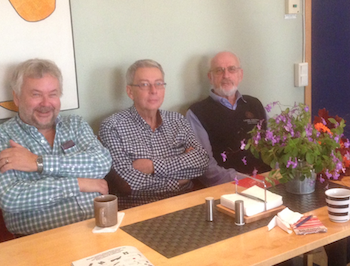 Lars Hedenstjerna med gamla kollegor
Trogen Lunds Universitet och LTH sedan 1963. Vem slår det? Lars började på det som då hette NRF, Naturvetenskapliga forskningsrådets elektroniktjänst och har genom åren servat forskare med mekanik och finmekanik för att få experimenten runt forskningen att funka. Inom elektronikområdet har det varit en hel del om trixandet runt antenner och mikroelektronik. Lars berättar bl.a. om radarvagnar på taket, styrbara antenner för att plocka ner väderdata från satelliter och inte minst bondningsverksamhet mha begagnad utrustning införskaffad från Asea Hafo 1981. Uthålligt och skickligt hantverk, ofta lite i bakgruden, har med uthållig och avancerad utrustning betytt mycket för lyckade forskningsresultat genom åren. Personer som Lars ska inte underskattas och ett par yngre forskare som slår sig ner vid fikabordet vittnar om detta. Hur ska vi göra med våra antennfixturer och deras påverkan på antennprestanda nu när vår "Magic Man" slutar? På senare tid har vi också sett ingenjör Hedenstjärna som nyckelperson i upprättandet av populära Vattenhallen Science Center. Ett populärt ställe för allmänheten med upplevelser och experiment där Lars bland annat ligger bakom snurrstolar, vattenkraftverk och mycket annat. Nu väntar pensionärsliv med kanske lite längre sovmorgon och tidningsläsning. Om inte EIT ringer och skriker efter hjälp förstås... Text/Photo: Anders Borgström
2014-10-30


Low-power radioplatforms in Rezas research


Reza Meraji's research optimises low power consumption over data speed and range for applications in Body Area Networks with miniaturised electronics and remote sensors.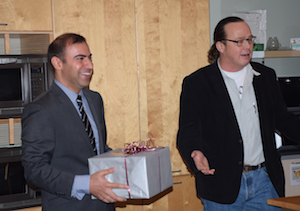 Reza Meraji and supervisor Viktor Öwall
From Teheran to Lund
Reza Meraji was born and raised in Teheran, Iran, and when I ask him what it's like to live in Sweden he replies that the weather takes a bit of getting used to and he always misses home a little bit. But the job opportunities are without a doubt more plentiful than in Iran, at least within his advanced and highly technological discipline. Reza now has a Doctorate and his thesis is entitled "Low Power Decoding Circuits for Ultra Portable Devices". The work is within a sector that is becoming more and more important as electronics are becoming ever more miniaturized and low power profiled. After a Bachelor's Degree and a couple of years' work in his home country, Reza was looking for opportunities to continue his university studies abroad, which lead to an international program of system-on-chip at LTH. After graduating in the Masters-programme he worked for Sony Ericsson, which he found interesting and a good experience but not challenging enough for an engineer with a further thirst for knowledge. A doctorate at EIT proved the perfect solution. Reza joined as an important part of a bigger project, where close cooperation with other researchers was crucial to success. This way of working was a perfect fit. The aim of the research group was to develop a fully functioning and extremely low power radio platform which would be applicable within various areas.
Low currents, short ranges and low bit-rate
So what is Dr Meraji's research about? It is about very low power technology for wireless application and thus also compromising with data speed and range. For, say, a pair of hearing aids (one in each ear) communicating with each other or a medical device within the body transmitting data to measuring devices outside the body, speed of data and long range are less important parameters. An additional use could be a moisture indicator cast in concrete where a change of batteries would be impossible. The most important thing is that they are very small and use very little power. During his time at EIT, Reza has focused on optimising fault detection and correction with the help of his circuits and has therefore been able to present very low power solutions for, among other things, so called BANs (Body Area Networks) where low data rates and short range can go far.
A lot of fun on the road
The research has entailed combinations of theory together with analogue and digital hardware implementations which has lead to lots of varied and diverse work at the institution. Lots of fun has been had at EIT as well, especially with exciting trips to conferences and the satisfaction of meeting strict deadlines after days and nights of hard work in the lab. In addition to exercising his brain at work, Reza also likes to keep fit by running and going to the gym, and enjoys reading books, hanging out with friends and spending time in nature. After-work socialising and barbecuing with work colleagues are some of the many happy memories he will take with him from his time in Lund. And now what? Well, a challenging industry job with lots of opportunities for development is never a bad option, but you never know what's going to happen. Decisions can be made and decisions can be changed. For now, Reza is keeping his options open. Text/Photo: Anders Borgström
2014-10-28


Framtidens forskare och ingenjörer konfererade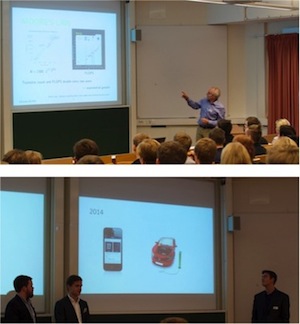 Med Jens A Andersson som konferensledare och med Sven Mattisson som keynote-speaker genomfördes årets studentkonferens InfoCOM-2014 den 22:e Oktober i E-huset. Jens hälsade välkomna och Sven gav en initierad inblick i den hisnande teknikutvecklingen inom trådlös kommunikation i allmänhet och mobiltelefoni+bluetooth i synnerhet. Moores och Coopers lagar illustrerade i konkreta siffror hur hög takten på utvecklingen är medan jämförelser mellan prototyper från förr och verkliga produkter idag visade hur trender och attityder förändrats genom åren. Studenterna som presenterade sina fördjupningsprojekt talade bland mycket annat om sensornätverk, molnteknik, virtuella valutor och inte minst framtidens mobiltelefoni. Förkortningar som LTE, VANET, MIMO, OFDMA och VPAN haglade som sig bör i högteknologiska sammanhang och konferensen gav de vältaliga och välklädda studenterna en försmak av hur ett kommande arbetsliv som forskare eller ingenjör i akademi eller industri kan te sig.
Text/Photo: Anders Borgström
2014-10-24


EIT-forskning syntes på MHC-Invigning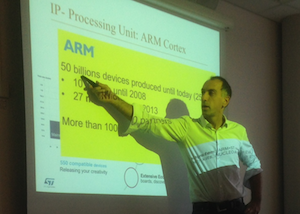 EIT visade upp delar av sin forskning under fastighetsbolaget Vasakronans invigning av Mobile Heights Center, MHC, där inbjudna företag och regionala organisationer samlats för att ta del av framtida möjligheter runt en mötesplats som denna. MHC siktar på att vara särskilt anpassad för innovativa verksamheters specifika behov där samverkan mellan näringsliv, akademi och kommun ska stimulera till skapandet av nya smarta affärslösningar. EIT presenterade i ett antal seminarier och postrar sin styrka inom områdena wireless, ultra-portable devices, low-power design, IoT, test, reliability, M-MIMO, mm-Wave, 5G", WLAN , content management och mycket mer.
Text/Photo: Anders Borgström
2014-10-24