News archive
LU-toppen på besök i framtidslabbet
Nye styrelseordförande för Lunds universitet, Jonas Hafström, gjorde ett kort besök hos EIT under sin rundvandring på LTH den 17 mars. Fredrik Tufvesson och Daniel Sjöberg visade institutionens forskningslabb, där framtidens mobilnät 5G och utrustning till ESS utvecklas. Hafström visade stort intresse och ställde många frågor om verksamheten. Se fullständig artikel på LTH:s hemsida där man kan läsa om hans övriga besök på bl.a. Kemicentrum, Arkitektur och Nanometerkonsortiet. Vi hälsar Jonas välkommen tillbaka för att följa hur framtidens trådlösa samhälle växer fram med EITs forskning som tryggt fundament!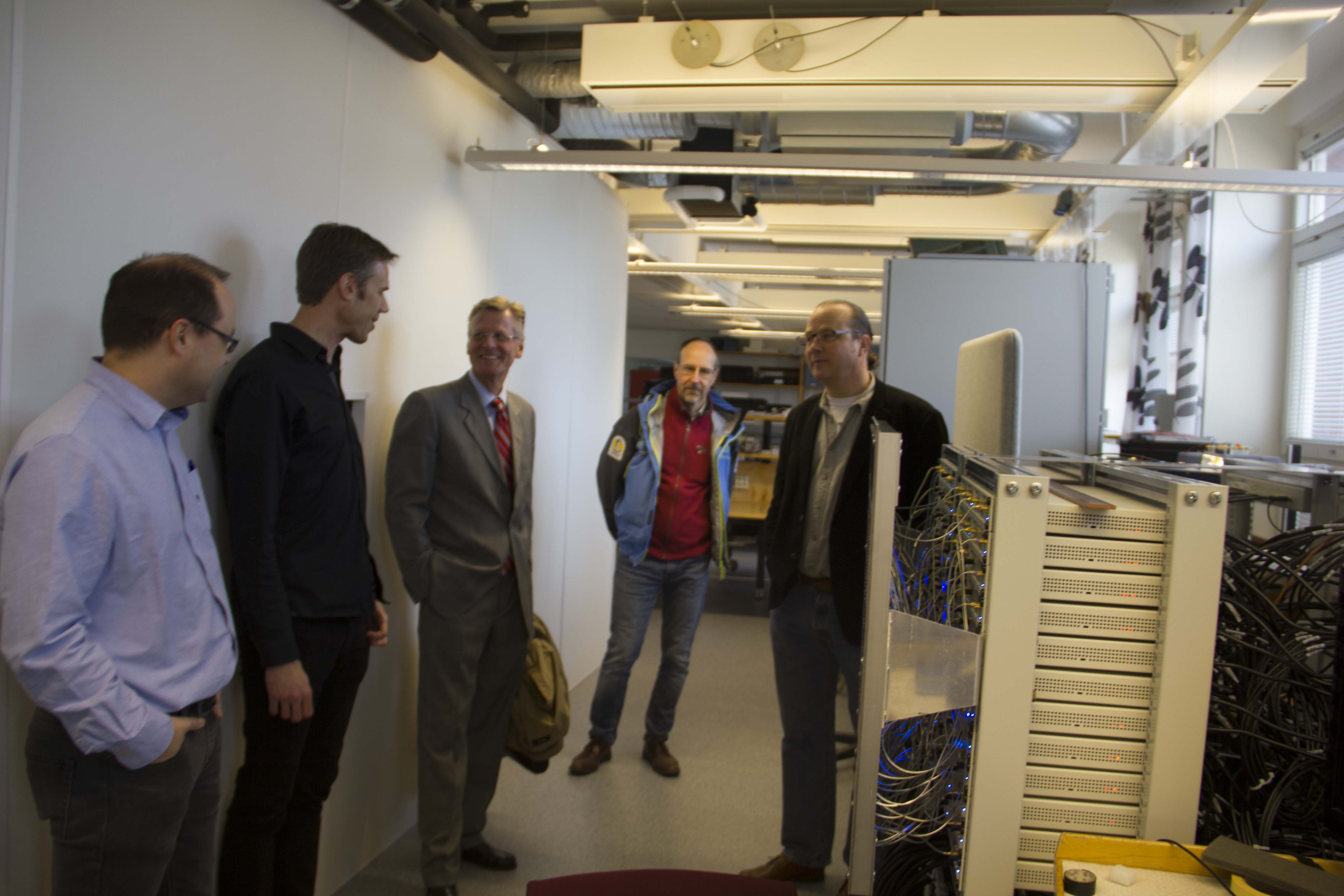 .
På bilden från vänster till höger: Daniel Sjöberg, Fredrik Tufvesson, Jonas Hafström, Erik Swietlicki, Viktor Öwall.
2015-03-24


SIP Wireless Society programansökan vidare till intervju.
| | |
| --- | --- |
| Ansökan till VINNOVA om att etablera ett SIP (Strategiskt Innovationsprogram) med namnet Wireless Society har nu gått vidare till intervju vilken kommer att ske på Vinnova nu på onsdag, den 25:e mars hos VINNOVA i Stockholm. Från EIT Lund har Viktor Öwall, Anders Borgström och Fredrik Tufvesson deltagit i arbetsgruppen under framtagningen av programansökan. Från Sony Mobile i Lund har Vanja Plicanic Samuelsson deltagit. De som träffas hos VINNOVA för att presentera och försvara programmet är Vanja Plicanic Samuelsson Sony Mobile, Ulf Forsén Ericsson, Jens Zander KTH, Katrin Ekvall Scanreco, Anders Johansson Percipia och Claes Beckman, KTH. Intervjun kommer att utföras av två externa bedömare och minst fem representanter från de finansierande myndigheterna och den beräknas ta drygt 1 timme i anspråk. Intervjun föregås av en programpresentation inkluderande summering, arbetssätt, samverkan, aktörer, samhällsnytta och riskanalys. | |
2015-03-22


EITs föreläser på NMT-dagarna!!
| | |
| --- | --- |
| Denna vecka välkomnas gymnasielärare och elever till årets upplaga av NMT-dagarna. NMT står för Natur, Medicin, Teknik och under veckan föreläser motsvarande fakulteters lärde populärvetenskapligt för att övetyga potentiella blivande LU-studenter om vilken bana man ska välja. Det hålls omkring 300 föreläsningar av drygt 130 olika forskare och EIT "marknadsförs" av våra egna där följande personer och spännande presentationer visas upp. | |
Fredrik Tufvesson
Mamma Mia, bilar börjar prata!
Daniel Sjöberg
Satellitkommunikation – samtal tvärs över jorden via rymden
Paul Stankovski
Vem stal mitt Facebookkonto och hur gjorde de?
Martin Hell
Att knäcka ett lösenord
Joachim Rodrigues
Elektronik i kroppen
Emma Fitzgerald
Trådlösa nätverk, kommunikation genom luften
Text/Bild:Anders Borgström
2015-03-16


Ericsson lanserar "5G for Sweden". EIT är med!
| | |
| --- | --- |
| Ericsson lanserade idag på MWC i Barcelona ett nytt forskningsprogram "5G for Sweden". Med forskning, innovation och industriella pilotprojekt ska industrins konkurrenskraft inom 5G stärkas och forskningen ska tillämpas inom olika industrigrenar. Nya projekt inom akademi och industri skapas samtidigt som värdefulla insikter erhålles runt 5G-innovationer och digitalisering av industri och samhällsfunktioner. | |
Programmet visar vägen med hårdvara mjukvara och tjänster inom mobilitet, bredband ochmoln samt skapar grund för nya ekosystem.
Partners inom "5G for Sweden" är Scania, Volvo Construction Equipment, KTH, Chalmers, LiU, LTH, RISE, Swedish ICT och dessutom stödjer VINNOVA programmet finansiellt. Samarbetet presenterades på MWC av Tony Sandberg, Scania, Charlotte Brogren, VINNOVA och Sara Mazur, Ericsson.
Kommentarer från de egna leden:
–Lund har en lång tradition inom mobil kommunikation och har jobbat aktivt med Ericsson sedan början av 80-talet. LTH har många unika kunskaper inom bland annat hårdvara, algoritmer och systemutveckling som alla är viktiga delar inom framtida 5G-system. Unik kompetens från Lund är bl.a. Massive MIMO där Lund är världsledande. Fredrik Tufvesson har nyligen presenterat tekniken på världens största chipkonferens ISSCC i San Francisco och jag själv presenterade samma sak på Intel och Xilinx. Allt med stor framgång, säger allas vår rektor Viktor Öwall.
–Det behövs mycket fundamental forskning och utveckling inom 5G och det är väldigt spännande att vara en del av den kraftsamling som nu sker nationellt. 5G kommer att föra med sig helt nya systemlösningar och teknologier och framförallt kommer dessa att möjliggöra stora förändringar inom olika industrier och samhället i stort. Det är viktigt för oss att i samverkan med industrin bidra med den expertis vi har för att lösa svåra forskningsfrågor och möjliggöra denna utveckling, säger Björn Landfeldt, föreståndare för MAPCI.
Läs mer (LTH-Nytt)
Text/Bild: Anders Borgström
2015-03-02


EIT presented 5G-contributions at ISSCC
Last week Fredrik Tufvesson presented "More Bits via the Same Spectrum - Massive MIMO opportunities and challenge " at ISSCC (International Solid State Circuits Conference) in San Francisco within the session "How to Achieve 1000 × more Wireless Data Capacity? 5G?". EE Times covered the session and mentioned the Lund-teams contribution as:
Sweden's Lund University created and tested a prototype 5G base station (described above and shown below) that supports 100 coherent RF chains using OFDM transmission. It uses an array antenna printed at the university and generated 10 Gbytes/second of data in operation.
In tests so far with 10 users working in 20 MHz of spectrum at 3.7 GHz, the prototype supported adequate coherency with signals well aligned in time, said Fredrik Tufvesson, a professor at Lund. "We got it working, now we need to squeeze it," he said.
Read the full article here:
2015-03-01


Carl cracked the codes and broke through
A mixture of family tradition, psychology studies, chance and teachers at LTH is the basis for Carl's work to do the (digital) world safer in the future. A successful work, which survived the tough grilling at the PhD defense.
 – It was not as tough as I feared, says Dr. Carl Löndahl.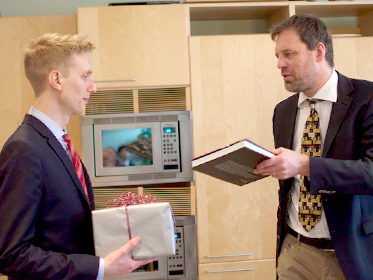 Carl Löndahl (left) getting congratulated by supervising professor THomas Johansson
Hot subject with everyday use
With Edward Snowden and Julian Assange on the world's headlines, cryptanalysis has become a hot and highly topical area. Questions regarding personal privacy versus various types of monitoring, for different purposes, involve the masses. But even such a mundane and common activity to log on to one's online banking uses encryption – technology that constantly need to be developed and improved to keep secure.
Got into crypto by accident
Carl was reading courses in cognitive psychology and became interested in mathematical models. Combined with a family tradition, the educational choice became obvious – both father and grandfather were electrical engineers. Carl chose to study Electrical Engineering at Faculty of Engineering, LTH - but to specialize in cryptography, however, was less expected.
 – During the undergraduate courses I ended up on a cryptographic course more or less by accident. But because I enjoy solving problems, the area suited me well. Some teachers persuaded me to continue by disputing and I do not regret doing it, says the newly-appointed doctor.
Makes information unreadable
EIT research group Cryptology and Security has research ancestry in various cryptologic areas since 1982. Not least, its findings have found applications in mobile telephony.
 – Briefly, one can say that encryption is used to make the information unreadable. Information gets put in, called cleartext, together with a secret key. The encryption algorithm then converts the plaintext into ciphertext, which will be unreadable without the key, says Carl.
Reformulating the cryptosystem
His thesis is titled "Some Notes on Code-Based Cryptography" and is, among other things, about how to protect against crypto-cracking. Most classical cryptos will henceforth be forced. The cryptographers must therefore find new ways to encrypt. Carl's focus has been on trying to crack cryptos to learn how they can be improved. In other words: he has been working with cryptanalysis.
 – My research has moved around a cryptosystem called McEliece. It is not new and has been considered impractical because of the large key size – but it is becoming more and more interesting. My thesis deals [among other things] with how to reformulate the cryptosystem to increase security against attacks.
Will stay on the trails?
Carl from Kristianstad will leave EIT to work in the industry indefinitely. But first and foremost, the future contains new challenges as the upcoming family member who moves into a crib in Carl and his girlfriend's apartment at Lilla Fiskaregatan. And probably comply with Carl on his wanderings in the woods and fields.
 – I love the outdoors and spend many hours each week with lumbering around in it. I have inherited that from my mother, Carl Löndahl concludes with a smile.
EIT congratulates and wishes Carl good luck!
Text: Johan Cedervall
Photo & research: Anders Borgström

---
2015-02-17


Optimized networking for Dr Li
EIT's latest Doctor is Yuan Li, who has spent his time in Lund doing PhD-studies in the field of wireless networks optimization. With curiosity that befits a scientist, Yuan has looked at issues like network topology, network latency, improved network performance and also used mathematical programming tools for that purpose.

Basics in China and Specialisation in Sweden

The cradle of Chinese civilisation! It's another name for the mighty Huang He, the Yellow River, which passes the city of Yongji in the Northern parts of China.

Yuan Li with committee
A city of approximately 40,000 inhabitants, it is here that Yuan Li was born and where he completed his basic and high school education. He then moved further south – to the city of Changsa – to study Computer Science at the Nation University of Defense Technology.
During his university studies Yuan Li got a well-rounded knowledge of wired and wireless networks but decided he wanted to further his knowledge on the subject and grasp more advanced theories of wireless networks. "I searched online for 'research on wireless networks' and EIT seems to be highly ranked by the Google algorithms because one of the first things I saw was a doctorate on the subject", Yuan says. He got the job and started off by thoroughly learning optimisation theory, which he could then apply to his research. With all due deference to theory, Yuan's goal all along was to find solutions for 'real' problems in the world of networks, especially focusing on industrial applications.
Wireless networking technologies have profoundly influenced people's lifestyle and working habits, especially greatly changed the way of communicating. Different kinds of wireless networks have been used and deployed during the past two decades, such as Bluetooth, cellular networks and wireless local area networks. Accordingly, the demand for network services with high bandwidth, low latency, good fairness and strong reliability, etc., continues to increase rapidly. To improve network performance, it is crucial to optimize wireless systems in both the design and the operation phase. The optimization techniques play important roles for this purpose.
-In my work, I have studied a set of problems existed in wireless systems, including delay minimization problem in wireless networks, fair resource allocation in wireless mesh network, and topology design in wireless optical networks, Yuan describes his PhD-studies. Utilizing the tool of mathematical programming, I provide global optimal solutions to these problems, which deliver much better network performance than empirical solutions. When the problem size becomes large, it is quite time-consuming to approach exact solutions. I also designed some heuristic methods which can solve the problem in a reasonable time and deliver near-optimal solutions. The presented solutions and methods provide important guidelines for engineers to design and deploy various wireless networks.
Entering the work force
When this is published, Yuan has already moved back to China and his aim is to find a job either at his old university or in the industry. He now wants to work in a more practical manner and be able to apply the mass of knowledge he has accumulated during his years of education and research. For example, why not construct an effective wireless city network?
Bowling, meatballs and fermented herring
Any hobbies? "Well, maybe watching movies, and in that case action, Hollywood and Chinese films suit me the best", Yuan says. He had never tried bowling before coming to Sweden but it turned out to be a fun experience and his colleagues managed to teach him some tricks.
And how Swedish does he feel? Does he speak Swedish? "No!" Read Swedish? "A little bit!" What about Swedish food? "Good!". He likes meatballs but prefers to add his own spices. Fish is good too and Yuan says he's even tried the notorious fermented herring, a claim to which this interviewer remains sceptical.
Going back home
As mentioned, Yuan is already back in China and we hope he'll give us some free publicity there by excelling in his future career within wireless networks. However, before then he's set to get married in his hometown of Yongji. "Not that big," Yuan says, "just a couple of hundred guests".
EIT wishes Yuan Li the very best in the future!
Text/Photo: Anders Borgström
2015-02-03


Wrong went right for Dimitar

Dimitar Nikolov is EIT's latest doctor and the title of his thesis is "Fault Tolerance for Real-Time Systems: Analysis and Optimization of Roll-Back Recovery with Checkpointing". An appropriately long and comprehensive title, but what does it really mean?

Advanced technology doesn't always work

Technology has invaded our lives and we are surrounded by increasingly high-performing electronics. The ever more miniaturised semiconductor technology is vulnerable to faults and so despite the high performance, there is a risk that the electronics will stop working. At times this could have catastrophic consequences.

Dimitar Nikolov at work
This field of research is known as fault tolerance and the challenge is to make stuff work properly even when something goes wrong in the technological functions.
Fault tolerance deals with technology and methods that detect and correct faults. This often results in a time overhead which can cause problems for real time systems as these systems are dependent both on correct calculations and on things happening at the right time. "My research is about how to handle fault tolerance in real time systems", Dimitar says.
Fault tolerance is an increasingly important field as electronics are introduced into the vital parts of more and more products, industries and activities. Faulty electronics could lead to everything from cars crashing to mobile phones failing and even heart surgery going wrong. And that's obviously something we would want to prevent from happening.
Academic route the right choice for Dimitar
Dimitar knew he wanted to take the academic route early on and for that reason doctorate studies felt like the natural choice. When he first started his research, this particular field of studies was unknown to him which proved a welcome challenge. "Throughout the years my field of vision has widened significantly and I have more and more realised how important this field of research is", a pleased Dimitar remarks.
Dimitar's Master's degree is from the University of Ss. Cyril and Methodius, in Skopje, Macedonia. While there he also worked as a laboratory assistant and this was what made him realise he wanted to continue within academia and research. After this he applied for a position as a PhD student in Sweden which lead to him beginning his doctoral studies in Linköping. "After a while I moved, along with my supervisor, to Lund and LTH where I've really enjoyed both my studies and my spare time" says Dimitar.
"And I will continue my career in academia and research. Preferably in Sweden but money and finance will be the main deciding factor", he adds.
Despite his doctoral thesis having been approved, Dimitar has a couple of points he needs to take in research and tutoring before he finally gets to graduate as a Doctor. That means he will keep his laboratory and office in E-huset until at least June.
From Macedonia to Lund
Dimitar lives at Norra Fäladen in Lund but visits family in his home country of Macedonia whenever he gets the chance. With a Macedonian mother tongue and English spoken with his colleagues, Dimitar has never gotten around to learning very much Swedish.
But Dimitar at least knows the Swedish word "soffpotatis" (couch potato) and describes himself as a little bit of one when I ask him if he practices any sports. "I did a little bit of Squash but never that much. But I've become interested in photography!" As a present for completing his thesis, Dimitar got a new Nikon camera and with four different lenses in his camera bag there will be no shortage of things to photograph. This also results in a sizeable portion of the interview being spent talking about shutter speeds, image sensors and other camera geekery.
EIT hopes that the electronics in Dimitar's camera is fault tolerant with nice pictures as a result and congratulate this new Doctor on his completed thesis. And wishes him good luck with any future research!
Text/Photo: Anders Borgström
2015-01-27


Gerhard Kristensson kallad till hedersledamot i SNRV
Den sedan december pensionerade professorn blev under torsdagen hyllad av kollegor från olika håll och strax före lunch blev han varse sitt innehav av hederstiteln från Svenska Nationalkomittén för radiovetenskap (SNRV), vilken han efter nio år som ordförande också pensioneras ifrån.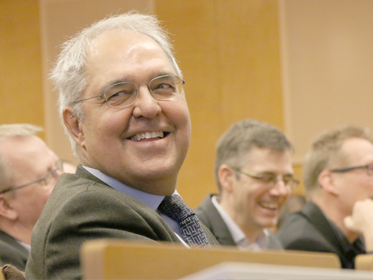 Munter stämning under Gerharddagen.
Torsdagen den 15 januari 2015 går till historien som "Gerharddagen", i varje fall i EIT:s historiebok. Det var dagen då Gerhards kollegor – både nyare och betydligt äldre – fick tillfälle att samlas och framföra hyllningar och prata om gamla minnen.
Stämningen var mycket munter. Som när dagens värd, Anders Karlsson, berättade om reseminnen. Eller som när en annan föredetta kollega berättade om ett experiment som aldrig resulterade i någon skriven artikel men som handlade om hur man lämpligast blir av med duvor från balkongen. Eller som när en annan kollega berättade om hur man kan göra för att få in en kanot i en lägenhet på tredje våningen - utan att väcka uppståndelse. Och utan att använda trapphuset (eftersom kanoten inte får plats i trapphuset).
Carl-Henrik Walde, överingenjör och sekreterare i SNRV, höll ett uppskattat föredrag med fokus på radiohistoria. Ett synnerligen tilltalande ämne. Det började med whiskey och avslutades med musik. Strax dessförinnan hade Carl-Henrik förmedlat beslutet att kalla Gerhard till hedersledamot i SNRV. Motiveringen löd som följer:
"Gerhard Kristensson har varit kedamot i SNRV i 24 år, varit ordförande i dess sektion B i 12 år och senast varit synnerligen uppskattad ordförande i SNRV i nio år. Gerhard har varit aktiv inom URSI och har där och inom KVA setts med stor respekt vilket även gäller SNRV som helhet. Han har under 25 års tid vidareutvecklat en institution på LTH till mycket hög klass.

SNRV har beslutat kalla Gerhard till hedersledamot."
Text & foto: Johan Cedervall

---
2015-01-15


Electromagnetic Theory workshop is on
The SSF-project "Complex analysis and convex optimization" is having a workshop in E:3139 during the whole day.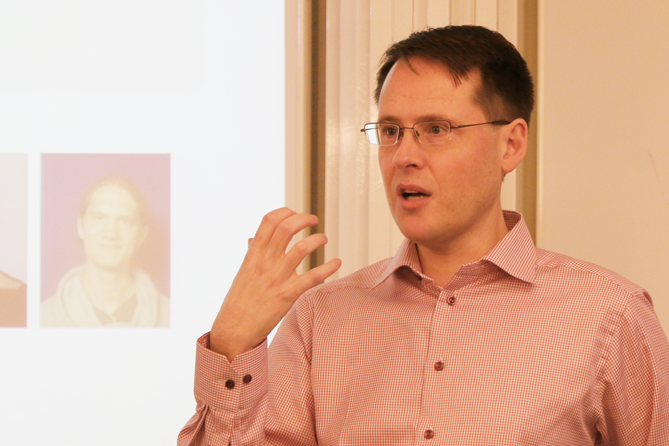 Mats Gustafsson is the project leader and started the lecture-dense Wednesday.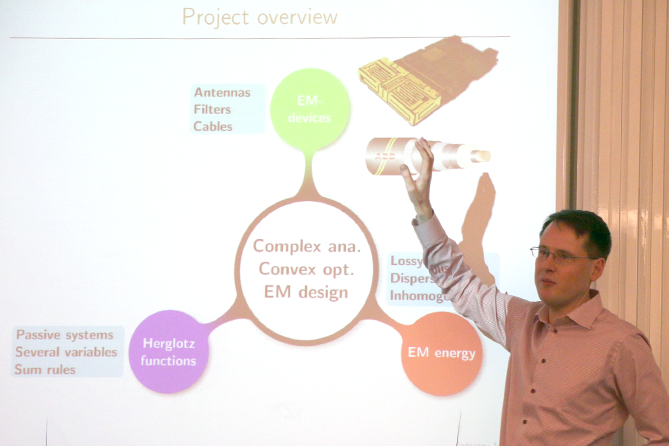 Mats is giving a lecture at 15:30 ("EM energy and antennas"), but started with speaking about the project in whole.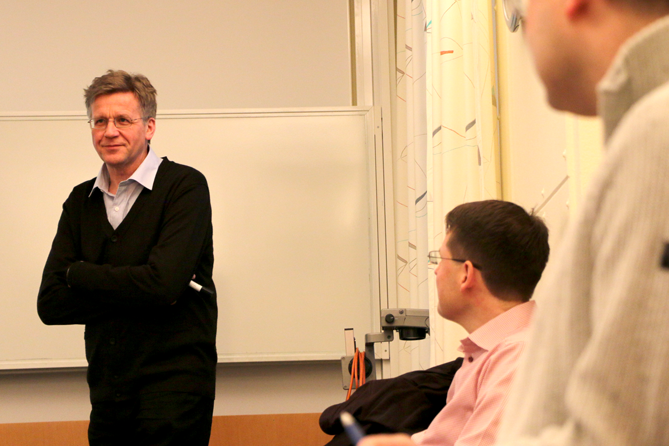 Ragnar Sigurdsson from University of Iceland was the first speaker. The topic was "Complex analysis in several variables".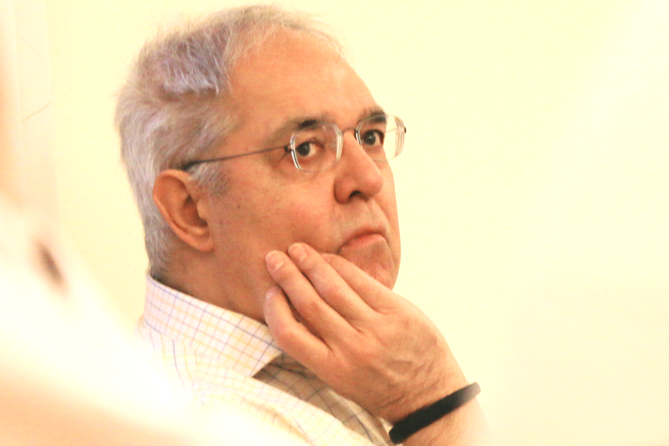 Gerhard Kristensson is in the audience. Tomorrow he will be the focus of everyone's attention - the whole day (15/1-15) is going to be used to tribute him for his efforts during his working years (start 10.00, E:1406).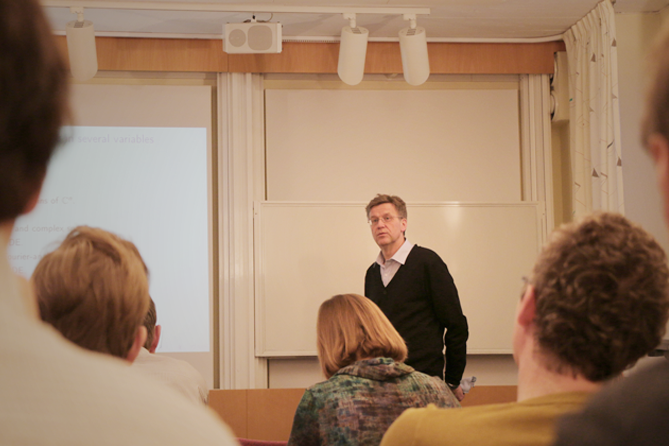 Ragnar Sigurdsson and audience.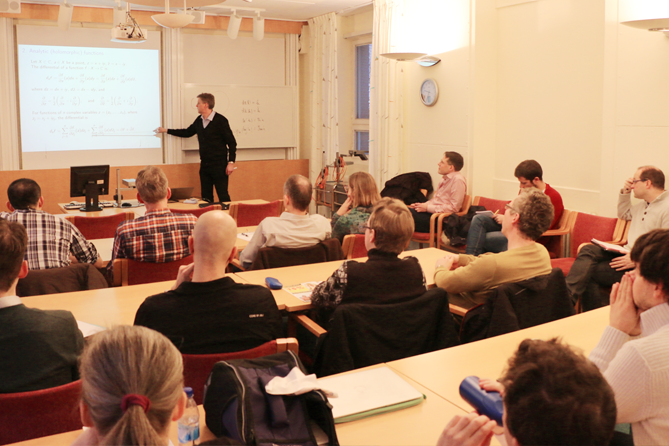 Well-attended E:3139
Today's program is found here: http://www.eit.lth.se/index.php?news=2&L=1#1914
Read more about the project here: http://www.eit.lth.se/index.php?puid=175&L=1
Text & foto: Johan Cedervall

---
2015-01-14


Världspremiär för 5G-teknik i Lund
Ett hett alternativ till nästa generations mobilteknik har nyligen testats för första gången i skarpt läge vid Lunds Tekniska Högskola. Det handlar om Massiv Mimo (multiple input multiple output) som förenklat går ut på att förse varje basstation med hundratals antenner istället för att som idag bara ett fåtal.

Digitaliseringen frestar på näten. Och värre lär det bli: Enligt Ericsson mobility report 2014 kommer den mobila datatrafiken i världen att öka från dagens tre exabytes per månad till 20 exabytes per månad år 2020. Mimo-tekniken är en metod att minska trängseln bland radiovågorna.

– Våra resultat visar både att tekniken fungerar och att den mångdubbling av kapaciteten som utlovats i teorin kan uppfyllas. Det blir sammantaget en extremt energieffektiv kommunikation, berättar Fredrik Tufvesson.

Fredrik Tufvesson och Ove Edfors
Han och kollegan Ove Edfors presenterade rönen offentligt nyligen på den stora forskningskonferensen IEEE Global Communications Conference i Austin, USA.
Hela idén är att göra telefonerna enklare och låta basstationerna ta en större del av jobbet genom att de utrustas med betydligt fler antenner än idag.
– I framtiden kanske vi även kommer att se ett par hundra antenner. Tanken är att de ska vara så små och billiga att de kan bytas ut som en glödlampa. Går en sönder märks det inte så mycket och det är bara att skruva i en ny, säger han.
För att introducera Massiv Mimo i nätverken krävs avancerade algoritmer som styr signalen från basstationernas antenner till de platser där mobilerna för tillfället befinner sig. Detta blir möjligt eftersom 5G och kommande WIFI-nät kommer att vara annorlunda byggda än dagens 3G- eller 4G-nät.
– Dessutom vet vi mycket mer om hur radiovågor beter sig idag jämfört med för några år sedan. Det innebär att vi kan packa frekvensutrymmet med många fler dataströmmar utan att de stör varandra, säger han.
Om fem till tio år gissar Fredrik Tufvesson att tekniken kan finnas på marknaden, beroende på hur standardiseringsprocesserna fortskrider och hur snabbt man kan få fram billig och effektiv elektronik.
För mer information, kontakta Fredrik Tufvesson, professor radiosystem 046-222 46 29,fredrik.tufvesson@eit.lth.se (mellan 29 dec – 5 jan tillgänglig på mail) eller professor Ove Edfors 046-222 90 26 ove.edfors@eit.lth.se. För högupplösta, fria bilder på forskarna, se Lunds universitets bildbank, https://bildweb.srv.lu.se/ skriv namnet i sökfältet.
FAKTA:
MIMO, Multiple Input Multiple Output, innebär att både sändare (t ex basstation) och mottagare (t ex mobil) har mer än en antenn vardera. Tekniken kan implementeras i det kommande 5G-nätet och idag finns en grundversion i LTE, det vill säga i dagens 4G-mobiler med två till fyra antenner på basstation och terminaler. Tillägget massiv syftar på att basstationerna har många antenner och inte bara ett fåtal.
Forskning på den nya massiva MIMO-tekniken bedrivs främst vid Bell Laboratories, Rice University i USA, LTH och Linköpings universitet. Utöver testsystemet i Lund finns det en något enklare variant vid Rice University.
Idégivare: För några år sedan applicerade man MIMO-idén genom att själva telefonen fick fler MIMO-antenner. År 2010 föreslog en amerikansk forskare vid Bell Labs, Tom Marzetta, att istället utrusta basstationerna med väldigt många antenner – därav tillägget "massiv".
Basstationer kan liknas vid en kommunikationscentral. Den vet alltid var du är och slussar vidare dina samtal. Mobiltelefonen letar hela tiden efter den basstation som för tillfället är bäst att använda och meddelar då basstationen om sin närvaro så att nya samtal eller datauppkopplingar kan ske via denna.
Samarbetspartners: Linköpings universitet, Alcatel-Lucent/Bell Labs, National Instruments och Sony Mobile.
2014-12-30


Three papers on IEEE top 100
As many as three EIT-papers were among the top 100 most downloaded during October 2014.
The papers positioned 5th, 54th and 63rd. The highest placed paper "Massive MIMO for next generation wireless systems" is authored by Erik Larsson, Ove Edfors, Fredrik Tufvesson (EIT) and Thomas L Marzetta (Bell Labs).
You'll find the whole list here: http://ieeexplore.ieee.org/xpl/browsePopular.jsp?reload=true
Text: Johan Cedervall

---
2014-11-28