Nyhetsarkiv
Elvedin Memisevics avhandling utmanar traditionella transistorer med tunneltransistorer av vertikala nanotrådar
Publicerad: 2017-09-22
Traditionella transistorer är platta, tillverkade av halvledarmaterialet kisel och blir mycket varma. Dessutom kan de inte göras mycket mindre utan att kortslutas – en viktig förklaring till att Moores lag om kontinuerligt ökande prestanda ser vägs ände. Doktorsavhandlingen som Elvedin Memisevic lade fram den 14 september 2017 utmanar de traditionella transistorerna på flera fronter. I korthet går strategin ut på att ersätta kiseln med andra halvledarmaterial som har bättre ledningsegenskaper. Dessa material framställs i form av vertikala nanotrådar, vilket innebär att transistorerna är tredimensionella.
Materialen som ersätter kisel leder till att man kan använda lägre drivspänningar vilket minskar temperaturen, men också att man kan få snabbare omslag mellan på och av, eller ettor och nollor. Nedskalningen i sig ökar dessutom hastigheten eftersom avstånden blir mindre. Begreppet för dagen är tunneltransistorer.

– Arbetet har pågått länge, men nu kan vi för första gången någonsin tillverka tunneltransistorer med en prestanda som kan jämföras med den hos dagens traditionella transistorer, kommenterar Dr. Elvedin Memisevic. Det är ett viktigt steg för att tunneltransistorn ska gå från att vara den lovande kandidaten till den trovärdiga ersättaren, kommenterar, Elvedin Memisevic,

Varför kallas det för tunneltransistorer?
– I tunneltransistorn används en kvantmekanisk effekt kallat kvantmekanisk tunnling. Eftersom det är ett kvantmekaniskt fenomen finns det tyvärr inte något intuitivt sätt att förstå den. Men just att den existerar tillåter oss att tillverka denna typ av transistorer. För en traditionell transistor är samma effekt av ondo eftersom det begränsar hur mycket de kan skalas ned, säger han.

Elvedin föddes i dagens Bosnien och Hercegovina och kom till Sverige som 9-åring 1992. Utbildningsbakgrunden ligger inom civilingenjörsproprammet Teknisk nanovetenskap på LTH, Lunds universitet, som avslutades med ett examensarbete inom nanoelektronikgruppen på EIT vid LTH.

– Jag lärde mig väldigt mycket av examensarbetet. Men jag insåg också att det fanns mycket mer jag inte kunde så det enda alternativet var att fortsätta vidare. Det som jag tycker är mest fascinerande med min forskning är att transistorerna som jag jobbar med kombinerar flera intressanta teknologier, säger Elvedin.

Kan du nämna höjdpunkt under doktorandutbildningen?
– Jag skulle säga att det roligaste, men även det mest nervösa ögonblicket, var när jag och några kollegor åkte till konferensen International Electron Devices Meeting i San Francisco 2016. Konferensen är en av de största vi har i vårt fält. Det som presenteras där får mycket uppmärksamhet och i vårt fall valdes resultaten från Lund ut som en av höjdpunkterna för konferensen, kommenterar Elvedin.

Läs om arbetet på: http://www.lu.se/article/tre-ganger-mer-energisnalt-och-battre-prestanda

Vad har du för planer för framtiden?
– Som doktorand har jag lärt mig väldigt mycket, dock även nu ser jag att det är väldigt mycket jag inte kan. Forskningen som man bedriver som doktorand är väldigt specifik så mest naturliga steget är att försöka hitta sätt att bredda kompetensen. Det kan antingen vara att man går till en annan forskningsgrupp inom akademin eller söker sig till industrin. Vad det blir vet jag inte för tillfället, säger Dr Elvedin Memisevic.

(a) En bild på en vertikal nanotråd tagen med svepelekronmikroskop. (b) Samman bild som i figur (a) fast nu är de olika segmenten färgade. Varje segment består av inbördes olika halvledarmaterial. Den streckade kvadraten visar regionen där tunnlingen sker. (c) En schematisk bild av en färdig tunneltransistor.'

Dr. Elvedin Memisevic. Avhandlingen "Vertical III-V Nanowire Tunnel Field-Effect Transistor" kan laddas ned från portal.research.lu.se.
---
EIT-researchers with partners won the Collaborate to Innovate Awards 2017 for 5G test at British Telecom
Publicerad: 2017-09-07
September 6th, 2017 - the Communication Engineering group at department of EIT, Lund University together with research groups at University of Bristol, National Instruments, and British Telecom, were announced the winners in the category 'Information, Data & Connectivity' at The Engineer: Collaborate to Innovate (C2I) Awards 2017, with their project 'Setting World Records in 5G Wireless Spectral Efficiency using Massive Multiple Input, Multiple Output (MIMO)'.

- We are very happy to see how such an extraordinary joint effort has materialised so that we now jointly can demonstrate and investigate systems that people were unsure of whether they at all could be implemented a few years ago, says Fredrik Tufvesson, Professor of Radio Systems at Lund University.

Read more at:
https://www.theengineer.co.uk/c2i-2017-winners-announced/





From left: Mark Taylor (General Manager at Desoutter Industrial Tool), Mansoor Hanif (British Telecom), Erik Bengtsson (Lund University), Mark Beach (University of Bristol),Ben Lavasani (NI), Jon Excell: Editor - The Engineer
---
Two days of System Design on Silicon at Lund University
Publicerad: 2017-09-05
On September 5-6 over 130 participants from more than 30 different organizations gathers at Lund University to discuss system design on silicon at the annual Circuit Design workshop. The program mix invited presentations addressing a wide range of circuit-design related topics with project highlights from the ongoing research at the VINNOVA Excellence Center for System design On Silicon (SoS) at Lund University.

– It is our hope that the workshop will not only deliver interesting technical insights, but also help create new connections and collaborations between participating individuals and organizations, says professor Ove Edfors, workshop organiser.

The full program is available at: http://cdworkshop.eit.lth.se/fileadmin/eit/group/71/2017/SoS-WS-2017-programfolder-A5.pdf

Text & illutstration: Jonas Wisbrant

...
---
Babak will continue to lower the power
Publicerad: 2017-06-21
Babak Mohammadi responding

Text: Anders Borgström, Photo: Yunus Ökmen
Attacking power dissipation
-I've been mostly focused on the transistor- and gate level but also touched on the module- and architecture level during my research, says Babak. More functionality, higher performance and millions of transistors also means higher power dissipation in modern integrated circuits.
EITs fresh doctor, Babak Mohammadi, kept a strict focus during his PhD-studies on attacking this problem from transistor to architectural levels. His work helps to counteract the accelerating global power demand we see as a result of the increased IoT and digitalization rollouts all over the world.
Larger circuits and lower supply voltages
When the circuit technology reached 800nm a new trend in integrated circuit design started, namely careful design around power saving and development of methods around that. As circuits and systems grew larger in terms of number of transistors, excessive leakage power became obvious and energy reduction techniques started to emerge. It was time to leave the concept of unified power supply voltage for all modules on a chip.
-In general, the supply voltages have gone down since then from 5V to the current state of 800mV, says Babak. -And the latest transistor technology of today has come down to 5nm!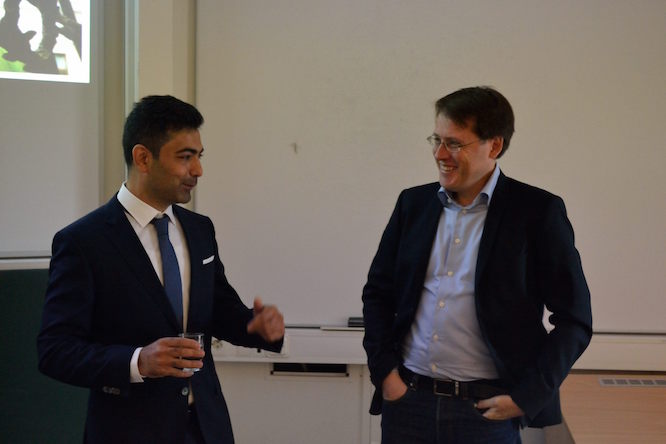 Babak Mohammadi and chairman Mats Gustafsson

Dynamic and static dissipation
We ask Babak what's most important to consider for ICs, static or dynamic power dissipation?
-Both are important, Babak responds directly. –It's depending on applications where e.g. in a memory circuit which is not changing logic levels so much static power has higher share. -A high performing processor core, on the other hand, dynamic power could be more critical, he says.
Talking in 1997 and surfing in 2017
Back in the 90-ies, a cellphone lasted for weeks on one full battery. Ericsson SH388 had 4,5 hours talktime and 2 weeks standby. An Iphone of today has to be topped up every day with normal talk and surf. Why?
–At that time the main application was "voice", Babak explains. -The circuits to solve that were very small compared to what a mobile phone host today. The transistors at that time were fewer, physically larger and performed much better in standby mode compared to the tiny ones of today. And batteries were larger compared to the ones in our mobiles today. Also usage profile with the large screens used all the time is demanding a lot of power.
Opponent and member of committee

Looked for cities
How come you enter the track of electronics?
-I was always fascinated by electronics and broke chips as a kid where I looked for cities inside the chip, Babak says with a smile. -Someone told me that they were there. I wanted to design my own chips and so it turned out. I still keep my first chip, a 64x64 image sensor. My wallet carries the package and my backpack the actual chip. Important stuff for me, he says with a smile.
From Urmia
Babak grew up in Urmia, a 1-million city in the north-western part of Iran, on the road from Teheran to Turkey. –My brother and my parents still live there but my brother will come for masters studies to Italy during fall. Also an electronic guy.
Audience

Powerful future
-Continue to lower the power! That's Babaks response when asking him about what the future holds for him. Research, employment, startup or something else is still an open question but I'm interested in this area and there is plenty to do so I will find my place, says Babak.
Nice job, nice leisure time.
I like and practice football, music and travelling and when it comes to electronics, breaking and fixing stuff is fun. A sweet memory from the PhD-studies was winning the best pitch award at the Entrepreneurship course back in 2015. See earlier article on this. .
Perhaps some good entrepreneurship ideas are growing again…???
Congratulations to Babak from EIT!
---
Early summer IEEE CAMAD event hosted by EIT
Publicerad: 2017-06-15

Text Anders Borgström
-We are pleased being able to gather such a wide range of leading researchers in wireless networks and 5G technology for the CAMAD-workshop here in Lund, says EITs professor Björn Landfeldt. -This year's focus is very well in line with this regions traditional specialist skills.
General CAMAD chairmembers well known to EIT are except Björn Landfeldt, LTH also Björn Ekelund, Ericsson and Peter C. Karlsson, Sony. A tutorial will also be given by EIT-professor Fredrik Tufvesson on "Massive MIMO from theory to practice, lessons learned so far".
CAMAD is an acronym for "Computer-Aided Modeling Analysis and Design of Communication Links and Networks". Every year there is a new workshop and this year the baton is grabbed by LTH and EIT who will host the event. It will take place June 19-21, 2017 in E-huset, more particularly in E:A and sessions' room E:3139.
Agenda items cover recent developments on tools and techniques for the performance evaluation of communications systems and this year the focus is on 5G networking and beyond. CAMAD is an IEEE Communications Society portfolio event and this 22nd one.
Scientists, engineers, manufacturers and service providers will meet and exchange experiences, new ideas and research results. Also keynotes speeches, panel sessions, tutorials and a demo session will take place.
Keynote talk titles are "Sharing and slicing next generation networks", "Networking in the millimeter waves band" and "Smart networks" and other topics during the event cover areas like Millimiter Waves Wireless Networks, Infrastructure as a Service, Source Cloud Platforms, Virtual Network Functions Placement and much more.
More info on the event with detailed program can be found here.
---
Battle of Bara bräcker Barsebäck
Publicerad: 2017-06-07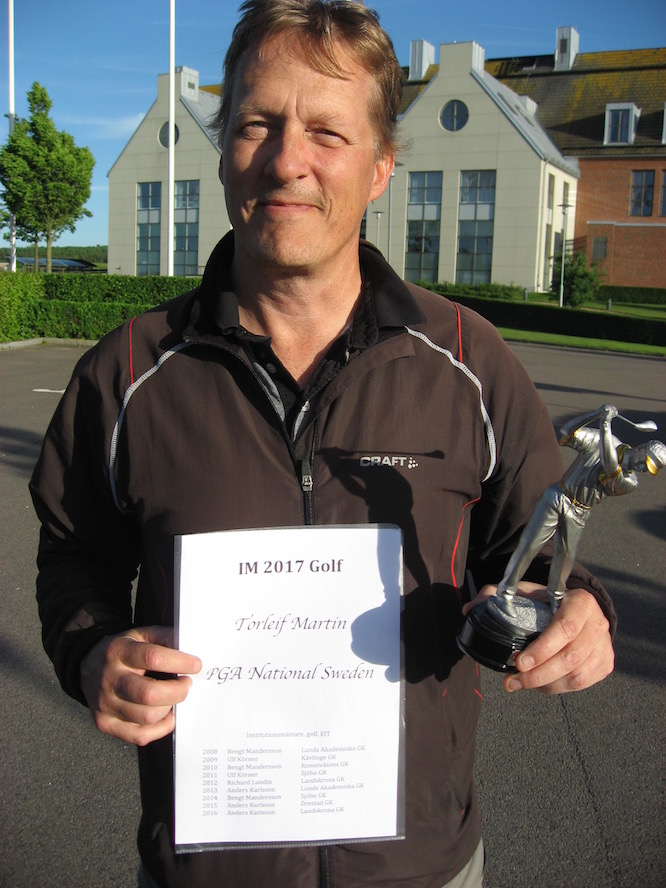 Text: Anders Borgström/Anders Karlsson, Bild: Richard Lundin
Institutionsmästerskapet i golf har gått av stapeln för tionde året i rad och Torleif Martin gick segrande ur striden för 2017. Tidigare års vinnare är:
2008 Bengt Mandersson(Spelades på Lunds Akademiska GK)
2009 Ulf Körner(Spelades på Kävlinge GK)
2010 Bengt Mandersson(Spelades på Romeleåsens GK)
2011 Ulf Körner(Spelades på Sjöbo GK)
2012 Richard Lundin(Spelades på Landskrona GK)
2013 Anders Karlsson(Spelades på Lunds Akademiska GK)
2014 Bengt Mandersson(Spelades på Sjöbo GK)
2015 Anders Karlsson(Spelades på Örestad GK)
2016 Anders Karlsson(Spelades på Landskrona GK)
Kampen (se fler bilder nedan) utspelades i Bara och silvermedaljören Anders Karlsson rapporterar följande:
Kära golfälskare,
Årets institutionsmästerskap i golf spelades på den krävande Linksbanan vid den exklusiva golfanläggningen PGA National of Sweden i Bara. Innan tävlingen åt deltagare och publik en god lunch i klubbhuset.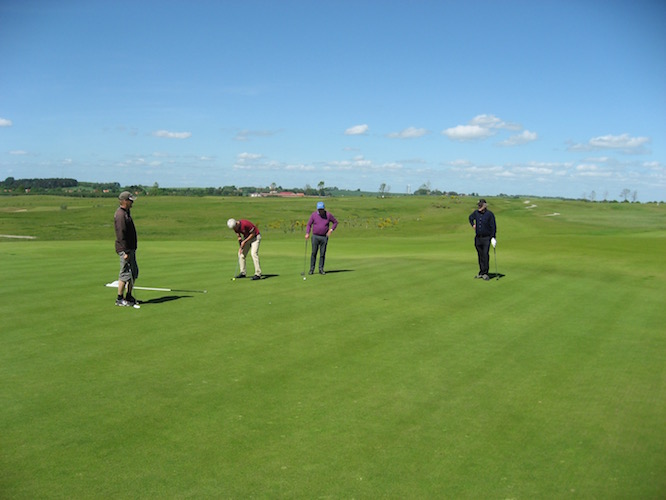 I år hade vi en utLundsk spelare i startfältet! Det var vår adjungerade professor Torleif Martin, som inte bara deltog utan också segrade efter lysande spel. Torleif är från Linköping och spelar en typ av nujäklaranamannagolf, som visade sig mer effektiv än den elegiska form av golf vi från Lundatrakten utövar. Stort grattis Torleif!
Vädret var perfekt och startfältet starkt, så vi hade räknat med en stor publik. Tyvärr valde många bort vår fina tävling till förmån för den mer pengastinna Nordea Master i Barsebäck. Det gjorde att det förväntade publikhavet reducerades till en person, nämligen Richard Lundin. Richard var dock inte bara publik! Ånej, han var också domare, caddy, protokollförare, prisutdelare, diplomtillverkare, bolletare och fotograf. Stort tack Richard för denna simultanekvilibristiska insats.
Här är så de fyra stolta medaljörerna:
Guld: Torleif Martin (stabilt spel hela dagen)
Stora silver: Anders Karlsson (spelade som en gud första nio och som en kratta andra nio)
Lilla silver: Bengt Mandersson (satte en 30 meters chip rätt i koppen och sänkte dessutom en 9-metersputt!)
Brons: Ulf Körner (sänkte en 10-metersputt!)
Nästa år arrangeras tävlingen av Torleif. Tävlingen är som vanligt öppen för alla som är knutna till institutionen.
---
EIT researchers awarded "best paper" at Test Symposium in Amsterdam
Publicerad: 2017-06-07
At the 21:st IEEE European Test Symposium (ETS) held in Amsterdam, The Netherlands, in May 2016, the paper: A Self-Reconfiguring IEEE 1687 Network for Fault Monitoring by Farrokh Ghani Zadegan, Dimitar Nikolov and Erik Larsson was awarded as the best paper.
The ETS is Europe's premier forum dedicated to presenting and discussing scientific results, emerging ideas, applications, hot topics, and new trends in the area of electronic-based circuits and system testing and reliability. The acceptance rate of technical paper at ETS'16 was 21%.The best paper award was given at the 22nd ETS, held in Limassol, Cyprus.
Congratulations from EIT!
Read more at: http://www.ieee-ets.org
---
COST-meetings hosted by EIT in E-Huset
Publicerad: 2017-06-01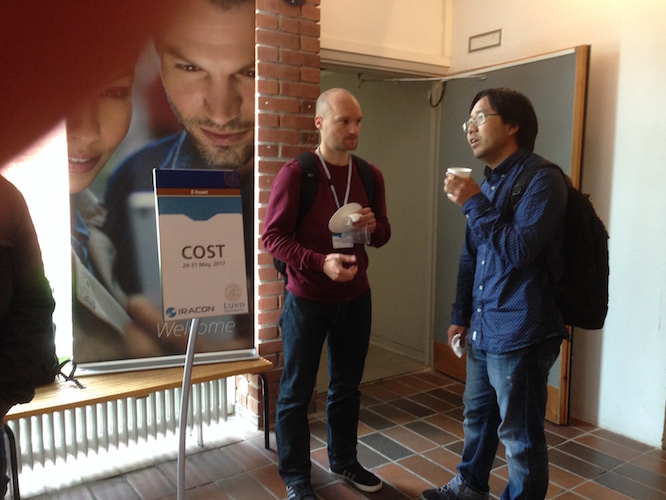 Text and Photo: Anders Borgström
LTH and EIT organized the IRACON "Inclusive Radio Communication Networks for 5G and beyond" meetings and workshops by the COST Action CA15104 during May 29-31, 2017. Around 100 attendees gathered at E-Huset, LTH for follow up on actions, deliverables, finances, dissemination as well as listening to keynotes and presentations and not the least to discuss, socialize, eat and drink with colleagues and friends.
The meetings involved academia and industry from all over Europe, with the support of some non-COST institutions and R&D associations and standardisation bodies worldwide.
Main organizers were Fredrik Tufvesson and Buon Kiong Lau (Vince).
KEYNOTE SPEAKERS were Dr. Leif Wilhelmsson, Ericsson Research, Lund, Sweden talking about "Key IEEE 802.11 components: High Efficiency Wi-Fi and Wake-Up Radios" and Dr. Peter Karlsson, Sony Mobile, Lund, Sweden talking about "Next levels of low power and long range cellular IoT".
The meeting dealt with radio communications and connected devices like mobile phones, machines, sensors, vehicles and more. Wireless connection to the internet increases dramatically in numbers and the IRACON-concept defines technologies aimed to support wireless connectivity at any rates, for any communicating units, and in any type of scenarios. Radio access, wireless networks and systems are all subject to incredible research and development and this meeting is in the center of it all.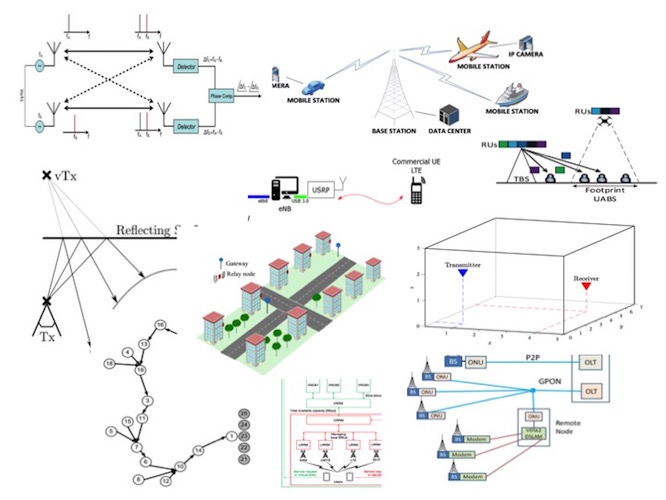 Fundamental theories, applied research and novel design for 5G (and beyond) radio networks were in focus and there is no lack of challenges. The wireless world include modelling of radio channels, capacity, energy, mobility, latency, scalability, network automation, moving nodes, cloud and virtualisation architectures. Also experimental research addressing Over-the-Air testing, Internet of Things, localization, tracking and new radio access technologies are included.
Demo on EIT 5G-mobile (not portable) device by Steffen Malkowsky and M-MIMO team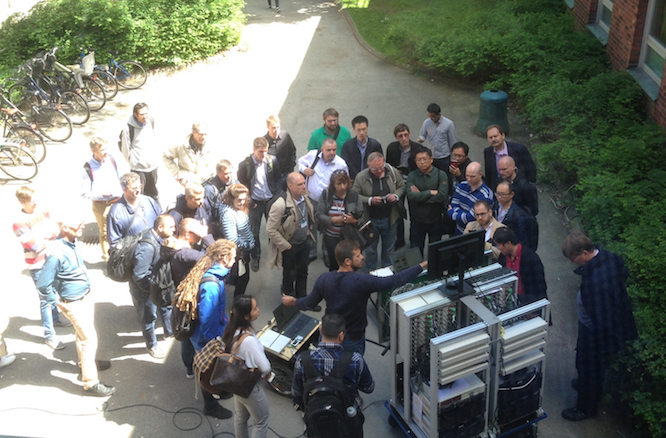 Since the COST-event was a working meeting (workshop) also deliverables and actions were followed up and also a tutorial+demo on the EIT Massive MIMO testbed took place. Tutorial speakers were Fredrik Tufvesson and Ove Edfors, Lund University, Sweden talking about "Tutorial, Massive MIMO: from theory to practice".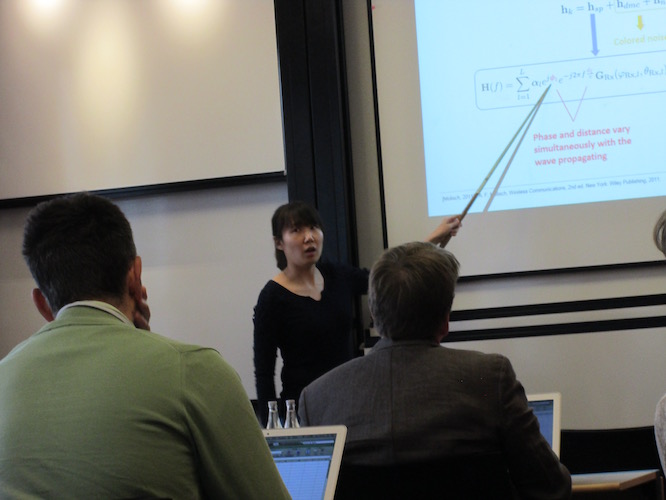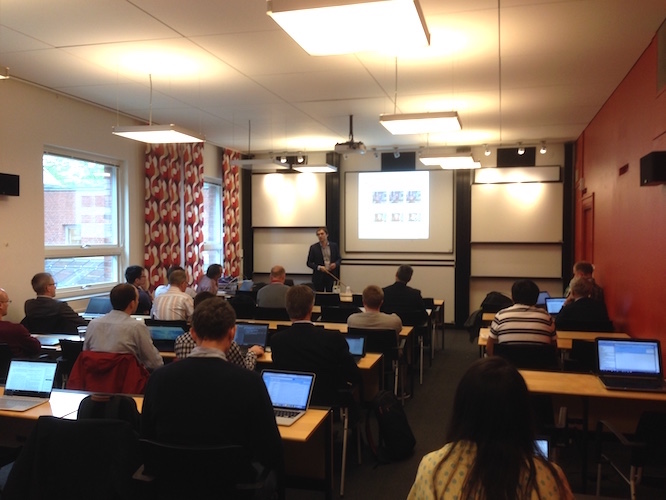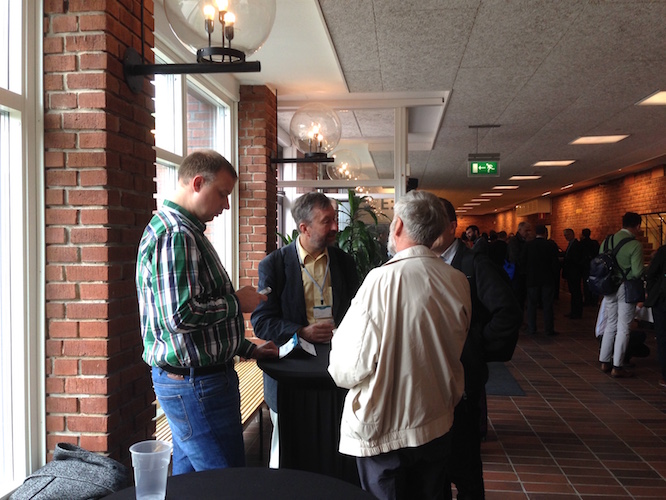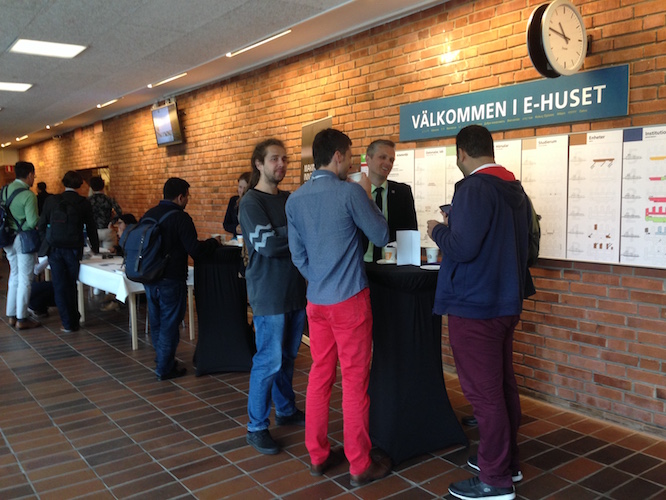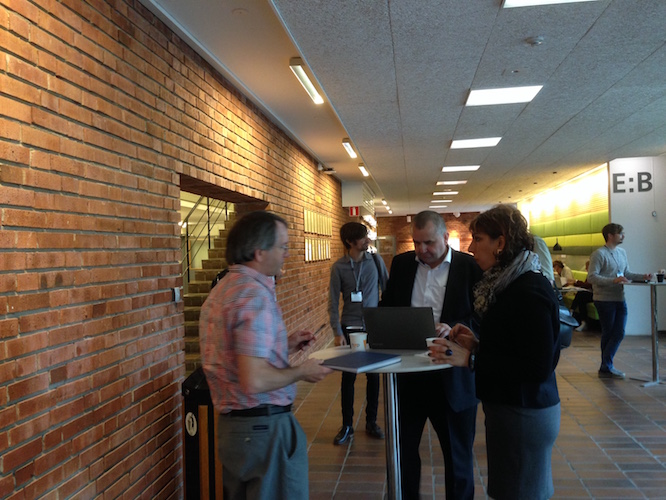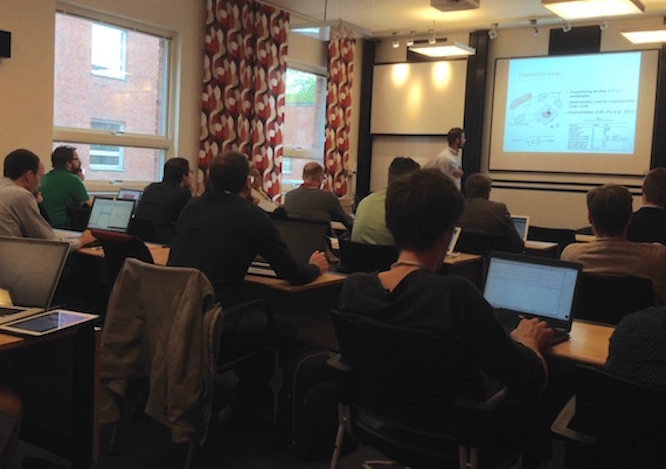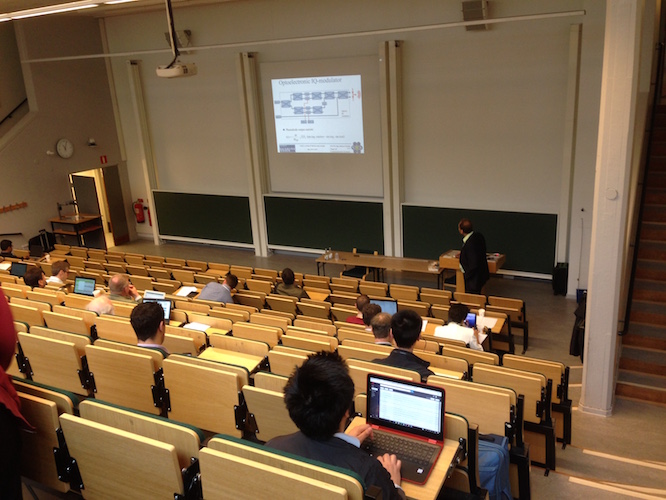 ---