Nyhetsarkiv
Prestigefyllt SSF-anslag till EITs nanoelektronikforskare.
Publicerad: 2017-04-11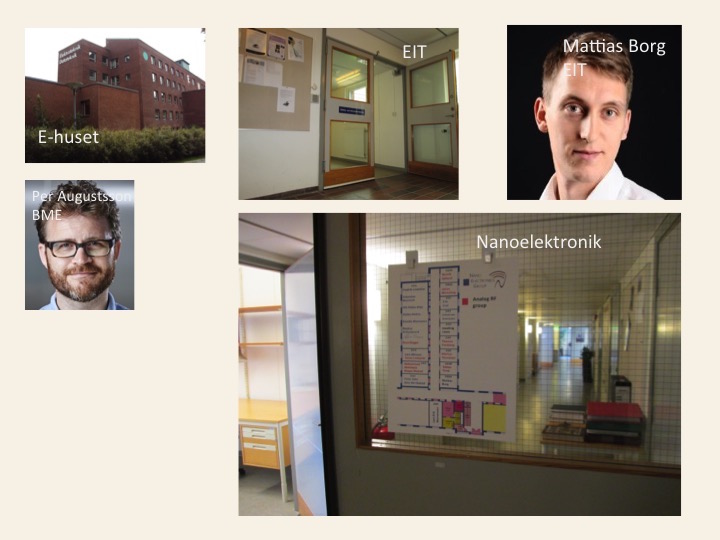 Text + Bild: Anders Borgström
På frågan om detta var överraskande eller väntat svarar Mattias:
-Jag jobbade väldigt hårt på denna ansökan och hoppades verkligen jag skulle få priset. Det ger ju en fantastisk möjlighet för mig som ung forskare att utvecklas som ledare och få resurser till min forskning.
Forskningspengar, fickpengar och ledarskapsprogram
Mattias Borg som forskar inom materialvetenskap och nanoelektronik är en av tolv unga, lovande postdoktorer som får dela på 48 miljoner kronor från Stiftelsen för strategisk forskning, SSF. Var och en får 4 miljoner kronor och ett personligt stipendium om 60 000 kr. Dessutom ingår ett ledarskapsprogram för bidragsmottagarna.
Mer pengar till E-huset
Ytterligare en forskare, Per Augustsson från EITs granninstitution BME, får samma anslag beviljat. Grattis alltså till både nanoelektronikgruppen, EIT och E-huset. Och till Mattias framförallt. Mattias har disputerat vid Fasta tillståndets fysik i Lund och har sedan gjort sin postdoc hos IBM Zürich Research där han också var anställd i forskarstaben.
Stöd för nyskapande forskning
"Det blir spännande att följa dessa unga, lovande forskare som alla nyligen har gjort sin postdoc i utlandet och nu får förutsättningar att etablera sig i Sverige. Rörlighet bland forskare är en strategisk faktor," säger Lars Hultman, vd för SSF i ett pressmeddelande.
Pengarna kommer från "ICA" eller Ingvar Carlsson Award och har fått sitt namn av SSFs tidigare ordförande, dåvarande statsministern Ingvar Carlsson. Huvudsyftet med programmet är att stödja yngre hemvändande postdoktorer med ambition att starta en självständig och nyskapande forskningsverksamhet i Sverige.
Snabbar upp elektronerna
Mattias bidrag handlar om nya tekniker för snabbare halvledare och är renodlat tekniskt med nya halvledare för snabbare elektrontransport. Forskningen syftar till att oxidera metaller på kisel och därigenom få spontant självorganiserade strukturer med goda egenskaper för framtidens komponenter.
III-V nanoelektronik integreras på kisel
Under sitt doktorsarbete utvecklade Mattias epitaxiell växt av antimonid-nanotrådar och heterostrukturer för nanoelektroniska tillämpningar och i postdocarbetet hos IBM uppfann han en nyskapande integrationsmethod for III-V halvledare som kallades "Template-Assisted Selective Epitaxy" (TASE). En metod som möjliggör att högpresterande III-V nanoelektroniska komponenter kan integreras med standard kisel CMOS-processer på ett direkt och kostnadseffektivt sätt.
Mot docent och leta doktorand
Vad händer närmast i forskarkarriären, undrar vi?
-Min närmsta mål blir nu att ta min docentur samt försöka att anställa en doktorand för att jobba på det här projektet, säger Mattias och återgår till sin avkopplande påsksemester.
Grattis till Mattias!
---
LTH-studenten Rajeshwari Yogi, Wireless Communications, har blivit nominerad till Global Swede 2017.
Publicerad: 2017-04-10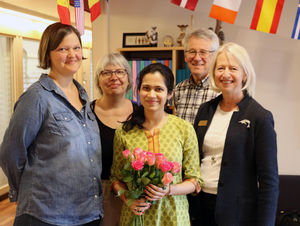 Global Swede är en utmärkelse som delas ut av Svenska institutet i samarbete med näringsdepartementet och utrikesdepartementet till en utländsk student som studerat entreprenörskap eller innovation i Sverige. Syftet med utmärkelsen är att uppmuntra studenterna till att vara goda ambassadörer för högre utbildning i Sverige.
Rajeshwari Yogi från Indien studerar masterprogrammet Wireless Communications på LTH och är enligt motiveringen en synnerligen engagerad och begåvad student som också är studentambassadör, tar emot nya studenter, är SI-ledare och bloggar dessutom om studentlivet på i Lund och på LTH-
---
En digital lekstuga för stora barn...
Publicerad: 2017-04-10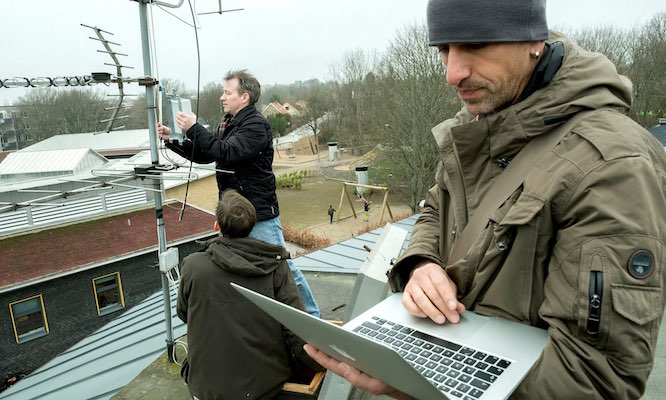 Bild: Ingemar D Kristiansen
...var Sydsvenskans rubrik på artikeln om IoT-basstationerna som nu monterats i Lund. Det hela är början till ett experimellt trådlöst datanätverk i Lund för att sensorer och andra IoT-anslutna prylar ska kunna leverera data.
Mer finns att läsa på SDS om du har premieinnehåll eller på bilagda kopia på papperstidningen.
---
Farookhs research saves time for chipmakers
Publicerad: 2017-03-30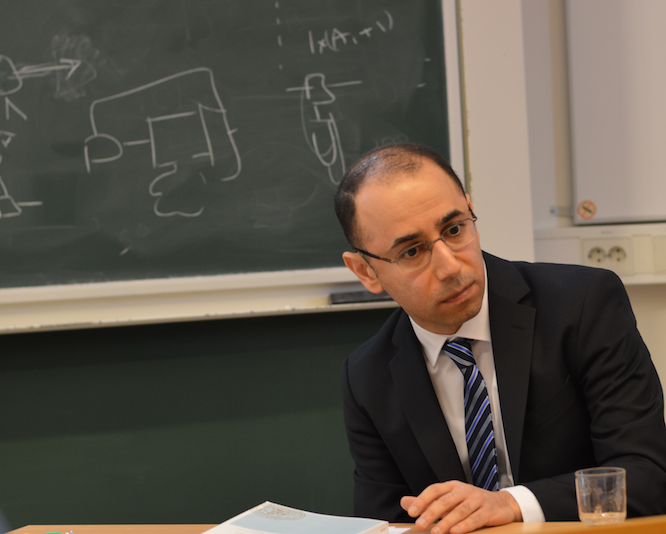 Text: Anders Borgström, Bild: Farrokh Ghani Zadegan
-Jag pratar lite svenska faktiskt, says Farrokh when asked if Swedish or English is preferred for this chat. Continuing in Swedish, he fills in: -Lite jobbigt dock att prata med skåningar, det gick bättre under min tid i Linköping. Skånska låter som ett annat språk faktiskt. :-)
So back to English then.
Farrokh Ghani Zadegans date of disputation was March 17, 2017 and the long title of the thesis " Reconfigurable on-chip instrument access networks: analysis, design, operation, and application" indicates it has something to do with integrated circuits. And yes.
CAD is the keyword.
A first somewhat general and fumbling question is if Farrokh has worked mainly with hardware or software. -It's mainly CAD (Computer Aided Design) for electronics, is Farrokhs short answer. But that needs some further explanation.
When prototyping complex ICs embedded circuitry is needed for measurement, debug, test and monitoring. This is provided through so called on-chip instruments and access time to this instruments from outside must be low.
In Farrokhs research, CAD-tool development has been supported and so also automatic generation and reconfiguration of networks. A specification is given to the tool telling a number of on-board instruments that would be accesssed and also if certain instruments are more frequent than others. A circuit network is then generated in a way that the overall accesstime is reduced.
-Algorithms are developed to generate hardware circuitry so thats why it's CAD, Farrokh continues. -You have a configurable network and you want to find the best way to reconfigure this network so that the accesstime to a particular network is reduced. I support the algorithms to search for the best way to do it in a reasonable amount of time. CAD captures it all. -CAD is the keyword, he conludes.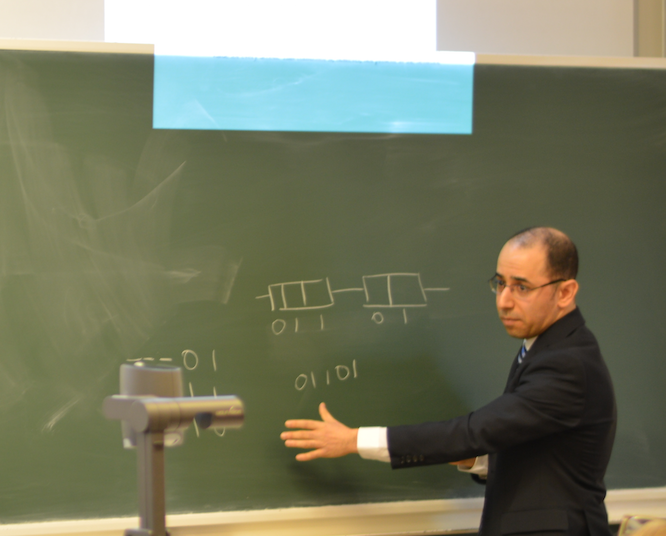 A time saving work
In explaining where time is saved Farrokh describes that accesstime for instruments and runtime for algorithms are different things. -Runtime for algorithms lead us to the limited accesstimes, he says. I have proposed algorithms for design and operation of networks so accesstime is reduced. Considering all possibilities will take forever and my algorithms try to limit the scope such that the search for the minimum accesstimes takes a reasonable amount of time with minimal runtime.
Money saving for chip-makers
An analysis phase is mandatory before you can do any design and operation with help from CAD and directive goes to the CAD tools generating a chiplayout. After that follows a post layout simulation. Reduction of accesstime is truly beneficial for manufacturers of chips since their processes are far from perfect. -Huge money and time are spent on testing and shorter accesstimes will reduce cost significantly, says Farrokh.
Paved the way for a research career.
-My thesis topic should have practical and industrial relevance, that was my expectation before starting, says Farrokh. I worked mainly with industrial standard IEEE Std 1687 and companies like Mentor, AMD, Cisco and Qualcomm have pushed for this.
We've made good impact and have contributed greatly to the standard, for sure. I have built a good network with the people involved and Mentor is benefitting in providing tools to the chipmakers. -My PhD graduation should pave the way for a research career to follow. -That's my sincere hope, Farrokh says.
-And now it's time to take the next step, return the EIT roomkey and accelerate my job-seeking.
Piano virtuous coming up
Any interests in leisure time? -I play Tar, a six-string iranian instrument. -I'm also trying to master a piano with help from Youtube tutorials on Bach and Beethoven, says Farrokh and shows a recording of himself performing "Für Elise" in the most nice way. Asking for a link to publish the masterpiece in this article the answer is negative. -I'm not there yet, he laughs.
Congratulations from EIT and good luck in the future!
---
EIT-doktorand bakom ARMs senaste uppköp
Publicerad: 2017-02-21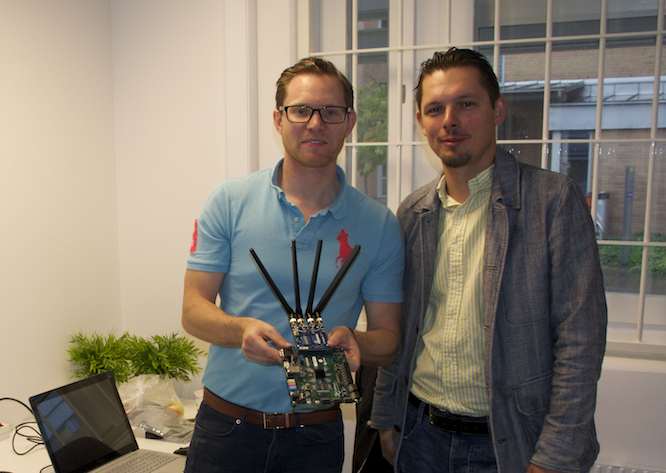 Text och bild: Anders Borgström
Brittiska ARM betalar mer än 100 miljoner kronor för Lundabolaget Mistbase och satsar på en utvecklingsavdelning för IoT (Intenet of Things) i Lund. Det rapporterar flera nyhetsmedia idag bl.a. Rapidus , Dagens Industri och Sydsvenskan .
ARM tar över Mistbases teknik och personal med runt 15 anställda idag, ett antal som nu kommer att växa. Mistbases teknik gör det möjligt för uppkopplade enheter att kommunicera med hjälp av nedskalad och billigare hårdvara som kräver små mängder datatrafik för sin kommunikation.
Bolaget grundades 2015 av LTH-doktoranden Michal Stala samt Magnus Midholt och de båda porträtterades på vår hemsida i September 2015.
Grattis till Michal och övriga i Mistbase!
---
Säkrare saker i Martins projekt
Publicerad: 2017-02-15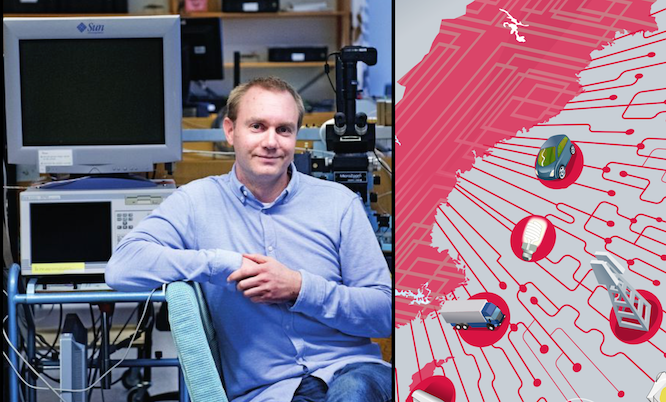 Bild: Ny Teknik
Det VINNOVA-finansierade forskningsprojektet Seconds som ska ge ett säkrare internet-of-things drivs av EITs Martin Hell och det uppmärksammas i det senaste numret av Ny Teknik (nät + papper). Läs artikel
---
INSIGHT incoming call! New video release!
Publicerad: 2017-02-15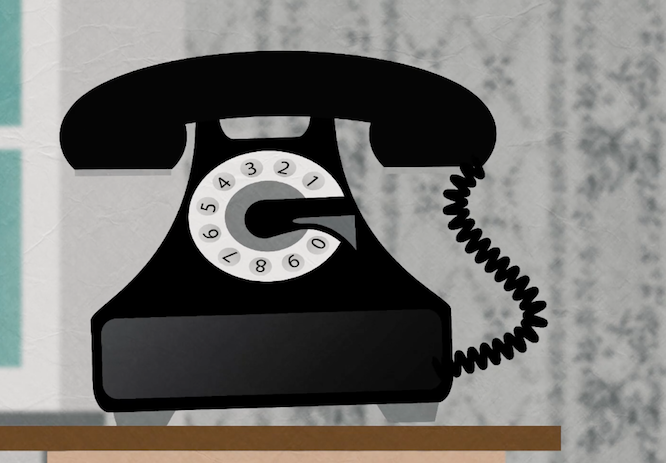 Text: Anders Borgström. Picture: Insight Consortium
The INSIGHT consortium has released a nice video telling about their project and goals in a popular and narrative way.
The consortium research is about integration of III-V nanowire semiconductors on to silicon platforms. The consortium consists of 6 very experienced international partners with Professor Lars-Erik Wernersson as project coordinator and Dr Mattias Borg as operational manager. Both are from EITs nanoelectronics group in Lund. Except for Sweden, partners contribute from Germany, UK, France, Switzerland and Ireland.
In the video we learn about how the last 45 years dramatic increase in capacity of storage, communication and computation also has resulted in dramatic rises in power consumption.
A single transistor consumes very little but in the total global perspective, it becomes extremely significant. High mobility of the free charge carriers in the III-V materials contribute together with lower voltages to much less switching power losses per transistor which is a major target of the project.
The video also depicts how the III-V technology can be introduced in different applications e.g. radars for self-driving cars, 3D-imaging for mobile phones and airport security systems.
---
Martin Hell berättar om darknet och anonymitet på nätet i SR
Publicerad: 2017-02-13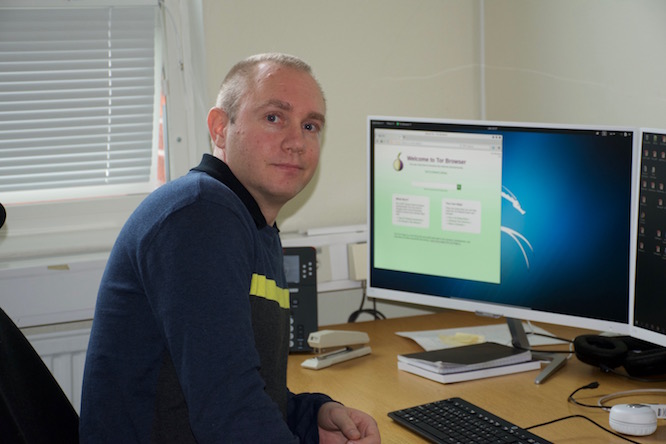 Text och bild: Anders Borgström
I Sveriges Radios Vetandets värld den 6 Feb kunde vi höra om darknet eller internets mörka bakgata som man beskriver det. EITs krypterings- och datasäkerhetsexpert, Martin Hell, berättar för svenska folket om tekniken bakom det hela.
På darknet kan man köpa droger, vapen, barnpornografi, utrotningshotade djur men även i anonyma forum crowdfunda t.ex. beställningsmord och annat som ligger långt utanför lagens gränser. Man kan göra det i skydd av nästintill total anonymitet och varken du som besökare eller den besökta hemsidan kan bli spårad.
Internet har tre delar. Det öppna nätet, deepweb och darknet. Det öppna nätet som de flesta känner till består av hemsidor, musik, film, sociala medier m.m. men under ytan finns det s.k. deepweb med sidor som inte indexeras av sökmotorer och därför inte dyker upp när man söker via t.ex. Google. Ännu längre ner finns då darknet som bara nås med speciella programvaror och där man kan vara helt anonym. Förutom den kriminella delen finns det nyttiga saker med deepweb och darknet eftersom anonymiteten kan användas av journalister, forskare och regimkritiker för att kunna få ut sina budskap utan att riskera upptäckt och bestraffning.
Tekniken bakom darknet heter Tor (The onion root) och är sprunget ur militär forskning på 1990-talet. Säkerhetsutveckling byggs ofta av att många använder ett system så programmet släpptes fritt i början av 2000-talet och snart fanns de första sidorna på internet.
Martin Hell, berättar i inslaget bl.a. att det behövs speciella webbläsare för att komma åt informationen på darknet. Istället för webadresser som slutar med .com eller .se så är det alltid .onion som syns när en darknet-sida besöks. Anonymiteten kan som sagt också användas på ett legitimt sätt, bl.a. i yttandefrihetens tjänst och Martin beskriver hur tekniken fungerar. -Man kopplar upp sig till en webbplats genom att hoppa via ett antal andra datorer (noder) där den sista datorn i hoppkedjan är den enda som den besökta webbplatsen kan känna till.
Alla besökare och webbsidor på det mörka nätet måste vara anonyma. På darknet växer en kriminell verksamhet fram som också kan använda sig av den digitala valutan bitcoin, också den svår att spåra. I inslaget får vi även höra polisens spaningsledare berätta om hur darknet bevakas av dem för att succesivt säkerställa identitet på brottslingar och därmed nysta upp brottsfall. Trots anonymiteten kan små detaljer på darknet sammanfogas av polisen och ge dem en helhetsbild som bidrar till att lösa brottet.
---
Attack and defense is his focus areas
Publicerad: 2017-02-07
Christopher Jämthagen defended his thesis "On Offensive and Defensive Methods in Software Security" back in November 15 and reached his PhD-degree. A few questions to Christopher:
Can you describe your research in a popular science way?
-My research focused on attacks and defenses in software security. We tried to find flaws in protocols and systems and exploit them. We also looked at existing attacks and tried to think of new and better ways to defend against them.
What made you want to pursue a PhD and what is the most fascinating/interesting with your subject?
-Probably the chance to get into an adversarial mindset and try to break stuff was the most fun aspect of it. Getting personal with security issues and really do a deep-dive into interesting protocols to see where they may be flawed.
Who are you? Where do you come from? What are your interests?
-I am a 30 year old (three days after my defense), living in Dalby with my family. Outside of the IT sector I enjoy watching movies, bouldering and playing pretty much any racket sport there is.
Do you have any particular interesting or funny occasion during your PhD time you want to share?
-One fun assignment I received early on was when our group were asked to do forensics on a server another Swedish university had seized and the police weren't able to retrieve anything from it. Except for some meta-data we didn't manage to extract any information either since it was fully encrypted, but it was a lot of fun giving it a shot.
Vad har du för planer för framtiden/what are your plans for the future?
-My plans revolve around working on the cryptocurrency Bitcoin in some manner.
Congratulations to Christopher and good luck in the future from EIT.
---
Zach attacks mobile M-MIMO with TCM
Publicerad: 2017-01-16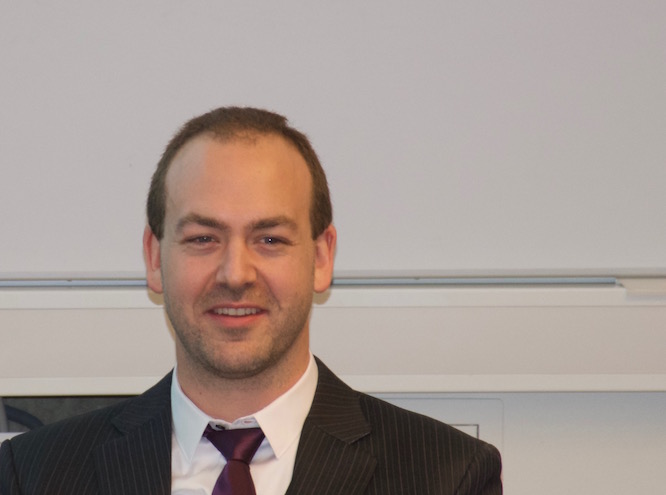 Text and Photos: Anders Borgström
In control
-It was wonderful! One of the best experiences that I had. Zachary Miers did his PhD graduation November 29 and he's not hesitating when asked about how it all felt. Well prepared with published papers and an almost error-free thesis in place he had control over the situation. Zachary, or Zach as he is called, smiles when admitting there was a diagram label that needed correction.
Good opponent
-The opponents questions were good, not easy but I felt I had answers to everything so there were no embarrassing long silent moments, says Zach. She had obviously read the thesis thoroughly and she did an excellent job in our discussion. Zach tells us further that the opponent is highly ranked in IEEE and has worked a lot in this field. -Never met her before though, he adds.
Party the swedish way
An excellent party took place after the disputation with ten (!) family members flown in from Colorado US and many others from his swedish friend community. -I have a great family and they got a good insight in how things are done over here! Zachs swedish friends supported him in setting up the party the swedish way with food, drinks, songs and other important stuff.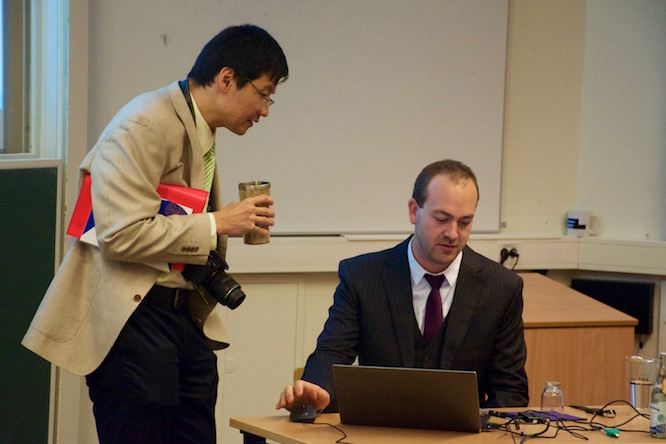 Last preparation with Vincent and Zach
TCM is like playing guitar
TCM, or Theory of Characteristic Modes, is what Zach has used in order to design antennas. Maxwells equations has a role but there are other things taking part.
-I'd like to describe it by an analogy of using a guitar string, doctor Miers says putting his pedagogic hat on his head. -Snapping a loose string will result in a tone that could be analyzed and if I change the boundary conditions by using a finger on the fretboard, there will be another tone. In electromagnetics, a piece of dielectric or metal can be used as an antenna and it delivers radiowaves when fed in special ways and by moving parts around.
TCM was published for the first time in 1965 and it woke up again around 2004-2005. It's been used a lot for cellphone antenna systems and it also allows you to create MIMO antennas. The first commercial software came out in 2015 and it has finally gained traction.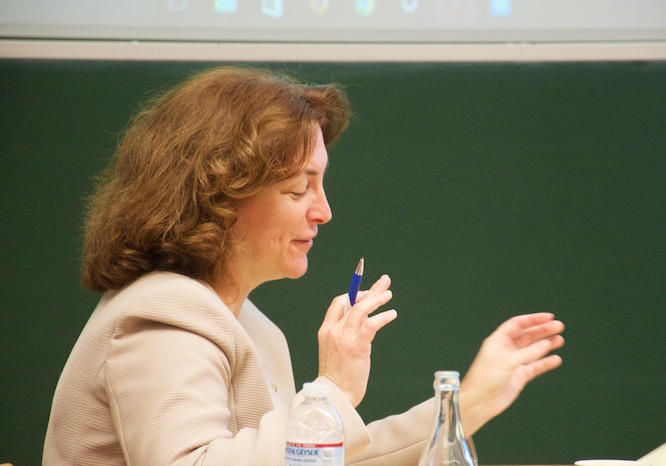 Opponent in discussion
Antennas for the real world
Antenna design evolution has been slow since the eighties, compared to most other technology parts within a handset. Zach came up with theories on how to allow inclusion of dielectrics, real materials, human hands and more. Previously it was mainly about perfect conditions which did not fully reflect the real world of antennas. -We also got some patents on special antenna designs, Zach continues.
-You can take a set of currents and see how that turns into radiated power and than use that pattern in order to solve how to outline the antenna, he says. The main target is to design cellphone antennas radiating within the range of a cellular system but it could also be used for other radio communication systems, satellite links, Hi-Q IoT-antennas and more.
From research to development
-I have a job coming up at Ball Aerospace, Broomfield, Colorado, within development of commercial 5G communication systems, Zach tells us. It's mostly about phased arrays for space qualified applications such as satellites and it will be a change, for sure! Ball Aerospace made satellites like Digital Globe and Quickbird which are the ones taking pictures for Google Earth. So we are all familiar with them, in a way.
Why Sweden and EIT?
Why Zach chose Sweden was really by chance. -I wanted to see new ways of doing things compared to my home university, says Zach. Looking around for a European Top-100 University ended up in Vincent (Prof Buon Kiong Lau) asking me to apply for an open position in Lund. I came here in September 2012 and I now love Sweden even though it took some time to find really good friends.
What I like here is that I can, by looking around, find new opportunities close by. My antenna design field can be used in other fields, e.g. M-MIMO or circuit design.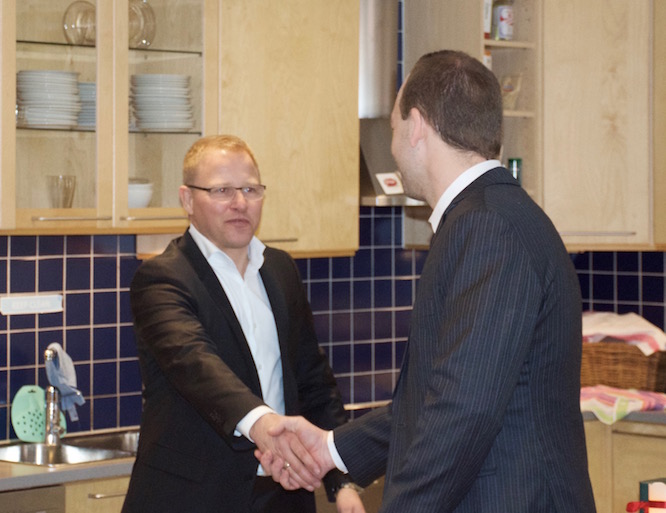 It's a YES!
Electric bike
There's been time also for non-theory things and a long range electric bike is the result of that. Spec: 1,5 hours charging time, large LiI-battery, wheel+motor from China, controller, high-efficiency and programmable. 40-50 km without pedaling. Zach smiles when asked if driving an electric bike without pedaling is legal.
Family life emerging
A child is on its way (27 weeks so far) and moving back to US is on the short term agenda. -It's quite a hard decision to move away from Sweden and our friends, says Zach. My wife also works as a special needs teacher in Malmö and loves it. -But family support and getting closer to home now also mean a lot for us. Finding a place to live, moving and a lot of other practical things will occupy my mind and body the coming days. My job starts Feb 27 so leaving Sweden is coming closer and I will now start logging in to Blocket in order to get rid of things before that.
Congratulations and good luck from EIT!
---
LuMaMi på SVT
Publicerad: 2015-05-06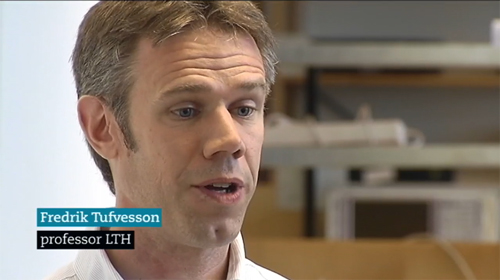 Fredrik Tufvesson intervjuas av SVT om nästa generations (trådlösa) Internet.
Se interjun här:
http://www.svt.se/nyheter/regionalt/skane/enorm-okning-av-datormangden-i-framtiden
Text: Johan Cedervall

---