Nyhetsarkiv
Zach attacks mobile M-MIMO with TCM
Publicerad: 2017-01-16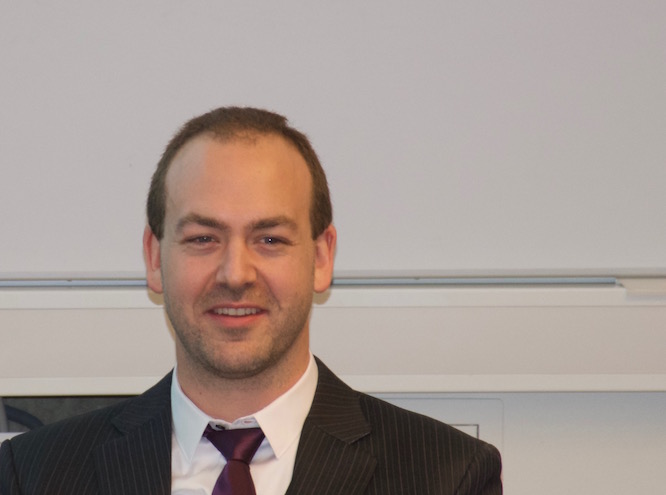 Text and Photos: Anders Borgström
In control
-It was wonderful! One of the best experiences that I had. Zachary Miers did his PhD graduation November 29 and he's not hesitating when asked about how it all felt. Well prepared with published papers and an almost error-free thesis in place he had control over the situation. Zachary, or Zach as he is called, smiles when admitting there was a diagram label that needed correction.
Good opponent
-The opponents questions were good, not easy but I felt I had answers to everything so there were no embarrassing long silent moments, says Zach. She had obviously read the thesis thoroughly and she did an excellent job in our discussion. Zach tells us further that the opponent is highly ranked in IEEE and has worked a lot in this field. -Never met her before though, he adds.
Party the swedish way
An excellent party took place after the disputation with ten (!) family members flown in from Colorado US and many others from his swedish friend community. -I have a great family and they got a good insight in how things are done over here! Zachs swedish friends supported him in setting up the party the swedish way with food, drinks, songs and other important stuff.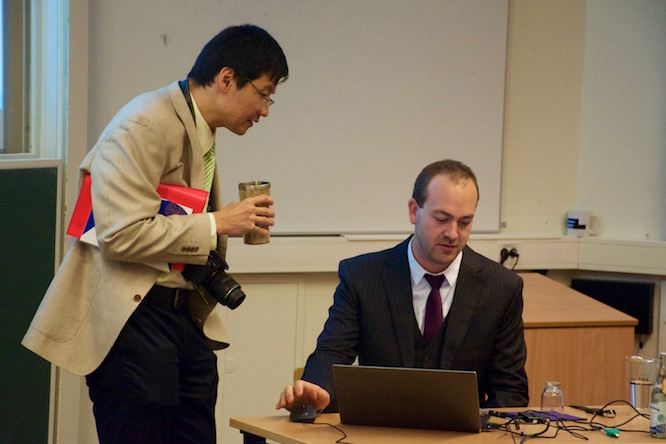 Last preparation with Vincent and Zach
TCM is like playing guitar
TCM, or Theory of Characteristic Modes, is what Zach has used in order to design antennas. Maxwells equations has a role but there are other things taking part.
-I'd like to describe it by an analogy of using a guitar string, doctor Miers says putting his pedagogic hat on his head. -Snapping a loose string will result in a tone that could be analyzed and if I change the boundary conditions by using a finger on the fretboard, there will be another tone. In electromagnetics, a piece of dielectric or metal can be used as an antenna and it delivers radiowaves when fed in special ways and by moving parts around.
TCM was published for the first time in 1965 and it woke up again around 2004-2005. It's been used a lot for cellphone antenna systems and it also allows you to create MIMO antennas. The first commercial software came out in 2015 and it has finally gained traction.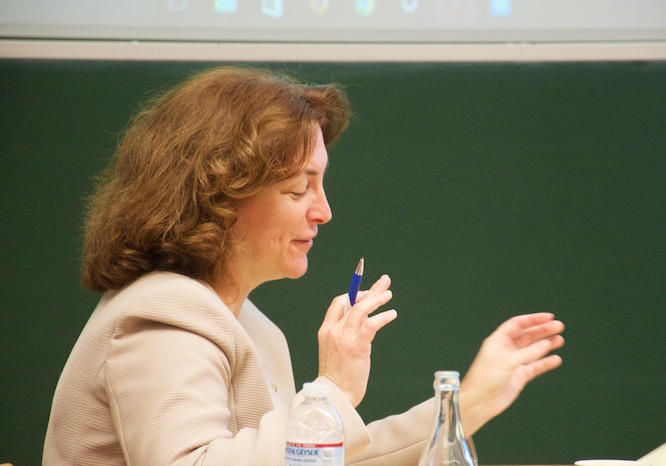 Opponent in discussion
Antennas for the real world
Antenna design evolution has been slow since the eighties, compared to most other technology parts within a handset. Zach came up with theories on how to allow inclusion of dielectrics, real materials, human hands and more. Previously it was mainly about perfect conditions which did not fully reflect the real world of antennas. -We also got some patents on special antenna designs, Zach continues.
-You can take a set of currents and see how that turns into radiated power and than use that pattern in order to solve how to outline the antenna, he says. The main target is to design cellphone antennas radiating within the range of a cellular system but it could also be used for other radio communication systems, satellite links, Hi-Q IoT-antennas and more.
From research to development
-I have a job coming up at Ball Aerospace, Broomfield, Colorado, within development of commercial 5G communication systems, Zach tells us. It's mostly about phased arrays for space qualified applications such as satellites and it will be a change, for sure! Ball Aerospace made satellites like Digital Globe and Quickbird which are the ones taking pictures for Google Earth. So we are all familiar with them, in a way.
Why Sweden and EIT?
Why Zach chose Sweden was really by chance. -I wanted to see new ways of doing things compared to my home university, says Zach. Looking around for a European Top-100 University ended up in Vincent (Prof Buon Kiong Lau) asking me to apply for an open position in Lund. I came here in September 2012 and I now love Sweden even though it took some time to find really good friends.
What I like here is that I can, by looking around, find new opportunities close by. My antenna design field can be used in other fields, e.g. M-MIMO or circuit design.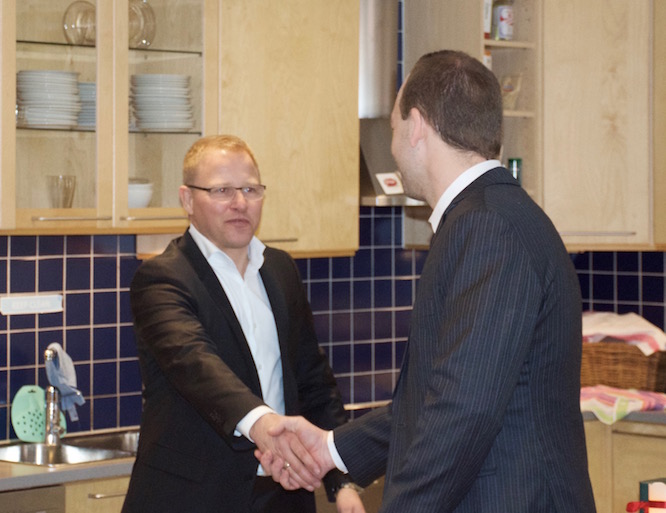 It's a YES!
Electric bike
There's been time also for non-theory things and a long range electric bike is the result of that. Spec: 1,5 hours charging time, large LiI-battery, wheel+motor from China, controller, high-efficiency and programmable. 40-50 km without pedaling. Zach smiles when asked if driving an electric bike without pedaling is legal.
Family life emerging
A child is on its way (27 weeks so far) and moving back to US is on the short term agenda. -It's quite a hard decision to move away from Sweden and our friends, says Zach. My wife also works as a special needs teacher in Malmö and loves it. -But family support and getting closer to home now also mean a lot for us. Finding a place to live, moving and a lot of other practical things will occupy my mind and body the coming days. My job starts Feb 27 so leaving Sweden is coming closer and I will now start logging in to Blocket in order to get rid of things before that.
Congratulations and good luck from EIT!
---
Her nanomodels complies with nanoreality
Publicerad: 2016-12-27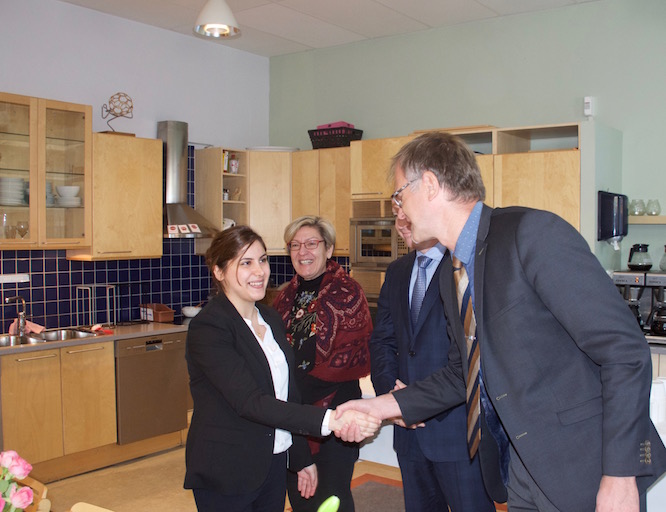 Aein S, Babadi with main supervisor Lars-Erik Wernersson
Modeling and measuring on nanostructures
-I wasn't sure if you meant quarter past or 2 sharp, says Aein Shiri Babadi after a gentle knock on the door. We have agreed on a short chat about her recent disputation and Lund academy time behaviour manners (akademisk kvart) is still not easy to get a grip on. As for many.
Aein did her PhD-research within the field of modeling, building and measuring III-V nanostructures and her PhD graduation took place Nov 11, 2016. The thesis title was "Electrical Characterization of III-IV Nanostructures".
InAs and GaSb instead of good old Silicon
-My research is related to fabrication of transistors, she says. I'm doing material characterization for MOSFETs where my work is related to the material synthesis, electrical characterization and also modeling of these tiny devices. A general focus in the group, headed by Lars-Erik Wernersson, is on III-V nanostructures and the first part of my work was on Indium Arsenide (InAs) and integration of high dielectric constant oxides on InAs. The second part was to do electrical characterization of electrical properties of nanowires from InAs and Gallium Antimonide (GaSb).
Nervous before it complied
Are you a theoretical or an experimental researcher? - I have been lucky and had opportunities to get experiences in both areas, says Aein. I have also applied the models I made on devices that I fabricated with different growth conditions with the thin oxide layers. Theory, models, fabrication, experiments and comparison. -We did the whole lot, she says enthusiastically! And it compared well. -Some anxiety on how it would compare has been around during my work, Aein admits. First years with modeling took a lot of my time and I really felt pressured to get it ready. Eventually the model compared quite well to the experiments and we presented and also got it awarded at a conference in Ireland! Good feeling!
Size, mobility and power is what counts
-My findings can be applied to improve the gate performance of the transistors, Aein responds to the question as "what is this good for?". - For high-performance scaled MOSFETs, the gate oxide has to be appropriately scaled with an equivalent oxide thickness, EOT, below 1 nm to achieve strong gate control over the electrostatic potential inside the semiconductor. Achieving a high-quality gate requires a high dielectric constant oxide layer free of defects, which is scaled in thickness with few interfacial imperfections at its interface with the semiconductor material. This is important to lower power consumption that is a never-ending strive.
From Persian Gulf city to nanolab in Lund
-I'm from a city at the southwest of Iran, Ahvaz, an industrial million-city close to the Persian Gulf. I grew up there where I also did my university bachelor education. After that I lived in Tehran for a year. -My parents have always encouraged me to take studies seriously so I went further and looked for research study opportunities, she continues. I did my masters in physics at the faculty of Natural Sciences in Lund where I chose the direction of nanoelectronics after attending a course by Lars-Erik Wernersson. -Lars-Erik is to blame for attracting me into this area, says Aein with a smile. After masters graduation I got an opportunity to join the group, a thing that I don't regret.
Hopefully post-doc
-I'd like to do a post-doc program so I could widen my research experience into new directions. I have made some applications for funds and I keep my fingers crossed. I will probaly end up in in another university and perhaps in another country if all goes according to plans.
Inspiring research environment at EIT
Sweden and Lund has been enjoyable. Also EIT has been a nice working environment and people around me have been very good in all respects. The departments other research areas like communications and circuit design have also been inspiring while thinking about where my research could be applied.
Gender balance, could be better but not too bad
Gender perspective is an important area in general and discussed a lot nowadays. Is the male-dominated world at EIT something you think about? -I got used to it after a while, but of course, I must admit that it is always good to have some female colleagues as well, says Aein. To be honest, for most part of my PhD study I have not been alone as a women here. In the mid part of my studies we were 4 women (PhD and postdocs) in Lars-Eriks group. That was good for all of us, men and women.
Other good things in life?
I do painting if there is a spare minute. Water colours with sceneries, flowers, leaves and more. But no faces. Too difficult!
And last, how was the christmas food at Ringsjö Värdshus? Did you eat everything?
-Yes! I like swedish food. And I cook myself also but neither Iranian or Swedish type rather my own culture. I make up the dishes myself, Aein says with a smile. It's time thats precious, fast forward is key.
And now, fast forward to some days off and relaxing.
Congratulations from EIT!
Text and Photo: Anders Borgström
---
Ny IEEE-Fellow i våra korridorer. Grattis Fredrik!
Publicerad: 2016-12-12
Professor Fredrik Tufvesson, IEEE Fellow
Ett mail, hurra!
Man får ett mail, skrattar EITs professor Fredrik Tufvesson när frågan kommer om hur man får reda på att man utnämnts till IEEE Fellow. Högtidligare än så är det inte trots att det är en ganska exklusiv skara som nu Fredrik blir medlem i. Mindre än 0,1 % av röstberättigade medlemmar väljs årligen att upphöjas till denna nivå av the IEEE Fellow Committee och för LTHs och EITs nyaste medlem träder detta i kraft 1 Januari 2017. Motiveringen lyder " ...for contributions to measurement and modeling of wireless propagation channels...". Att institutionens forskningsrön inom kanalutbredning breder ut sig, det är tydligt.
Gott betyg för vår forskning
På frågan om hur processen mot fellowship fungerar berättar Fredrik att någon nominerat honom och därefter har sex andra IEEE-Fellows tyckt att detta är en bra ide. Och detta har de gjort tydligt genom att skriva supportbrev. -Men man är inte inblandad själv i processen även om man känner till nomineringen, berättar Fredrik vidare. Efter supportbreven följer utvärdering och utnämning. IEEE fellowship har betydelse inte enbart för den utnämnda själv utan även för forskningen, kollegorna och LTH/EIT.
-Gott betyg för allt detta skulle jag säga, fortsätter Fredrik. Det är en bekräftelse på att vi gör rätt saker och att vi gör dom bra. Vi bidrar på ett viktigt sätt till forskarcommunityn med relevant forskning helt enkelt.
Fredrik, John B och några till
Hur många Fellowkompisar har du här på LTH?
-Vi har varit några stycken, inte jättemånga. Rolf Johannesson är en. Förra året fick ELLIIT-kollegan och Linköpingsprofessorn Erik G Larsson utnämningen och i år fick också LTHs Leif Sörnmo plats i gänget.
-Och så har vi John B Anderson förstås, betonar Fredrik. Han har nyss ändrat sin akademiska status till professor emeritus vilket gör att han slipper plikterna och därför kanske kommer att disponera mer av sin tid framöver i USA. Men han gillar att jobba vidare i allmänhet och hos oss i synnerhet. John B, som han kallas i korridorerna, har varit här under hela min tid och varit en stor inspirationskälla, fortsätter Fredrik. Vi hoppas det fortsätter så ett bra tag.
Fellowship-programmet finns bara inom IEEEs verksamhetsgrenar och för att utnämnas måste man vara stark senior och ha bidragit signifikant till det aktuella forskningsfältet som i Fredriks fall är trådlös kommunikation.
Får du nya plikter och åtganden nu?
-Nix. Men som sagt, det är jätteinspirerande för både mig själv och bra för organisationen med bekräftelse. Och förhoppningsvis kan det inspirera till fler lokala IEEE-Fellows framöver.
Grattis!
Text och bild: Anders Borgström
---
More spectral efficiency awards to the MIMO-team
Publicerad: 2016-12-08
| | | |
| --- | --- | --- |
| Adding to the earlier award portofolio, Steffen Malkowsky and his colleagues in the M-MIMO team also took first prize at NI Engineering Impact Awards for Northern Europe 2016 in London. University of Bristol and Lund University have together set a world record in wireless spectral efficiency using Massive MIMO technology. Congratulations! | .. | |
---
Tobias steps up in frequencies
Publicerad: 2016-12-08
Tobias Tired graduated and achieved his doctoral title Nov 9, 2016 after defending his thesis named "Integrated Transceivers for Millimeter Wave and Cellular Communication".

What's your research about Tobias?

-I have designed integrated circuits for wireless communication. Receivers for mobile phones have to date used frequencies up to 2,7 GHz and homodyne technology has fully replaced the older superheterodyne technology which means filterless and cheaper solutions.

-Much higher frequencies (mm-wave, 71-95 GHz) can be used for wireless communication between basestations as a fiber replacer in future systems where we will see much smaller cells and much higher number of basestations. These high bands secure bitrates of several Gbps.

-Higher attenuation requires more directional antennas and my work presents designed circuits to control this electronically. I have also investigated new architectures for power amplifiers which often dominates the power consumption of an entire transmitter solution.
-In total, I have designed 5 circuits containing oscillators, PAs and PLLs. 4 of them have been tested and verified through experiments. My research has been financed through the VINNOVA-center System Design on Silicon (SoS).
Who are you?
-I grew up in Lund and have lived here all my life except for a three year stay in Stockholm when I was working at Ericsson Components. I worked almost 20 years with Ericsson before I started as a PhD-student at EIT. Between 2011 and 2012 I was an industrial PhD supervised by Pietro Andreani.
Why PhD and why this field?
-I have always been curious to try on the academic world. During my career at Ericsson, there was always a close cooperation with the academic research that made me curious. In the end, I took a shot that appeared in order to finalize my PhD.
-It has been an exciting time more freewheeling than product development projects at Ericsson. I have had good opportunities to do research on new chip architectures. The most exciting part of my area is probably what opportunities around mm-wave technology that will be offered in the future. Not only in Telecom but also in areas such as medical technology and radar technology.
-How about your future?
-I have an upcoming exciting job at an IDEON startup company. It's not about mm-waves but close to it.
Congratulations from EIT!
---
EIT research highlight on phase noise.
Publicerad: 2016-12-08
Another research highlight for EIT is delivered in IEEE Transactions on Circuits and Systems I with the paper "A General Theory of Phase Noise in Transconductor-Based Harmonic Oscillators".

In the paper Federico Pepe and Pietro Andreani prove that, when the active core of an oscillator works as transconductor, its phase noise contribution is always proportional to that induced by the tank. As assumption is made on the specific nature of the transconductor and the tank, the result is valid in the very general case.
Congrats to brilliant EIT research!
---
Miljonregn och uppmärksamhet till nanoelektronikgruppen
Publicerad: 2016-12-08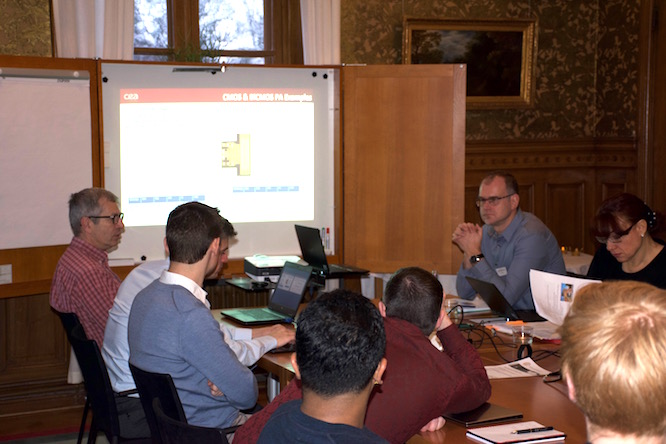 EITs Nanoelektronikgrupp vid Insightmöte.
Text och bild: Anders Borgström
EITs Nanogrupp beviljas VR anslag (konsolidator grant) på 10 MSEK med universitetslektor Erik Lind i spetsen för ansökan. Nanogruppen har via Lunds Universitet dessutom sänt ut en internationell pressrelease relaterad till deras presentation på International Electron Devices Meeting i San Francisco, http://ieee-iedm.org . Gruppens data väcker mycket stor respekt från Intel, IBM, University of Tokyo, MIT m.fl. Fantastisk PR för Lunds Universitet och EIT.
Gruppens arbete handlar om energieffektivare smarta transistorer. Professor Lars-Erik Wernersson och hans forskarteam vid nanoelektronikgruppen har utvecklat en transistorteknologi som kan användas i extremt lågförbrukande tillämpningar som t.ex. sensorer för "Internet of Things". Uppskalat har tekniken förutsättningar att spara enorma mängder energi och därmed bidra till att möta utmaningarna med att lösa framtidens energiförsörjning.
---
Ny mediekanal för EITs antennexcellens. Frimärke!
Publicerad: 2016-11-02
Docent Anders J Johansson berättar:
För flera år sedan så genomfördes en serie mätningar på Grönland med utrustning framtagen på EIT. Själva mätningarna var en del av ett exjobb, och de antenner som användes kom från ett annat. Målet med mätningarna var att sutdera processer i myrmark då den fryser inför vintern, speciellt hur och när metangas pressas upp ur den. Utrustningen bestod av en vädersäkrad instrumentlåda och två antenner som stacks ned i jorden, där vi sedan studerade hur väl radiovågor av olika frekvenser tog sig fram genom den blöta torven.
Den exjobbare som designade antennen gick sedan vidare till att doktorera hos oss och är nu PostDoc på institutionen (Carl Gustafsson.). Exjobbaren som vi skickade till Grönland, Norbert Pirk, blev inte helt avskräckt efter ett par månaders vistelse i arktis och är idag doktorand på Geologiska institutionen, och arbetar mycket på Svalbard.
Nu har Grönlands postverk gett ut ett par frimärken som illustrerar forskningstationen, Zackenberg, på östra Grönland där mätningarna gjordes. Och av en ren tillfällighet så syns de två antenner som användes mitt på det ena frimärket.
I bilden i mitten så syns två uppstickande blå stolpar. Dessa är de glasfiberstavar vi skickade till Grönland som i nedre ändan har de antenner som användes för mätningarna av egenskaperna i marken.
Det är nog första gången som resultatet av vårt arbete syns i sådana sammanhang!
---
5G i Ekot
Publicerad: 2016-11-01
Nyligen hörde vi Fredrik Tufvesson berätta i Ekot för SRs lyssnare vad 5G är och vad det kommer innebära för användarna. Lyssna och lär.
---
Jens hjälper oss att zappa vidare
Publicerad: 2016-10-20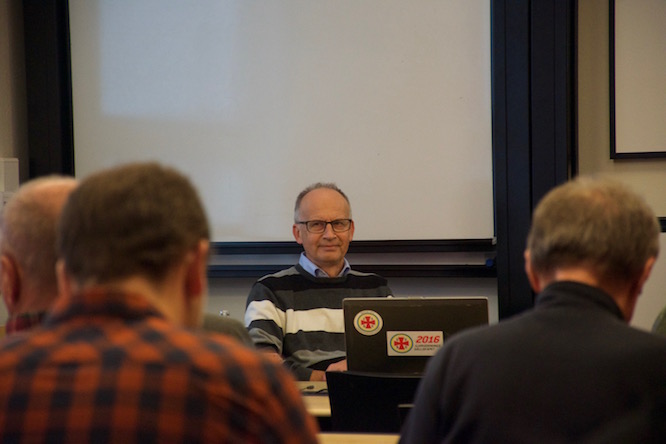 Text och bild: Anders Borgström
Taggad och lugn
Fullsatt sal, blommor på bordet och presentation av avhandling på gång. Det har du upplevt många gånger, men nu var det du som stod på podiet. Hur kändes det?
-Det kändes bra, säger Jens Andersson, EITs nybakade licentiat med distribution av internetbaserad TV som specialområde. Jag var inte speciellt nervös för presentationen men lite bävan för utfrågningen fanns där såklart. Att så många kom och lyssnade är jag verkligen glad för. Det både taggade mig och gav ett lugn.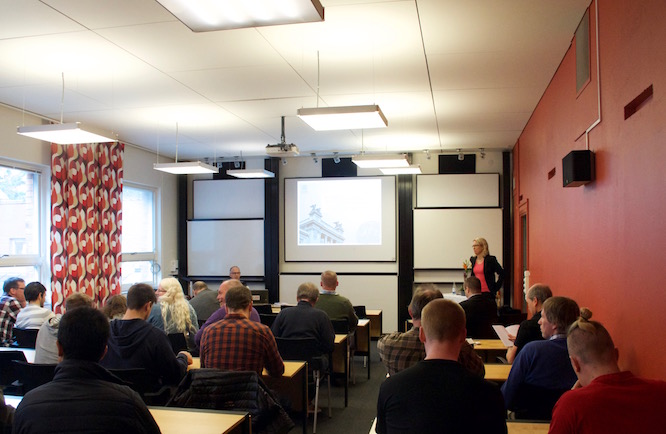 Professor Maria Kihl introducerar Jens licentiatpresentation inför fullsatt auditorium.
Färdigutbildad
Under vår pratstund berättar Jens att han och huvudhandledare Maria Kihl tidigt resonerade om att en lic-examen innan pensionen måste fixas. Så Jens skrevs in som doktorand för drygt 6 år sen och med forskning på halvtid har detta nu resulterat i examen. "Varför sluta lära sig saker bara för att man kommer upp i åren" skriver Jens i sin avhandling. Så sant som det var sagt. Aldrig försent att börja skolan.
Nya tider, nya störningar
Pixlar och frusna bilder med konstiga Kalle-Anka-ljud istället för den analoga världens gryniga bilder med knastriga röster tillhör dagens elektroniska störningsvärld. På frågan till en senior forskare som upplevt båda världarna om vilket som upplevs mest frusterande är Jens tydlig.
-Störningar nuförtiden är värre eftersom den gamla tidens störningar trots allt ofta gick att leva med. Man såg och hörde ändå nödtorftigt vad som skedde i rutan även om det blandades med myrornas krig. Och Radio Luxemburg med fading gick också att uthärda. En modern videostörning kan förvisso ge en perfekt bild men som står stilla, fortsätter Jens. Och då är det inte video.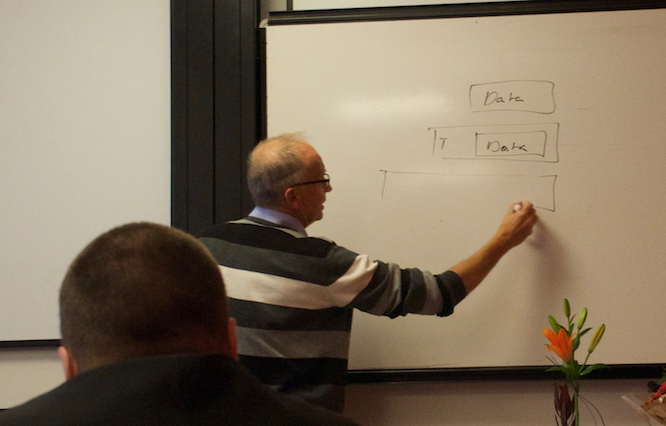 Jens försvarar sig mot opponentens frågor
Koppar biter sig kvar
Koppartrådarna ut till våra bostäder (främst villor) lever kvar trots IT-kommissionens profetior vid millenieskiftet om att fibrer skulle ut till alla. Fiberutrullningen börjar nu 15 år senare komma igång på riktigt men fortfarande finns det mycket koppar därute. Jens och hans forskarkollegor jobbar hårt på att klämma mer och mer bps (bitar per sekund) ur den begränsade bandbredd som en kopparkabel erbjuder.
-DSL (Digital Subscriber Line) med varianterna ADSL (långsammare) och VDSL (snabbare) hör väldigt mycket ihop med koppar, låter Jens oss veta. Det kan röra sig om såväl gamla telefonledningar som nyinstallerade ethernetkablar.
-Koppar kommer leva ett bra tag till, fortsätter Jens. Men det är inte så troligt att nya byggnader ansluts med koppar även om det går bra att titta på HD-TV via vanliga telefonledningar. Något som många av oss vet och som vi har forskare som Jens och hans kollegor att tacka för. Till DSL knyts även den s.k. multiple-carriers-tekniken där man istället för att använda en bärvåg som är uttrymmeskrävande använder flera och smalare bärvågor (typiskt 4 kHz breda). Dessa kan sedan moduleras på olika sätt med ett antal bitar i bitströmmen.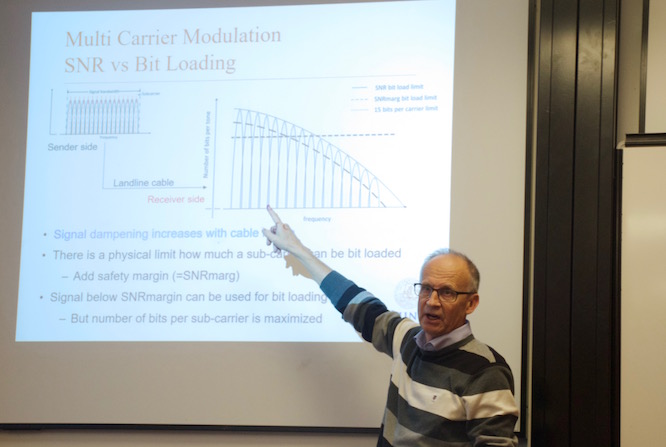 Jens förklarar vad Multi Carrier Modulation är
Kvalitet kan mätas och upplevas
QoS (Quality of Service) resp QoE (Quality of Experience) är två andra begrepp som dyker upp i Jens presentation och den senare är nog den mest intressanta och samtidigt den svåraste att hantera. QoS kan mätas instrumentellt men QoE kräver metoder med mänsklig inblandning där testpersoner måste svara på frågor om hur de upplever sitt TV-tittande. MOS (Mean Opinion Score) är t.ex. ett sätt där ett antal försökspersoner sätts framför samma TV och får svara på frågor om sitt tittande på korta snuttar.
Lära och lära ut
Är du bra pedagog Jens, frågar vi. -Det är roligt att föreläsa och det är roligt att lära ut, svarar Jens ödmjukt. Jag har tagit de enstaka kurserna på LTHs pedagogiska satsning "Genombrottet" och fått en liten grund att stå på som man får försöka använda efter bästa förmåga. Att vara akademiker betyder inte automatiskt att man är pedagog så det är bara att lära sig hur man lär ut.
Mänskligt att zappa.
Att zappa har Jens gjort till forskning på universitet. Hur zappar man, hur klarar digitala TV-tjänster av detta och vad kan göras för att minska negativ inverkan pga detta beteende i TV-soffan? Förr bytte man kanal på den analoga TV-mottagaren och så fort VCO-n svängt in sig så syntes ny bild. Idag händer det mycket i bitströmmarna innan Idol blir Mästerkocken och Aktuellt blir Sportnytt. "Riktig" TV dvs broadcast har bara en nerlänk och där är fördröjningarna vid kanalbyte relativt små eftersom bitströmmarna optimeras i själva operatörsnäten och går ut till alla noder samtidigt.
I Jens fall pratar vi om VoD (Video on Demand) och där är det användaren som bestämmer vilken bitström som ska generas just nu med Netflix, SVT-Play och YouTube som välkända exempel. Buffringsteknik, cachning m.m. ska tillsammans ge användaren ett så jämt flöde som möjligt trots störningar som kan uppstå pga av paketförluster, fördröjningar m.m. När du byter kanal så börjar du alltså buffra och slänger något som du redan laddat ner vilket sammantaget tar tid i kanalväxlingen.
Ska man designa nya TV-system för "ryckigt" TV-tittande? -Ja, säger Jens utan någon större tvekan. Vi är såna, vi människor. Jag kollar i bokhyllan utan att läsa, jag läser tidningen på rubriknivå utan att fördjupa mig i allt, jag surfar på nätet och hoppar till höger och vänster. Zappandet är i grunden samma beteende. Då kan man optimera tekniken så detta stöds. Jens resultat visar att det finns mönster i vårt zappande och hur detta kan ligga till grund för vidareutveckling av distributionstekniken för VoD. Ofta tittar man inte mer än 1 min på ett program! Paketförluster och fördröjningar i IP-trafiken är de största bovarna i kampen för att få till en bra och störningsfri TV-upplevelse när man använder sig av VoD med flitigt zappande.
Varför så många fjärrkontroller?
Till slut då, Jens, du som är TV-forskare. Tung titel f.ö.. Varför sitter många med 3-4 fjärrkontroller i TV-soffan med sammanlagt 232 knappar när de bara vill titta lite grand på TV?
-Standardiseringsproblem är antagligen den bästa förklaringen, säger Jens spontant. Företagen vill nischa sig och sälja något unikt. Många försöker sig på att skaffa så kallade multi-fjärrar men dessa har också en tröskel som man ska ta sig över med konfigurering och programmering. Ett tangentbord eller en fjärrkontroll med knappar som kan ha olika funktion kan vara ett steg på vägen. Men det är inte lätt...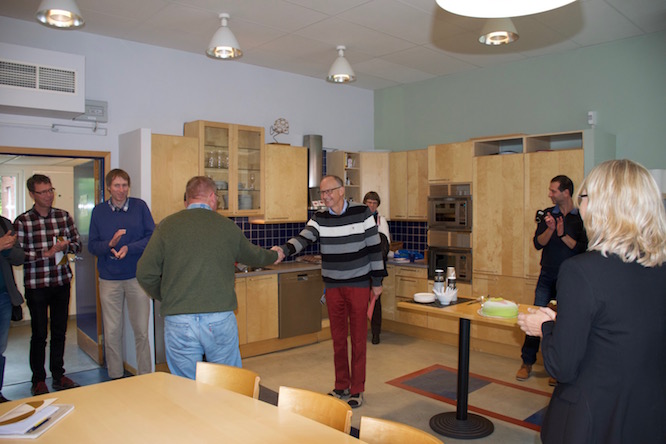 Examensbevis, applåder och tårta!
Gamla kyrkor blir som nya
Fritid? Segling, körsång och orgelspel, svarar vår nye licentiat snabbt. Teknikinnehållet i dessa grenar varierar från noll i körsången, lite lagom för seglingen med GPS, VHF m.m. till hobbyrelaterat i orgelspelandet. -Min orgel, eller VPO (Virtual Pipe Organ), innebär att jag använder samplade ljudsnuttar av olika orglars pipor i en av mig hemmabyggd elektronisk orgel. Ett program förstår tangentnedtryckningar på en klaviatur mha MIDI-kommandon, in i datorn som spelar upp ljudsnutten lika länge som jag håller nere tangenten. Hauptwerk och Grand Org är de två freewareprogram som vi orgelentusiaster använder för att simulera verkliga orglar eller sammansatta stämmor som inte finns i verkligheten. Riktigt orgelljud!
Piper vår nybakade TV-licentiat!
Grattis önskar EIT!
---
LuMaMi på SVT
Publicerad: 2015-05-06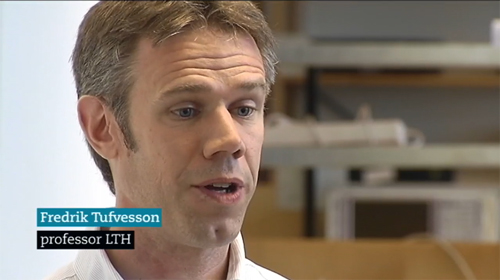 Fredrik Tufvesson intervjuas av SVT om nästa generations (trådlösa) Internet.
Se interjun här:
http://www.svt.se/nyheter/regionalt/skane/enorm-okning-av-datormangden-i-framtiden
Text: Johan Cedervall

---