Rolf and Per Ola retires
Published: 2012-11-28
EIT loses two outstanding employees with long academic careers behind them. Information theory and signal processing may be more widely exchanged for advancing in tennis ballistics respective combustion engines with geodetic elements.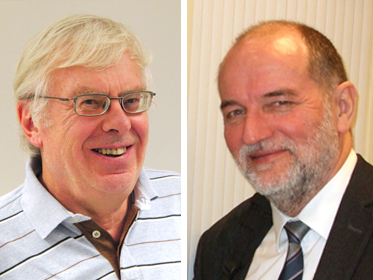 Går i pension. Rolf Johannesson (left) and Per Ola Börjesson (right)
Both Rolf and Per Ola will in spite of the retirement be active as Senior Professors at EIT.
About Rolf Johannesson
Rolf Johannesson's career, culminating as a professor of information theory, spanning virtually the entire history of Faculty of Engineering, LTH. He started as a electrical engineering student in 1966, graduated with an MSc and continued as a graduate student in the new field convolutional codes with Göran Einarsson as supervisor, one of the first professors at LTH. A major influence in those early days was a more than a year long research stay at Professor Jim Massey during 1973 and 1974 at the University of Notre Dame, USA. A dream came true for Rolf many years later when Jim retired to Copenhagen and received a visiting professorship at Rolf's department.
This department was Rolf's most significant creation, at least from a Lund perspective. He was head of the department for 27 years: are they to be a record for LTH? At first, he had no choice: there were only two teachers and Lars Löfgren declined the position as a head. The department grew over the years to later become Information Technology, known worldwide for their research.
Rolf has continued to work on innovative courses to undergraduates and a never-ending curiosity for information theory riddles. In Lund, Rolf has also been a militant supporter of the survival of tennis in Gerdahallen, where many felt his sharp wording skills and well-developed wisdom. Rolf's many visitors have marveled at the size of his former office, which for some people has been able to feel like a tennis court. Consider the time Rolf had saved if it really was so!
About Per-Ola Börjesson
– "Drive boy, just drive!" But no, the young Per Ola Börjesson devoted - to his father's chagrin - much time and thought into how you could plow straight furrows exactly the optimal depth instead of just rushing the tractor over the fields. You'd sense the driving forces that would steer Per Ola's career: the desire to find the best solution and to see it used in practice. In this spirit, Per Ola wandered back and forth between industry and Lund University, churning out about every other radar systems, training, typewriters and biomedical equipment. The ride then went north to become Professor of signal processing in Luleå.
His ability to analyze problems with new and long-term perspectives earned him widespread recognition and assignment of faculty board and institution management. He lacked Lund and returned to Lund as a professor. His talent, along with an unprecedented modesty, lining his career with many long and deep friendships.
He still likes to drive tractors.
---
The lab's now opened!
Published: 2012-11-16
Viktor Öwall welcomed everybody. In his speech, he pointed out the big advantages the new lab is providing - the technical possibilities and the atmosphere it's creating. And that the lab will be a natural gathering point for the whole, and large, department.
He continued, talkning about the different parts and instruments as the "Faraday Cage" classificated for 40 GHz, the new bonding machine, the probe station, the possibilities for chip measurements, and that the lab will be the new home for the channel sounder.

Viktor Öwall welcomed everybod and held the starting speak.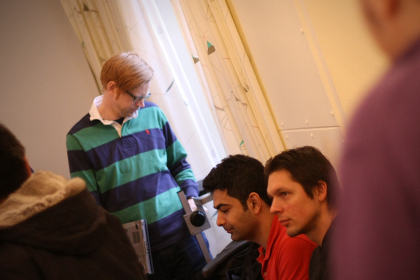 A large interest led to the crowding of E:3139.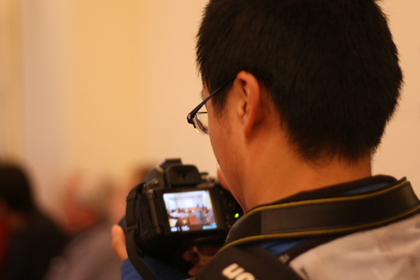 Media coverage.



Anders Johansson spoke about modular measurement systems.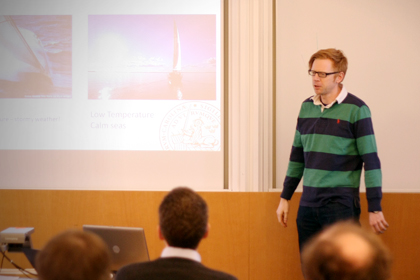 Erik Lind spoke about cryo measurements.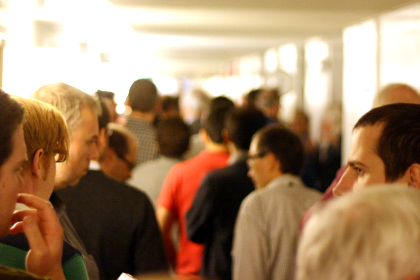 People moving towards the lab.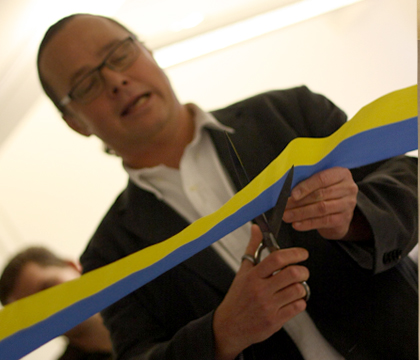 Viktor Öwall cut the banner...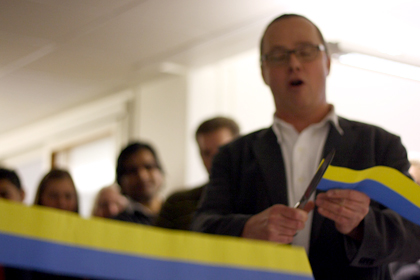 ...and the lab was officially opened!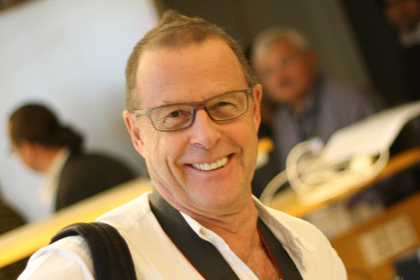 Media coverage 2: LTH's Mats Nygren witnessed the opening and were at a splendid mood as usual.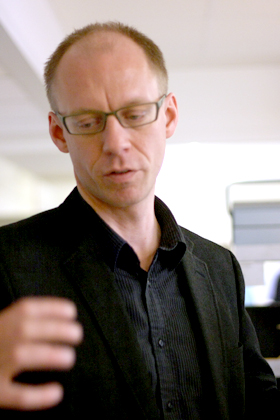 Anders J Johansson.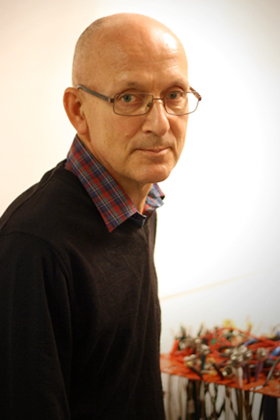 Göran Jönsson, a key person at the EIT lab.


Text & foto: Johan Cedervall
---
Pia Bruhn in LUM
Published: 2012-11-16
Pia Bruhn is getting interviewed in the new issue of LUM (Lund University Magazine). She's also decorating the cover of the magazine's eight issue of 2012.
Read the article with and about Pia
---
EIT gets nine million from VR
Published: 2012-11-02
EIT gets nine millions assigned from The Science Council, "Vetenskapsrådet" (VR), distributed between four projects and four years.
Markus Törmänen is the one that recieves the largest contribution, awarded 3 million over four years for the project "Millimeter wave transmitters with high efficiency in CMOS technology."
– In our latest research on the EIT, we have developed a new architecture for a power amplifier in the millimeter wave area and demonstrated its operation by a working CMOS circuit. We consider this architecture to be the most promising today for power amplifiers, as it provides maximum efficiency and occupies at least the chip surface, which saves power and keeps the cost of chip manufacturing. At the same time makes it a compact transmitter design much easier to adapt to different antenna elements. The project makes it possible to move on to further study and immerse ourselves in the function of these rather complex circuits, Markus Törmänen summarizes.
Other EIT projects funded by this year's big announcement is "Engineers from coding theory in post-quantum cryptography and cryptanalysis" (Thomas Johansson), "Mathematical modeling of the AV node's functionality at atrial fibrillation" (Leif Sörnmo) and "A new paradigm for system design of compact MIMO terminals "(Buon Kiong Lau).
EIT has also, through Maria Kihl, part of the "Capacity Management for Cloud Computing" under the leadership of Erik Elmroth at Umeå University. The group grant gives 20 million SEK over five years.
FOTNOT:
In total 64,392,000, Lund University is the institution receiving the second most money from VR during 2013.
Total allocated approximately 1.5 billion over six years, up to and including 2017.
Source: vr.se
Text: Johan Cedervall
---
Head's book recommendations on the web
Published: 2012-11-01
The head of EIT, Viktor Öwall, has been making book recommendations at the info meetings during the autumn. This appreciated element will now (also) be continued on the webpage.
The Head's book recommendation is found here.
---
Christian Sohl named Teacher of the Year by the F section
Published: 2012-10-22
Martin Hell was recently praised for his teaching efforts of the D section. Christian Sohl is the next young EIT-coworker to receive a special prize associated with teaching, voted Teacher of the Year by the F section.
 – Great fun, and an honor of course! It is an acknowledgment that students in F- and Pi-programmes are satisfied with how the course in electromagnetic theory has been implemented. It really came as a surprise when the Minister of Education in the F section one morning walked into my office and told me that I have been awarded this award, says Christian.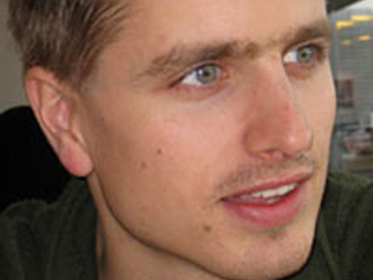 Best according to the F section. Christian Sohl is Teacher of the Year at the F section.
They have been awarded Teacher of the Year

2012 Christain Sohl
2011 Patrik Nordbeck
2010 Monica Lexholm
2009 Christian Söderberg
2008 Tomas Persson

"Have built on a successful concept"
At the F section, the Teacher of the Year is being chosed through a democratic process.
 – All students in F may speak up and vote. Candidates for the prize are nominated via email and small notes, that we compile and then we're having a votation at the section's spring semester meeting, says Malcolm Horal, Education Minister on the F section.
This year, most votes fell on Christian Sohl, who recieved the news with both joy and humility - and points out that it takes more than one person to create the best teaching.
 – I have continued to build on a successful concept developed by previous lecturers, so everything is not my virtue! Students have also shown an impressive commitment during the course and dared to ask questions which really lifted the teaching, he emphasizes.
Praised for summaries
The team and the students with all due respect – of course, Christian himself has got a significant part in the success. He is forced to try to explain what he believes has been appreciated in his own effort.
 – Above all, I think the students like to have a mix of older and younger speakers. It is, after all, not so long ago, I myself was a student at F-programme and wrestled with the topic. Regarding the practical, I tried to blend traditional blackboard teaching with Beamer presentations. At the beginning of each lecture I gave a short summary what we went through last time, and at the end of each lecture summarized what was discussed in today's lecture. This feature, I got credit for the course evaluation, he says.
Gerhard's lectures - that good theater
Christian Sohl was a F student, got interested in Electromagnetic Theory and continued his academic career at EIT where he received his doctorate in 2008 with the dissertation Dispersion Relations in Scattering and Antenna Problems. And it was on the EIT he met truly good teaching.
 – I probably didn't have a special favourite teacher as a student, however, I was attracted by certain subjects and departments. But when I began the Ph. D. program and met Gerhard Kristensson, I felt like this is what should be a lecturer! It was much like a theater at its best – you sit back and enjoy the show!
Antenna Development and microwave electronic warfare and radar
After the Ph.D. defense, CHristian moved to Stockholm for a while, to work at Saab Electronic Defence Systems. After almost two years, in 2010, he was back on the EIT for postdoc duties - which ended the August 31st.
 – Now I've moved to Stockholm and gone back to my previous job (Saab Electronic Defence Systems). I work mainly with antenna development and microwave electronic warfare and radar, including the Gripen NG.
EIT – research and teaching in an attractive environment
He won't be leading and education at the new job, at least not in any significant sense. And it would be strange if he, the best teacher at LTH (if the F section knows best) would miss the teaching part.
 – Sure, I will miss teaching and the students. It has been instructive to be responsible for the course and lecture to as many as 140 students at the undergraduate level. I'll use this experience in other contexts outside academia as well, Christian says and points out out the very best in Electrical and Information Technology:
 – The combination of research and teaching in an attractive environment! Although I myself have not cooperated with other groups at EIT, I think it is important that the institution is broad and encompasses many different areas of research. This is important not least to ensure a good education for the students, says Christian Sohl. Teacher of the Year at the F section 2012.
Text: Johan Cedervall
---
Broadband Communication group participates in EFRAIM
Published: 2012-09-25
EIT, together with Acreo, SICS and several Swedish companies , has received financing from Vinnova's program for challenge-driven innovation. At EIT, it's is the Broadband Group, with Maria Kihl as project manager, who will participate in the project EFRAIM (Ecosystem for future media distribution).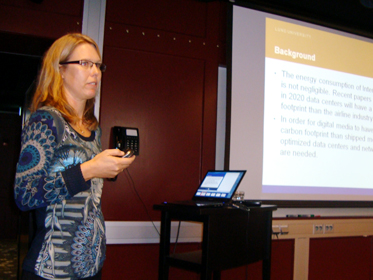 Maria Kihl is project manager.
The project will initially map and identify current and future challenges and market conditions for media distribution over the Internet. The background to EFRAIM is that movies, music, TV, pictures, and other media is distributed in huge volumes via global communication networks today, both in real time and "on-demand". This traffic is increasing dramatically - a development that creates both opportunities and challenges.
Creating an energy-efficient, robust and scalable media distribution with maximum performance and maintaining quality is a major challenge. More specifically, the consortium's going to look at the user experience and media consumption and develop solutions for network architectures and media distribution with reduced energy consumption. Focus will also be placed on developing prototypes and demonstrators for evaluation.
Read more about the project (in Swedish) at
http://www.mynewsdesk.com/se/pressroom/acreo/pressrelease/view/acreo-leder-forskningsprojekt-foer-framtidens-mediakonsumtion-795566
---
Aiming for the Dream Device
Published: 2012-09-14
Cezar, Aein and Elvedin are EIT's freshest nanoelectronics researchers. During the next five years, they collectively and individually explore and help shape the future of electronics components.
– I want to call it that we'll try to create the dream device, or the device of the future if you prefer, says Cezar Zota.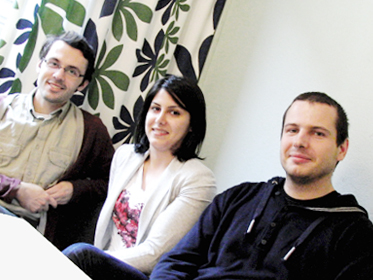 New PhD Students in Nanoelectronics. From the left: Cezar Zota (27), Aein Shiribabadi (30) and Elvedin Memisevic (28). Photo: Johan Cedervall

Covers wide range
We meet in the coffee room on the second floor where the three PhD students takes place in the corner of the couch. They seem a tight trio already, even though they just recently started their PhD positions in Lars-Erik Wernersson's and Erik Lind's command. And even though they come from three different countries. Cezar is from Romania, Elvedin Bosnian origins from Bosnia but they have harvested over 20 years of his life in Sweden and studiet at the Nano program together. Aein from Iran and arrived in Sweden for about two and a half years ago, to study her master at Natural faculty, physics department. Now they're gathered at EIT to ... Well, to do what?
– Nanoelectronics Research at EIT covers a fairly wide range, from basic materials development, component development at the nanometer scale to the applications of nano-based components in information technology, says Associate Professor Erik Lind, one of the students' supervisor.

Everyone has a connection
Aein will study the basic problems for future MOS transistors, in particular, she will examine the electrical properties of new high-performance materials.
– I was on a lecture by Lars-Erik, which was about CMOS technology, and took an interest in the area. It connects well with my background at Physics as well, says Aein.
Cezar and Elvedin, who made their master theses for Wernersson and Lind, will develop III-V MOS transistors with new structures, in particular the so-called three-dimensional devices, the application of advanced nanotechnology.
– Me and Elvedin works at device level. I want to call it that we will try to create dream transistor, or the future of the transistor if you prefer, says Cezar and is backed by Elvedin.
–Dream device or not, it's largely about to change your way of thinking to find new solutions. And what we do is very much connected with Aeins research - materials she's doing research on, we'll make use of.

Want to write quality articles that people refer to
There's high competition in the field, nanotechnology, it's a hot area where everyone wants to be in order to prove themselves and to reap success, both in academia and industry.
– It is difficult to say how many people are working on this. I think you can take the number of top universities and multiply by the average number of people working in a group. And add to that, a lot of research conducted on the company, says Cezar and adds: – The research requires expensive laboratories, but can also generate a lot of money. Of course, everyone wants to join and get a piece of it.
And the message seems clear, it is about being on top.
– The goal for us is to build better transistors and write many articles.
– Many, but especially good. There is no point spreading nonessential items. We want to write quality articles that people refer to, that matters - with purpose and meaning, they all agree.

"All education should be like this"
They seem excited and relaxed at the same time. We talk a bit about the somewhat distant future, the post doctoral one.
– It could be service on a R & D of a company, or maybe taking a postdoc position for two years! That's like being an independent researcher, without education requirements or requirements to write a book. Though speaking of it - it's still nice to be a technician in that regard. Most often it has been a number of articles referring to and so summed up his work. Within the humanities, you really have to write a whole book! says Cezar who incidentally studied philosophy for three years, as a side project.
– This time, as a graduate student, is probably the most important time in our studies, says Aein.
– If you perform well in graduate education, you'll probably have many good opportunities after graduation.
– One of the best things about this at all is that you learn by yourself. There is no teacher to ask, there's no given answer. Sure, you can bounce ideas off of others, but it is usually about to go into the lab and try. All teaching should be like this - you face a problem and have the tools to solve it, summarizes Elvedin Memisevic concludingly.



Text & foto: Johan Cedervall

---
Martin Hell praised for his teaching
Published: 2012-09-07
On September 28, in conjunction with the 'Nollegasque', Martin will be given the D-section's Golden Rod Award for his work as a teacher at LTH.
– It is of course great fun and an honor. I know I still have much left to develop in my teaching and I think a lot about how I can improve my lectures. This award is an acknowledgment that the work you put in is appreciated, says Martin humble about the award.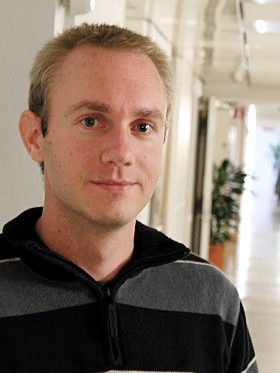 Appreciate estimate. D technologists praises Martin Hell for his teaching efforts. Photo: Johan Cedervall
Last time was 14 years ago
Martin says he was "quite surprised but happy" when he found out that he just been selected to receive this honorable award. The prize-awarders themselves let the official justification to be shrouded in mystery until the award will be distributed at 'Nollegasquen' on which Martin with company plans to attend as guests of honor. Preparations are in full swing.
– I need to find a babysitter. That's a preparation that wasn't required last time I was on nollegasque, 1998, says the former E-student, and continues:
– Otherwise, I have not been instructed that I should prepare myself in any particular way. I just hope I do not have to drink punch out of a hat, says Martin and put the expectations of a modest level.
Interesting to study others
Already as a technologist, Martin absorbed things which then helped him become the talented teachers that he demonstrably is today, and he also constantly striving to improve. LTH was also by then a place with many good role models in the field of education.
– I had many good teachers who all had their own qualities that made them great. I think there are a lot of details of the other teachers that I have taken after, or at least try to emulate. I think it's interesting to study other teachers and think about what it is that makes the good. I think I did that when I was a student already.
'Lectures are a big responsibility'
Martin is passionate about cryptology and information security, in terms of both teaching and research. He has a hard time keeping one exercise over the other.
– Both contain great challenges settled in completely different ways. I wouldn't want to be without any of them. Lectures are a big responsibility because you have to keep the audience interested for almost two hours. But it also gives you a very large space to put your own stamp on the course and to convey information in your own way.
In this case in a successful, appreciated – and soon honorary excellent way.
Text & photo: Johan Cedervall
---
SEMCAD X Student Research Award 2011
Published: 2012-09-06
Schmid & Partner Engineering AG (SPEAG) has awarded 3rd place to the paper titled, 'In-Mouth Antenna for Tongue Controlled Wireless Devices: Characteristics and Link-Loss'' by Rohit Chandra and Anders J Johansson for the SEMCAD X Student Research Award 2011.
The paper has been published in the Proceeding of 33rd Annual Conference of the IEEE Engineering in Medicine and Biology Society (EMBC 2011). Details of the SEMCAD X Student Research Award 2011 could be found at:
http://www.speag.com/news-events/news/simulation/semcad-x-student-research-award-2011-winners/
---
Lunchseminarium 2012-09-11
Published: 2012-09-06
Stefan Parkvall, expert hos Ericsson Research ger lunchseminarium med titeln "MOBIL KOMMUNIKATION -- En svensk världsmästargren!" på tisdag. Stefan är en av personerna bakom dagens 3G och 4G, och har vunnit Stora Teknikpriset.
Tisdag 11 september kl 12.15 ‐ 12.45 Hörsal E:A
OBSERVERA: Om man anmäler sig på http://www.eit.lth.se/lunch före kl 11.30 på måndag 10 september bjuder vi på LUNCHBAGUETTE och DRYCK direkt efter föredraget!
---
Scolarship competition for Indian citizens
Published: 2012-09-05
Are you an Indian citizen and student?
Join the competition at http://www.challengeyourself.in and answer the 20 questions about wireless communication there.
First prize is a full scolarship to study wireless communications at Lund University.
Challenge opens September 10th.
---
Broadband Communication group gets 180 k SEK
Published: 2012-08-30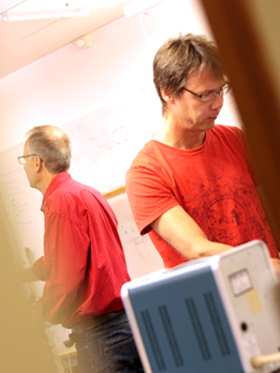 Do not disturb. Jens A Andersson and Stefan Höst are making their own interruptions in the secret lab. Photo: Johan Cedervall
The Broadband Communications grup has - through Jens A Andersson, Maria Kihl and Stefan Höst - received a grant from Ångpanneföreningen Research Foundation, for the purchase of measurement equipment for the Internet Laboratory.
Grant is 180 thousand SEK.
Purchases of a spectrum analyzer and a function analyzer is being planned. With these, the group may make measurements of signals and not least important disturbances in xDSL networks. And they do that to see the correlation between disturbances in the xDSL network (broadband, Internet connection for many), and disruption of services in the network especially IPTV.
IPTV is not a strange technique but it really does not work as good as intended, on disturbance sensitive network xDSL networks. Operator support costs are very high, and if we can find ways to solve problems before the customer calls or any notice something at all, a lot of money may be saved.
This research project is carried on in cooperation with Ericsson AB
---
Ten new employees at EIT
Published: 2012-08-27
During this summer, EIT has been strengthened by no less than ten new employees, and those are:
Peter Polfeldt, caretaker
Anne Andersson, admin
Robert Johnsson, computer technician
Ghassan Dahman, postdoc with Fredrik Tufvesson in Distrant
Michal Stala, PhD student with Viktor Öwall in DARE
Antonio Franco, PhD student with Björn Landfeldt
Jianan Liu, PhD student with Björn Landfeldt, from the Wireless Programme
Aein Shiribadi, PhD student with Lars-Erik Wernersson, in WWW/VR, high-k at III-V
Elvedin Memsevic, PhD student with Lars-Erik in WWW
Cezar Zota, PhD student with Erik Lind III-V MOSFETs
---
Robert's job is also his hobby
Published: 2012-08-27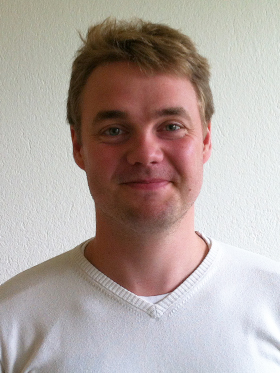 Robert Johnsson. Photo: Peter Polfeldt
Robert Johnsson is one out of ten new coworkers at EIT. He's a jolly lad from Öland, and will mainly be working with unix/linux - but also Windows and Mac OS/X. He seems to be a real sages within computer support. If you need Robert's help, you'll most probably find him in room 3150H.
Robert's been working at a smallmunicipality until recently, where his working tasks has been operations of servers. Moving to Lund will take RObert and his family closer to his attached closer to her family, who's living nearby.
– I'm looking forward to be part of the fellowship here, and to contribute with my skills, says Robert regarding the arrival at LTH and EIT.
And it seems like he's the right man at the right place. I'm wondering what he does when he's not working.
– Well, I like to fiddle with computers at my sparetime too...
| | |
| --- | --- |
| Who? | Robert Johnsson |
| Vhat? | Computer support |
| Where? | Room 3150H. |
| How? | 046-2229070 |
| | robert.johnsson@eit.lth.se |
---
Rusek, Bocharova and Kudryashov gets grants
Published: 2012-08-20
Fredrik Rusek, Irina Bocharova and Boris Kudryashov has received a research grant from the Samsung Global Research Outreach Program 2012 for a research project named FTN Signalling combined with concatenated LDPC coding for bandwidth-efficient data transmission.
About the program (from its homepage):
The Global Research Outreach ("GRO") Program is Samsung Electronics, Co., Ltd. & related Samsung companies ("SAMSUNG")'s annual call for innovative research proposal, open to world's leading universities. With this call, SAMSUNG invites your novel research ideas in SAMSUNG's annually selected research fields with the goal of establishing a collaborative research relationship with SAMSUNG. Your ideas will be reviewed and selected by annually appointed Samsung Technology Board members for its novelty and alignment with SAMSUNG's research direction.

Selected proposals will be financially supported for one year, contract based, in a range of US$50,000 to US$100,000, plus additionally incurring overhead. Based on research outcomes and internal request for research continuance the contract may be renewed up to three years. Joint research proposals will be also accepted through representative university.
---
Download Jan Rabaey's honorary doctorate seminar
Published: 2012-06-05
Many paople has requested Jan Rabaey's presentation used at the honrary doctorate seminar in the E-building May 24th, and... here you are!
---
The E-builting and the Promotion 2012
Published: 2012-05-25
Friday May 25th offered shiny weather and doctoral promotion in Lundagård.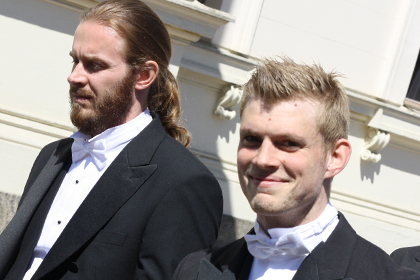 Andreas Axholt, EIT.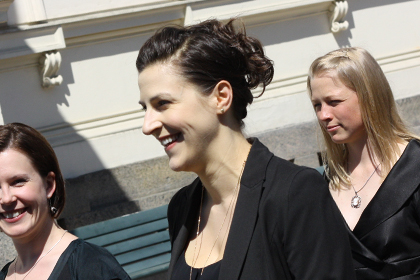 Vanja Samuelsson, EIT.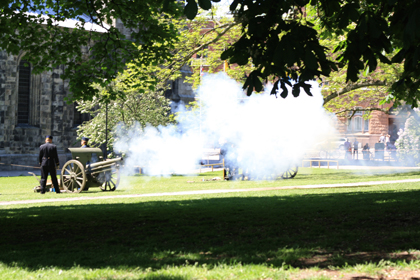 Guns.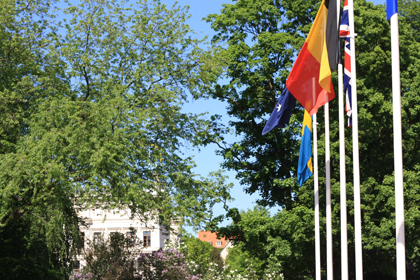 View towards the university bulding, from the cathedral.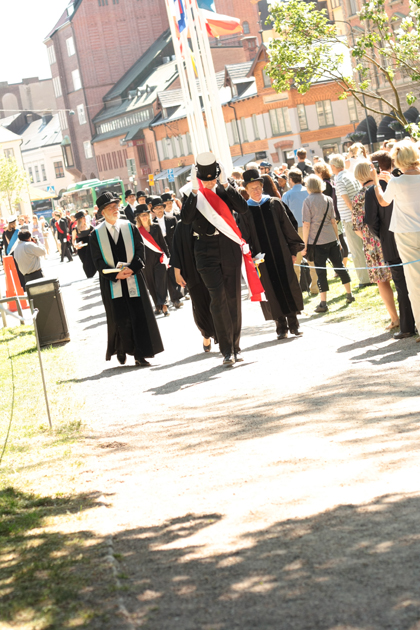 Going back to the university building from the cathedral.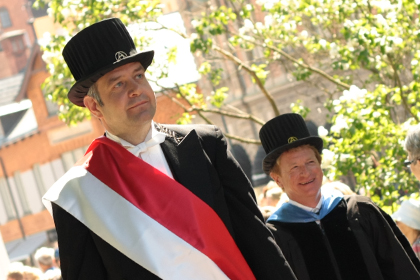 Thomas Jansson, Electrical Measurements, and honorary doctor Jan Rabaey.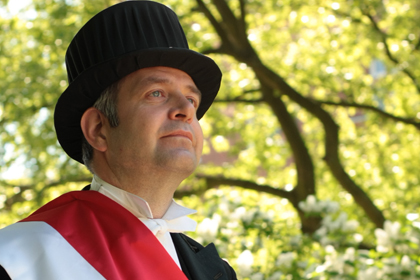 Dr Jansson.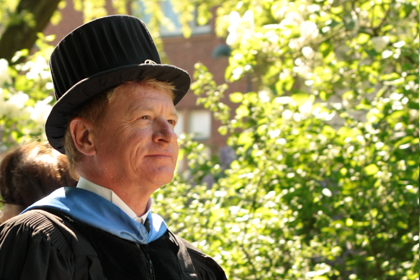 Jan Rabaey.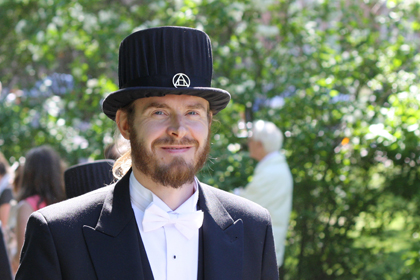 Christian Antfolk, Electrical Measurements.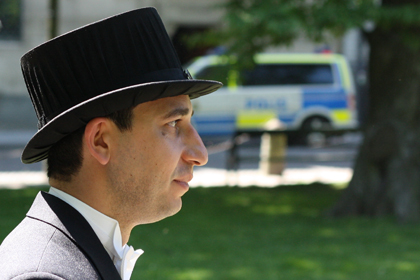 Ali Iranpour, Computer Science.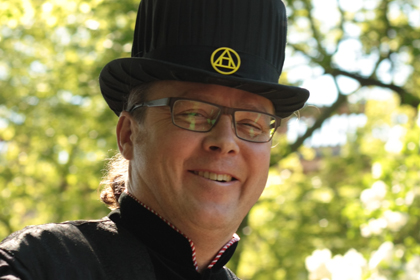 Viktor Öwall.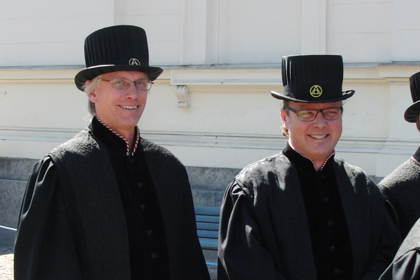 Johan Nilsson, Electrical Measurements, and Viktor Öwall. (Photo: PH Rasmussen)


Text & photo: Johan Cedervall
---
Anders Bernland defended his PhD thesis
Published: 2012-05-24
On Wednesday May 23 Anders Bernland successfully defended his PhD thesis "Integral Identities for Passive Systems and Spherical Waves in Scattering and Antenna Problems".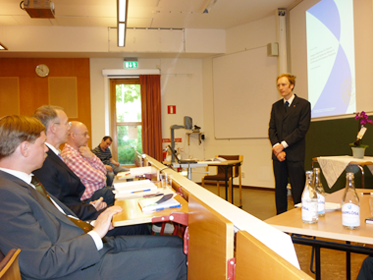 In the spotlight. Anders Bernland defends his thesis in front of the examination committee: Johan Sten (VTT Technical Research Centre of Finland), Peter Meincke (TICRA, Denmark), Martin Norgren (KTH, Sweden).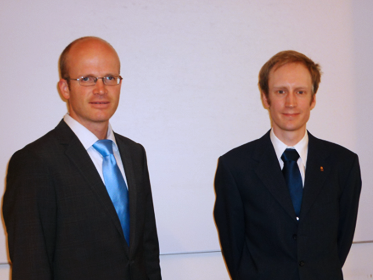 Opponent and defendant. Anders Bernland and the opponent Prof. Johannes Skaar from Norwegian University of Science and Technology.
The topic concerns how a very interesting mathematical model of passive linear systems (Herglotz functions) can be used to give powerful results on the behaviour of antennas and scattering problems, particularly in situations associated with spherical waves.
Anders will start his new employment in industry in a few weeks.
The thesis can be downloaded here.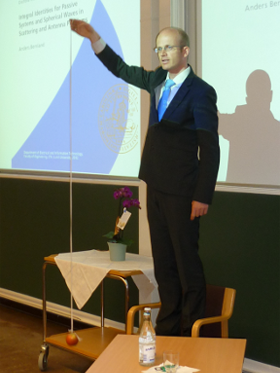 Resonance. The opponent Prof. Johannes Skaar demonstrates
the resonance phenomenon using an elastic string and an apple.




Text & photo: Daniel Sjöberg
---
Rabayes hedersdoktorsföreläsning lockade många
Published: 2012-05-24
Jan Rabaey höll en uppskattad hedersdoktorsföreläsning i E:A, en resa genom sina historiska och nutida visioner kring elektronikens potential. Från "InfoPad" och trådlöst nätverk – som ses som självklarheter idag men som var science fiction på 90-talet – till nya hisnande planer för framtiden.
Jan Rabaey.
Jan M. Rabaey från Berkeley University hedras i dagarna med ett hedersdoktorat vid Lunds universitet som ett kvitto på det långa och fruktbara samarbete han haft och har med Lunds universitet, LTH och institutionen för Elektro- och informationsteknik.
Torsdagen den 24 maj bjöd EIT in alla intresserade att åhöra Rabaeys hedersdoktorsföreläsning. Rabaey bjöd de ca 150 åhörarna på drygt en timme fylld med visioner, från dåtida till nutida, under rubriken "The Wireless Revolution Continued: from Mobiles to Swarms".
Rabaey lät publiken följa med på en resa från 80-talets inledande tankar om mobiltelefoner och laptops, vidare till 90-talet och tankar om att ha trådlösa nätverk och helt sladdlösa elektronikprodukter (t.ex. "InfoPad") vilket på den tiden var rena science fiction, till nutida visioner om ett devicelöst samhälle där elektroniken verkar överallt omkring oss, och både blir extremt liten och extremt stor beroende på verkningsområde. Han kallar det för "unPad", och tror att vi är där inom en inte alltför avlägsen framtid (visionen meddelar 2025).
Viktor Öwall - prefekt vid EIT samt föreståndare för forskningscentrat SoS - en av de som haft ett nära samarbete med Rabaey under åren, lämnade över en tavla samt en Ingemar Bergman-filmen "Smultronstället", där en man färdas till Lund för att emotta ett jubeldoktorat.
Jan Rabaey, å sin sida, tackade allra ödmjukast över utnämningen och hyllade många av de han arbetat tillsammans med under åren - flertalet av dem fanns på plats i E-huset denna soliga torsdagseftermiddag.
Efter föreläsningen bjöds det på snacks och förfriskningar i foajén utanför E:A.
Själva promoveringen sker i domkyrkan under fredagen den 25 maj, med start kl. 12.


Text & bild: Johan Cedervall
---
The Wireless Revolution Continued: from Mobiles to Swarms
Published: 2012-05-08
Jan Rabaey, prospective honorary doctor at LTH through EIT, will give an open lecture in connection to his visit in Sweden. EIT is welcoming all interested!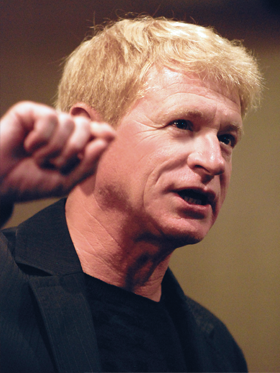 Talking about science fiction? Jan Rabaey, the man behind the InfoPad, is lecturing at LTH May 24.
Time: Thursday May 24, 13.15
Place: E-building at LTH, auditorium E:A
Snacks and refreshments will be served after the lecture.


Abstract:
It was a dinner conversation sometimes in the mid 1980s that truly kindled my fascination for wireless technology. On a visit to Berkeley, Sven-Olof Öhrvik, then head of Ericsson Radio Systems (ERA) research and Professor at Lund University, ventured that over the next decade cellphones would become both digital and so small in size that they could slip into your shirt pocket. At a time when analog cellphones were barely a niche market, this sounded almost as an excerpt of a Science Fiction novel. The rest is truly history.
Since that very moment addressing the questions on how to make wireless components ever smaller and energy-efficient, and what truly ubiquitous wireless connectivity would mean to the society-at-large, have been leading threads through most of my research activities. It has led us along some exciting paths – from InfoPads and sensor networks to information-technology systems in support of society (CITRIS).
Notwithstanding the amazing impact these technologies have already had, the story does not end here. The wireless revolution is still going strong – wireless devices will continue to become smaller and more ubiquitous, giving birth to "swarms" of sensory and actuator devices that will blur the separation between the physical/biological world and the cyberspace. The endless opportunities this paradigm offers, what is needed to make this happen, and what could prevent it from happening are the main topics of this presentation. Some of it may read as Science Fiction again.


More:
He wished for an iPad 20 years ago
Jan Rabaey's homepage
---
Life after the last
Published: 2012-05-07
A small causerie about retirement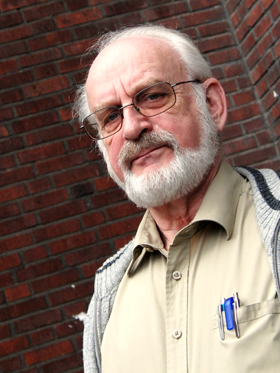 Retired. Lars Olsson has retired. Paperwise.
One may only be an employee of the year you turn 67, but you may work longer, oddly enough. Since I reached this age suddenly and somewhat (but not quite) unexpectedly - yes, you are preparing not often for an unknown future - at the end, I requested retirement, and to get dismissed from my position at Lund University in designated forms, both of these requests to the rapids. Now I am retired.
So what does one? One can choose different strategies for this new life. A little, I had prepared myself by decreasing work-hours, and charge forgotten holiday, but also by bringing me a number (about 15) violin wrecks, which I'm going to renovate. Hopefully with a little higher speed (Fredrik T is still waiting for his - it's eighteen months now - although it was not a wreck.), But I have to prepare my repair shop first.
This will be slightly delayed, I do in fact still work a little. I supervise three project groups in the third grade, shows the thunder show in Vattenhallen and complete some unfinished projects (retirement came as I have said little abruptly). I have also been charged with leading a team of international evaluators of electrical engineering education in Latvia is now at the end of March because I have experienced several such in my 20-year-old contacts with the Baltic states.
If the flashback process may continue for another minute, then work for me has been very varied. I have certainly been in the same chair for 40 years, but has been active in three departments. The surroundings have changed! In these, I have graduate trained and taught electronics and has held several different positions. Outside the department, I have committed myself to others, in my view, important projects. Recruitment, in the form of Technology Eight ("Teknikåttan", science competition for eight-graders) competition, technology today, NMT days, trainee business (which now continues in the Water Hall), acted as mentor for high school projects, etc. Internationalization in the form of involvement in the Baltic countries, exchanges of students and teachers, evaluations of training courses in Lithuania and Latvia, BALTECH, E-program exchanges with both incoming and outgoing students in my role as program director for nine and a half years, etc. I was also secretary and treasurer of the Swedish branch of the IEEE for several years in the early 80's.
Outside the department there have been numerous nonprofit boards, such as v. Chairman at the National Resource Centre for Physics for a decade, v. Chairman and other roles of the board of SER (the Swedish electrical and computer engineers' National Association), now a perennial auditors, boards of residential collective, more music and other compounds. Now only remains Lund Chamber Music Society (Chair) and SER. A fun element has been the lectures (4) I have kept in the university and the People's University of Technology and naturvetarcirkel, where I was involved from the start and got to know Hans-Uno Bengtsson. It was a great pleasure for me to stay with his name the first time it was issued in 2008.
What do I do today, more than watching special offers for potatoes and other lucrative pursuits? Well, I read the newspaper for an hour and sleep for a while at breakfast, trying to solve crosswords in Sydsvenskan, but I've done it in a dozen years, to get some fitness classes in the head. Poking the good ground, going to concerts and plays a bit on my fiddles. Every now and then - when I have time, retired life is hectic - I show up at the department and hope thereby, not to bring too much gloom. And have lunch with my old friends there.
The great shift in becoming a pensioner, is that you no longer need to be punctual so carefully (yes, be on time for a concert I just had to), and it makes me sometimes a bit restless. All my life I've had a pressure to be in the right place at the right time - it does not as often anymore. To some extent, I miss that. LTH has been my life, a life that meant so much to experience, people - during 40 years you meet a whole lot of students and some employees - and have had access to others' ideas, knowledge and insights. The great freedom you have in an department is very progressive and my time at LTH and the people that leave the most pleasant memories behind.
Lars Olsson (67)
---
Swedish Lithuanian research collaboration on biomedical signal processing
Published: 2012-05-02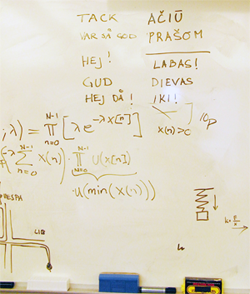 Mixed. Linguistics, technology and geography is being mixed on the whiteboard.
The links between Lund University and Kaunas University of Technology (KTU), Lithuania dates back to the mid 1990s when a research project on signal processing of otoacoustic emission signals in hearing function testing was established. That project continued for several years and turned out to be very successful in scientific terms as well as to create openings for subsequent projects.
In 2011 the Swedish Institute (SI) decided to fund a research network which involves Lund University, Kaunas University of Technology, Mechnikov Medical Academy in St Petersburg, and Medical University of Lodz in Poland. This network has an interdisciplinary profile with emphasis on cardiac arrhythmias and dialysis. Gambro AB is also participating in this project. Thanks to the SI grant, researchers can make extended stays at other universities in the network.
Associate professor Vaidotas Marozas at KTU is currently working together with professor Leif Sörnmo at EIT on a project which concerns monitoring of atrial fibrillation using smart textiles. Another joint project aims at developing methods which extend the functionality of current hemodialysis technology to, for example, predict intradialytic hypotension without requiring extra sensors that cause discomfort to the patient. The research involves three PhD students, Egle Grigonyte, Mattias Holmer, and Andrius Petrenas.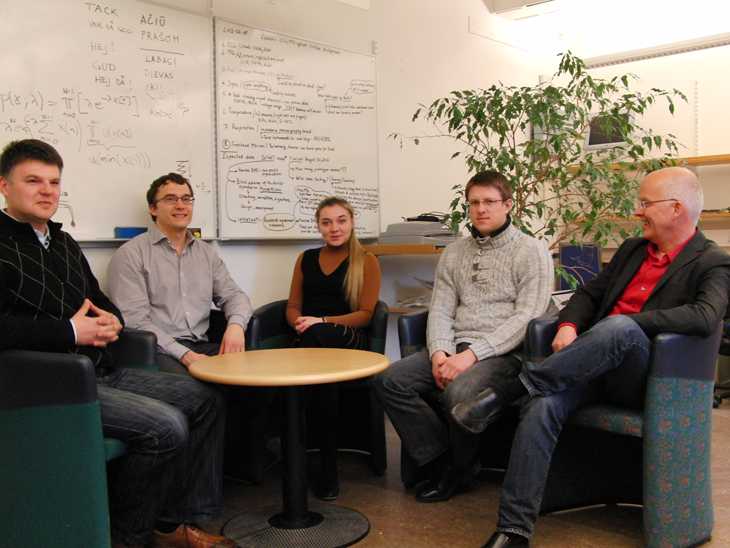 Across all borders. (From left) Vaidotas Marozas (KTU), Mattias Holmer (EIT), Egle Grigonyte (EIT), Andrius Petrénas (KTU) and Leif Sörnmo (EIT) are cooperating across scientifical and geographical borders.
---
R2D2Networks Final Review in Madrid
Published: 2012-04-03
Jens Andersson and Maria Kihl from the Broadband group have participated in the final review of the Celtic Plus project R2D2Networks, Road to media-aware user-Dependent self-adaptive Networks, which was held in Madrid on March 28th.
The EIT contribution was, apart from e. g. three master theses, a fully functional xDSL access network, including a DSLAM enhanced with possibilities to interact with the other elements of the testbed.
The aim of R2D2Networks is to foster the European Telecommunications industry in its transition from an infrastructure and connection driven industry to a service and content driven industry (as stated in the CELTIC purple book). Broadband connectivity will no longer be the "product" to sell, being replaced for "personalized services".
By providing a user-dependant self-adaptive network R2D2Networks will contribute to "the improvement of the individual's quality of life, achieved through the availability of an environment for instant provision and access to meaningful, multi-sensory information and content". Even more, the network will realize if a service is not provisioned with the agreed QoE and react in time so that the customer does not even consider a call to the "customer service support".
The reviewers specially pointed out the project's dissemination results. The review concluded with a demonstration of the collaboration of the different network elements deployed within the project. The testbed was a complete network, from an IPTV content server to the home network and TV set.
Project participants were Telefonica I+D (project manager, Spain), Robotiker-Tecnalia (Spain), EIT from Lund University (Sweden), Ericsson AB (Sweden), IKUSI (Spain), TELNET-RI (Spain), CTTC (Spain), Stiftelsen SINTEF (Norway) and UNINETT (Norway).
The Swedish participation has been made possible by grants from VINNOVA.
---
Italian guest Ph.D. student at EIT
Published: 2012-04-02
Andrea Modenini from the University of Parma will visit Fredrik Rusek as guest Ph.D. student during April 2012.
Andrea Modenini
Andrea will work on channel shortening detection for spectrally efficient modulations. This visit is a result of the collaboration between Fredrik Rusek (EIT) and Professor Giulio Colavolpe at University of Parma.
---
Open positions at EIT (UPDATED)
Published: 2012-03-26
EIT is looking for new staff:
Economy/education Administrator
Last day of applying is April 2nd.
Read more at http://www.eit.lth.se/index.php?id=553&L=0 (Swedish)
Computer Technician
Last day of applying is April 2nd.
Read more at http://www.lu.se/o.o.i.s?id=22598&Dnr=456324&Type=S (Swedish)
PhD student in in Wireless Networks
Last day of applying is April 12th
Read more at http://www.lunduniversity.lu.se/o.o.i.s?id=24914&Dnr=458900&Type=E
1-3 PhD positions in Nano Electronics
Last day of applying is April 16th
Read more at http://www.lunduniversity.lu.se/o.o.i.s?id=24914&Dnr=464012&Type=E
---
Tufvesson and Larsson gives a tutorial in Japan
Published: 2012-03-23
Before a packed auditorium, the ELLIIT-scientists will be talking about very large MIMO.
Fredrik Tufvesson (image) will give a tutorial together with Erik G. Larsson from Faculty of Engineering Linköping.
Monday March 26th, Fredrik Tufvesson and Erik G. Larsson will give a packed three-hour tutorial on very large MIMO on the large signal processing conference ICASSP, International Conference on Aucoustics, Speech and Signal Processing in Kyoto, Japan. This tutorial covers both theoretical aspects as well as propagation and practical aspects are a direct result of the cooperation within ELLIIT.
---
Open position as PhD student in Wireless Networks
Published: 2012-03-23
EIT is looking for a PhD student in in Wireless Networks. Last day of applying is April 12th.
Read more at http://www.lunduniversity.lu.se/o.o.i.s?id=24914&Dnr=458900&Type=E
---
Iman Vakili received Best Paper Award
Published: 2012-03-12
Iman Vakili received the AntennEMB 2012 Best Paper Award for the paper "Forward scattering experiments on periodic metamaterials in a parallel plate waveguide" by Iman Vakili, Mats Gustafsson, and Daniel Sjöberg at the Swedish Radio and Microwave Days, AntennEMB Symposium, Stockholm, 7-8 March, Sweden 2012.
---
John B Anderson appointed IEEE Editor-in-Chief
Published: 2012-02-10
EIT professor at key position regarding publishing of technical books 2012/2013.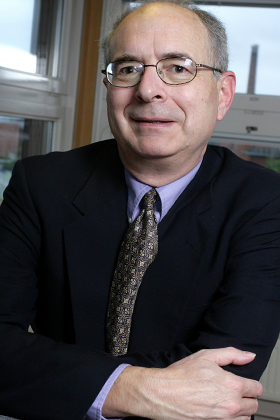 John B Anderson.
John B Anderson, professor in digital communication at the Department of Electrical and Information Technology, has been appointed Editor-in-Chief of IEEE Press for the period 2012—2013. The appointment was announced in December by Kenneth Moore, Director of Book and Information Services at the Institute of Electrical and Electronic Engineers in Piscataway, New Jersey. John Anderson will also serve on the IEEE Publication Board, which oversees the half-billion USD IEEE publication business.
IEEE Press, founded in 1974, works in cooperation with Wiley and publishes some 40 technical books per year in fields of interest to IEEE members. John Anderson will monitor the business side of the Press and preside over an editorial board of 13 members that decide which books will be published.
---
"Mr Internet" är ny professor på EIT
Published: 2012-01-24
Efter drygt tio år på University of Sydney är den i Australien rikskände Björn Landfeldt laddad för ett miljöombyte och nya utmaningar i vad han kallar det akademiska högsätet Lund.
 – Jag kan inte tänka mig en bättre arbetsplats i Sverige än här, säger han.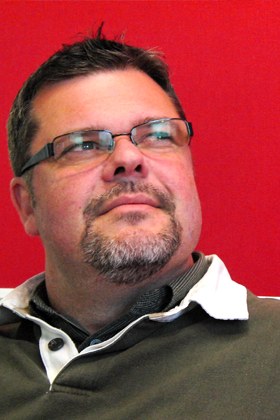 Hemvändare. Efter tio år i Australien, där han lämnat större avtryck än han kunnat föreställa sig, är Björn Landfeldt på väg tillbaka till Sverige.
Fastnade för ny inriktning i nytt land
Stockholmaren Björn Landfeldt är ny professor i nätverksarkitektur på EIT. Sina civilingenjörsstudier vid KTH avslutade han med att göra exjobb i Australien.
 – Jag var väldigt inriktad på medicinsk signalbehandling, trodde att det var det jag skulle syssla med. Men när jag var i Australien tog jag några kurser i ämnen och områden jag inte fördjupat mig i tidigare, bland annat en kurs i nätverk – och jag blev fast! berättar EIT:s senaste professorstillskott och förklarar:
 – Det jag upptäckte, och som lockade mig, var att området nätverkssystem var dåligt utrett, enormt många loose ends, obesvarade frågor. Det var mycket trial and error. Björn fick stipendium och började doktorera 1997 vid University of New South Wales i Sydney.
 – På den tiden var trådlösa nätverk i sin linda. Jag insåg att det var ett område som skulle kunna få en kraftig utveckling, att det skulle bli stort. Och viktigt! Något som skulle påverka gemene man väldigt mycket, och det erbjöd många utmaningar och det lockade mig att få vara med från början, berättar Björn.
Hamnade i akademiska världen av en slump
2000 flyttade Björn med frun Maria till Stockholm. Paret fick sitt första barn i den numera trefaldiga barnaskaran och Björn jobbade på Ericsson Research innan familjen flyttade tillbaka till Australien ungefär ett år senare av personliga skäl.
 – Jag ville ha ett jobb och kom tillbaka till den akademiska världen av en slump, egentligen. Min gamla handledare tipsade mig om en tjänst, jag sökte den och fick den. Det var över tio år sedan, minns Björn.
Det Australienska styret driver sedan 2002 ett forskningsinstitut, NICTA, som är en storsatsning inom informations- och kommunikationsteknik. Det är en seriös satsning med en årsbudget på motsvarande 700 miljoner kronor, och i detta institut har Björn Landfeldt anlitats sedan 2004.
 – NICTA ska bidra till en bättre forskarutbildning. Institutet ska också lyfta Australiens kompetens inom ICT, informations- och kommunikationsteknik. Lite prestigefullt är det allt att bli handplockad till NICTA, visst, och det genererar forskningsmedel till skolan man arbetar på. Institutet har en väldigt tillämpad inriktning, forskningen ska leda till tjänster och produkter i en högre utsträckning än vad som kanske är vanligt vid universiteten. Sen är det ett väldigt bra kontaktnätverk, industrisamarbetet är ganska omfattande, förklarar Björn som är något av en rikskändis i Australien.
Så blev Björn "Mr Internet"
Björn blev kändis i Australien efter att han, i egenskap av utsedd expert gjort en utredning åt den Australiensiska regeringen. Efter en lång offentlig debatt kulminerade hans engagemang när han blev inbjuden att vittna inför inför det Australienska parlamentet.
 – Det var en slutprodukt av en lång process, berättar Björn och tar ett andetag innan han berättar storyn ännu en gång:
 – Det började med att den Australiensiska regeringen gett ett vallöfte om att de skulle göra Internet säkert, då i synnerhet för barn. Strategin var att filtrera all trafik på Internet. Tyvärr var detta en väldigt central fråga i valet för 5-6 år sedan – jag tror det var 2006 – och den blev väldigt prestigeladdad. Regeringen började titta på alternativ för hur de skulle kunna filtrera Internet. Jag blev utsedd till teknisk expert och ingick i en grupp som gjorde en utredning kring detta. Och resultatet blev väl inte direkt vad regeringen hoppats på, berättar Björn.
Gruppen kom fram till att departementet som hanterade frågan var dåligt förberedd på att göra vad som utlovats.
 – Vi skrev en rapport och den lämnades till departementet. Den visade på just det, att de var illa förberedda. Därför släppte de aldrig rapporten, utan mörkade. Saken var den att vi haft kontakt med i princip alla Internetleverantörer, många människor visste att rapporten fanns. Det tog inte lång tid innan det nådde massmedia – och då tog det hus i helvete! Alltså, tänk dig: Det var ett centralt vallöfte, det fanns en rapport som visade att regeringen var dåligt förberedd – och dessutom mörkade regeringen rapporten! berättar Björn. Massmedia fick en riktig julklapp och jag hamnade på förstasidan på Sydneys största dagstidning. Min hemtelefon började ringa klockan fem på morgonen och slutade inte förrän dagen därpå.
 – Efter det blev jag väldigt engagerad av massmedia och i att diskutera de här frågorna med allmänheten. Det har blivit runt hundra artiklar, radio- och tv-intervjuer. Australien är ett föregångsland i de här frågorna, så det blev ett väldigt internationellt fokus också. Jag var med i holländsk tv, till exempel. Jag blev "Mr Internet" i Australien, berättar Björn Landfeldt.
Tipsade parlamentet om svenska tankar
Han sammanfattar det massmediala engagemanget på följande sätt:
 – Det tog väldigt mycket tid! Det var samtidigt både lärorikt och intressant. Det trillar in intervjuförfrågningar varje vecka. Än! Mycket mer än så har det väl inte drabbat mig – visst, jag har blivit felciterad på diverse ställen och mina citat används som politiska slagträn.
 – Jag har blivit välkänd i Australien som teknisk expert. Senast var det tal om att man ville filtrera bort cyber-bullying. Näthat, kallar man det så i Sverige? Hursomhelst, de bjöd in mig för att höra mina åsikter om detta, så jag satt i Canberra inför parlamentet där de höll i en utfrågning. Jag var dock väldigt tydlig med att jag var där som privatperson, jag svarade nämligen på saker som jag inte sysslade med på universitetet.
Björn Landfeldt tipsade regeringen down under om svenska uppfinningar som Barnombudsmannen och om BRIS (Barnens rätt i samhället), om instanser som representerar barnen, som för barns talan.
 – Det känns jättekul att ha gjort det! Jag fick bra respons från panelen. Jag fick chansen att göra något positivt, och ett kraftfullt instrument för att påverka debatten.
Ett gyllene tillfälle för flyttsugna
Det angenäma Sydney-klimatet till trots – Björn kör nercabbat hem från jobbet på USYD under de flesta kvällar om året och bär shorts och t-shirt i nio av tolv månader – så längtar han hem till Sverige.
 – Framförallt vill jag att mina barn ska få uppleva att växa upp i Sverige, som fortfarande är lite som en Astrid Lindgren-värld som jag ser det. Ett behagligt klimat är trots allt inte lycka. Det finns förresten en Nobelpristagare - Daniel Kahneman, som forskat på ämnet lycka – mycket intressant!
 – Jag har spenderat två timmar i bilkö varje dag. Tid jag kunde spenderat med min familj istället, säger Björn som ser framemot att kunna cykla till jobbet.
 – Ja, bland annat! Jag saknar den svenska kulturen också, den gemensamma bakgrunden. Kräftskivor, gåsmiddagar. Saker som alla gör, som alla ser framemot. Man tar allt för givet när man bor i Sverige, men när man inte gör det längre inser man att det finns mycket som är väldigt bra i Sverige. Min fru har bott i Sverige i några år förut, och det finns mycket i Sverige som hon gillar – till exempel våra traditioner och vår natur. Det blir självklart inte detsamma för henne som för mig, som flyttar hem, men hon kommer nog att trivas.
Så att EIT utlyste en ledig professur var ett gyllene tillfälle för familjen Landfeldt.
 – Först och främst finns det inte så många positioner inom mitt område i Sverige - ett område jag trivs väldigt, väldigt bra med. Det var ett suveränt tillfälle för mig. Jag hade faktiskt ett erbjudande från ett mindre universitet i Norge också. Jag hade kunnat få väldigt mycket pengar, och hade säkert trivts med fritiden där, men jag kan inte tänka mig en bättre arbetsplats i Sverige än här! Lunds universitet är ett av de starkaste i Europa, den akademiska miljön här är nog så bra som den kan bli i Sverige, säger Björn lovordande.
Hoppas få träffa Bodil Jönsson
Det finns även en medial anledning till att det blev Lund.
 – När jag var yngre följde jag tv-programmet "Fråga Lund" med stort intresse. Jag var väldigt fascinerad av detta! Det var ju en fantastiskt bra marknadsföring av Lund som akademisk institution! Utbrister Björn och minns Jan-Öivind Svahn som programledare, men framförallt minns han Bodil Jönsson.
 – Hon påverkade mig enormt mycket, hon gav en väldigt positiv bild av universitetsvärlden. Jag förstår att hon fortfarande är aktiv och det vore sannerligen roligt att få träffa henne någon gång. Hon är en offentlig person som jag verkligen uppskattar! Avslöjar Björn som inte förrän 2011 tog de första stapplande stegen på den fantastiska Lundensiska marken.
 – Jag kom hit för allra första gången i maj för att gå på anställningsintervju. Staden har verkligen en aura av att vara ett akademiskt högsäte! Stockholm är en för stor stad för att bli en riktig universitetsstad – det är en storstad med några universitet. Uppsala är en riktig universitetsstad, men Lund är likt Uppsala fast ännu mer koncentrerat, ännu mer universitetsstad.
Söker bättre fundamental förståelse
Under tisdagen håller professor Landfeldt föreläsning, för att presentera sig och sitt område, och för att hitta möjliga samarbetspartners i den fortsatta forskningen.
 – Det kommer handla om huvudinriktningen inom nätverksarkitektur, om problem och frågeställningar. Det finns två huvudspår. Det finns många trådlösa nätverk som använder olicenserade spektrum, t.ex. Wi-Fi. Olika konflikter uppstår när många trådlösa noder ska använda spektrumet samtidigt. Jag är intresserad av att bygga intelligens i de olika delarna för att de skall kunna samverka och överbrygga problemen.
 – Det andra är att många radiosystem byggs in i andra fysiska system. Exempelvis bilar som kan kommunicera med andra bilar. Men hur bilar uppför sig när de rör sig kan komma att påverka radiosystemet. Jag vill modellera dessa fysiska system och förstå hur de kommer att påverka radionätverken.
Björn berättar passionerat om sin forskning.
 – Vi är fortfarande i Internets linda. Det har bedrivits mycket forskning och utveckling de senaste 10-15 åren, nätverkssystemen har blivit allt viktigare. Vi börjar få grepp om hur vi ska bygga den basala kommunikationen.
 – Det finns vissa problem som vi känner till nu som vi kan börja arbeta med. Men vi behöver en bättre fundamental förståelse för miljön nätverken ska fungera inom för att kunna optimera nätverkens prestanda och att kunna förutse problem som kan uppstå i framtiden. Hur kan vi lösa dessa problem, och hur bra? Nya system utvecklas hela tiden och därmed uppkommer nya utmaningar. Vi kan ha självkonfigurerande nätverk som kan lösa ånga av dessa utmaningar, men vi förstår idag inte riktigt hur den fysiska situationen ser ut eller vad nätverken förväntas klara av i framtiden.
"Dykning är min passion"
I början eller mitten av april – ungefär – påbörjar Björn sin tjänst på EIT och Lunds universitet.
 – Jag kommer att ha kvar två doktorander i Sydney och min tanke är att de självfallet ska komma hit och hälsa på!
 – Dykning är min passion. Vi bor cirka fem minuter från ett vattennaturreservat där jag brukar dyka två gånger i veckan – ett nattdyk i veckan och ett dagsdyk på helgen. Nattdyk är extra häftigt. Att vara nere i kolsvart vatten, ha en tremeters rocka som svävar ovanför en. Visst, det finns hajar, men de brukar inte gå på dykare. Det är väl främst yngre vithajar som klipper surfare, som de misstar för sälar när det sker attacker.
 – Bland det häftigaste jag varit med om är ett dyksafari i Korallhavet utanför kontinentalsockeln. Mitt ute i ett 1000 meter djupt hav reser sig ett korallrev, till sisådär fem tio meters djup. Det är vertikala väggar nerifrån, och vattnet är alldeles alldeles klart, helt utan sediment. Sikten är 50-60 meter. Man ser hajar – hundratals – komma från det nästan svarta djupet för att se vad det är som brummar vid ytan. Det är en fantastisk syn, berättar Björn som inte utesluter dykning även i mer sansade miljöer.
 – Fast Röda havet är inte långt borta. I Norge finns en hel del intressanta vrak man kan dyka på, och i Östersjön också. Trävrak finns inte kring Australien eftersom där finns trämask, men trämaskar trivs inte i Östersjöns bräckta vatten så jag har hopp om att få dyka här också, säger professor Björn Landfeldt avslutningsvis innan han medievant poserar för ett antal bilder och artigt tackar för pratstunden.
Text: Johan Cedervall | Foto: Johan Cedervall
---
Felfinnare som hittat rätt
Published: 2012-01-17
Erik Larsson är sedan årsskiftet lektor i datorarkitektur på EIT. Han har specialiserat sig på att hitta fel i små kretsar. När han besökte Lund för första gången hittade han fel, han hamnade vilse, men det han fann kändes rätt. Nu hittar han till E-huset på LTH. Bland annat för att finna fel.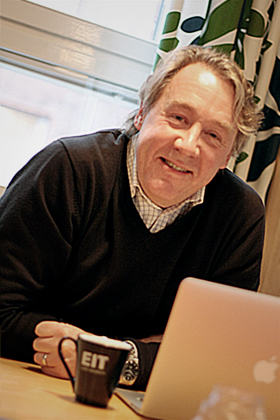 Har hittat rätt. Erik Larsson är glad över att ha funnit sin plats i Lund och på EIT.
Det började i Halmstad
Den idag 45-årige Halmstadsonen Erik Larsson inledde sin akademiska karriär i hemstaden där han blev högskoleingenjör, en examen som lästes upp till civilingenjör i Linköping 1994 där Erik fortsatte och han disputerade år 2000. Därefter bar det av till Japan.
 – Jag visste inte riktigt vad jag skulle göra efter disputationen och bestämde mig för att jag ville hitta en bra grupp och ett bra ställe att vara på. Jag hittade en kille som gjorde postdoc i Japan och professorn där välkomnade mig. Jag fick ett stipendium och en postdoc-tjänst där. Och det var jättelätt att vara där. Allting var väldigt välorganiserat, berättar Erik Larsson.
Har bas i Halmstad
Efter Japanvistelsen blev det ett antal år i Linköping innan nästa äventyr tog vid för Eriks del då SSF tog honom till NXP Semiconductors i Eindhoven i Holland där han tillbringade ett och ett halvt år innan han återvände hem. Hem till veckopendlingen.
 – Det har blivit en hel del resande de senaste åren. Linköping, Eindhoven, Halmstad – och utöver det tillkommer ju de vanliga jobbresorna till konferenser etc. Jag hade dessutom kvar undervisning och doktorander i Linköping under tiden jag var i Holland, berättar Erik som ser framemot vardag med sambon Ulrika.
 – Sedan 2008 har jag haft sällskap av Ulrika och vi bor tillsammans i Halmstad nu. Vi är båda från Halmstad, jag har mina föräldrar i Halmstad, så det har varit en naturlig bas för oss, berättar Erik som kommer vara hemma mer framöver.
 – Jag kommer ha en hel del undervisning i Helsingborg. Och även om jag skulle åka ner till Lund lite då och då så är det ändå pendlingsbart, det vill säga jag kan åka hem varje dag.
Provföreläsning – ett bra sätt att tillsätta en tjänst
Förra senvintern, i februari 2011, åkte Erik av en vinterhal väg med sin bil. Han fick sladd i en omkörningssituation, kom över på fel sida men krockade inte utan landade i diket utan kroppsliga skador. Någon månad senare utlyste EIT ett lektorat. Erik valdes ut som en av slutkandidaterna och provföreläsningen hölls i september.
 – Jag hade tur vid olyckan, att jag inte skadades. Vi hade pratat ett tag hemma om att förändra vår situation, så det kändes ju jätterätt när den här utlysningen kom, berättar Erik och fortsätter:
 – Det är vanligt att man arrangerar provföresläsningar. Det är inget konstigt alls. Visst är det lite nervöst, men det är ett bra sätt att tillsätta en tjänst. Jag tror man får en väldigt bra bild av personen som föreläser. Om jag blev grillad? Haha, nej, dom var jättesnälla! Det ställdes ett antal bra frågor men det var bara roligt. Det visade att dom hängde med och var intresserade av vad jag sa. Inget vore värre än om det är knäpptyst efter en föresläsning. Då måste man känna att man lagt upp föresläsningen på ett felaktigt sätt.
Fascineras av handledning och av att hitta fel i kretsar
Erik tilltalas av kombinationen undervisning och forskning, mest av allt gillar han handledning och har varit handledare vid ett antal examensarbeten som vunnit utmärkelser i form av "bästa examensarbete".
 – Det spelar ingen roll om det är en doktorand eller exjobbare eller vad det kan vara. Men känslan när det stiger in en person som vill göra en grej – låt säga ett exjobb. Personen har en bild över hur det ska gå till. Man gör upp en plan. Och så försöker man få ihop det. Och oftast får man ihop det! Ja det är väldigt roligt och stimulerande att få hjälpa till i en sådan process, förklarar lektorn i datorarkitektur.
 – Själv forskar jag på datorsystem. Chip. Integrerade kretsar. För min del handlar det om felsökning, metoder för att hitta trasiga chip. Om du går och köper en mobiltelefon förväntar du dig att den fungerar, eller hur? Och du vill att den ska vara billig – du vill göra en bra deal! Men telefonen är full av små och komplicerade kretsar. Det gäller att man tänker till ordentligt innan man börjar tillverka dem och att ha metoder för att hitta fel. Dessa kretsar blir mindre och mindre, allt fler funktioner ska byggas in i dem. Dessutom kan de ha nya felbeteenden. I detta ligger utmaningen, att fortsätta hitta vägar – som kan vara små smala stigar – för att hitta fel.
Och på tal om svårt att hitta. När Erik skulle ner till den första intervjun gällande lektoratet tappade hans GPS signalen precis i närheten av Lund och intet ont anande blev han nerlurad i stan med cyklister och enkelriktade vägar som klassiska orosmoment.
 – Jag snurrade runt i stan och fick se centrum. Det var en jättefin dag. Jag kände genast att wow – vad trevligt här är! Det känns lite större i Lund på något sätt. Det känns riktigt bra att vara här, säger Erik Larsson avslutningsvis.



Text: Johan Cedervall | Foto: Johan Cedervall
---