ETIN70 Modern Electronics, 2019/2020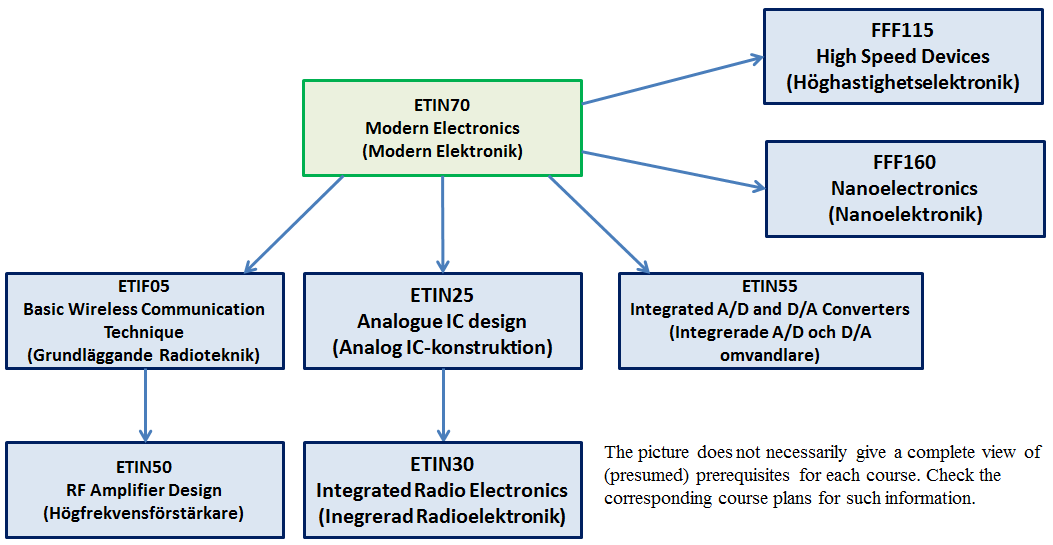 This course, ETIN70 Modern Electronics, will give you basic knowledge in device physics and analogue electronics. It will make you well prepared for further studies in several different topics.
For a better understanding of the radio part of wireless communication, the course ETIF05 Basic Wireless Communication Technique is offered. It is a 7.5hp G2-level course given in HT1. It gives a general knowledge in radio frequency applications and basic understanding of the radio receiver and transmitter. It does not cover the electronics in detail, but will instead treat the different parts as functional blocks. The course includes e.g.,
The radio receiver and transmitter at block diagram level
Signals in the time, frequency and phase domain
Noise analysis and system level simulation
Behavior of different components at radio frequency
Measurements with spectrum and network analyzers
The importance of wireless communication is increasing. Not only cellular phones, but also an increasing number of sensors and small wireless devices building up the Internet-of-things require radio receivers and transmitters. The course additionally gives a survey of modern digital communication systems, providing students with a broad understanding of these systems.
The course ETIN50 RF Amplifier Design builds on the content in ETIF05 Basic Wireless Communication Technique. It is a 7.5hp A-level course in HT2 focusing on the design and analysis of radio frequency (RF) amplifiers. The RF amplifier is an essential part in wireless applications such as cellular phones and computer networks. The course includes e.g.,
Analysis and design of high-frequency amplifiers
Systematic methods for designing amplifiers
Properties such as gain, stability and noise
Advanced measurement techniques
The frequency targeted in the course ranges from MHz to GHz, which covers a large number of modern applications. Practical experience with RF amplifiers is developed through laboratory work, in which also engineering skills in RF measurement techniques are provided. Wireless technology is a rapidly advancing area and there is great demand for this kind of knowledge.
The course ETIN25 Analogue IC-design provides a more in-depth treatment of amplifiers and how they can be realized on integrated circuits. It is 7.5hp A-level course in HT2 which provides a solid understanding of analogue integrated circuit design. The focus is on CMOS technology which is the most common technology for designing integrated circuits. The course includes e.g.,
CMOS technology and realization of different components, such as MOS transistors, diodes, resistors and capacitors
IC-design using CAD tools and computer simulation of analogue circuits
Design and analysis of amplifiers and their building blocks
Practical experience with modern CAD tools is provided in laboratory work. After course, students are able to design their own integrated circuits.
The course ETIN30 Integrated Radio Electronics is a 7.5hp A-level course that uses the knowledge from and ETIN25 Analogue IC-design in order to design and analyze integrated high frequency electronics.Though the main application in the course is wireless communication, the course in ETIF05 Basic Wireless Communication Technique is not a prerequisite for this course. It is however recommended as it provides a better understanding of the radio aspects on a block level. The radio building blocks are implemented using CMOS technology in a project work where a complete receiver or transmitter is designed. The course includes e.g.,
Realization of radio building blocks, such as amplifiers, mixers and oscillators on an integrated circuit.
Planning of the layout with respect to parasitic effects
Modern CAD-tools for RF IC design
System aspects of radio receivers and transmitters
The radio part of wireless technology is very important and in high-volume applications like cell-phones, WLAN, GPS, etc., it is implemented using CMOS integrated circuits. Knowledge in this area is thus very desired today.
While the largest amount of signal processing is undoubtedly performed in the digital domain, very often the input and/or the output of the system is analogue. The course ETIN55 Integrated A/D and D/A Converters, a 7.5hp A-level course in HT2, gives knowledge about how signal are converted between the analogue and digital domains. The course includes e.g.,
Theoretical basis for A/D and D/A converters, such as sampling and quantization
Different A/D and D/A architectures and their advantages and disadvantages
Design and simulation using CAD-tools
Loudspeakers and microphones in digital audio, cameras, screens and monitors in digital video, and the antenna in radio communications are examples of devices that typically require high performance A/D and D/A converters. The wide range of applications and the increasing use of different sensors make knowledge in this field very important and desired.
The course FFF115 High Speed Devices is a 7.5hp A-level course in VT1. It aims at providing fundamental knowledge about the physics of high performance transistors. Specifically, the design and analysis of the high frequency performance of transistors at the nanometer scale is studied. The course includes e.g.,
Basic semiconductor physics
Diffusive and ballistic transport in semiconductors.
Heterostructures in semiconductors
Heterojunction field-effect transistors and heterojunction bipolar transistors
After the course you will have solid knowledge of high performance transistors that can handle signals up to several hundred GHz. Thus, you will be able to take part in the development of future technologies that require very high speed devices.
The course FFF160 Nanoelectronics is a 7.5hp A-level course in VT2. It deals with a number of nanoelectronic applications. The use of nanowires and nanotubes will be discussed and different device technologies with potential to reduce the power consumption will be emphasized. The course includes e.g.,
Heterogeneous materials integration
Electronics based on nanowires and nanotubes
High frequency circuits and power consumption
Nanoelectronics in communication systems
The course also includes laboratories in which the students will measure and develop models for nanoelectronic devices and simulate how these perform in simple circuits. The current and future trend in technology is the development of small communication devices with very low power consumption. This course makes you well prepared to work with these new technologies and gives you experience in handling conventional engineering tools for professional use.