The course description is available here (updated 1 Sep 2022).
This course has the reputation of being the hardest one in the Electrical Engineering (E) Program. Let's face it, Maxwell's Equations are not a piece of cake!
Don't take my word for it, hear it for yourself in the following youtube clip (listen to the first minute).
This young lady in the video did better than just passing the course, by the way.
Every year, a few exchange students will usually take my course as well, including a Riccardo Ricci from University of Bologna who scored 60/60 in the written exam after taking the course in the fall of 2015. (Note this: Riccardo was enrolled in the civil engineering program, NOT electrical engineering.) Another former exchange student who took my course in the fall of 2019 contacted me upon his return, and I invited him to share his experience, he wrote the following (unedited):
"My name is Sean Even and last fall I studied Electrical Engineering in the E-Sek Electrical Engineering program at LTH. When I signed up for this class, I had no idea what I was getting into. All I knew was that I needed to complete an Electromagnetics course to complete my Electrical Engineering minor back at Santa Clara University, where I study.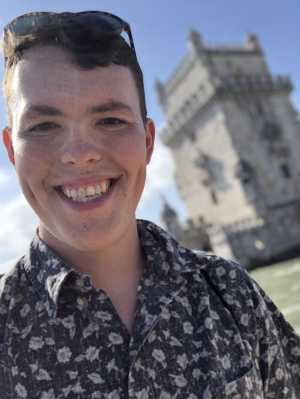 When the class started, I quickly realized that I had signed up for one of the most difficult classes at LTH as an exchange student. Friends who had taken the class before at Lund shuttered when I told them I was taking at and often gave me a look in disbelief saying "Good luck, man. That class nearly killed me." I thought to myself "How bad can it really be?" Then, I went to the first day of class. I was one of two exchange students in the class and there were a fair number of students taking the class for their second or third time. Vincent (Pf. Buon Kiong Lau) stood before the class and tried his best to muster up the courage for the treacherous journey ahead of us. He mentioned the horror story of the 2018 class of which only 52% of the class passed. He urged us to take the class seriously and give sufficient effort throughout the class because it would be difficult to succeed otherwise.
Many students walked out of the class with glazed eyes, unsure if they had the wherewithal to make it out in one piece. I was on a strict schedule at my home university and really needed to pass this class to graduate on time. Since it was too late to enroll in another course, I was kind of stuck. Rather than gripe about this, I decided to make the best of this and give my full effort and then just go from there.
I was not starting from ground zero in this subject. I had some introductory experience in multivariable calculus, and this served me well earlier in the course. As we transitioned to true Electromagnetics, I realized that the subject matter generally consisted of some straightforward rules which could be manipulated with some especially tricky scenarios on the test. It was expected that we, the students, be able to make up the difference in understanding. Unlike classes where you generally knew what was coming, the possibilities were endless of what Vincent could throw at you. So, instead of learning how to solve a specific type of problem, I was forced to truly become proficient in the E&M Principles.
Although this was nerve-racking in the tests, it was a great lesson about life. Routinely, we get thrown problems that we have never seen before and forced to solve them. Electromagnetics taught me that I could succeed even when I have no idea where to begin. This gave me further confidence in engineering and in life in general. I think it made me extremely self-sufficient and more hirable.
I walked out of this class with a new understanding of the value of challenge. Our brains are wired to seek out comfort. There is nothing wrong with this, but in order to grow as thinkers and as people, we must quiet this desire. As the late great Teddy Roosevelt once said, "Nothing worth having comes easy." Viewing challenges as opportunities to grow rather than avenues for concern makes life so much more fulfilling. Most people never get to see what they have the potential to do because they are not willing to embrace their own limitations and push them. So, as you embark on this course, I urge you not to decide what you can do before you try. Your mind is your greatest asset. Use it. And as they say, you have to crack some eggs to make an omelet."
Sean also did better than just passing the course, despite majoring in mechanical engineering. Upon graduating from Santa Clara University, he has been offered to do Ph.D. at the University of Notre Dame, USA.
NB. The course is also available as a PhD course (under the course code EITF80F), intended for PhD students that are from a different background than traditional electrical engineering programs.