Kalendariumarkiv
2017-06-19 Early summer IEEE CAMAD event hosted by EIT
Publicerad: 2017-06-15
Date: June 19-21, 2017
Place: E:A, E:3139
More info on the event with detailed program can be found here.
---
2017-06-16 PhD defense by Babak Mohammadi
Publicerad: 2017-04-21
Date: June 16, 2017
Place: E 1406
Time: 10.15
Abstract:
Opponent:
Professor Snorre Aunet, Department of Electronics and Telecommunications, NTNU Trondheim
Committee:
Professor Marian Verhelst, KU Leuven, Belgium
Professor Atila Alvandpour, Head of Integrated Circuits and Systems Division, Department of Electrical Engineering, Linköping University
Staff engineer Sylvain Clecrc, STMicroelectronics, Crolles, France.
Committee stand-in:
Professor Björn Landfeldt
---
2017-06-13 Master Thesis presentation by Lasse Södergren
Publicerad: 2017-06-08
Date: June 13, 2017
Time: 9.15
Place: E:2349
Title: Ballistic Modeling of Nanowire MOSFETs
Abstract:
In this thesis the performance limit of a tri-gate nanowire MOSFET has been explored. Performance metrics such as gm, gd and fT has been investigated with the help of a 1D non-parabolic ballistic transistor model. The non-parabolicityfactor is found from kp theory and helps to more accurately predict the behavior of electrons which are far from the bulk band edge in an effective mass model. The ballistic current is calculated from a top of the barrier modeled and the charges in the channel are evaluated by integration of density of states (DOS) multiplied by the Fermi-Dirac distribution. An attempt to approximate this calculation by shifting the Fermi level and take advantage of the fact that that the Fermi-Dirac distribution is a step function at 0 K is presented. Trans-capacitances such as Cgs and Cgd are evaluated and discussed for different approximations of the potential along the channel. Their dependence on dimensions such as nanowire width and gate length are also discussed. The model predicts non zero intrinsic capacitances even at zero gate bias because of charges present in the channel which are not apart of the current but has an influence on the capacitances. Finally the model is compared to some experimental data of a lateral InGaAs nanowire MOSFET.
---
2017-06-12 Workshop "Energy Efficient Electronics and Applications and SoI-training"
Publicerad: 2017-05-19
Date: June 12-14, 2017
Place: Ystad Saltsjöbad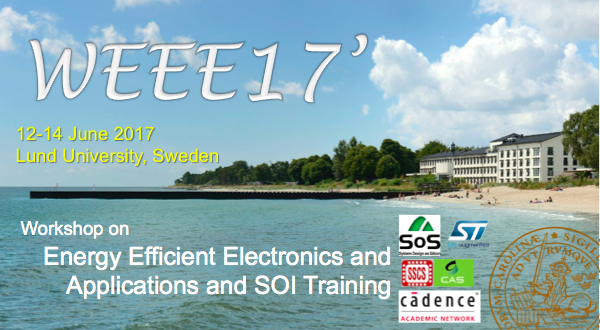 This workshop is coorganized by EIT and Associate Professor Joachim Rodrigues is in charge from LU point of view. Other coorganizers are Andreas Burg (EPFL), Alexander Fish and Adi Teman (Bar-Ilan University). The event will take place in Ystad and attached to the workshop is also a 28 nm FD-SOI and Cadence training.
Workshop Focus
With increasing levels of integration, embedded microelectronic systems have turned into an indispensable part of our society. While some systems such as smart phones or tablets appear very prominently and participate directly in our daily lives, others remain silently in the background to provide for functions, such as health or environmental monitoring. What almost all of these systems have in common is that they earn most of their value from mobility and require independence from the mains. Hence, they are often powered either from batteries or even through energy harvesting. As such, they must operate in a regime, where mW or even uW of power consumption are necessary to meet user expectations on battery lifetime..
The objective of this workshop is to bring together experts, from both industry and academia, in system architecture, circuit design, and technology to discuss the challenges and the latest trends in the development of low-power and ultra-low-power embedded systems.
---
2017-06-09 Master Thesis presentation by Daniel Lundell
Publicerad: 2017-06-08
Date: Friday July 9:th
Time: 14:15
Place: E:3139
The work has been carried out at SenseFarm. The supervisers are Anders Hedberg (SenseFarm) and Emma Fitzgerald. The examiner is Christian Nyberg.
Title:
Ad-hoc network possibilities inside LoRaWAN
Abstract:
The Internet of Things (IOT) is a fast growing field with new actors constantly joining in. Locations such as farms or remote areas do not always have Internet coverage to access the IoT. This thesis looks at LoRaWAN as an IoT technology and ad-hoc networking to solve this problem. Existing ad-hoc routing protocols such as AODV, HWMP, and ZRP were studied. Based on the study they were evaluated as to how well they would fit into the LoRaWAN protocol. A simple solution based on HWMP and AODV was integrated with LoRaWAN. A testbed consisting of LoRaWAN devices was built to test the capabilities of the proposed solution. Receive windows of 2 seconds can be achieved with an ad-hoc LoRaWAN with a depth of 5-6 nodes. Successful routes dropped from 85% to 40% with a depth increase of 2 nodes. LoRaWANs 1% duty cycle limit can be broken with bigger networks. The thesis concludes that ad-hoc LoRaWAN based on HWMP and AODV might be possible given further research. The networks can be used to cover large remote areas with no Internet connection.
---
2017-05-30 Master Thesis presentation by Alexander Najafi
Publicerad: 2017-05-24
Date May 30, 2017
Time: 10:15
Place: E3139
Title: Mobile Devices In the Distributed IoT Platform Calvin
The master project has been performed at Ericsson Research.
Abstract
Development towards a connected world where anything can talk to anything is ongoing. Calvin is a research project at Ericsson that simplifies the development of peer-to-peer applications for the Internet of Things. Calvin is created in order to let the developer of an application for the Internet of Things focus on the implementation instead of having to worry about underlying protocols, hardware access, security, application deployment, and application management. A Calvin application is defined by a dataflow graph where every node is a small reusable computational component called an Actor. The actors can move and be migrated to any connected unit during runtime which allows for complex applications to be created.
Mobile devices are computational powerful devices with a great number of sensors and has a lot of functionality through mobile device applications. The devices has traditionally only been used for configuration and control of Internet connected devices. This thesis successfully shows how mobile devices can be part of the distributed platform Calvin as any other device in the Internet of Things. The thesis proposes a general solution of how Calvin can make advantage of a mobile device at any time it is connected to the Internet. The thesis shows how mobile devices and third party applications on the device can share their capabilities in the Calvin platform with other connected devices. The thesis analyses the effect of the long term running Calvin runtime on a mobile device and shows that it is possible and feasible to use Calvin in Android without draining the device's resources.
---
2017-05-29 COST meeting in Lund
Publicerad: 2017-05-08
May 29-31 EIT is organizing a COST meeting within the action IRACON http://www.iracon.org here in Lund.
It is a 3 day meeting with presentations, discussions etc within the area of the physical and networking layer, with applications in e.g. IoT, localization, radio access, Over-the-air testing. It is a very lean workshop, and is highly recommended if you are in the area. If you want to join you sign up by Wednesday at the latest (May 10) for a fee of 115 EUR including lunches, coffee and dinner. If you are a first time participant you have to register as a Lund participant first, before registering to the meeting. Paper presentations should be registered by Wednesday as well and the final paper is to be submitted by May 20. Note that the papers are not regarded as public, so it can be work in progress, submitted work or recently published work being presented.
Let Fredrik Tufvesson or Buon Kiong Lau (Vincent) know if you have any questions.
---
2017-05-29 Master Thesis presentation by Henrik Felding
Publicerad: 2017-05-23
Date: May 29, 2017
Time: 10:15
Place: E:2311
Title: "Automotive Test Advances Implications on ASIC production tests for Fingerprint Cards AB - new requirements and yield consequences."
The work has been conducted at Fingerprint Cards AB under supervision of Johan Hammersberg. Markus Törmänen has been the supervisor at EIT, and Pietro Andreani is the examiner.
Abstract:
The purpose of the thesis was to study the safety and reliability requirements in the automotive industry from a production test perspective. A survey of the requirements in the automotive standard AEC-Q100 was conducted and the implications of compliance with the requirements were analysed. In addition to this, production data was reanalysed considering the requirements found in the survey. From this, conclusions regarding the necessity of new tests, new design requirements and potential yield reduction were drawn.
---
2017-05-12 PhD defense by Cezar Zota
Publicerad: 2017-03-23
Date: May 12, 2017
Time: 10.15 -12.30
Place: E1406
---
2017-05-11 Tårtseminarium
Publicerad: 2017-04-24
Date: May 11, 2017
Time: 14.06
Place: E:1406
Title: "The software developer as the knowledge worker of tomorrow"
Lise Meitner professor "Margaret-Anne (Peggy) Storey is a Professor of Computer Science and the Director of the Software Engineering program at the University of Victoria on the West Coast of Canada. She holds a Canada Research Chair in Human and Social Aspects of Software Engineering. Her research goal is to understand how technology can help people explore, understand, and share complex information and knowledge. She evaluates and applies techniques from knowledge engineering, social software, and visual interface design to applications such as collaborative software development, program comprehension, biomedical ontology development, and learning in Web-based environments.
During her talk, she will give an overview of some of her recent projects, sharing how she uses mixed research methods to investigate how developers use tools such as social media and gamification to collaborate with one another."
---
2017-05-10 Licentiate Thesis by Payam Amani
Publicerad: 2017-04-05
Date: May 10, 2017
Time: 13.30
Place: E:3139, Institutionen för Elektro- och informationsteknik, E-huset, LTH
Title: Resource Management in Computing Systems
Special reviewer: Docent Javid Taheri, University of Karlstad
Supervisor: Universitetslektor Christian Nyberg, EIT
Examinator: Professor Ulf Körner, EIT
Abstract
Resource management is an essential building block of any modern computer and communication network. In this thesis, the results of our research in the following two tracks are summarized in four papers.
The first track includes three papers and covers modeling, prediction and control for multi-tier computing systems. In the first paper, a NARX-based multi-step-ahead response time predictor for single server queuing systems is presented which can be applied to CPU-constrained computing systems. The second paper introduces a NARX-based multi-step-ahead query response time predictor for database servers. Both mentioned predictors can predict the dynamics of response times in the whole operation range particularly in high load scenarios without changes having to be applied to the current protocols and operating systems. In the third paper, queuing theory is used to model the dynamics of a database server. Several heuristics are presented to tune the parameters of the proposed model to the measured data from the database. Furthermore, an admission controller is presented, and its parameters are tuned to control the response time of queries which are sent to the database to stay below a pre-defined reference value.
The second track includes one paper, covering a problem formulation and optimal solution for a content replication problem in Telecom operator 's content delivery networks (Telco-CDNs). The problem is formulated in the form of an integer programming problem trying to minimize the communication delay and cost according to several constraints such as limited content replication budget, limited storage size and limited downlink bandwidth of each regional content server. The solution of this problem is a performance bound for any distributed content replication algorithm which estimates the same problem.
---
2017-05-09 Seminar by Andy Molisch
Publicerad: 2017-05-09
Date: May 9, 2017
Time: 15.15 - 16.00
Place: E: 2349
We have Andy Molisch visiting us for a few days, and with a short notice I would like to invite you to an informal seminar about OTFS - Orthogonal Time Frequency Space, a transmission technology that Andy has been working on at the startup company Cohere Technologies during his sabbatical from USC.
---
2017-04-26 Information meeting on project applications to the Knut and Alice Wallenberg Foundation
Publicerad: 2017-03-23
Date: 26 April 2017
Time: 15.00 -17.00
Location: Pangea, Geologiska institutionen, Geocentrum II, Sölvegatan 12, Lund
Title: Information meeting on project applications to the Knut and Alice Wallenberg Foundation
Organizers: LTH, Faculty of Medicine, Faculty of Science and Research Services
---
2017-04-26 Welcome to the ELLIIT workshop in Lund April 26-27
Publicerad: 2017-04-10
More info on the ELLIIT workshop.
---